A marketing role can be wide-ranging and can cover everything from creating marketing materials to managing social media platforms. Marketing is paramount for organisations these days, as it helps with promoting a business and increasing sales.
In the UK, marketing is one of the most popular degree subjects, however, it is not always necessary to have a qualification in the subject, if you have sufficient experience and skills.
If you are on the job hunt and looking to apply for a marketing position, a great cover letter can set you apart from other candidates with similar skills and experience. This writing guide along with our marketing cover letter examples will explore the following:
The best format to use for your marketing cover letter to write succinctly and effectively
How to tailor your cover letter to suit the job you are applying for
How to avoid the most common deal-breaking cover letter mistakes
Expert tip
Resume.io is an expert resource for job seekers in all fields and at all experience levels. For even more insights and tips, check out our cover letter examples and corresponding writing guides.
Best format for a marketing cover letter
It is vital that you cover the key elements of your skills and experience in your cover letter. Your cover letter should only be one page in length so you have limited space to make an impact. To ensure you cover the most important aspects, you may wish to follow this standard format for your marketing cover letter:
Header – name and key contact details
Greeting – how you address the recipient
Introduction – the main aspect of your expertise relevant to the role
Main body – further information on your skills, experience and major achievements
Conclusion – follow up your interest and include a call to action.
Your cover letter is a brief introduction to your main experience and skills. The main aim of your cover letter is to entice the reader to want to read more. Check out our comprehensive cover letter guide for more general advice on formatting a great cover letter.
Check out our adaptable marketing cover letter example below: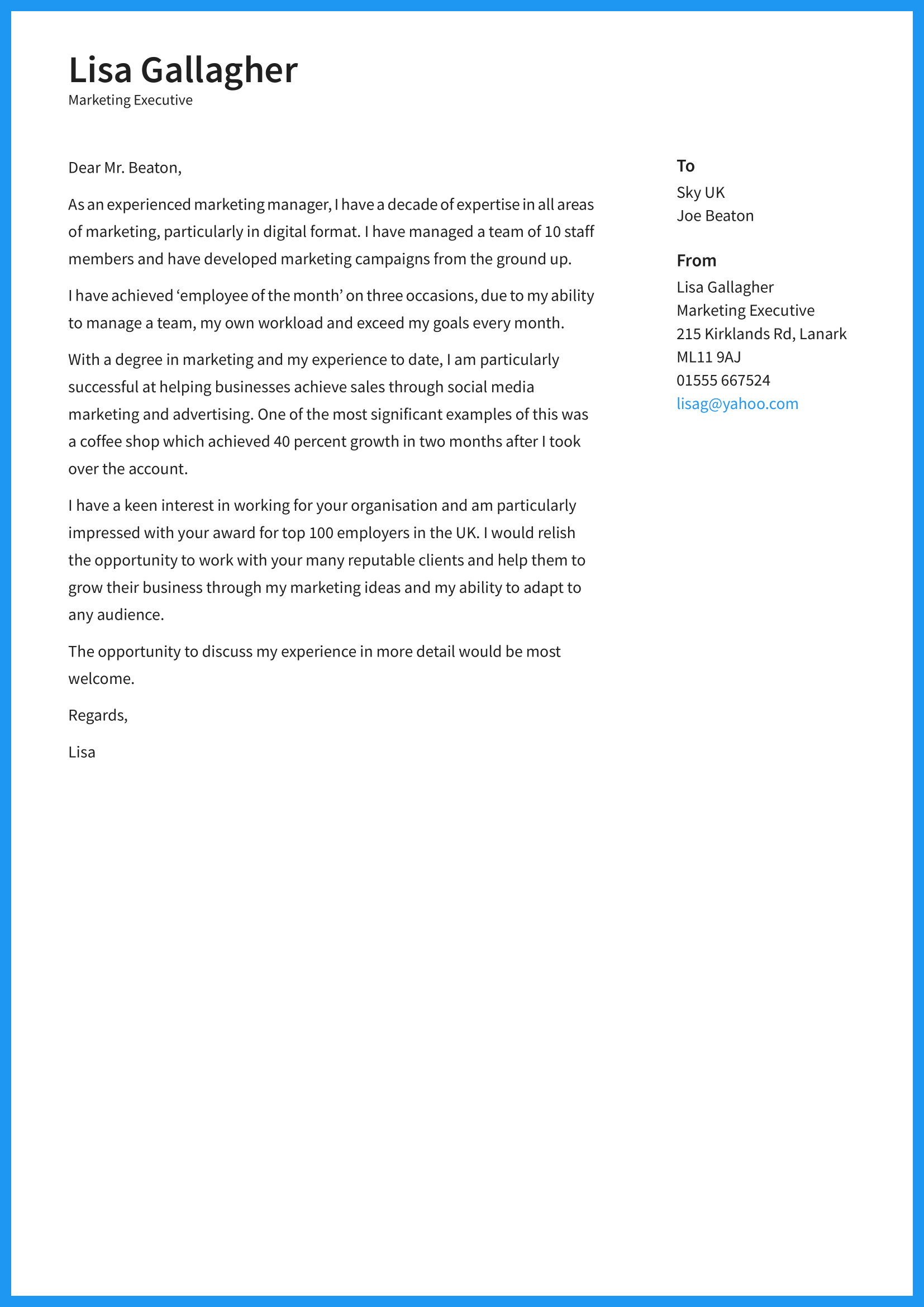 Cover letter header
The cover letter header is situated at the top of your cover letter and contains your name and contact details, including your address, telephone number and email address. If you have good recommendations on your LinkedIn profile, you may also want to include this. 
In some cases, hiring managers will invite you to an interview just by reading your cover letter, if it gives them all the information they need. Check out the header on our marketing cover letter sample to get an idea for your own.
The purpose of the cover letter header: To inform the hiring manager of how to reach you by including your key contact details.
Statistical insight
Ready to take the leap? You won't regret it. The British marketing sector has been increasing year on year — with 225,000 professionals employed in this industry in 2021. 
Cover letter greeting
You should always start your cover letter with a professional, formal greeting. If the contact details are on the job advert, you can use these. If not, you may want to try and find the relevant contact using the company's website or LinkedIn.
A personal greeting is always favourable, as it can help you to build rapport from the start. If you are struggling to locate the contact for the role, it is also appropriate to use "Dear Recruitment Team" or "Dear Hiring Manager." Below you'll find the greeting of our marketing cover letter example.
The aim of the cover letter greeting: Start the cover letter off in a professional, formal manner.
Cover letter introduction
The introduction of your marketing cover letter is where you can provide the hiring manager with the most relevant aspect of your experience or skills to date. You should tailor your introduction to suit the role to which you are applying. What can you say to instantly attract the attention of the hiring manager? Below you'll find the introduction of our cover letter sample.
What you want to achieve with the cover letter intro: Make the hiring manager sit up and take notice. What attributes do you have that the hiring manager won't be able to resist?
Cover letter middle part (body)
The body of the cover letter is the main section in which you will go into a little more detail about your skills and expertise. Remember, the cover letter leads you to the CV, so it doesn't need to be too in-depth; highlights are enough. If you have key achievements that you think would be of interest to the hiring manager, you can mention them here. It is always good to back your statements with statistics, if they are relevant to the role. Marketers will usually have targets, so it is appropriate for this role. See our adaptable cover letter sample below.
The main objective of the body of your cover letter: Impress the hiring manager. Show them what you can offer and help them achieve.
How to conclude your marketing cover letter (conclusion and sign-off)
It is important to wrap up your cover letter, rather than finishing it abruptly. A good sign off will reinforce your desire to work for the company. Make sure to include a call to action which invites the hiring manager to set up an interview with you. You can find one in our adaptable cover letter sample below.
The purpose of the conclusion:  Reinforce your interest and in particular, your interest in this particular organisation and role.
Common mistakes in a marketing cover letter (and steps you can take to avoid them)
As a marketing professional, you understand the importance of accuracy. Just one spelling mistake or wrong link could affect your entire marketing campaign. 
The same approach should be used when you are writing your marketing cover letter. Make sure you pay close attention to these:
Spelling – As a marketing professional, your spelling needs to be accurate, and if you make mistakes like this on the cover letter, the hiring manager may be concerned at how accurate your marketing materials will be. Use a spell check and even ask for a second opinion if you want to ensure there are no inaccuracies with your spelling.
Too long – Your cover letter should be 200-400 words. It is a brief round up of your experience, which is accompanied by a more detailed CV.
Generic – Hiring managers want to see that you are enthusiastic about THEIR organisation. Generic cover letters are obvious and won't make the hiring manager feel that you are applying for the right reasons. Always tailor your cover letter, even if it is just small tweaks.
Expert tip
Just as marketing materials need to be visually attractive to convey the right message, your cover letter should present your skills and experience in an aesthetically-pleasing format. Luckily a professionally-designed cover letter template can make this a quick and easy task.
Key takeaways
Keep your cover letter brief and focus on the most important aspects of your experience and skills so far.
Tailor your cover letter to the role you are applying to and show your enthusiasm for the company.
Proofread your cover letter and check for any spelling and grammatical mistakes.
Check out our marketing cover letter sample for more insights into creating a great header.