Project Manager Cover Letter Example & Writing Guide
The broad range of skills that project managers need to keep everything on track are easily lost in a CV packed with facts and achievements. When there are so many moving parts to a project, employers are interested in the circumstances of a project manager's individual contribution. This is where the longer-form text of a cover letter comes in.
Project managers want the opportunity to give some depth to their stories, so expanding on their toughest assignments in a cover letter is a great way of showing a potential employer how they go about their work as well as what they have achieved. We look at:
How to format a project manager cover letter to highlight their impact.
Structuring each part of the letter – introduction, middle part, and conclusion.
Which parts of your project management experience to choose.
How to ensure that mistakes don't trip up your application.
Expert tip
Project managers understand the value of comprehensive research. Resume.io's wide-ranging cover letter examples may shine a light on industry-specific approaches.
Best format for a project manager cover letter
Organising any kind of communication is crucial if you want the reader to pick up on every important point. How you structure a cover letter is therefore essential for a hiring manager to process the career stories that you have chosen to share. Luckily there is an accepted norm for a cover letter format that we would advise you to follow:
Cover letter header
Greeting / salutation
Cover letter intro
Middle paragraphs (body of the letter)
Conclusion of your cover letter
Our comprehensive cover letter guide offers a different slant on cover letter writing, with general advice in terms of style and language. When you only have 300-350 words to play with it is worth consulting multiple sources of advice before you sit down to write.
This project manager cover letter example may spark some thoughts: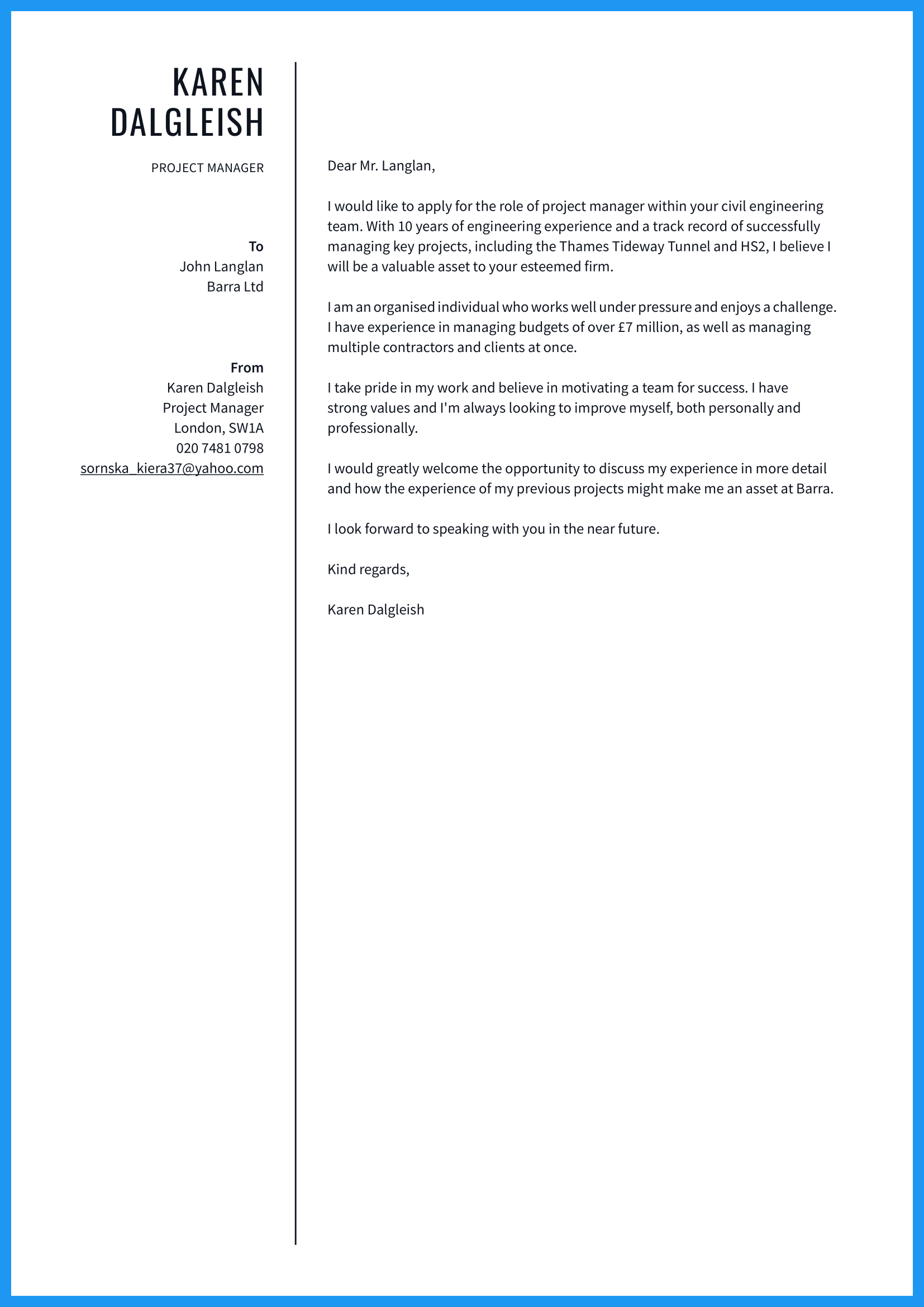 Cover letter header
A cover letter header should contain all the essential contact details: full name, email address and mobile number. Just double check them to be sure. Include them on your cover letter as well as your CV because you never know when a hiring manager might be tempted to invite you to an interview. 
At this stage in the process, a home address is not required. There are data protection and even discrimination concerns, so you can share that once you (hopefully) get to the offer stage. In the same vein, there is no requirement to include the inside address of an employer. This is an outdated convention, although you can include it if you are sure that it is correct, and you want to be extra formal. See our adaptable cover letter sample for more ideas on creating a great header.
Cover letter greeting
Getting the greeting right won't improve your chances much but getting it wrong will certainly plant a small seed of doubt. Check the contact name on the job description and make sure that you spell it correctly. If the hiring manager is different from the HR person who wrote the cover letter, address it to the hiring manager (if they will be conducting the interview). Using the salutation "Dear Mr / Mrs / Ms" will be fine. If you are unsure to whom it should be addressed, a friendly "Dear (Company Name) Hiring Team" is a reasonable alternative. See the greeting from our cover letter sample here:
Adaptable cover letter greeting example
Cover letter introduction
The cover letter introduction for a project manager should lead with your most successful (but relevant) project. Your future employer wants to know that you have what it takes to handle the specific nature of their projects, so don't be tempted to reel off your career greatest hits if they are different from the sorts of things you will be expected to do in the new role. Share a hint at your personality and how you manage a diverse team. Read our cover letter sample introduction below:
Adaptable cover letter introduction example
I would like to apply for the role of project manager within your civil engineering team. With 10 years of engineering experience and a track record of successfully managing key projects, including the Thames Tideway Tunnel and HS2, I believe I will be a valuable asset to your esteemed firm.
Cover letter middle part (body)
The middle part of the cover letter is where more project examples can come in. Give some context as to the issues that you were facing, show how you overcame obstacles and quantify with context wherever possible. Each business will have a different scale to their projects, so your future employer needs to understand just what you were dealing with.
Teamwork and strategic planning should feature highly in the middle of the cover letter. Keeping a diverse team united in a common direction is a unique skill – especially when people have many other demands on their time. Pick examples that outline how you achieved success through others and show that your success was repeated. In essence, you need to give them a glimpse into your project management secret formula. You can then give them the rest of the story when you get to an interview.
In terms of cultural fit, mirror the language of the job description where possible. Project managers are often seen as outsiders - you need to show that you could be "one of them." Below you'll find the body of our cover letter example.
Adaptable cover letter middle part example
I am an organised individual who works well under pressure and enjoys a challenge. I have experience in managing budgets of over £7 million, as well as managing multiple contractors and clients at once.
I take pride in my work and believe in motivating a team for success. I have strong values and I'm always looking to improve myself, both personally and professionally.
I would greatly welcome the opportunity to discuss my experience in more detail and how the experience of my previous projects might make me an asset at Barra. 
How to end a project manager cover letter (conclusion & sign-off)
You will likely still be brimming with examples to share, so give them one last reason to hire you in the conclusion. Maybe base it around a project that you know is coming up for them in the future – get the inside track from someone if at all possible.
Finally, say that you are passionate about finding out more at a potential interview. You cannot possibly know that you are a perfect fit until you hear about more details of the projects themselves, but it doesn't hurt to show that you are keen. Such a call-to-action is standard sales practice. You want their finger to be hovering over that send button for an interview invite. See the cover letter sample below:
Adaptable cover letter conclusion example
I look forward to speaking with you in the near future.
Avoiding basic mistakes in a project manager cover letter
If you are expecting the project members to stick to every date in your critical path, you can hardly be forgiven if your cover letter contains any silly mistakes. The attention to detail of a project manager should be beyond reproach.
Check for grammar and spelling issues. Writing might not be your forte, so use an online grammar checker such as Grammarly.
Make sure that you do not share any details about your previous clients that are confidential. Such indiscretions will not be viewed favourably by a future employer.
Keep the cover letter to one page. As you have managed so many projects you will have more detail to include than a normal employee, but keep it as brief as possible.
Expert tip
Every project manager will know the effectiveness of visuals and graphics in conveying important messages. Using symbols and icons is increasingly acceptable in CVs, so make good style choices. You certainly don't want the CV to look too bland. A professionally-designed cover letter template can minimize the chance of errors.
Key takeaways
Share only your most relevant projects – but with enough "human" detail.
Make sure that you include enough quantifiable context for your future employer.
Start to tell the stories that you wish to continue at the interview – whet appetites.
Keep the cover letter as brief as possible and don't make any careless errors.
Check out our project manager cover letter sample for more ideas on creating a great page design.
Here are a few other cover letter examples that could offer a different angle: