Teacher assistants play a vital role in the education of young people by supporting teachers in a variety of tasks, including preparing the classroom, taking care of the pupils' emotional needs, and aiding during lessons, along with a range of other responsibilities. An exceptional teacher assistant cover letter is one of the best ways to stand out from other candidates and land a role as a teacher assistant. 
The need to be short and concise, while also doing justice to your talents and motivation, can sometimes be a challenge when writing a cover letter. For anyone needing some guidance, Resume.io is a great place to start. Our job search resources include dozens of occupation-specific cover letter examples , each paired with a writing guide.
The writing guide you're reading right now is specifically designed for teacher assistant job applicants. All of the step-by-step advice is supported by adaptable excerpts you are free to modify from a teacher assistant cover letter example. We'll cover the follow topics:
The essential paragraphs your cover letter format should contain
Optimising the impact of each cover letter section, with reference to your key successes to date.
How to avoid making some of the most common cover letter mistakes.
Best format for a teacher assistant cover letter
Planning teacher assistant cover letter starts with determining the correct format to use. Taking one section at a time will make the writing process much easier. These are the essential cover letter components:
The cover letter header
The greeting / salutation
The cover letter intro
The middle paragraphs (body of the letter)
The ending paragraph of your cover letter (conclusion and call-to-action)
Here is an adaptable cover letter example that you can customize for the teacher assistant position you are applying for.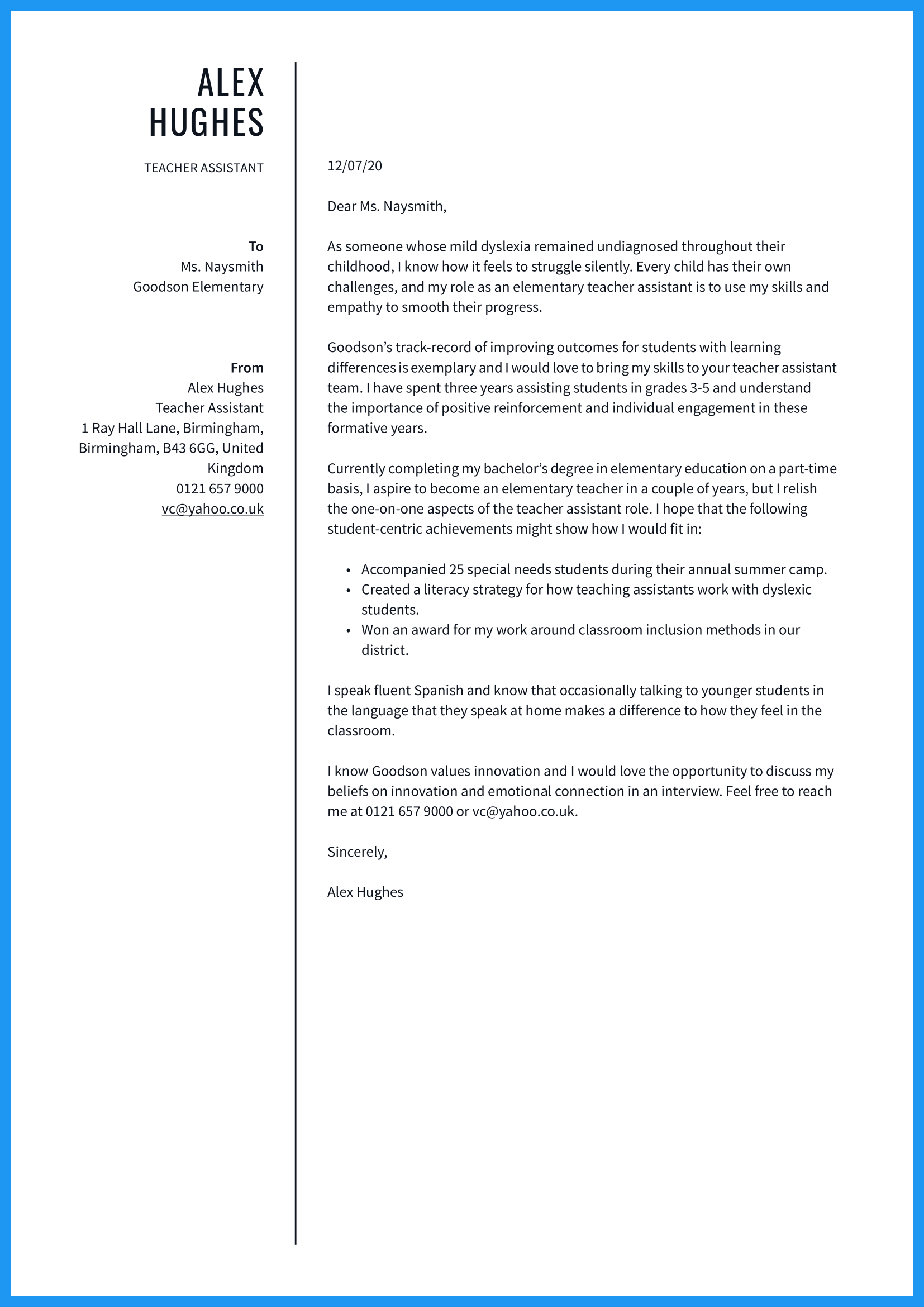 Cover letter header
The cover letter header, at the top of the page or sometimes down one side,  is where you will place your name, together with key contact details like your telephone number, email address and LinkedIn or other professional social media accounts.
A distinctive cover letter header design — ideally the same as your CV header for continuity's sake — helps your cover letter get noticed and makes everything else on the page look more inviting to read.
The aim of the cover letter header: Your cover letter header should attract the hiring manager's attention and let them know how to reach you.
Statistical insight
This is a great time to look for a new job as teacher assistant positions are among those facing the highest shortages in the UK. According to the Skills and Employment Trend Report 2020, over 41,000 jobs were posted.
Cover letter greeting
The greeting of your cover letter addresses the person who will be reviewing your application — the hiring manager or principal, as the case may be. Since education is a field that carries some degree of formality, it's best to stick with "Dear "<Mr><Ms.><Dr.> Surname."  If you can't find that person's name, you can just use "Dear Hiring Manager" or 'Dear Teacher Assistant Recruitment Team."
This is the next best approach to a greeting that is personalised with someone's name. Avoid addressing your cover letter with "Dear Sir or Madam" or "To Whom It May Concern", which are not only outmoded and stuffy-sounding, but cold and impersonal.
The aim of the cover letter greeting: The cover letter greeting should be personalised whenever possible. This helps you create a personal connection and friendly tone.
The aim of the cover letter greeting: A cover letter addressing someone by name helps you create a direct personal connection with the recipient that sounds friendly and polite.
Cover letter introduction
As a teaching professional, you already know the importance of making a positive introduction. You wouldn't start a new teacher assistant job by going straight into the lesson plan; you would introduce yourself to the class first. 
The cover letter introduction serves the same purpose taken a step further. Within just a few opening sentences, you must showcase your motivation and ability to do the job. 
It is vital that your passion for education shines through in your introduction.
Consider the reasons why you are interested in education and the skills/qualifications you have that allow students to engage with you.
The aim of the cover letter introduction: The hiring manager should instantly understand your passion for the profession and the key elements of your background that make you an ideal candidate.
The greeting and introduction from our adaptable cover letter example can give you ideas for writing your own:
Adaptable cover letter greeting and introduction
Dear Mrs. Smith,
"I have spent the last 2 years working as a Teacher Assistant at St. Paul's in Birmingham and during this time, I have helped motivate students and encouraged them to achieve their goals."
Cover letter middle part (body)
The middle part, or body, is your next cover letter section, where you highlight your most relevant experience, skills and achievements.
Teacher assistants are expected to be confident in the integral role they play supporting the teacher with lessons. They need to be someone with a positive attitude, who can speak to students and help them when required. Teaching assistants are not usually motivated to work in this job for the money, as it does not pay particularly well. Therefore, it's vital that you cover letter enthusiastically expresses your desire to work as a teacher assistant who supports both the teacher and the students. 
The reader should get a good insight into what you've achieved, emphasising your ability to deal with a demanding group of students and help them make progress. Try to cite specific examples of relevant accomplishments, including facts and figures to quantify the contributions you've made in similar roles.
Try to keep the body of your cover letter short and to the point
Purpose of the cover letter body: The hiring manager should get a feel for how a class would be run with your support. How would you ensure the students are happy and motivated?
Take inspiration from our adaptable teacher assistant cover letter sample below.
Adaptable cover letter body 
In my last two years working as a teaching assistant, I have achieved the following:
Helped students to reach their targets in reading and mathematics.
Ensured that the classrooms were prepared 1 hour in advance of the start of the lesson.
Dealt with challenging behaviour and helped to get to the root of the student's issues to allow for a harmonious environment.
Created reports based on outcomes and progress data.
How to close a teacher assistant cover letter (conclusion and sign-off)
The best way to  close your cover letter is with a call to action that leaves the principal or hiring manager wanting to get in touch.Make sure to express your enthusiastic about the position you hope to be hired for, perhaps weaving in a favourable comment about the school that shows your awareness. Also indicate the best way to contact you.
Finally, sign off with a professional closing like "Sincerely" or "Best Regards."
Check out the conclusion from our cover letter example below:
Adaptable cover letter example for a conclusion
As a dedicated and passionate teaching professional, I am now ready to embark on my next challenge. St. Edmunds is one of the most reputable schools in my area and as an ex-pupil myself, it is somewhere I've always held with great respect.
I welcome the chance to discuss my experience in more detail.
Purpose of the cover letter conclusion: Reiterate your interest and make it clear that you would like a response of some kind from the hiring manager.
Basic mistakes to avoid in a teacher assistant cover letter
If you are applying for a role as a teacher assistant, it is imperative that your cover letter is error-free. These are some common cover letter mistakes with tips on how to avoid them:
Spelling and grammar. Spelling and grammatical mistakes are never acceptable in any cover letter, but it's even more important when you are applying for an educational position. Use spell check and ask a friend to proofread before you submit.
Overly in-depth. In some cases, candidates will send cover letters that are two or three pages long. This is not what hiring managers want to see, and it is doubtful they'll finish reading a letter that long. Keep your cover letter to one page.
Informal. Always ensure your teacher assistant cover letter is conversational but also professional, even as you personalise it to the extent possible.
Poor formatting: Make sure to keep a balance of white space to text and create a header that is eye-catching and functional. A cover letter template can make this task quick and easy.
Key takeaways
Personalise the greeting of your cover by addressing the recipient by name if you can. Make every effort to find out.
Give your cover letter recipient insight into "a day in your life" as a teaching assistant.
Focus on positive outcomes and how you help students achieve these.
Describe your own relevant achievements in measurable terms if possible, by impressive facts and figures statistics.
For even more writing inspiration, check out these other resume examples and writing guides: