In its role protecting the UK, preventing conflicts abroad, assisting with disasters or fighting the nation's enemies, the British Army is an organisation that demands the deepest respect. The army has roles for people with a wide range of skills, but with a world-class training programme they are more interested in who you are rather than what you can do. The British Army CV offers the chance to highlight both your professional and personal qualities.
With 82,000 regular personnel, 30,000 in reserve and 12,000 civilians, (plus innumerable external contractors), the British Army is one of the biggest employers in the UK. The land aspect of warfare is the most complex military environment — the army is in a constant state of readiness to deploy wherever it is required. 
At Resume.io, we hope to help you in your search for your next army role. Our CV examples and expert-backed writing guides should offer plenty of inspiration. There are a lot of cross-overs from a civilian job search, so make sure that your research is broad. Our CV and cover letter templates should cover any personal preference in terms of design.
With this guide and corresponding CV sample, we will cover the following:
What does it mean to work for the British Army?
How to write a British Army CV (with CV example)
Select the right format for a military CV
Advice for every section (summary, work history, education, skills)
Design ideas and format considerations.
Once you have joined the army, you are one of the family, but the potential for progression, both upwards and sideways, is always there. While there are certain protocols about internal movements, a CV is no less important for someone looking to progress within the army. Who you are matters when you have to give so much of yourself at work.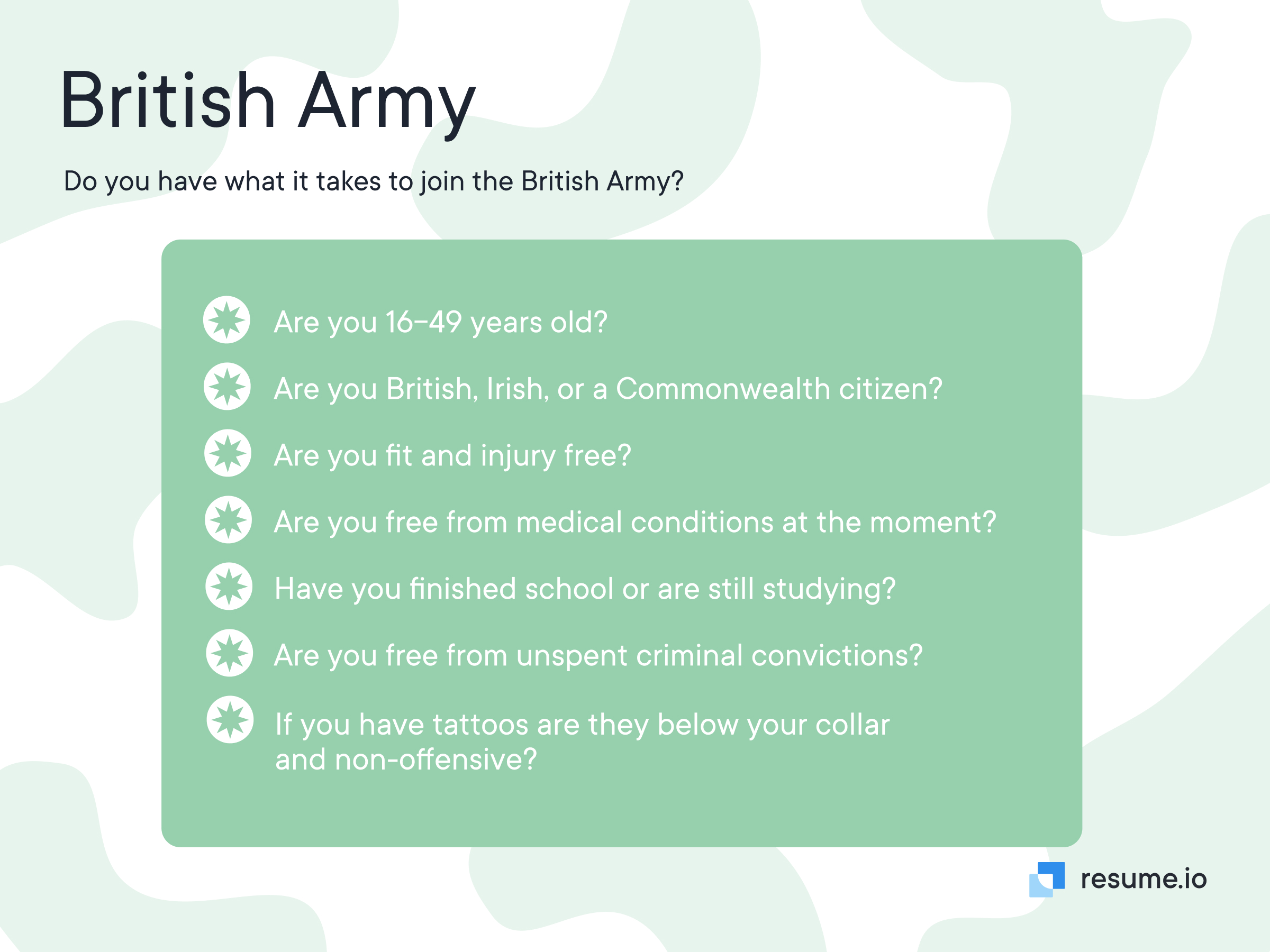 What does a British Army employee do?
Whether you are a soldier, special forces operator, officer, technician or physician, the army offers roles for a wide range of people from different backgrounds. It is often a career, and life, that people will enjoy for many decades. You need to understand the available opportunities.
Types of British Army jobs include:
Combat: Taking part in military operations is considered the stereotypical army job, but there is also much support activity that goes into supporting the front line troops.
Medicine: The army medical corps plays a vital role in bringing wounded soldiers home safely. Army medics form an essential part of the military team.
Engineering: When something stops working, your typical soldier wouldn't have a clue how to fix it. Military engineers are cutting-edge specialists in their field.
Human resources: People management is critical in high pressure situations — HR pros are required to manage performance and recruit and retain the best of the best.
IT: Ditto with engineering, but with the additional factor that many modern armies are constrained by the limits of their IT capabilities more than their weaponry.
Cultural: The British Army is not all about fighting wars. They play a crucial peace-keeping role in countries around the world. Managing cultural sensibilities is vital on deployment.
In this guide and British Army CV example, we will focus on the role of a soldier but much of the information will be relevant for a wide range of other army occupations.
Statistical insight
According to Payscale, the average annual salary for a soldier is £22k and the annual salary for an officer is £44k. 
The British Army can be one of the most stable career options. The average age in the UK military is 31, while the average age of all officers is 37. 
The initial fixed period in the army is four years, but many stay for far longer, with an officer's commission typically lasting 12 years. It is an honour to serve your country.
Whether you see the army at the level of fire teams, platoons, battalions, or battlegroups, every individual matters. The army has a highly developed training and development programme that helps to get the most out of every person. Your CV should offer a tantalising glimpse into your potential — they will do the rest.
How to write a British Army CV
No matter which army role you are applying for, the CV should contain the following:
CV header
CV summary (or personal statement)
Employment history section
CV skills section
Education section
Every army employee understands the rigours of discipline, so a well-organised CV can point to your organised nature and appreciation of structure. Saher the content that you wish to discuss during an interview and don't forget the crucial education and skills sections. 
Every army employee will have a set of unique skills that make them unique for their role — find a balance between sharing the rare ones that set you apart and the common skills that a hiring manager would expect to find.
You may not be able to share details of certain deployments or missions, but you can be sure that the hiring manager will have access to the full details. Rather than focus on what you did, share your approach to your army career. How do you make things happen?
Expert tip
Lots of people apply to the army every year and move internally within its ranks. An Applicant Tracking Systems (ATS) helps the employer to manage the volumes of applications, so make sure that your CV passes its tests. Some ATS systems are more sophisticated than others, but make sure that you include enough keywords from the job description and are sharing experience that is a fit with the role in question.
When considering how to write a British Army CV, take a few moments to let it rest before you send it off. Check it for mistakes, ask a friend to read through it to ensure that it sounds like you, and revisit the content one last time after you have gone away to do something else.
Choosing the best CV format for an Army CV
The format for a British Army CV should follow reverse chronological order. Start the employment history with your most recent position at the top and list the rest in reverse order. If you have a long career, you may wish to offer less detail for the roles in your early career. Employers generally care most about the last 10-15 years.
The CV format matters because people process information visually, so allow plenty of white space and do not choose a tiny font that makes your career story hard to read. Check out the layout options in our guide or look at our CV sample.
CV summary example
Look at the key demands of your next role and write 2-3 sentences at the top of your CV which present you as the perfect person for the role. A mix of personality, experience and outstanding achievement would be ideal. Don't use meaningless adjectives — let your career speak for itself.
When it comes to a promotion, be sure to include a career objective in the CV summary. Why do you want your next role and how can it get you to where you want to be in your career? Have a look at our summary CV example.
Adaptable summary CV sample
Detail-oriented, focussed and highly adaptable professional well-outfitted for a career with the British Army. Exceptionally capable of adhering to rigid schedules and adjusting to shifting priorities.  
Employment history sample
As mentioned earlier, while aspects of your employment history may be confidential and not for public record, you can share enough top-line detail to give the hiring manager the opportunity to conduct further enquiries. Your records will of course be centrally maintained if you are currently in the army or in one of the other forces. This info will be meticulously maintained, and you can be sure that the army will conduct a thorough background check.
Having said this, you can share non-specific details of the obstacles that you faced in your roles and how you dealt with them. Problem-solving with others is a big part of British Army life. How do you react when you come across a problem that you have never encountered?
Adaptable employment history CV example
Infantry Soldiers at British Army, HQ London District, London 
February 2020 - Present 
Underwent intensive preparatory training program for international deployment.
Utilised and maintained various equipment and weaponry, and acquired skills in operating vehicles within rugged environments.
Selected to provide leadership and training to new recruits, and to lead a small team of peers.
Commended by Commander as being well-prepared for promotion to higher rank.
Front of House Staff at Premier Inn London Waterloo, London 
May 2018 - June 2019 
Greeted guests in an approachable, professional manner, gathering information on needs and answering any questions.
Assisted guests with check-in and check-out, gathered payment and ensured any special requests were met.
Provided information to guests on room locations, hotel amenities, restaurant hours and any other vital details.
Wait Staff at Forty-Four Restaurant, London 
April 2016 - March 2020 
Provided high-quality service to restaurant patrons.
Engaged with patrons in a friendly, professional manner while taking orders and answering enquiries.
Demonstrated exceptional capability for excelling in high-pressure, fast-paced environments.
Consistently maintained high standards of quality control, general good hygiene, health and safety.
Provided assistance in other areas of restaurant as circumstances dictated.
British Army CV education example
Not every British Army applicant will have been to Sandhurst and the army accepts applicants from a wide range of backgrounds. There are basic education requirements at various entry points, so do not neglect to include your GCSEs, A-Levels or other school-leaver qualifications. Degrees are common if you have ambitions to move up the hierarchy and they are also vital if you are applying for many support roles.
Adaptable education CV example
A-Level Degree, Abbey DLD College London, London, UK 
July 2014 - May 2016
CV skills example
The skills on a British Army CV will all be highly specific for the role. It is important that you spread them throughout the work experience section and share the more technical skills in the skills section. Always try to offer context around how these skills have helped you to do your job — this will give an idea of the level of your proficiency. 
The CV in this guide is for a soldier, so here are some of the key skills involved:
Fitness and endurance
Concentration skills and great reactions
Listening skills and the ability to follow instructions
Working well with others in a team
Ability to remain calm when stressed
Accepting criticism and working well under pressure
Thinking and reasoning skills
Paying attention to detail
These may be the basics of a soldier's CV, but I am sure that many of these skills will have saved lives at some point in your career. Heroes are built of simple but powerful stuff.
Adaptable skills section CV example
Firearms Training
Firearms and Weapons Knowledge
Self-Defence
Survival Techniques
Equipment Maintenance
All-Terrain Vehicle Operation
Leadership Skills
Staff Training
Customer Relations
Interpersonal Communication
CV layout and design 
The final consideration with a CV is its design. There are many designs out there with visually stunning formats, but for a British Army career it is worth keeping the CV design understated and professional. The look of the CV will create an impression, so be careful with your design choices. It is not a simple matter to create a CV from scratch, so it may be worth using a CV template from a recognised provider. Here are some of our CV templates.
Key takeaways 
The British Army needs you, but it will only take you if you are hyper specific about your suitability for the role in question. Be loud and proud about it.
Do your research into the demands of the role and tailor your CV to fit.
Use action verbs to embellish accomplishments – with context where possible.
Pick a suitable design for the CV template – appearances matter.