Your attention to detail and ability to spot errors and inconsistencies in written material may be second to none. However, shaping and refining your editor CV can still feel like an overwhelming task — even to a wordsmith like you! 
No pressure, right? Your CV is often the first impression you will make on a potential employer or client. So, you need an outstanding editor CV that matches your top-notch skills and experience. 
Luckily, Resume.io is here to help you come up with the right stuff! This CV guide will give you tips on writing an editor CV that sets you apart from the competition and increases your chances of securing that dream job opportunity. Plus, you can say goodbye to writer's block with our library with dozens of CV examples. This CV guide, along with the corresponding CV example, will cover the following topics:
What does an editor do?
How to write an editor CV (tips and tricks)
The best format for an editor CV
Advice on each section of your CV (summary, work history, education, skills)
Professional CV layout and design hints.
What does an editor do?
As a professional editor you are a pro at revising and improving all sorts of written materials. From books and magazines to articles and papers, the content of what you're editing could cover a range of topics and industries. You might work in publishing, or journalism.
Your tasks as an editor include reviewing grammar and syntax, checking for accuracy and consistency, and suggesting changes to improve the flow and overall quality of the writing. Depending on your field, you may work with other writers to develop ideas and ensure that their message is communicated effectively. Ultimately, your goal is to create polished and professional written material that is engaging and effective.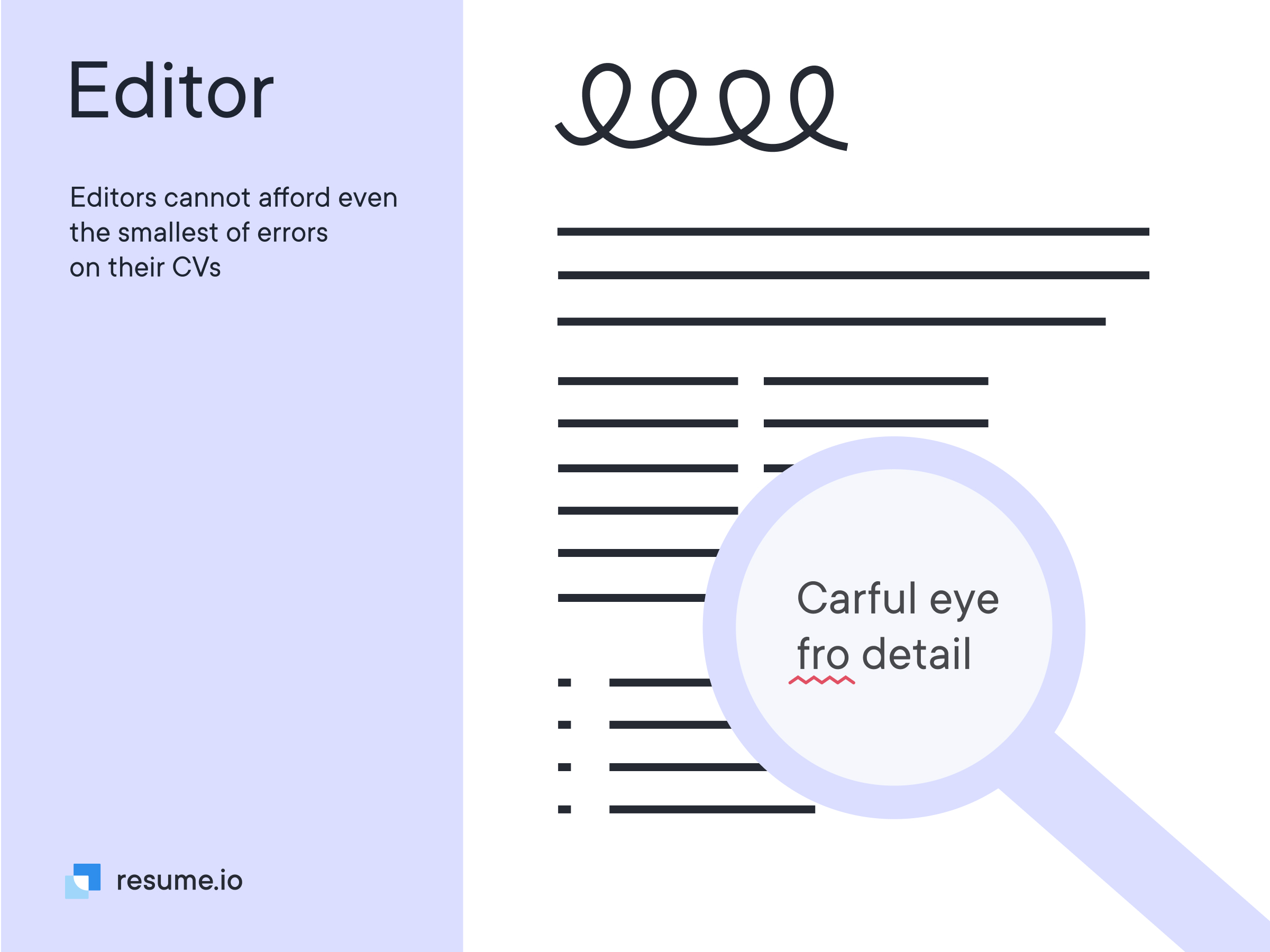 How to write an editor CV
Before you pick up that pen — well, keyboard — you should make sure that your editor CV has the correct structure. Your CV should contain the following elements:
The CV header
The CV summary (aka profile or personal statement)
The employment history section
The CV skills section
The education section
It's also important to maintain a professional tone throughout. Finally, we shouldn't have to remind you that thoroughly editing the CV for grammar and spelling errors is crucial. 
Expert tip
Edit for the ATS
In today's job market, many companies use an Applicant Tracking System (ATS) to screen CVs and cover letters. This means that if your CV or cover letter doesn't use the right keywords or formatting, it may not even make it to a human reviewer. 
Some tips for writing for the ATS include: 
Mirroring language and keywords in the job description.
Avoiding graphics or images that may not be readable by the system.
Maintaining a clear CV layout that's easily legible by algorithms and humans alike.
Choosing the best CV format for an editor
The reverse chronological CV format is preferred for an editor's CV. It focuses on the employment history section which can showcase the editor's experience in a clear and concise way. Clarity, after all, is the name of the editing game and proves you have the necessary skills for the job. 
Expert tip
Content considerations
Each step of editing your CV needs to keep this employer and role in mind. You may be in the business of writing, but don't rely on the hiring manager's imagination to fill in the gaps of why you are right for this role. Consider the following:
Which of your professional experiences line up with the responsibilities listed for this role?
Which of your skills will best deliver results for the problem the employer is trying to solve with this role?
Do you have any personal attributes that will clear up any doubt that you are the editor for the task?
Use your answers to guide you as you choose which content makes the cut for a top editor CV.
CV summary example
The CV summary includes the "best bits" of your editor profile. A well-crafted summary will help you stand out from other applicants and demonstrate that you have the skills and experience necessary for the job in three to four bite-sized statements. 
Reading other CVs can be a source of inspiration for this step. By examining CV examples of other professions in the field, you could even gain an understanding of what skills and experience are most valued in the industry you're applying to work in. 
Check out our editor-specific CV example content below. Or, feel free to check out some more industry-specific CV examples and their summaries as you craft yours:
Adaptable summary CV sample
Detail oriented content editor with a keen talent for ensuring accurate, high-quality material across a wide range of content needs. Demonstrated capacity for partnering with writers to clarify messaging, enabling high-impact audience engagement through the delivery of compelling, dynamic written materials
Employment history sample
When listing previous employment on your editor CV, start with your most recent position and work backwards. Include the position title, employer name, location, and dates of employment in a subheading. Underneath this you can be specific on what about this role prepared you with the skills necessary for this role.
Customisation is key. Highlight any aspects of your editor work history that match the job requirements, and consider including any additional information that may be relevant to the position. Be sure to emphasise your editing experience, including any experience in proofreading and content creation, as well as any relevant projects you have worked on.
Adaptable employment history CV example
Editor, Leeds Magazine. Leeds, UK 
May 2017 - Present 
Collaborate with writers to produce engaging and highly accurate articles for the local interest magazine.
Review submitted articles for grammar, syntax, flow, and factuality.
Partner with creators to workshop article concepts, building cohesive, clear messaging to ensure alignment with reader interests.
Recommend changes to content and content strategy, elevating written materials to maintain stellar magazine reputation.
Freelance Editor, Self-Employed. Leeds, UK
September 2013 - May 2017  
Provided expert editorial services for a wide range of clients, elevating written content for numerous platforms including business presentations, advertising, social media, and digital outreach campaigns.
Maintained a high-volume workload, expertly managing multiple concurrent projects with top-tier client satisfaction.
Editor & Content Writer, Aftershock Bakery. Leeds, UK
October 2010 - July 2013  
Created, edited, and managed dynamic social media marketing content, delivering branded material to promote business and capture new clientele.
Maintained an effective social media presence to drive sales and engagement.
Expert tip
Quantify your professional value
You're a words person. However, numbers are a great way to prove to the hiring manager why you're a smart hire. Have you saved money, increased sales, or sped up timelines? 
Stats and figures can condense your value as an editor into a number in a language that everyone understands.
CV skills example
When writing the skills section on an editor CV, it's important to focus on the ones that are relevant to the position. You may have already illustrated some of them in the bullet points of your previous employment section. However, use this section to include any important keywords that you haven't yet managed to include. 
You may also want to highlight any specific software or tools you are proficient in, such as Microsoft Word or Adobe InDesign. Make sure you can provide specific examples of how you've used any skills in this section during previous positions. You may well be asked to do so in an interview!
Adaptable skills section CV example
Content Production
Editing
Time Management
Project Management
Content Management
Grammar & Syntax
Communications
Messaging Clarity
English Language & Grammar
Expert tip
Lead by example
When applying for an editing job, don't overlook the importance of attention to detail. While it may seem obvious, having a keen eye for errors and inconsistencies is crucial for a successful editor job application. Emphasise your attention to detail by triple-checking for typos and grammar errors in your CV and cover letter.
Editor CV education example
This section should highlight any relevant degrees or certifications, as well as any coursework or training that is applicable to the job. Include the name of the institution, the degree or certification earned, and the dates of attendance, and location. 
Adaptable education CV example
University of Leeds, English MA (Hons). Leeds, UK
September 2008 - September 2010 
Leeds Trinity University, English and Creative Writing BA (Hons). Leeds, UK
September 2005 - June 2008 
CV layout and design
Clean, simple, and professional. Your visual communication needs to match your written communication. So, use a clear and legible font throughout your editor CV, and avoid using overly decorative elements or colour schemes. 
If you prefer to stick to the words while someone else takes care of the visuals, we can help. Consider checking out our assortment of CV templates that you can mix and match to suit the company you are applying to.
Key takeaways for an editor CV
Emphasise relevant editor experience and skills through keywords and the examples you include in the previous employment section.
Highlight your attention to detail by triple checking your work.
The skills section is a great place to bolster those keywords for the ATS.
Keep the design simple and professional with clear and legible font and colour scheme.