Millions of children dream about working as a professional in football. Only a lucky few of them make that dream a reality. When you're progressing your career as a football player, the space between you and that coveted role can feel vast.
It will take more than passion alone to stand out from the competition to get a spot as a footballer in a club of your choice. You need to be on the top of your game and make sure that the hiring manager, coach, or scout has no doubt about that. A strong football CV is a top tactic in landing a job for this very reason.
At Resume.io we know a thing or two about strengthening your professional position. Our job-specific CV examples have helped millions to make job-winning CVs. Today, we're going to coach you on perfecting a legendary football CV.
This CV guide, along with the corresponding CV example will cover the following topics:
What does a football player do?
How to write a football CV (tips and tricks)
The best format for a football CV
Advice on each section of your CV (summary, work history, education, skills)
Professional CV layout and design hints.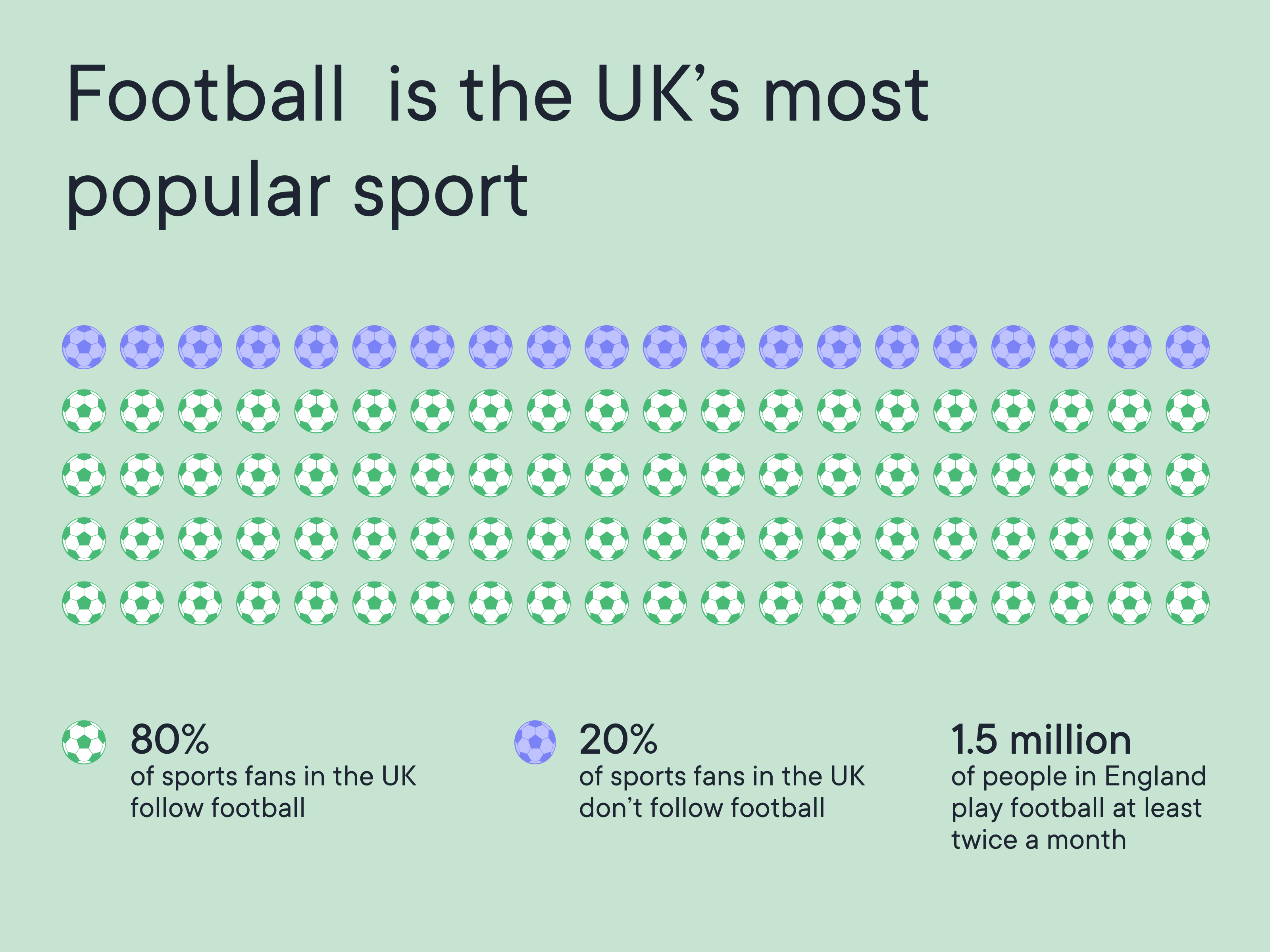 What does a football player do?
Football players are the ones who work hard on and off the pitch so that they can be on the top of their game when match time comes. The football industry is worth billions. As an athlete and football professional, your job is to perform on gameday and maintain the club's reputation. It can be intense with a lot of pressure, but if you progress into one of the football industry's top roles, you could be paid handsomely for it.
Expert tip
Football professionals off the pitch
When it comes to the game, all eyes are on you. However, did you ever think about the other individuals keeping this huge industry running smoothly behind the scenes? Here are some other main career paths within football:
Business and commercial
Coaching and player development
Broadcast, media and technology
Stadia and operations
Education, governance and community
Football products and apparel
How to write a football CV
If you are a young athlete looking to grab the attention of an academy or scout, you are encouraged to write a football CV. While many of the sections resemble that of a traditional CV, there are some additional elements to keep in mind. 
Traditional CVs are broken down thematically and should cover the following elements:
The CV header
The CV summary (aka profile or personal statement)
The employment history section
The CV skills section
The education section
Your header and CV summary follow the same principle whether you are a footballer or an accountant. However, be ready to adapt the employment history section slightly. This section should instead include a list of the clubs that you have played at. 
In addition to these elements, you can add a section on your CV for listing any media clippings that have been written about you. Even if you're not making headlines quite yet, a video link is always a good idea. Inserting a hyperlink to a reel of you playing is a great way to show scouts and coaches what you're really like. Hopefully it will even convince them to travel to see you play in the flesh. We suggest including a link at the bottom of your summary.
You might like some more ideas on how to achieve the clarity of a traditional CV in a non-traditional job in football. You might like to check out our actor CV sample or model CV sample to see how other non-traditional job roles achieve this. 
Alternatively, our business analyst CV sample and operations manager CV sample will show you the other side of the coin. Give them a read to understand how more "traditional" roles communicate their experience clearly on a CV.
Choosing the best CV format for a football player
The majority of people the job hunt will opt for the reverse chronological format. This is the best CV format for most football players. It allows you to draw the focus to your past experience. However, there are some exceptions.
If you haven't played in any other clubs yet, then the functional format may be for you. This CV format prioritises your skills. However, don't forget that any time you have spent playing football — even if it is just for the school team — shows your commitment to the game. Everyone has to start from somewhere. If you're unsure which format will work best for you, there's no harm in taking a moment to consider the best CV format before you start writing. 
CV header
Think of the CV header as a strong kick-off. It won't make the game, but it is necessary. A good one will certainly give you a strategic advantage. Your football CV header should sit at the top of the page and clearly show your name and contact details. Your key player stats should sit just below this. You can create a separate section to keep it neat if necessary, but make sure it is clearly visible at the top of your CV.
Expert tip
Your football player stats
Don't forget that anyone reading your CV will be looking out for some key facts that aren't on a traditional CV. Remember to include the following:
The position you play
Your current club (alternatively "no club"or "unattached")
Your date of birth
Your country of birth
Your height (in metres or cm)
Your weight (in kg)
Which foot you play with
CV summary example
Your CV summary runs through your story as a football player. It is the first piece of CV content the reader will spot, so this is the best place to hook their attention. Your summary should show off your top traits in three or four sentences. 
It might feel like the pressure's on to convey your worth so briefly. However, there are some tips you can follow to make the most of this small space. First of all, quantify your achievements where possible. 
Have you received any prizes or media acknowledgements for your playing? Take the time to consider which of your successes can become a shorthand for why you're a fantastic footballer. This is no time to be humble! 
Another tip is to use your best descriptive language. Powerful action verbs can paint a clearer picture of why you're an excellent football player. Not to mention it will sound more impressive. Finally, bring it home by throwing in a reminder of your top soft skills. Those are the skills that describe how you carry out more technical tasks. Both are important for a great football player! 
Check out our sample CV content below to take your summary to a league of its own.
Adaptable summary CV sample
Dynamic, driven professional passionate about delivering stellar successes through leadership, collaboration, and goal setting. Proven ability to encourage engagement and inspire exceptional performance, setting ambitious objectives and leading teammates to high-profile wins. Keen talent for translating energy and dedication into on-the-field results.
Employment history sample
The employment history section is what you will use to list other clubs and associations where you have played football. When using the reverse chronological layout, this will take up the bulk of your CV. Simply create a subheading for each which includes your position, the name of the club, the dates you played there, and its location. 
Underneath this you can include a bullet point list of your key highlights from your time at the club. Just like with the CV summary, this is an excellent opportunity to use expressive language and key stats to make your achievements stand out. Did you score a hat trick? Or were you the youngest player asked to play on a particular team? 
There are infinite accomplishments you can translate into quick-fire facts and boost your profile's perceived value. Don't forget to use our CV example content below for more ideas.
Adaptable employment history CV example
Footballer at Southgate Lions, Southgate, London, UK
February 2018 - Present
Serve as de-facto coach and mentor, motivating teammates to achieve exceptional performance.
Conduct and participate in training/drills, building skills and cultivating a strong, cohesive team culture.
Represent team and city, communicating with the public and media to grow reputation.
Ensure strict personal and team-wide adherence to standards, codes of conduct, and requirements to maintain top performance.
Co-ordinator at Southgate Community Football Club, Southgate, London, UK
September 2014 - February 2018
Headed the design and execution of club events, including games, clinics, and community activities.
Mentored players, building strong athletic and life skills in teamwork, collaboration, and physical performance.
Secured community buy-in for events, earning vital support and funding.
Football CV education example
Just like the employment section, the education section of your football CV should follow reverse chronological order. Include the name of the qualification you earned, the educational institution's name, the dates attended, and its location.
This section usually refers to formal education. If you have extra accreditation or have taken courses related to football, you can add a new section to reflect this.
Adaptable education CV example
Bachelor of Business Administration (BBA), University of London, London, England, UK
January 2014 - December 2017
CV skills example
The right skills list can take your football CV from being strong to being a knockout. In fact, if you're using a functional format then this is the key section. To complete yours you'll need a list of strategically-chosen keywords that describe your top skills.
The best approach for most roles is to look carefully at the job ad and identify the keywords that are most important. However, it's likely you're not responding to a callout but are rather trying to engage the interest of a scout or club. It's still vital to reflect the language used by the person or institution you're reaching out to in your CV sample.
Choose words that match the way that the club is talking about themselves. An easy way to do this is to see how they describe themselves on their website. As well as making sure you use the right tone, it's also about showing that their philosophy or approach to the game is a good fit with yours.
Finally, try to include a mix of soft and hard skills to appeal to the hiring manager. Hard skills are learned technical abilities. On the other hand, soft skills are harder to teach and suggest how you approach tasks and challenges.
Adaptable skills section CV example
Team Leadership
Goal Setting & Attainment
Team Motivation
Planning & Co-ordination
Public Communication
CV layout and design
An untidy CV design is an instant red card. The overall presentation of the document is going to affect the reader's first impression of you. A legible font and simple colour palette are the key.
Visual communication is part of your ability to get your point across. You may be a great player, but the ability to communicate is necessary for getting on with teammates, coaches, and everyone else you'll interact with. You should leave enough time when writing your CV to make sure it looks the part. 
If design is not your strongest point, you can consider using one of our CV templates. Not only are they field-tested but they take care of the fiddly formatting, too. 
Key takeaways for a football CV
As a football player, your CV example is a different ballgame to most other professionals. Adjust it accordingly!
Kick-off with a top CV summary.
Find some slick examples that epitomise your professional value.
Don't forget to highlight your top soft skills, too.