Freelancing is increasingly popular. But how can you show this type of work on your resume? The following comprehensive guide shows you how to get it right.
Freelance work is a smart way to boost your income. Whether you sell your crafts online, moonlight as a consultant, or do ad-hoc design work, your talents offer another income stream. It's no wonder more Americans than ever dabble in the odd side hustle. 
If you do some freelance projects now and then or are a full-time freelancer, you may wonder how to include your work on your resume. Showcasing this part of your career could give you a competitive edge when it comes to landing your next job. Here at Resume.io, we have the resources you need to supercharge your career and take your job hunt to the next level. In the following guide, we will cover these topics: 
Why freelance work and side hustles have become so popular
Whether you should include your freelance work on your resume
Expert-backed tips on how to list freelance work on a resume
Has it been a while since you sat down and wrote an application? Don't panic. Take a quick look at our comprehensive resume writing guide to get the inside scoop now.
The power of freelance work and side hustles 
Freelance work is becoming ever more popular — and not simply among people who choose to be 100% self-employed. If you have a day job and you're looking for a way to make extra cash, launching a side hustle or taking on some freelance work is the answer. 
Bankrate reports that nearly two in five American adults now have a side hustle. Of course, freelancing comes in all shapes and sizes. Let's illustrate that point. An Uber driver and an Etsy store owner have little in common, except for the fact that both of these roles come under the freelancing umbrella. The truth is that you can "freelance" in a variety of positions. The main factor is that you work for yourself rather than an employer. 
Statistical insight
Is freelancing the "new normal"?
Self-employment is on the rise in the United States. According to research from the National Bureau of Economic Research, independent contractors make up around 15% of the total workforce in the country. Some experts suggest that the popularity of freelance work rose during the COVID-19 pandemic due to a number of layoffs. 
Should you list freelance work on your resume? Employed vs self-employed
Before we take a look at how to list freelance work on a resume, let's talk about whether you should do it in the first place. That's a good question… 
Unfortunately, the answer is not as straightforward as you might imagine. In fact, it is different depending on whether you are a full-time freelancer or an employee who does additional freelance work on the side. Confusing, right? Don't be bamboozled. To help you out, we have broken our answer down into two categories below. 
Adding freelance work on your resume if you're employed full-time
Okay, let's say that you are employed full-time, but do freelance work on the side. Should you add that freelance work to your resume? That depends on one thing: does your side hustle relate to and support the career path you have chosen?
If your freelance work is likely to impress potential employers, you should most certainly include it. However, should the work have zero to do with your day job and not show off any transferable skills, you might want to give it a miss altogether. You don't want to give the hiring manager the impression that you aren't dedicated to your main job role. 
Shall we take a look at a couple of examples? In the first example, we cover when you should include freelance work on your resume as it will support your career goals.
Adaptable example #1
By day, you work as an HR professional. However, when you leave the office and head home for the day, you pick up extra work as a freelance writer giving career advice. 
These two jobs go hand-in-hand. Adding your freelance writing feats to your HR resume shows the hiring manager that you are an expert in your field. Not only do you walk the walk in the day, but you literally talk the talk when you're off the job. 
In that example, it's clear that the candidate's main job and their freelance work are connected. Keep in mind that the overlap doesn't need to be this neat. If your side hustle sees you carrying out duties that are useful in your employed life, you should include it. 
Of course, there are some instances when it's not so smart to include freelance work on your resume. Some hiring managers may view your additional work as a hindrance, especially if they are not related to your main career at all. To help you better understand what we mean here, we have provided another fictional example below: 
Adaptable example #2
Your main job is teaching high school students. When you're not marking assignments and essays, you have a side hustle as a freelance Uber driver to make some extra cash. 
There is no overlap between being a driver and a teacher. What's more, the fact that you drive Uber during the evenings and weekends is likely to work against you. A discerning hiring manager may take a look at your application and worry that you will burn out. 
In that second example, your freelance work is likely to lower your chances of landing that all-important interview. Before you add freelance work to your resume, consider what it tells the hiring manager about you and your lifestyle. The last thing you want is to give them the impression that you don't have the time or energy for a full-time position. 
Adding freelance work on your resume when you're self-employed
Are you completely self-employed? If so, you have to add freelance work to your resume. As you might imagine, there is a right way to list your projects on this document. Whether you're applying for a full-time job or your next gig, you can list your freelance work here. 
Luckily, we've got you covered. Check out our freelancer resume guide and accompanying example for an in-depth look at how to create this type of application. The guide features advice on how to lay out your content, the sections that you should include, and how to list freelance work on your resume. You will also get some tips and tricks to help you write it.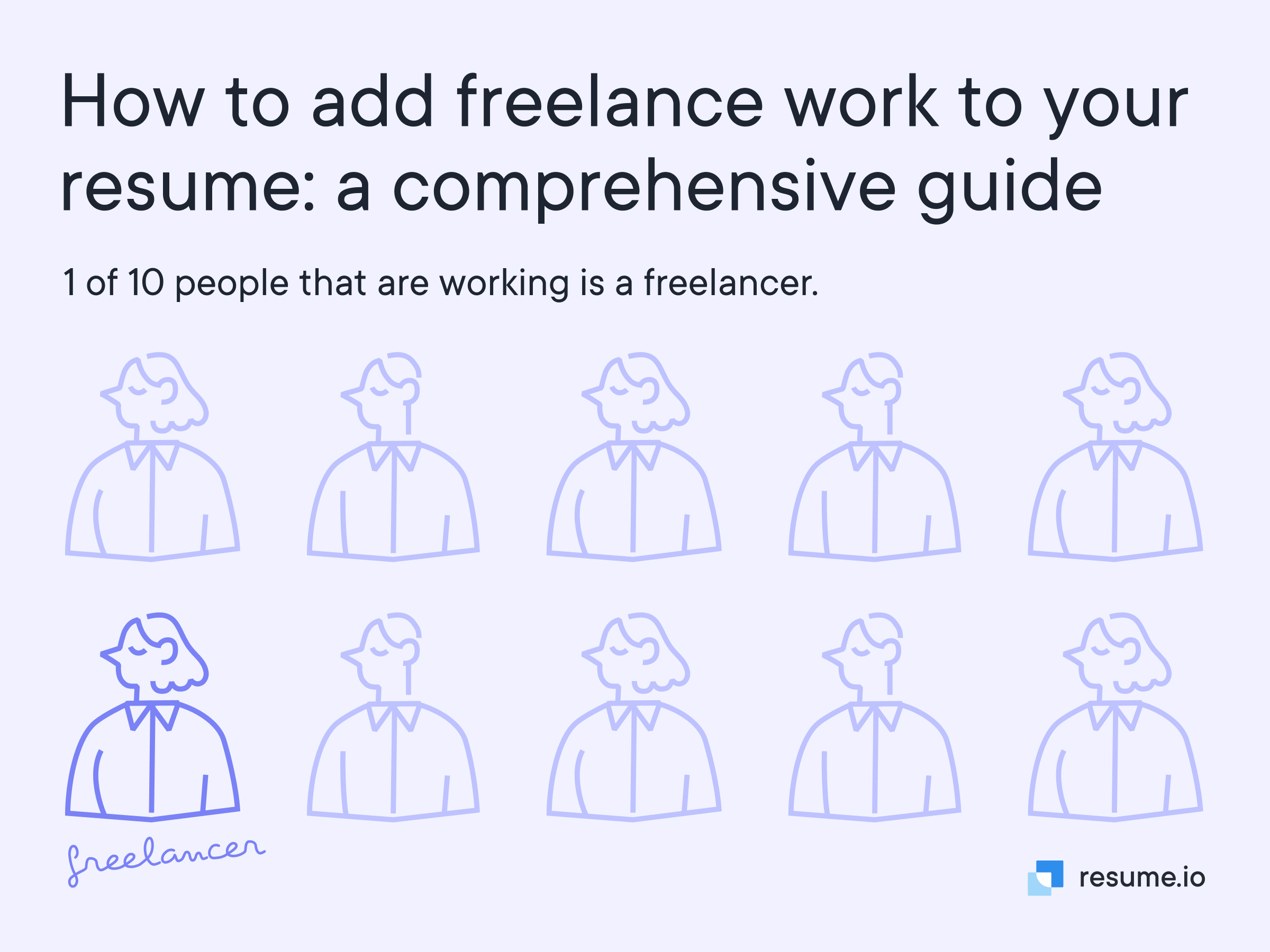 4 Expert tips for how to list freelance work on a resume
Now that you've decided whether to add freelance work to your resume, we can get down to the good stuff. Believe it or not, it's not that difficult to include one-off projects or gigs on your application. Here are the expert tips you can use when creating your resume.
1. Use a standard work experience format 
You don't have to throw the rulebook out of the window when listing freelance work on your resume. Use the standard work experience format here. That means that you start with the name of your client (in the place of your employer), the role you fulfilled, and the dates you worked with them. Next to your role, you should put "contract" in brackets. 
2. Add bullet points describing your main duties 
When you have dealt with the basic information, the next step is to elaborate on your freelancing duties. What tasks did you complete for the client in question? What core duties did that involve? You can do all of the above in bullet points. However, if the project requires more of an explanation, you can add a sentence or two above the bullet points.
3. Focus on the outcomes of the project 
It's not simply about the duties you carried out. Often enough, your results speak louder than any words you could write on your resume. Highlight the outcomes of the project and how your freelancing competencies supported them. If possible, you may choose to quantify your achievements in the form of statistics. 
4. Consider using a business name 
If you're an independent contractor, you may still have a business name. Some freelancers have an umbrella name for their services. If you use a business name with clients you may want to put it on your resume. Make it clear that this is your business and that the work carried out under that name is contract work. The clearer you can make it for the hiring manager, the better your chances of impressing them and landing an interview.
Expert tip
Let your portfolio do the talking! 
If your freelance work is creative, you probably have an online portfolio. Providing the hiring manager with a link to this resource as part of your application is a savvy way to get their attention. When they see that you've listed freelance work on your resume, the reader will have a chance to dig a little deeper and take a peek at some examples. 
Key takeaways
Freelancing work is becoming more popular than ever. If you want to showcase your skills to employers, you may consider adding them to your resume.
Consider what your freelance work tells potential employers about you.
There is a right and a wrong way to add freelance work to your resume. Make sure that you know how to list it before you start. Take all of the hassle out of creating your application by using one of our market-tested resume templates now.