It is impossible to secure that crucial first job if the hiring manager has minimal evidence that you have what it takes. Persuasive references can make all the difference. This blog will quickly answer some of the most common questions regarding references.
Applicants for a first job are often an unknown quality. They have not had much work experience, so it can be difficult to quantify their potential.
That is why references for a first job are so important (and can make all the difference to a successful application). If the hiring manager can read both character and professional references about the applicant, they will have reliable information to aid their decision.
But who can you use as a reference for a first job? And how do you ask them?
In this blog, we explore:
Why are references important?
Who can I use as a reference for a first job?
How to ask someone to be a reference
General advice about references for a first job
Back up your interview stories for your first job with a couple of compelling references.
Expert tip
Why do I need a reference for a first job? 
I have no references for my first job – what should I do? Well, if you are competing against other job seekers for your first job, suitably positive references could be what persuades the employer that you are the person for the job. You will not have a lot of evidence to prove your potential fit, so a reference is independent evidence of your suitability. Make them count.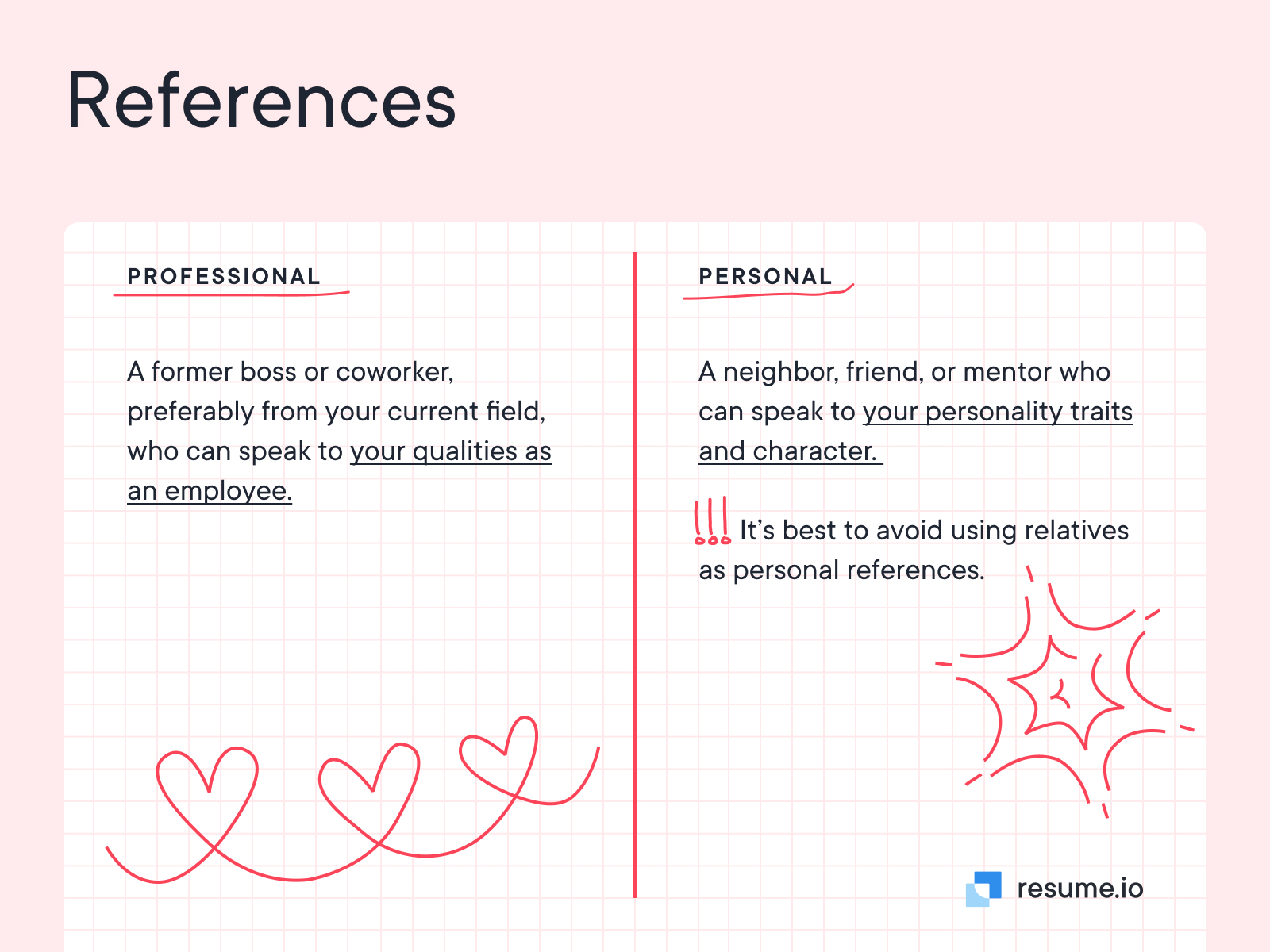 Why are references important?
Your future boss will not be impressed if you turn up to your interview for a first job without any references available for immediate consultation.
Checking the career stories of applicants with references is easier when you have a longer career history , but first-job employers will nonetheless want to dig deeper into your character and professional potential. 
They will likely have taken on many new starters in your position before and they will know that formal references generally tie up with future performance. Hiring mistakes at this level might not cost an employer much in terms of bottom-line impact, but they certainly can affect team morale and operational efficiency. References help them make the right choice.
Expert tip
Should it be a character reference or a professional reference? Ideally, you would supply two references for a first job – a character reference and a professional reference. Character references are from upstanding members of the community who know you well and have seen you undertake responsible actions. Professional references for a first job might come from work placements, volunteering or internships.
Who can I use as a reference for my first job?
You might be surprised at just how many people you can ask for your first job reference.
Hiring managers won't be expecting you to have had much in the way of professional experience, but your choice of referee (and content of the reference) will reflect on your understanding of the role ahead. Ensure that you choose appropriately.
Work placement / internship manager
While a work placement or internship may not have lasted long, the insight into your professional potential will be informative enough. Even a short amount of professional (paid) experience carries more weight than a personal character reference.
Make sure that the work placement was relatively recent and that it involved the right mix of responsibilities and soft skills that will be required in your future role.
Favorite teacher or sports coach
Some of your previous teachers or sports coaches may know you very well. Academic pursuits and sporting success require many of the soft and hard skills that will see you enjoy success in the early-career workplace, so these are great references for a first job.
These people are used to writing references and often happy to mark what has been a rewarding relationship. Their reference is a testament to how they have contributed.
Family friend you have worked with
It is often the case that you may have done some unpaid work with a family friend as you were growing up. This reference is perfectly acceptable – be open about the fact that it is a family friend and get them to be very specific about where you added value.
Family friends are often powerful references for a first job as they will spend the time to sit down and craft the exact type of reference that you need. Never ask them to lie for you. If the employer senses that something is amiss, your chances of getting the job will evaporate.
Leader from youth activities
Who we are in our early career is made up of our formative experiences, so including character references from any youth activities will paint a picture of who you are. In a world of work/life blend, your outside interests will offer unique insight into your personality.
Youth activities often demand a range of soft skills, including communication, influencing and teamwork. They will likely have some interesting stories to tell about you.
Volunteering or charity organizer
When you are looking for references for a first job, your choices of previous volunteering activity will say much about your character. Doing something for free demonstrates a strong work ethic that will be essential for those first few months at your new job.
If you are particularly enterprising, look up the hiring manager online and see what sorts of activities they are into. Maybe you can uncover some common interests?
Guidance counselor
It is common that a school or college guidance counselor will be able to strike up a solid rapport with a student over the course of their education. If they have spent enough time with you, they can offer a respected and professional opinion on your suitability.
When you are looking for a reference for a first job, employers will want to understand your psychological readiness to take on the work. Guidance counselors can share exactly that.
Expert tip
What do I do if I have no references? There is the option of saying that you do not have references, but that will impress no one. Doing your best in this area will showcase the effort that you will put in during those first months. Never use family – surely you will have made some sort of impact outside of the home environment?
How to ask someone to be your reference
Once you have identified a potential reference or two for your first job, how you request the reference will have a direct impact on the quality of the final outcome.
Ask politely, in advance
As soon as you know that your first employer may be approaching people for references, tee up a couple of references in advance. Don't do it too early as they will forget about it - giving them a week or two to think about what they want to say will be sufficient. 
A thoughtful reference for a first job comes after careful and unrushed preparation. If they are academic contacts, they may get plenty of requests, so make yours as thoughtful and as possible. Think about who to list as references – will they have the inclination to do it?
Provide sufficient (but concise) background detail
Referees should understand the nature of the job you are applying for. What does the job entail and what personal qualities will be required? Send them a message with a brief description of the role and why you feel that you would be a good fit.
While they will want to put their unique spin on the reference for a first job, applicants can certainly do their part to influence the content of the reference. Make sure that you don't send them too much information – you might be enthusiastic but be mindful of their time.
Offer to discuss the reference in person
The best solution of all when you are asking for a reference for a first job is to have a brief chat with your referee about it. It is likely that they will want to help you as much as they can, and they might even share some useful interview tips or offer crucial insights.
Meeting in person is ideal but jumping on a quick video call will also work. If they understand just how much this first job means to you, they will write a great reference.
Follow up with gratitude
Someone who has been asked to be a reference once is likely to be willing to do it for you again in the future – providing that you were suitably grateful the first time.
Let them know the outcome of the reference. Everyone likes to feel that they have made a difference to others. Show them that their reference played a part in your career story.
Expert tip
Request, don't demand. Even if someone is obliged to give you a reference, make sure that you are polite and helpful when you ask. The quality of the reference matters – if you are demanding you can be sure that they will do a half-hearted job. 
Key takeaways
Choosing and organizing a reference for a first job is not as simple as it might seem.
Those few sentences of each reference will be carefully weighed. What others say about you is as revealing as what you say about yourself. When selecting a reference for a first job:
Choose a mix of character and professional references if possible
Pick a reference for a first job who knows you well
Ask politely in advance, provide detail, and discuss the role
Follow up afterwards – let them know that they made a difference