When it's time for a customer service job change, the few short lines of text at the top of your resume page could be the most impactful writing task you've tackled in a long time. Here we offer some practical advice for composing an effective customer service resume objective.
Express to impress. That's the challenge and the opportunity you face when writing a persuasive customer service resume objective. This neatly compact statement of intent has the sweeping task of bringing your professional talents and aspirations into sharp focus through the employer's lens. It must be captivating enough to motivate further reading.
Here, we'll look at some strategies for writing an impressive customer service resume objective, discussing:
The purpose of a resume objective
Why a powerful customer service resume objective is crucial
Essential ingredients of a winning customer service resume objective
Good and bad examples of customer service resume objectives
What is a resume objective? 
A resume objective is a concise statement — usually two or three phrases — describing the purpose of your job application. Placed at the top of your resume to be viewed first, it highlights the type of position you are seeking in relation to your career goals, along with the relevant skills and qualifications you bring to the role. It's designed to help the hiring manager immediately understand your intentions and focus as a job candidate. 
Objective vs. summary — are they the same?
Most resumes contain a top section commonly known as the summary, or sometimes profile or personal statement. It provides a synopsis of the job applicant's professional background — skills, work experience, expertise, and accomplishments. 

The resume objective, on the other hand, takes into account your career goals and intentions for filling the target position. While it may comprise part of the resume summary in terms of background information, the objective has a different focus and is often unnecessary. It's useful primarily for entry-level job candidates or those transitioning to a different occupation or career path.
Why an outstanding customer service resume objective is important
An attention-grabbing resume objective is pivotal to your job search in any sphere of customer service. During the few seconds that recruiters typically spend looking at a resume, it must inspire confidence in your proven abilities and potential to contribute in a new customer service role. Failing to pique the reader's interest upfront with an intriguing objective means the rest of your resume likely won't get a passing glance.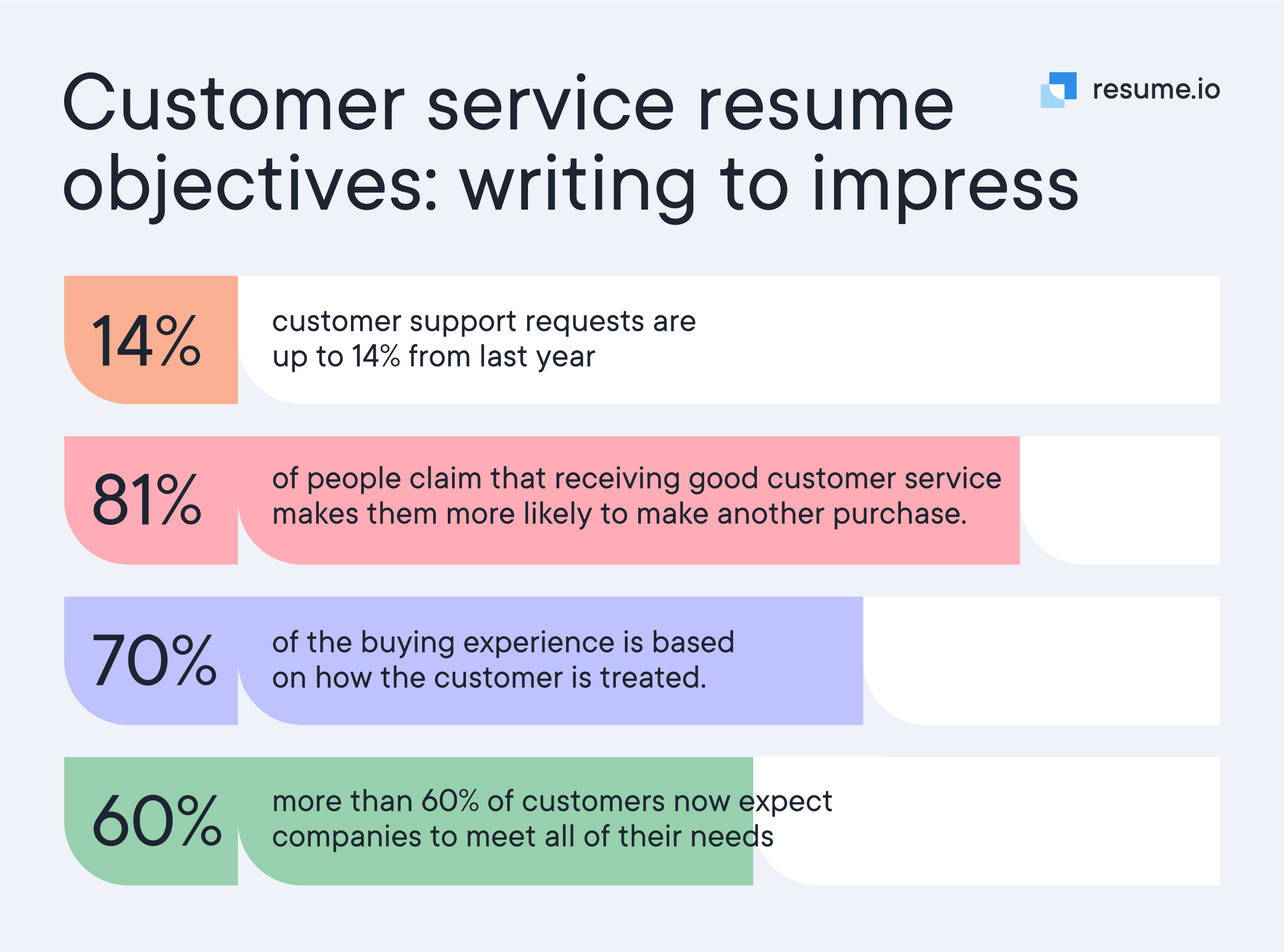 How to write an impressive customer service resume objective
Next, we'll look at the writing process for a customer service resume objective that hits the mark. 
The essential ingredients
Conciseness. Keep it brief and to the point — just two or three statements capturing your goals and qualifications.
Clarity. Clearly specify the customer service role and employer you are targeting. Be precise, avoiding vague or generic terms.
Tailoring. Customize your customer service objective for each job application, matching the posted job description and hiring organization's needs.
Skills. Highlight the customer service skills most important for the target job, such as communication, problem-solving, empathy, and conflict resolution.
Qualifications. Showcase relevant qualifications and accomplishments that demonstrate your ability to provide exceptional customer service.
Value proposition. Articulate the value you can bring to the role, noting the benefits to customers and the employer.
Enthusiasm. Convey your passion for delivering excellent customer service and your willingness to go above and beyond to surpass expectations.
6 Steps to writing the objective 
These are the steps to follow in crafting a customer service objective that utilizes those ingredients.
Understand the job requirements. Scrutinize the job description to determine the specific hiring expectations. Note keywords or phrases that appear more than once.
Identify your best-matching abilities. Assess your most relevant skills, experience, and qualifications.
Start writing. The genesis of your objective statement is the target customer service role. For example, "Seeking a Technical Support Rep position" or "Looking to move into a Team Supervisor role."
Highlight your key skills. Single out two or three of your most relevant customer service skills, carefully aligned with the job description. Incorporate keywords verbatim where possible.
Cite your qualifications. Mention relevant education and certifications, plus achievements in previous customer service roles, quantified with metrics if available.
Demonstrate value to the employer. Explain how your abilities will benefit customers as part of the hiring organization's success story. Make a connection between improved customer satisfaction and revenue growth, for example, ideally with measurable targets.
Contrasting examples of resume objectives: good vs bad 
Finally, let's consider the differences between impressive and inadequate examples of customer service resume objectives.
Well-written objectives
These examples of well-crafted objectives for a customer service resume check all the right boxes for clarity and content.
Dedicated and results-driven Customer Service Representative with a track record of exceeding customer satisfaction targets. Seeking to leverage effective communication and problem-solving skills to maintain a customer-centric approach and achieve a 95%+ customer satisfaction rating.
Highly organized and detail-oriented Call Center Specialist with a proven ability to handle high volumes of inbound calls while maintaining an average call resolution time of under 3 minutes. Seeking to contribute exceptional customer service skills to Belford's dynamic call center team and achieve a 90%+ call resolution rate.
Experienced Client Success Manager with demonstrated effectiveness building long-term client relationships and boosting revenue. Seeking to apply robust account management skills to drive customer retention and upsell opportunities at Austin Inc., resulting in a minimum 15% annual revenue growth.
Conscientious Technical Support Specialist with a solid background in troubleshooting complex software and hardware issues. Looking for an opportunity to leverage a 90%+ first-call resolution rate in providing exceptional technical support while maintaining a customer feedback rating of 4.8 / 5.
Data-driven Customer Experience Manager with proven success adopting strategic initiatives to enhance the customer journey. Seeking to apply expertise in analyzing customer feedback and implementing improvements, resulting in a 20%+ increase in Zenith customer retention.
Energetic and results-driven Retail Sales Associate with a passion for delivering exceptional customer service to boost sales. Seeking a position where in-depth product knowledge and a solution-focused mindset are integral to MoreStore's success.
Friendly and dedicated Guest Services Coordinator with 15+ years of experience in the hospitality sector. Looking for a role at Your Stay where interpersonal skills and attention to detail contribute to a welcoming and nurturing environment for all guests.
Poorly-written objectives
In contrast, these poorly written resume objectives have some obvious shortcomings in common. 
Looking for a job in customer service where I can earn a decent salary.
To gain experience in a call center and improve my communication skills.
Seeking a position in a company where I can learn new things and grow professionally.
To obtain a job as a Client Success Manager at a reputable company.
Looking for a job in retail where I can work with people and make money.
To secure a position in hospitality and gain experience working with customers.
Notably, these deficient resume objectives fail to specify the target customer service role. They show no understanding of the job requirements or industry knowledge. The goals noted are self-centered, addressing only the needs and wants of the applicant, with no mention of the skills and qualifications they can contribute to the team. In the same vein, there is no value proposition describing potential benefits to customers or the employer.
Key takeaways
When your sights are set on a career-shaping customer service role, an impressive resume objective could give you a competitive edge by catching the recruiter's attention upfront.
A well-written customer service objective presents a win-win value proposition, aligning your goals with the employer's specific hiring needs.
The objective's persuasive impact hinges on your understanding of the job requirements and how well-equipped you are to meet them.