A potential employer wants to talk about money. So, how do you answer the salary requirements question? Here's our guide on getting it right from the offset.
Yes, you can navigate this tricky interview question without missing a beat! 
You've danced your way through countless interview questions with finesse — jumped through every hoop the hiring manager has held in front of you. So far, so good. You're pretty sure you've impressed the interviewer with your expertise, experience, and skills. 
Then they throw you a curveball: "So, what are your salary requirements?" You should have seen this one coming. Don't panic. Here at Resume.io, we have all of the information you need to effortlessly glide through this tricky question. 
In this guide, we will be covering: 
Why employers tend to ask the salary requirements question
Tips to help you determine how much you should be earning
The best strategies to use when answering this question (plus examples).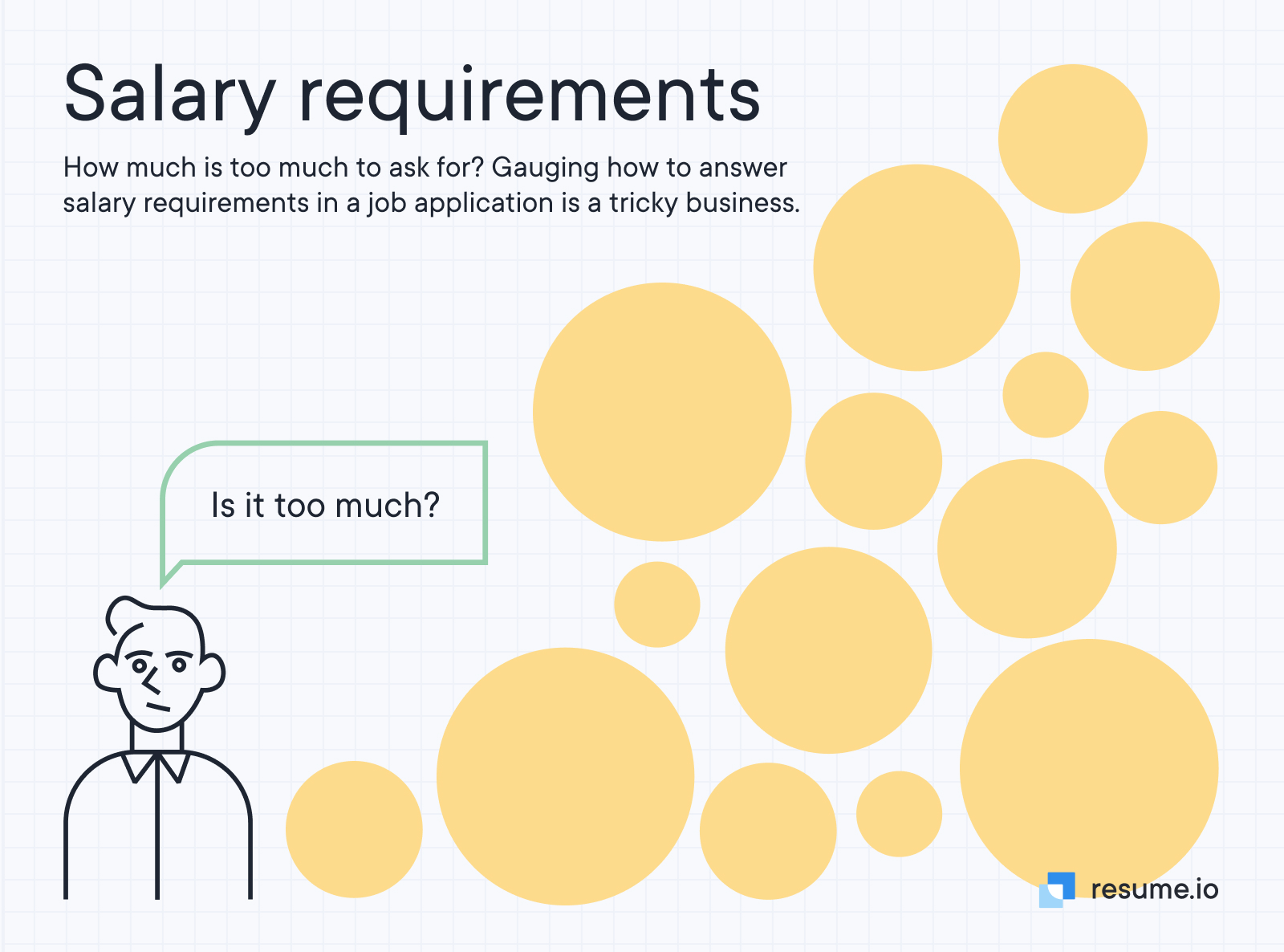 Why do employers ask about salary requirements?
If the salary is a mystery — the employer didn't list a sum on the job advert — you can expect this common interview question. Chances are, the employer hasn't settled on an exact budget for the role. It may be a flexible amount, depending on a variety of factors including the caliber of each candidate, their experience, and their salary expectations.
So, when a hiring manager asks you about your salary expectations, the figure you give will help guide their decision. It will make it clear how you value yourself in monetary terms and whether they can afford to hire you. The employer will then take all of that information into consideration when making the final decision. Regardless, it can be a tricky question.
It can fix you in something of a pickle. When faced with the salary requirements inquisition, you need to have an answer (or, at least, a range) in mind. There's no room for hesitation here. It's important to let the employer know that you have thought about this and that you know your worth. Before you head to the interview, take the time to decide on an answer.
How to define your salary expectations
Do you know how much money you should be making? If you've never considered this conundrum before now, it's time to dig deeper. Understanding the salary you require will allow you to answer this question with confidence. Here are some tips to get you started.
Research the market 
First things first, you need to research the average salaries in your sector. You have a number of factors to think about — how many years of experience you have, your skill set, and your level of expertise. Check out how much professionals in similar roles get paid. 
Expert tip
Find out the average salary for your position. If you're new to this game, don't panic. There are a few trusted resources you can use. You should check out PayScale, Salary.com, and the U.S. Bureau of Labor Statistics, for example. Looking at a range of websites will give you a well-rounded view of your personal salary requirements.
Weigh up what the job is worth 
It's not simply about how much you should earn. You don't need us to tell you that a job is so much more than merely a paycheck. 90% of people are willing to earn less money if they can do "more meaningful work." So, what does this job mean to you? Is it worth opting for a slightly lower salary if it has good career progression or fulfills you?
Consider the benefits too
What else is this employer offering you? Are you getting additional vacation days? Is the medical package stellar? Your decision should not rest entirely upon how much you will take home at the end of each month. Look at the compensation package as a whole. 
Do some detective work 
When you're moving companies, it's smart to get a general idea of how much each of the businesses pays. That means that you can give an appropriate figure when the employer asks you about your salary expectations. Start by Googling the company to which you're applying — it takes a matter of seconds. You may find old job adverts that shed some light on the average salaries that the business has to offer.
Strategies for answering the salary requirements question
Once you've considered all of the above, you should be in a relatively good position to answer the salary requirements question. However, that's not to say that you have to give a clear-cut answer. There are a few strategies you can use to navigate this question.
1. Turn the question around
Let's say you have no inkling how much the employer is willing to pay. That's a hard position. In such a case, you can turn the question around and get the inside scoop. This move gives you an idea of whether your chosen amount is within their budget. When the interviewer answers, be sure to come back to them with a salary within their range. 
Example
You: "That's a good question! I would really like to get an idea of your budget for the role first."
Interviewer: "We haven't nailed it down but somewhere between $40,000 and $46,000."
You: "Okay, I was hoping for around $50,000. However, for the right position, benefits, and company, I'd be willing to lower my salary expectations."
2. Ask for additional details 
As we have already covered, you gain more from a new job than merely a pay increase. So, when the interviewer throws you the "salary requirements" question, you can find out what that is. Take a moment to ask about the benefits and compensation package now. 
Example
"Thanks for that question. Before I answer, I would like to better understand the compensation package and benefits as they will influence my salary expectations."
Like before, when the interviewer gives you their answer, you should be prepared to share how much you expect to earn. Don't be afraid to take a moment before giving your answer. 
 3. Give a specific salary range 
Of course, one of the best strategies you can use when answering the "salary requirements" question is to give a range. This option allows you to avoid pinning yourself to a narrow sum and gives a bit of wiggle room. To get started, you can answer like this: 
Example
"Based on my experience and the training I have, I would be looking for a salary of between $50,000 and $60,000. Of course, I'm open to hearing what budget you have for this role and the compensation package you're offering."
When determining the range, aim high. Don't tell them the lowest amount you would accept — they might offer it to you! Instead, go for the middle of your salary requirements. 
4. Buy yourself some more time 
Finding it tricky to answer this question? The final route to consider is delaying your answer. While this isn't always preferable (and could make you look wishy-washy), you might need the pause. If that sounds familiar, you can try to buy yourself some time.
Example
"At the moment, I'm looking for the right job fit for me — in terms of workplace culture, progression, and company values. I'd prefer to get a complete overview of the job spec and offering before we start discussing salaries."
The above approach should not be your go-to strategy. Wiggling out of the question can look untrustworthy. Plus, keep in mind that the employer really does want to know how much you are expecting. However, if you do need more time, use it as a last resort.
Key takeaways
Answering the "salary requirements" question can be tricky. Make sure you have a definitive answer in mind before walking into an interview scenario.
Don't simply scratch the surface here. You have to weigh up a few factors when it comes to deciding what your salary expectations are.
There are different strategies you can use when answering this common interview question. Figure out which one best suits your needs.
Once you have a salary range in mind, you should have zero problems answering the question with a calm level of confidence!