So-called 'green jobs' focus on environmental sustainability and responsibility. They offer rewarding work and long-term growth potential — and more of them are being created outside of traditionally green sectors. We analyzed the job listings of top employers in the U.S., Canada, UK and Australia to see which companies are most in need of green talent.
At this point in the climate crisis, if you're not working for the environment — you're working against it.
Regardless of their job description, regular workers are taking steps to have a "clean commute," develop low-impact processes in the workplace and cultivate a sense of collective responsibility among colleagues. And when it's clear that their employer has no interest in such matters, employees are "climate quitting" to search for greener grass.
For many, that means finding a 'green job' that explicitly deals with ecological issues. However, LinkedIn's job directory recognises green jobs more broadly within environmental, social and economic sustainability. This wider definition of what a green job can entail has seen them become more common outside of nominally green industries. 
As our new research reveals, the big energy and oil companies, in particular, are on the lookout for green skills: "abilities or knowledge a worker can use to prevent, monitor, or clean up pollution, and optimize stewardship and conservation of the natural resources that companies use to produce goods and services," as defined by the World Economic Forum.
But which companies have the most green jobs available? And which have the most as a percentage of all their vacancies? We crunched the data to find out.
What we did
Resume.io reviewed data on job postings on LinkedIn for the 100 largest companies in the U.S., UK, Canada and Australia, and 14 tech giants. We ranked companies by the number and percentage of job listings tagged as "green jobs" on LinkedIn.
Key findings
Tesla has 548 green jobs available — the most of any U.S. firm.
In Canada, waste management company GFL Environmental has the most green jobs available (234).
The three UK businesses advertising the most green jobs are all energy companies: SSE, Shell and BP.
The Australian company with the most green jobs available is Worley (287).
Tesla is the tech giant with the most green jobs available, both by number (548) and by percentage of overall jobs they're advertising (8.23%).
Tesla among leading U.S. advertisers for green jobs
Environmental, social and governance (ESG) issues have become a driving force motivating U.S. companies' decisions, both in reassuring shareholders and responding to government legislation.
The emphasis on responsibility will become more profound over the following months as large U.S. companies with EU employees scramble to meet new EU climate rules. And, since many green initiatives start at employee level, firms are sure to be on the lookout for applicants with green skills.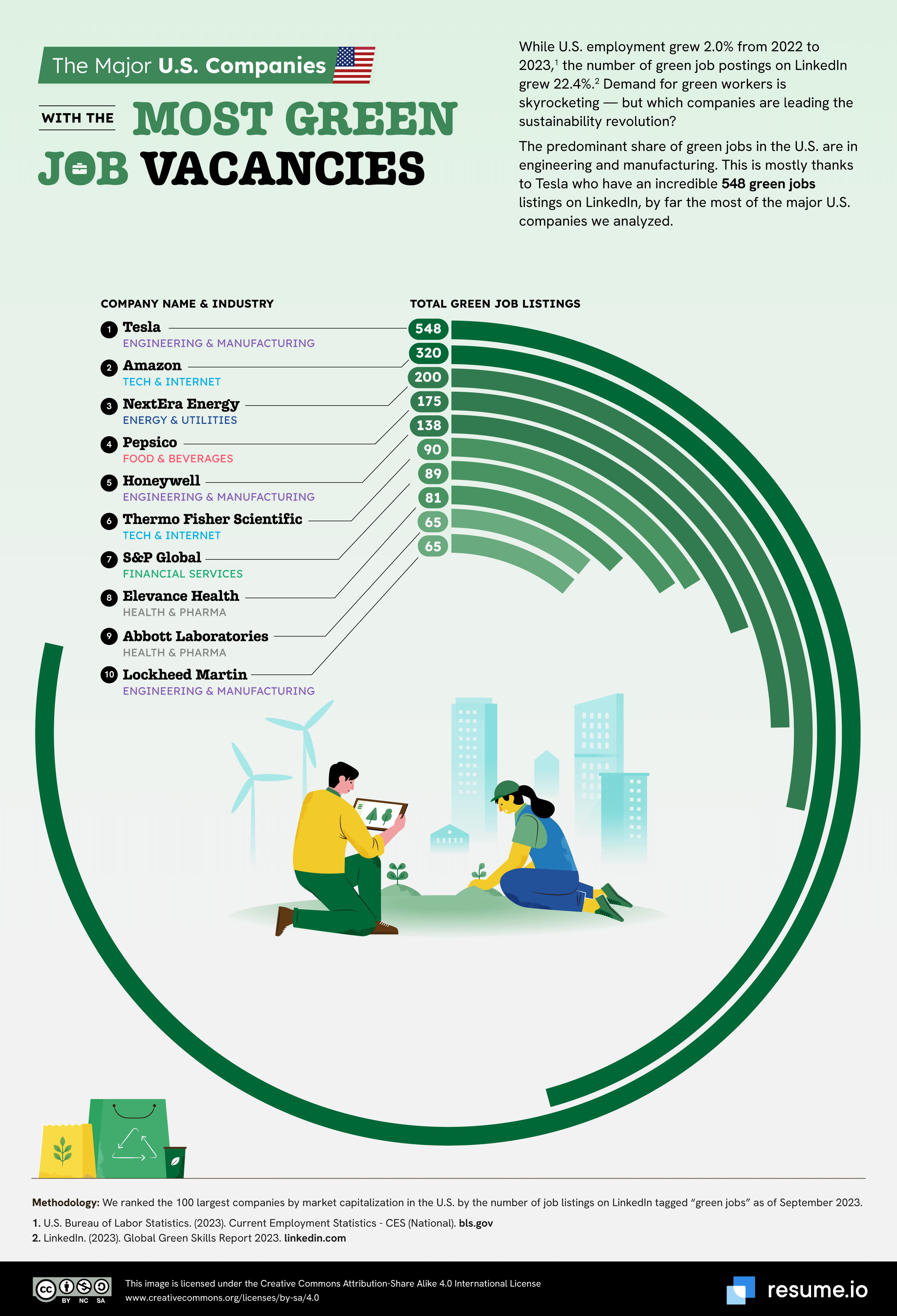 Click here to see the image in full size
Tesla seems to have a distinct advantage in the arena of green jobs since its master plan is to move consumers away from fossil fuel vehicles. But tech, internet and retail giant Amazon comes in at a close second. This is no surprise since the company aims to be a net-zero carbon company by 2040. With 320 jobs ranging from Research Scientist in Sustainability to Sr. Environmental Risk Assessment Manager, Amazon seems to be on a recruitment drive to help it meet its pledge.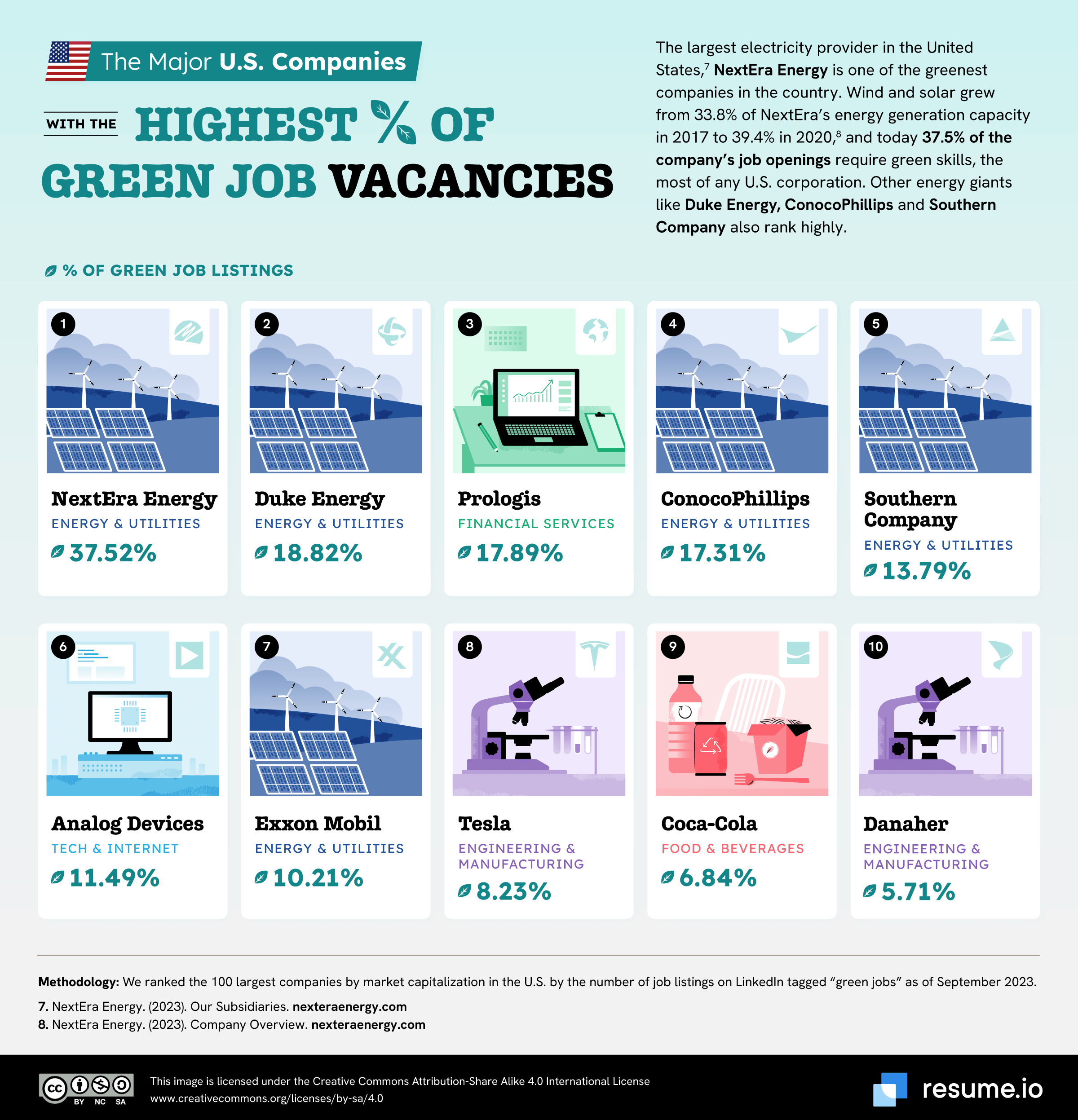 Click here to see the image in full size
Regarding green job density, energy firms come out on top — five of the ten major U.S. companies with the highest percentage of green jobs among their current vacancies are in the Energy & Utilities sector.
NextEra is the runaway green champion, with comfortably over a third of their vacancies labeled as "green jobs." While the "most valuable U.S. power company" still deals in fossil fuels, it is also the world's largest wind and solar energy producer. Some 95,000 new jobs are created in the clean energy industry every year — and, at the time of writing, 533 green jobs are available at NextEra.
Canada's mining companies digging for green talent
Canada takes great pride in its mining and engineering sectors. But changes are afoot. The "world's fourth-largest oil producer and sixth-largest natural gas producer, is aiming for a 40% to 45% reduction in emissions by 2030 and net-zero by 2050," according to a Reuter's report on Canada's proposed Sustainable Jobs Act. The act is designed to ensure that jobs lost due to improvements in the country's green record are replaced while "unlocking" the potential of the green economy.
However, there is criticism that the act isn't clear enough that these new jobs will be "green." "We need to ensure these jobs are sustainable and are reducing emissions and advancing climate action," says Laura Cameron, International Institute for Sustainable Development. "Without that link ... we risk pursuing job creation in industries that aren't actually moving us in the right direction."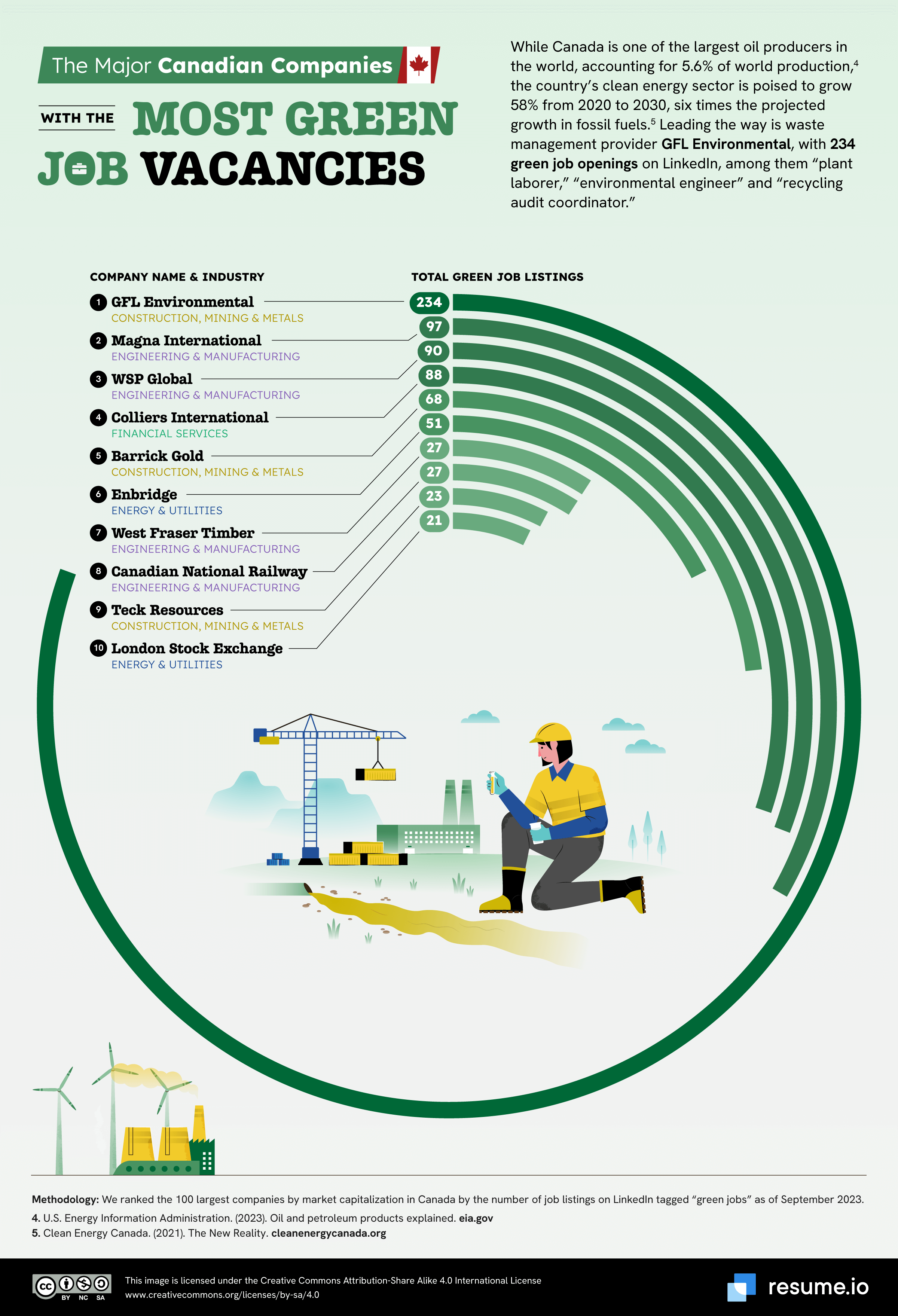 Click here to see the image in full size
And so, if green jobs in America are clustered in the energy and tech sectors, in Canada, they are found in engineering, construction and mining. Engineering & Manufacturing companies account for four of the ten Canadian firms with the most green jobs available.
However, waste management company GFL Environmental has the most green jobs overall, and by a significant stretch. Some 22.18% of the firm's 1,055 vacancies are tagged "green," giving 234 green jobs in total.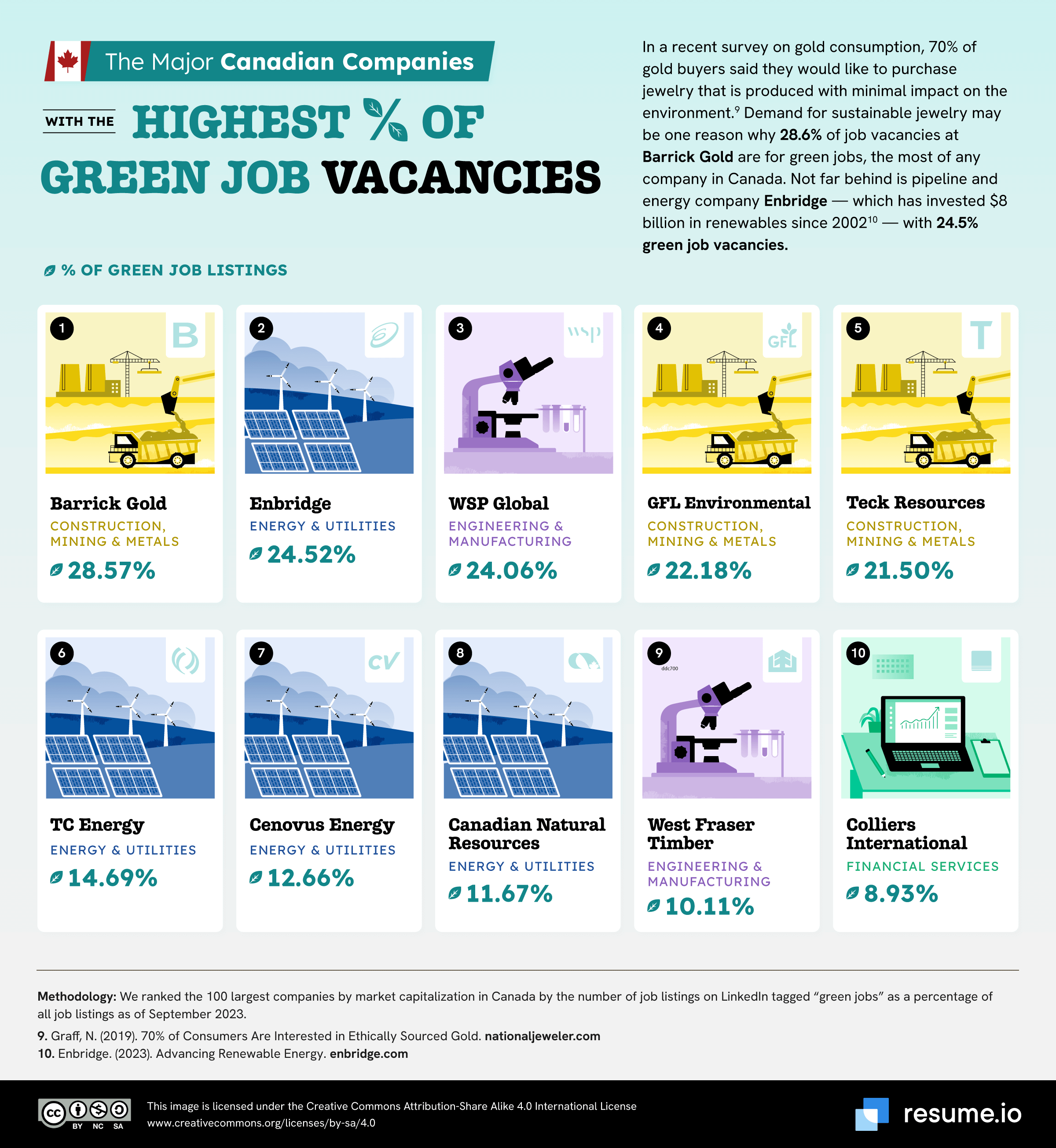 Click here to see the image in full size
There are three Construction, Mining & Metals companies among the ten with the highest percentage of green jobs. Barrick Gold is casting for the most green talent altogether. The company mines 4.1 million ounces of gold and 440 million pounds of copper worldwide each year, talks of the environment in terms of "natural capital" and has set its Net Zero target 27 years in the future.
The company has repeatedly faced criticism for its environmental record: a 2022 letter from the UN expressed concern about "the impact on human rights caused by spills of cyanide, arsenic, mercury and other hazardous substances from the Veladero mine," adding that the "lack of effective response by your company exacerbates these impacts." Yet, some 28.57% of Barrick's 238 vacancies are green. Green jobs for the firm on home soil range from Health and Safety Superintendent to Underground Sanitation operative.
Unilever joins energy firms in hunt for UK green talent
"Young people have borne the brunt of the job losses caused by the coronavirus pandemic, and we need an urgent plan to make sure this experience doesn't scar their future," says Paul Nowak, Deputy General Secretary of the UK's Trades Union Congress. "We know that investment in the skills required to get Britain to net zero, and in the good green jobs that will deliver it, could provide the opportunities young people desperately need now."
Friends of the Earth proposes a government investment of £10 billion to fund 250,000 green apprenticeships. However, with PM Rishi Sunak backtracking on the government's climate commitments, it might be up to companies like those below to do what they can.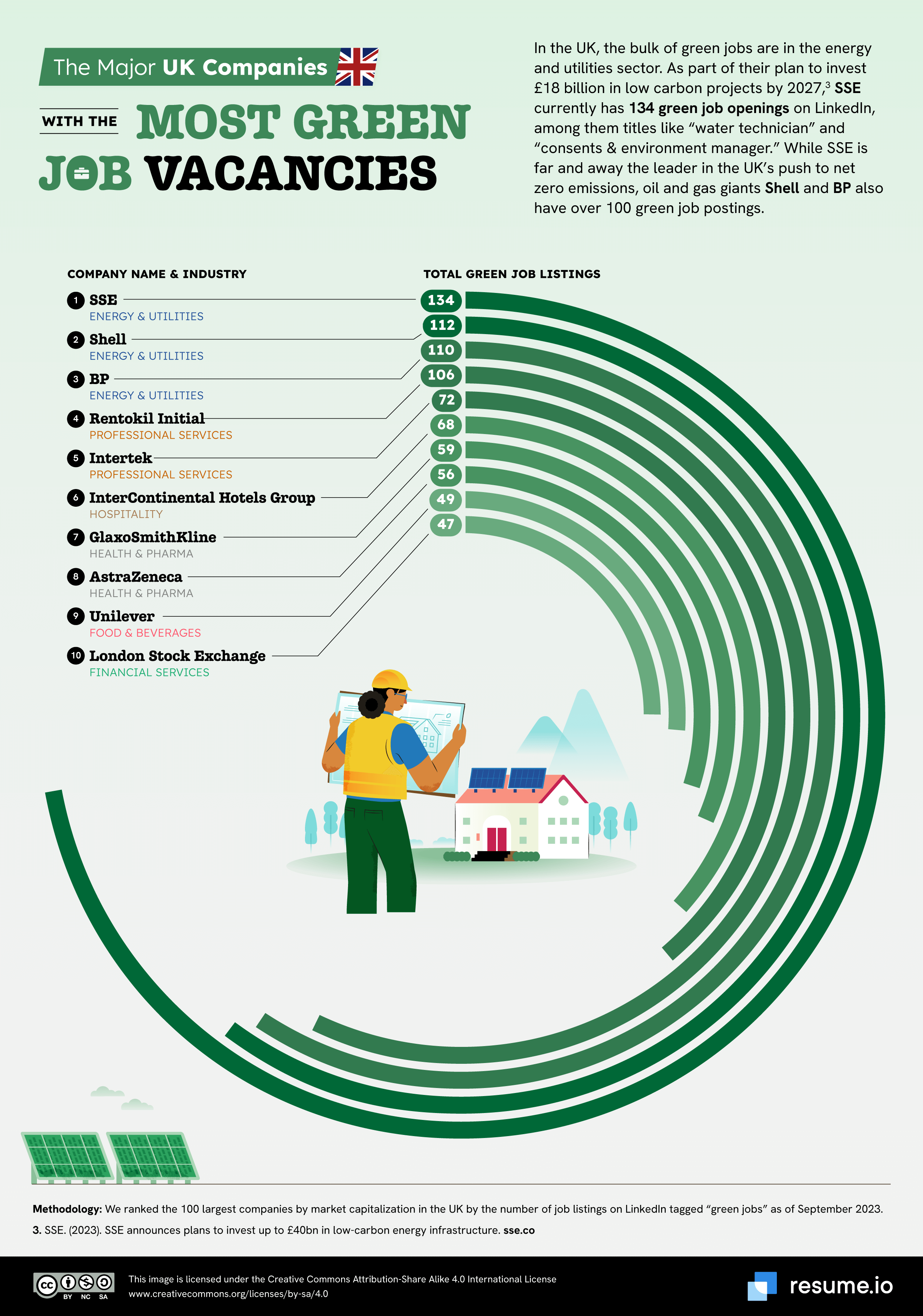 Click here to see the image in full size
The UK's green job market is dominated by companies associated with, well, the opposite of green. An energy provider, two oil companies and a pest control company make up the top four spots. Big pharma firms and home goods company Unilever — which was hit with an advertising ban following accusations of "greenwashing" in 2022 — are also on the list.
Unilever's chief marketer Conny Braams claims the company has learned from its mistakes and is spearheading the drive for more responsible marketing. "We've been exploring how the intersection of marketing and technology can help consumers make more sustainable choices," says Braams. Green vacancies at Unilever include Packaging Technologist, Sustainability Scientist and an internship in Sustainable Business & Communications.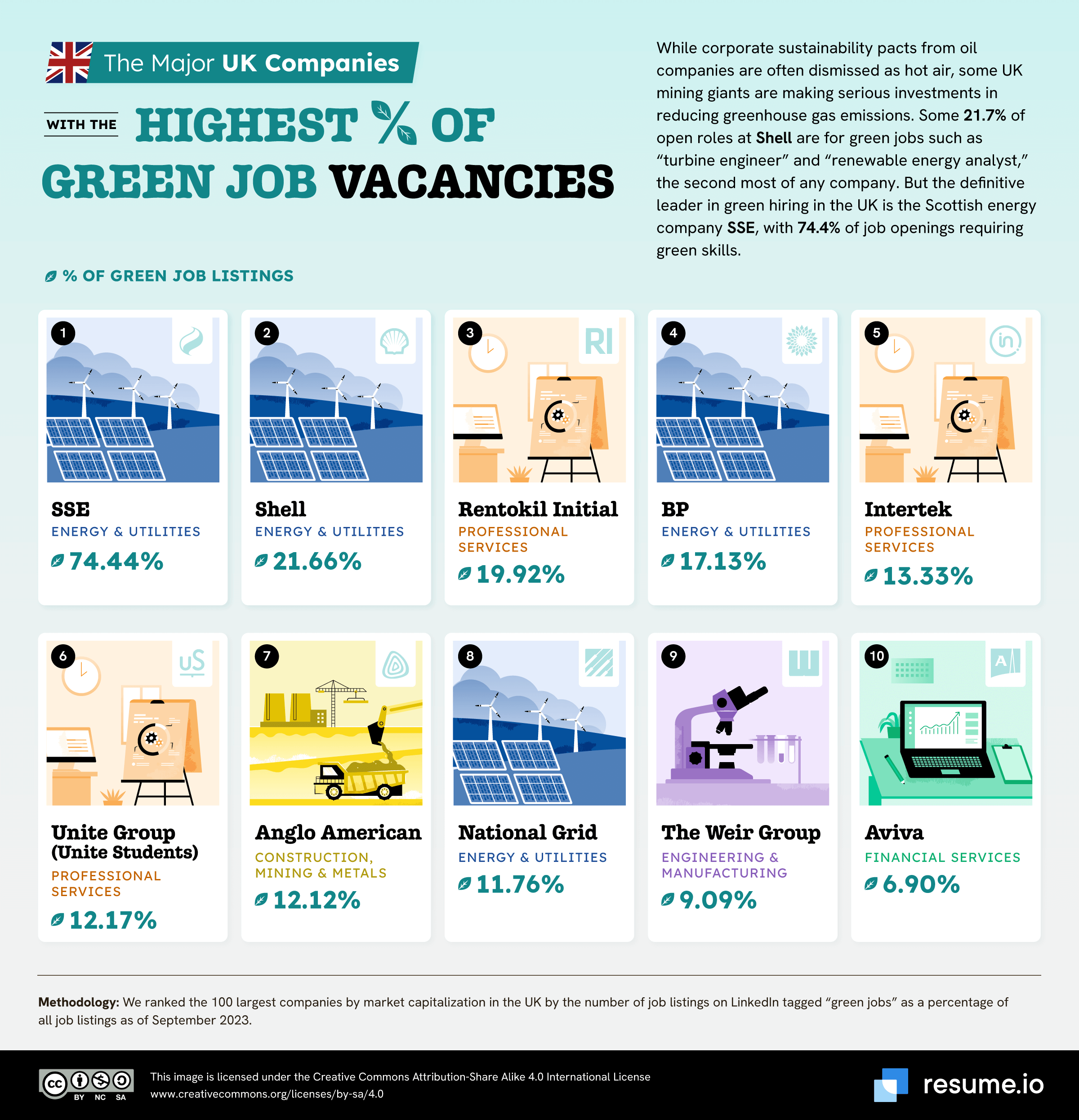 Click here to see the image in full size
Scottish energy provider SSE claims its vision "is to be a leading energy company in a net-zero world" and plans "to increase our renewable energy output fivefold by 2031." The firm — which recently sold its retail arm to "green energy" supplier OVO — has tagged three-quarters (74.44%) of its current vacancies as green jobs.
Current vacancies include Climate and Carbon Managers and Biodiversity Strategic Projects Managers. The latter role requires an experienced project manager "to identify, develop and implement the delivery of strategic habitat enhancement sites and support our over-arching Transmission Biodiversity Net Gain delivery, irreplaceable habitats, and Nature-based Solutions plan."
Worley and Cleanaway offer most Australian green jobs
The Climate Council of Australia has estimated that hitting 50% renewable energy use by 2030 will create 28,000 new jobs (net), mainly in construction, operation and maintenance of renewable energy installations. "Job losses in coal fired electricity generation are more than compensated for by increased employment in the renewable energy sector," reports the council, noting that "the transition for employees in the fossil fuel sector must be planned well."
Around 58% of Aussie businesses have adopted a sustainability initiative, and green job vacancies are notably most prevalent in the traditionally high-impact sectors of mining, energy and waste management. These industries will benefit from climate tech over the next decades — an area where the Commonwealth Bank has suggested Australia is positioned to thrive.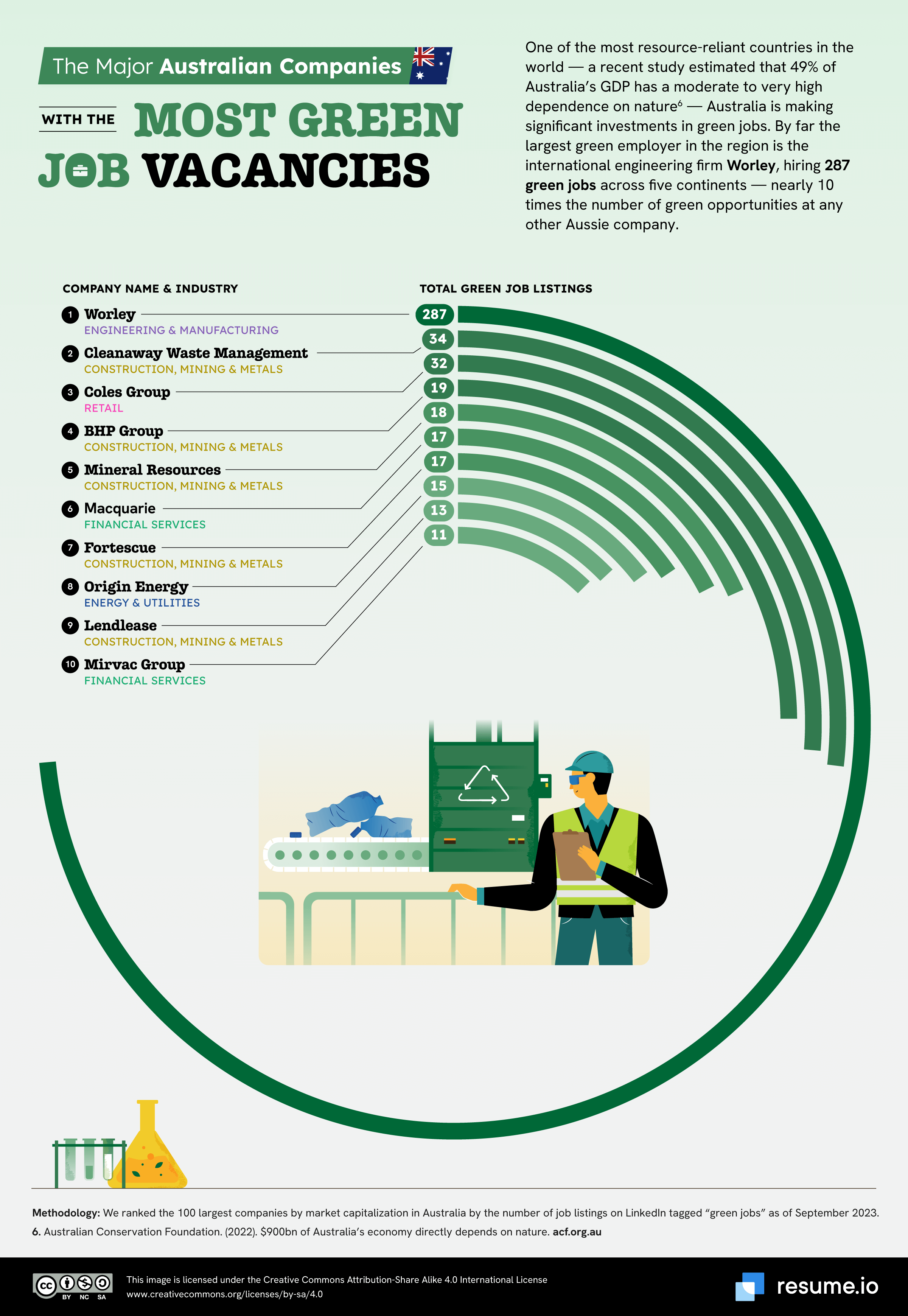 Click here to see the image in full size
Worley is an engineering company producing energy, chemicals and "resources," such as metals and minerals. Questions over the company's participation in ongoing fossil fuel projects notwithstanding, Worley is working towards energy transition and claims that 41% of its current aggregated revenue is from sustainability-related work.
We found that Worley is offering nearly 8.5 times the number of green jobs as second-placed Cleanaway Waste Management, including roles such as Environmental Officer and Wind Energy Engineer.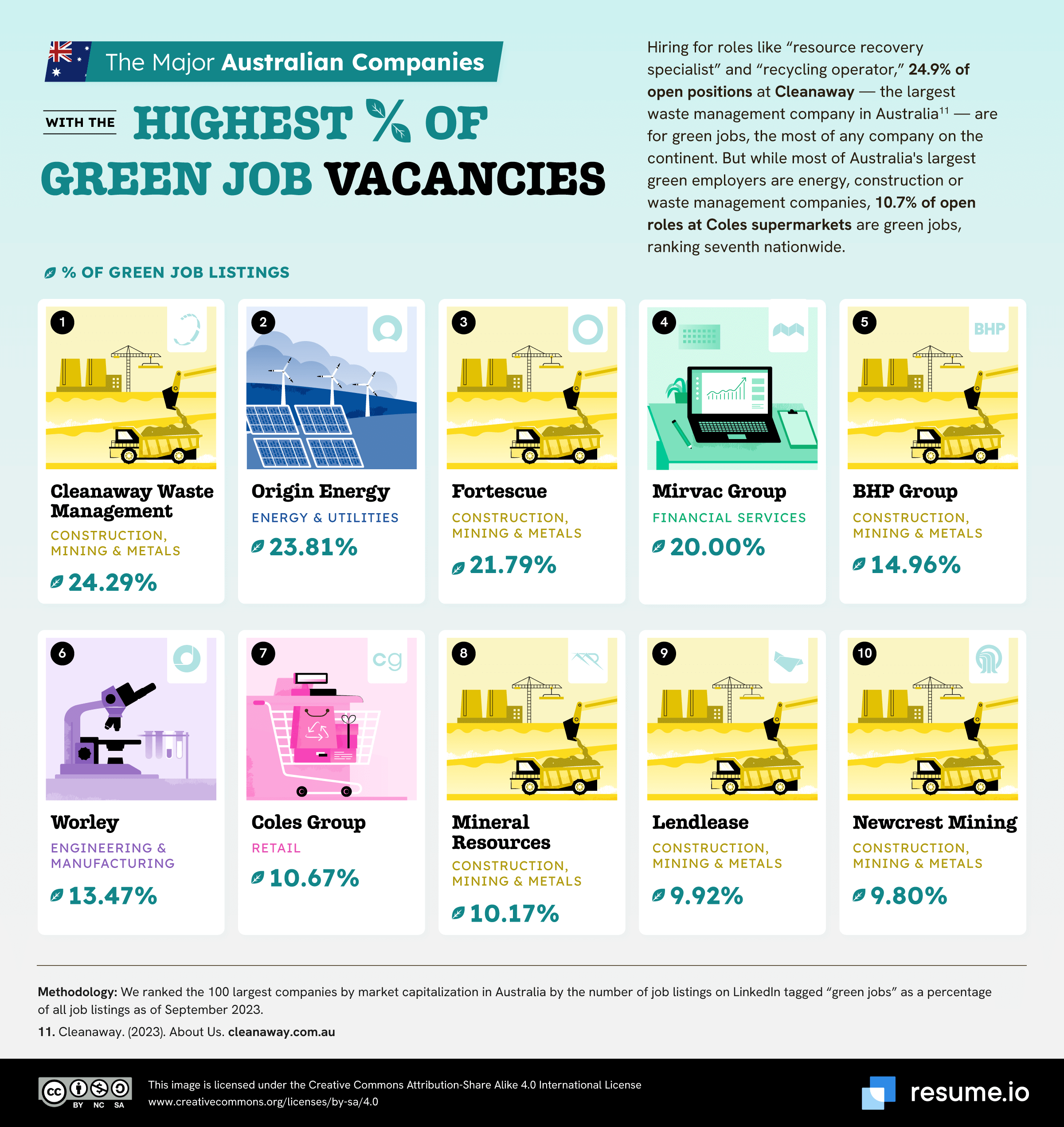 Click here to see the image in full size
Cleanaway Waste Management, however, is top of the table by the proportion of green jobs available. Nearly a quarter (24.29%) of Cleanaway's vacancies are green. "Because we see all waste as a resource," says the company, "managing Australia's waste needs isn't a matter of asking "where does it go now?", but "what can it be next?""
Green jobs will likely keep emerging within the company, especially following the announcement of "a $700 million facility in South East Queensland to generate electricity from non-recyclable waste diverted from landfill." Unfortunately, Cleanaway has also been in the headlines this year for the wrong reasons, with workers protesting over pay and working conditions.
Tesla is tech giant with most green jobs, whatever way you look at it
A recent study noted that while many of the major IT companies have announced 2030 climate commitments, only Apple has "generated or sourced enough renewable electricity to match 100% of electricity demand for its corporate operations since 2018" and to have a "100% renewable electricity target in its supply chain." Still, we found you're more likely to find a green job at Microsoft, Intel or Google.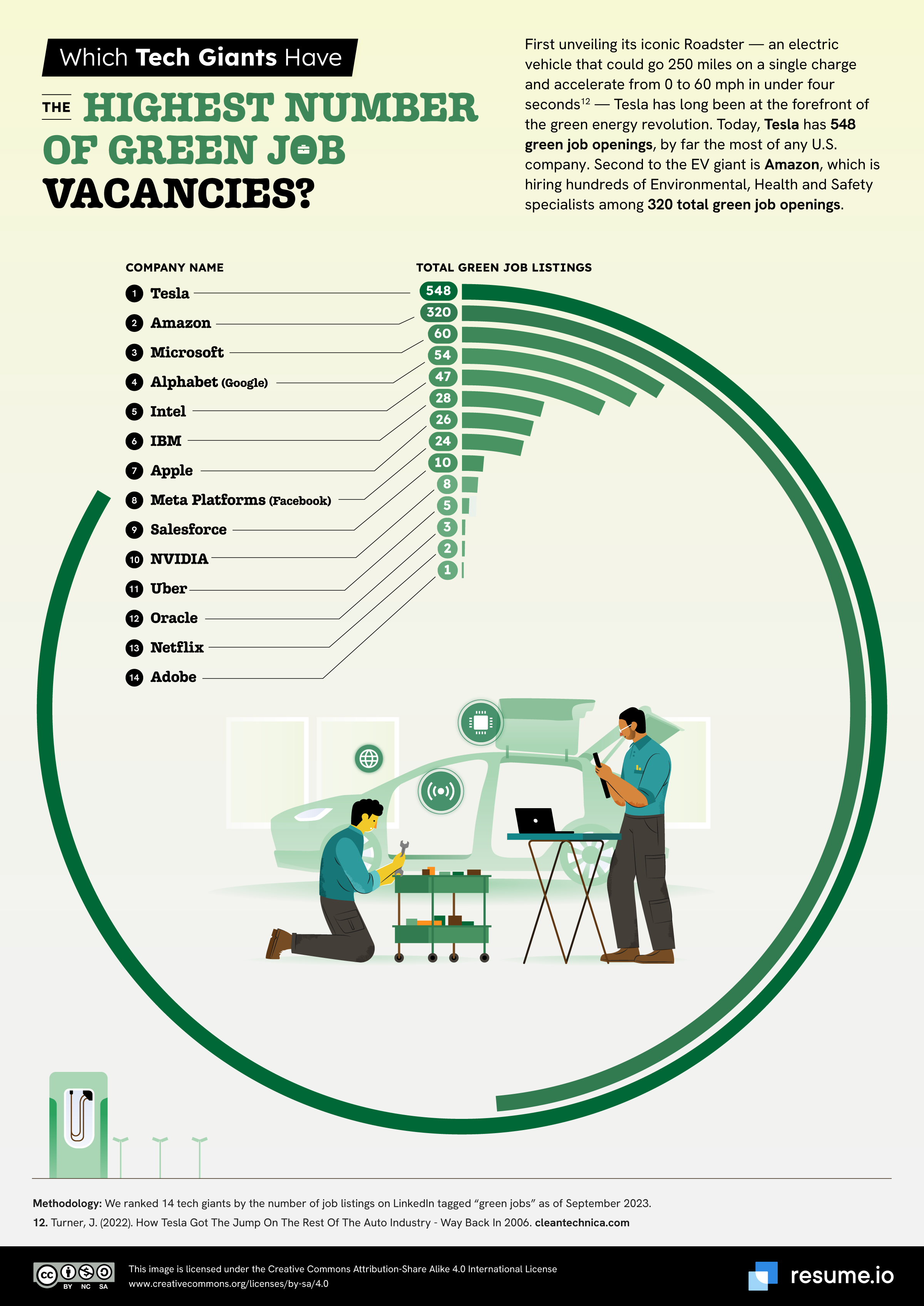 Click here to see the image in full size
While there is no such thing as an eco-friendly car (nor a vegan one!), the tech giant offering the most green jobs is the only one on our list founded on green principles — and it's a car manufacturer. Tesla invites applicants to "solve the next generation of engineering, manufacturing and operational challenges as we work to secure a clean energy future." With 548 — or 8.23% — of its vacancies tagged "green," there is plenty of opportunity to do so.
For example, Tesla's cells department alone offers roles in Engineering, Manufacturing, Materials, Equipment and Operations as you figure out how to make smaller batteries last longer using greener parts. However, whether your boss, Mr. Musk, is truly as eco-friendly as he claims is another question.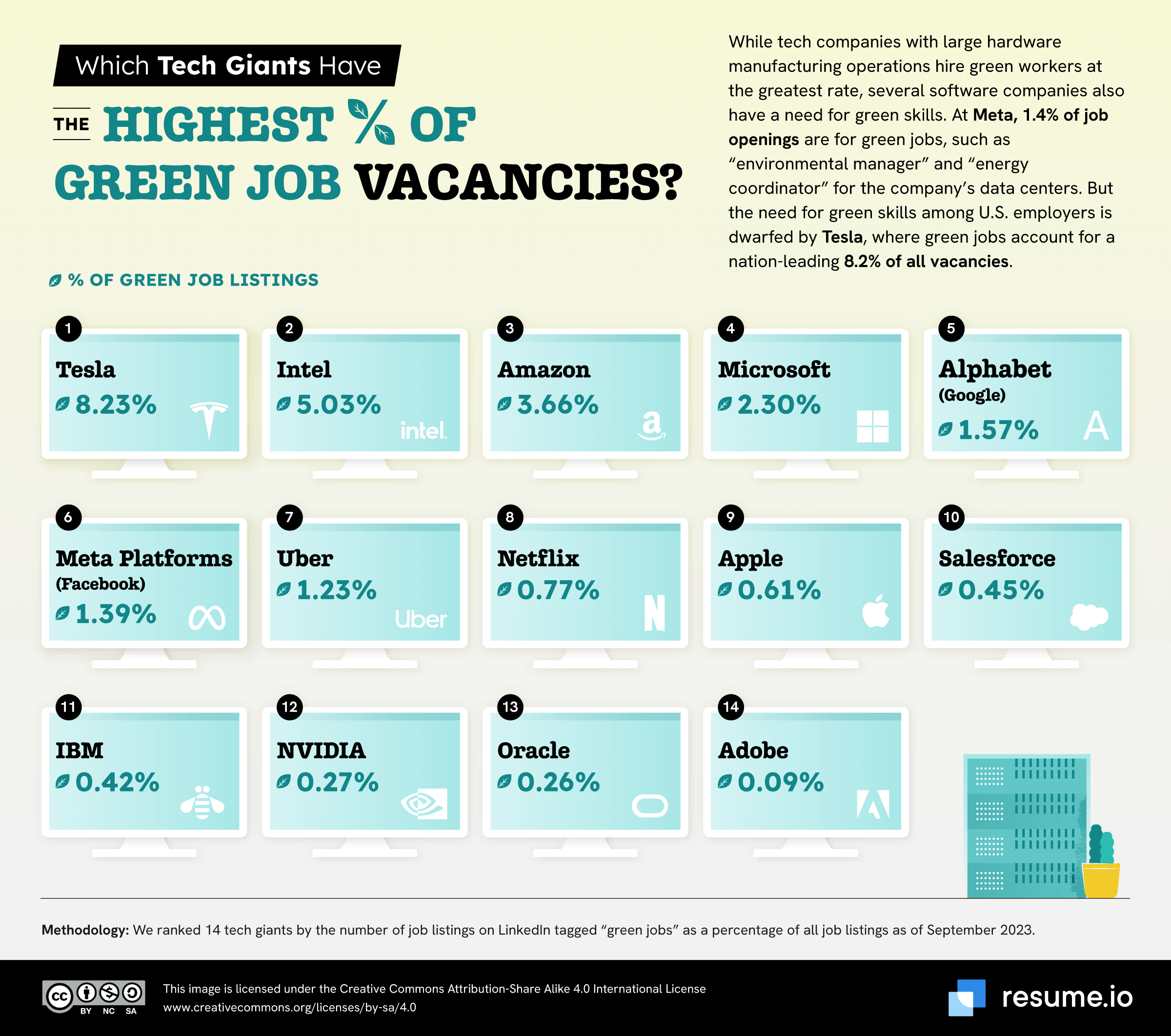 Click here to see the image in full size
The NFT boom and ongoing AI revolution have drawn attention to the toll that seemingly 'virtual' tech takes on the environment. Microsoft alone saw its water consumption rise 34% (1.7 billion gallons) between 2021 and 2022. Microsoft and Intel both feature high on our lists of green job providers in tech, and a glance at Intel's vacancies reveals dozens of "facilities" roles, including multiple water treatment and engineering jobs.
In general, water jobs "pay more, on average, when compared to all occupations in the U.S., and they pay up to 50 percent more to workers at the low end of the income scale." And more specifically, Intel offers "a total compensation package that ranks among the best in the industry." But such roles do pose an ethical question to green talents: is it as green to alleviate the effects of ongoing high-impact manufacturing as it is working to develop more gentle and sustainable alternatives?
Green skills for a brighter future
As Canada's Sustainable Jobs Act highlights, green jobs are not just part of the solution for environmental decline but an inevitable and necessary evolution of the transition to cleaner energy and processes. Some firms may offer ostensibly green-collar work as a means of greenwashing. Still, environmental responsibility will be built into more and more "regular" jobs even as genuine green jobs multiply.
The World Economic Forum has identified six green skill areas that will help today's graduates to find future jobs in the future that might not currently exist. Those green skill categories are science, architecture and planning, green engineering and tech, agriculture, environmental justice and systems. Building your education and experience in one or more of these areas now is a positive way to prepare for that future, whatever it may hold.
Methodology and sources
To determine the companies offering the most green jobs, we reviewed data on job postings on LinkedIn for the 100 largest companies by market capitalization in the U.S., UK, Canada and Australia. Companies were ranked by the number of job listings tagged as "green jobs" on LinkedIn. Companies were also ranked by the number of "green jobs" as a percentage of all job listings. Market capitalization data came from CompaniesMarketCap.com. Tech giants were ranked by the number of green jobs and green jobs as a percentage of all jobs using a universe of Alphabet, Amazon, Apple, Meta, Microsoft, IBM, Tesla, Oracle, Netflix, Nvidia, Salesforce, Adobe, Intel and Uber. This data analysis is correct as of October 2023.
U.S. Bureau of Labor Statistics. (2023). Current Employment Statistics - CES (National). bls.gov
LinkedIn. (2023). Global Green Skills Report 2023. linkedin.com
SSE. (2023). SSE announces plans to invest up to £40bn in low-carbon energy infrastructure. sse.com
U.S. Energy Information Administration. (2023). Oil and petroleum products explained. eia.gov
Clean Energy Canada. (2021). The New Reality. cleanenergycanada.org
Australian Conservation Foundation. (2022). $900bn of Australia's economy directly depends on nature. acf.org.au
NextEra Energy. (2023). Our Subsidiaries. nexteraenergy.com
NextEra Energy. (2023). Company Overview. nexteraenergy.com
Graff, N. (2019). 70% of Consumers Are Interested in Ethically Sourced Gold. nationaljeweler.com
Enbridge. (2023). Advancing Renewable Energy. enbridge.com
Cleanaway. (2023). About Us. cleanaway.com.au
Turner, J. (2022). How Tesla Got The Jump On The Rest Of The Auto Industry - Way Back In 2006. cleantechnica.com