When HR people review applicants, they want to know not just what you do, but who you are. How do you choose those job-winning traits and illustrate them on your CV? The blog below has some answers.
Naming your personality type is shorthand for describing yourself. The examples you use and the profile you write will give recruiters an idea of how you handle challenges and the day-to-day workings of your job, but you can strengthen those notions by explicitly stating your characteristics.
Some personality traits are common to all positions, while others are weighted more heavily toward the type of work you do. 
The art in a job application is twofold: First, you must discern which personality examples are most desired by your prospective employer; second, you must artfully include them in your CV and cover letter.
Hint: The old saying — "show, don't tell" — applies here. You are much better off impressing with your accomplishments and attaching one word that describes the personality trait it exemplifies within that item than you are stringing together a list of every trait you think will get you the interview.Within this article, we will discuss:
Desired personality examples in the workplace
Choosing the correct personality examples for each job
Incorporating your personality examples into your CV and cover letter.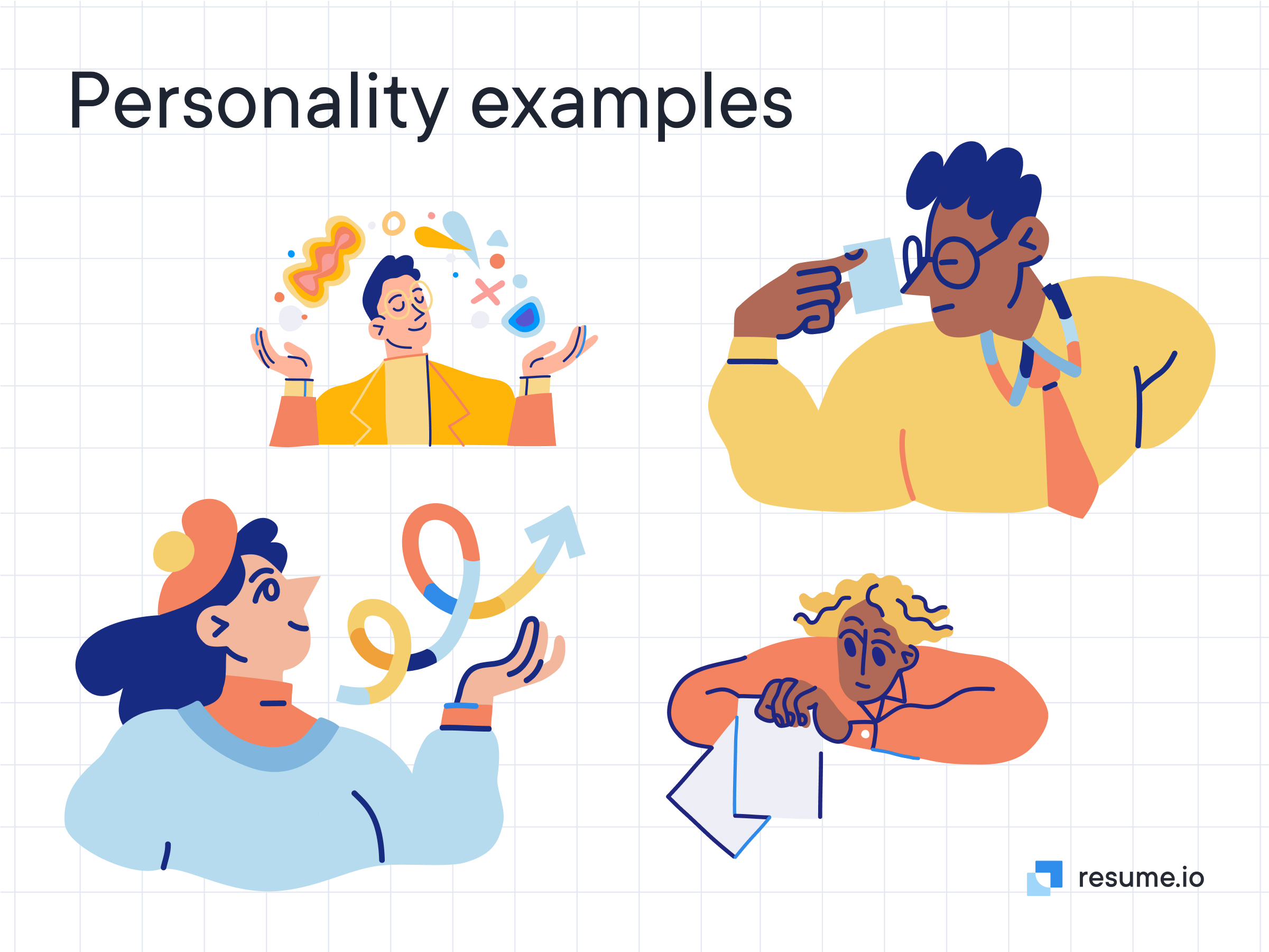 Desired personality examples in the workplace
Of course, some of this depends on your profession. If you're an accountant, the value of detail-orientation is much higher than that of your creative streak. However, here are ten personality examples that are commonly called for in job listings:
Flexibility
Adjusting to change or temporary circumstances makes you a more versatile employee. There will be days when you need to fill in for a coworker or to veer from your normal duties for a special event or shifting deadlines. If you stick rigidly to your routine, you impact those around you and may be left behind as business priorities shift.
Integrity
Integrity is more than simple honesty. It is your desire to try to take the ethical path when dealing with coworkers, underlings, bosses and customers. Every stakeholder you encounter needs to know that they can rely on you. Integrity boosts morale and teamwork.
Consistency
You may be a salesperson who brings in a big client, but you have to be able to close deals consistently otherwise you cannot be relied upon. Would you rather gamble on an employee who sometimes has flashes of brilliance but sometimes falls flat or one who is always there getting it done?
Resiliency
The strength to pick yourself up and brush yourself off can't be overestimated. Resiliency gives you the strength to face challenges and learn from the mistakes that they may lead to. Nobody has a great day every day. Your ability to bounce back from the rough days and get back to work has a great deal of value.
Self-awareness
Being able to step back and assess yourself means you know when you need help, when you should take on a new challenge, or what skills you need to work on. 
Empathetic
Great teamwork requires an understanding of where the other members of your team stand. Recognising why they may be stuck, or swooping in to assist before they get stuck, will keep the project moving smoothly forward. If you're in a helping profession, this is personality example No. 1. You need to anticipate what others need and be patient and calm when they are struggling.
Communicative
Communication means much more than being friendly with your coworkers. For an enterprise to run well, workers need to express ideas and vision, discuss problems, share information, set goals, and offer a pat on the back for a job well done. Communication is really a grouping of skills, so you can break this down to highlight all it encompasses.
Efficiency
Efficiency combines the ability to get the job done in due course with the problem-solving thinking to develop time and money-saving processes to enhance efficiencies. No one likes to be on the downstream end of a project that's bogged down because one person works inefficiently.
Creativity
Creative thinking plays a role even in positions where you think it doesn't. Efficiency is a good example, but there are many places in which creativity plays a role at work. You may put your creativity to use in developing a policy for remote work, integrating new software into your current workflow, or finding a way to entice qualified engineers to apply at your company.
Bravery
What does bravery have to do with work? It's not always easy to stand up and tell the boss you think her idea won't work or to volunteer to come up with an alternative, but that bravery shows confidence and leads to better ideas and results, which the boss will surely appreciate. 
This short list only touches on personality traits valued in the workplace. Here are a few more:
Dependability
Self-motivated
Team player
Curiosity
Helpfulness
Expert tip
What are your greatest personality traits?
Judging yourself can be one of life's most difficult tasks, but you must understand yourself in order to create the best representation of who you are. Personality examples that present you in your true light are much more likely to lead to a position that's a great fit for you. If you're looking for your first job, or a career change, aptitude tests are also an option.
If you want to use accurate personality examples that truly offer a glimpse of who you are, you may consider taking a personality quiz online. These tests offer a definition of your personality type or characteristics. How accurate they are depends on how honestly you answer the questions, but any momentary snapshot is simply a guideline. 
The quizzes below are well-known and may offer you some of the language you need for your job application.
If you're not interested in taking a personality test, consider asking colleagues to describe your work style in three or four traits. Another valuable source for this information is any prior job review.
Choosing the correct personality examples for each job
So, which of your personality examples do you highlight in your resume and cover letter? 
Your first step is to go to the source: The job listing. You may find two or three traits already mentioned, so in that case, simply use personality examples that amplify what your prospective employer wants.
Also, think carefully about the role you want to play. Do you want to end up being responsible for all the organisational pieces required of the team or would you rather land more toward the creative side? Yes, you want the job, but you want the right job.
HR personnel may have a certain personality type in mind for the open position, or they may simply be looking for the most qualified person. If you play up the personality traits you wish to use most on the job, you'll be much more likely to find the right fit.
Expert tip
Be careful to moderate your personality examples
What do we mean by that? Let's explain:
Ambition is a great trait if it means you work smarter and are always striving to improve. It's not great if you'll do anything to get ahead.
Bravery paired with forethought and structure is admirable, but leaping into projects you aren't qualified to complete or neglecting to check with the boss before you plunge in, takes this quality too far.
Attention to detail will prevent errors and ensure quality, but if you're so stuck on the details that you hold up the project, you've turned a good characteristic for the worse.
Incorporating your personality examples into your CV and cover letter
The goal of your application is to get that interview so you can convince the hiring manager that you will make a great addition to the company. Again, that does not mean that you should string together a list of personality traits into a long sentence describing yourself, even within your summary.
Instead, use your professional achievements to demonstrate the personality traits you apply to your job. This not only saves space, but gives the hiring manager a vision of how you function in the workplace and what qualities you exhibit. 
Here are personality examples that show your traits without explicitly naming them:
Volunteered to take on the work of a colleague on family leave (flexibility, empathy)
Streamlined intake process leading to an average of one week less time for clients to see therapist (efficiency)
Undertook advanced Excel training program to automate accounting processes after several errors slowed down closing of books (self-awareness, resiliency)
Designed monthly bulletin boards for children's section of public library (creativity, consistency)
Encouraged open brainstorming sessions and weekly check-in with all remote workers (communicative)
You have more leeway within your cover letter, but should still steer clear of a long list of your traits. Instead, decide which two or three traits you want to highlight and expand upon personality examples you used in your CV bullet items or one you were unable to include. Don't completely shy away from using a trait as a descriptor. 
Here are a few examples for the summary section of a CV or an introduction within a cover letter: 
Dedicated neonatal nurse performs medical duties with empathy and integrity
Efficient office manager keeps five-doctor practice running smoothly
Marketing manager blends creativity with consistent expectations.
Key Takeaways
Your CV and cover letter convey more than just your professional experience and successes
Knowing yourself and what your most valuable traits are goes a long way toward developing an impressive application package
Use professional achievements that will illustrate your personality as well as your work skills
Personality quizzes, prior reviews, and trusted colleagues are all resources to help you create the best portrayal of yourself that you can
The best CVs and cover letters present skills and personality examples to create a complete package that makes the case for your hiring.