Consulting CV example & writing guide
In your consulting role, you may be the master of helping your colleagues and clients to be the best they can be and make them shine. That doesn't mean that your consulting CV is successfully doing the same for your professional profile.
Regardless of the consulting role you are aiming for, the hiring manager wants to know that you truly are an expert in your field. That can pile on the pressure to make sure that your CV does justice to your skills. However, crafting a top consulting CV doesn't need to invoke stress. 
At Resume.io, millions have consulted our role-specific CV guides and CV examples to be in with the best chance of landing their dream job. So, allow us take you through the steps to writing an excellent consulting CV. In this CV guide, along with our adaptable consulting CV sample, we will cover a range of topics, including:
What is a consulting role?
How to write a consulting CV (tips and tricks)
The best format for a consulting CV
Advice on each section of your CV (summary, work history, education, skills)
Professional CV layout and design hints.
Expert tip
Resume.io, is a career resource for professionals in all different fields, including consultants. Our CV examples are designed to offer expert insights to help you create the perfect CV as quickly and easily as possible.
What is a consulting role?
Not every job requires a full-time resource, which is why some businesses opt for a consultant. A consultant is hired for a short period of time to provide their expertise to an organisation, in order to help solve a problem. Consultants can work in a range of areas within a business, including HR, finance, IT and marketing.
Consultants often enjoy the freedom of being able to move to different organisations and work on a range of projects rather than being tied down to the same company. Consultants are hired by companies and organisations based on their skills and expertise in a particular field. They are often called in to evaluate a problem, brainstorm possible solutions and implement the best course of action. 
When they have solved the problem they were hired for, they move onto their next project. The organisation benefits by hiring someone only when needed, and the consultant retains the freedom to work on multiple projects.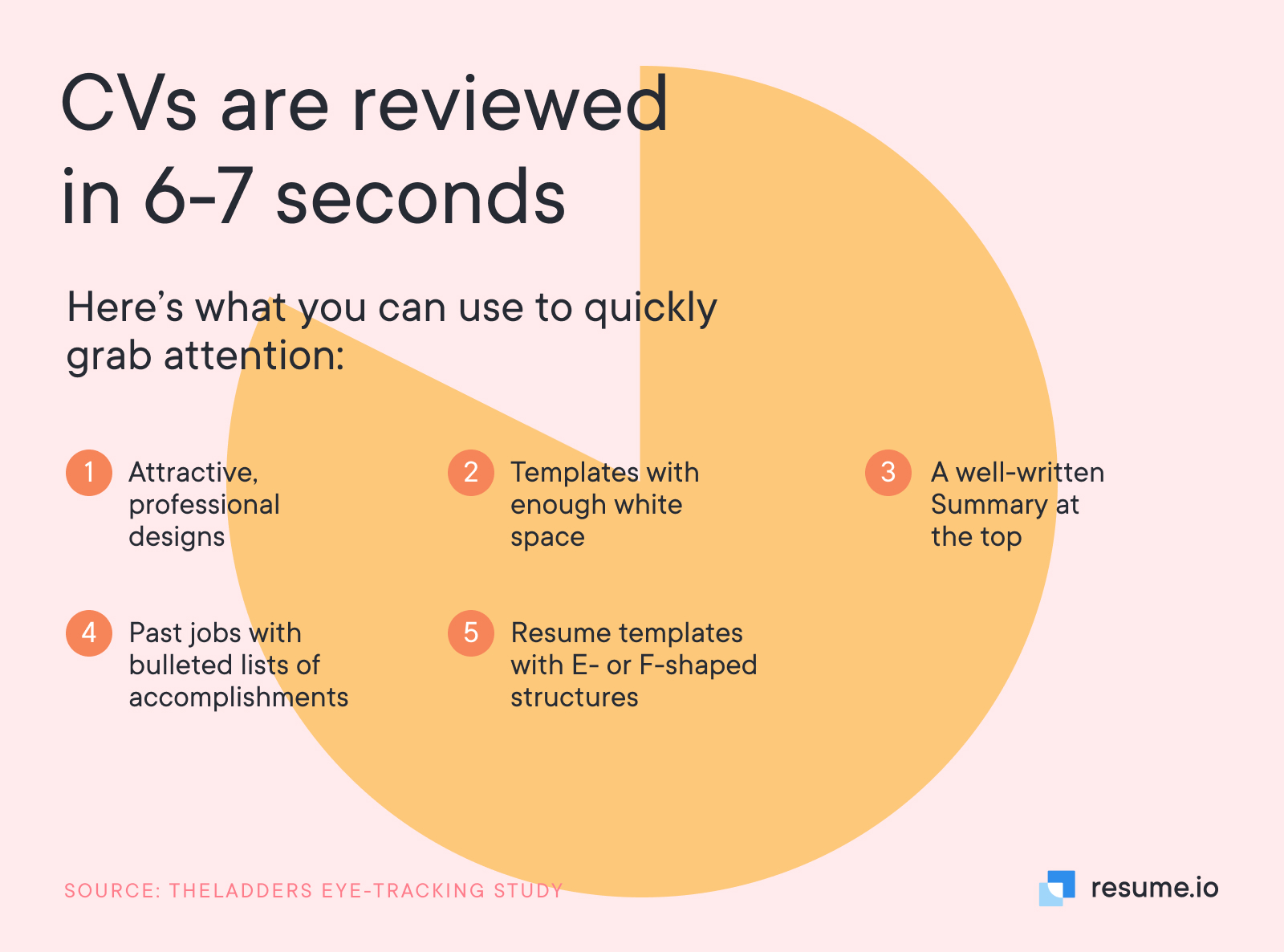 How to write a consulting CV
When writing your CV, it makes sense to follow a clear and defined structure. These are the main sections you should include:
The CV header
The CV summary (aka profile or personal statement)
The employment history section
The CV skills section
The education section
Remember that each CV should be tailored to the precise job you are applying for. It should be adjusted to speak directly to the hiring manager for this particular role; even small tweaks show consideration. 
Before your consulting CV even makes it before the hiring manager, you will have to make it past the ATS (applicant tracking system). This algorithm will rank the most relevant applications to make it to the next round. To make sure yours is among them, make sure your CV uses relevant keywords that you spot in the job ad.
Choosing the best CV format for a consulting role
For consultants with at least some previous employment history, it is best to use reverse chronological order for your CV. This format focuses on an employment history section where you can list your previous work starting with the most recent. Your CV should be contained to a maximum of three pages. If you have undertaken a lot of consultancy work, your experience may be quite vast, so keeping it to the three pages may be a challenge. If this is the case, you may go into detail for the most recent five roles or so, and simply use company name and job title for the others.
Statistical insight
According to the Management Consultancies Association, the outlook for consultants is promising. The industry is currently worth over £14.4 billion and is only projected to grow further in 2023 across all sectors. Some of the most popular industries for consulting jobs are IT, marketing and finance.
CV summary example: The introduction
Think about the CV summary as the introduction. It is a brief synopsis of your key skills and experience to date and what led you to this point in your career. It only needs to be a few sentences long and you should let the hiring manager know why you are qualified for the role. Check out our adaptable summary CV sample below.
Adaptable summary cv sample
Experienced consultant with 10 years+ experience advising IT projects with a speciality of data security in the finance industry. Skilled at troubleshooting and overseeing the implementation of solutions for technical and budgetary concerns. Passionate about helping businesses to implement effective and safe IT solutions across a range of disciplines according to their budget.
Employment history sample: The consultation 
Just as you want to find out what you need to do before you start a consulting project, the employer needs to know what you can offer them. Therefore, the employment section is where you discuss your experience that is relevant to the role.
Start with your most recent experience and work your way back. It is not always necessary to have worked as a consultant before. For instance, you may have worked in IT for 10 years and want to move onto a consulting role. The main criterion for the employer is that you are happy to work on a short-term basis, and that you are duly experienced and qualified.
Below you will find an employment history CV sample which you can adapt to suit the role.
Adaptable employment history cv example
IT Consultant at M&A Consulting, Liverpool
January 2022 - Present
Strategised the database software transition for a large corporate client, increasing the company's profit margin by 5%.
Planned and led software training for client employees, ensuring they were competent using software suite improving employee efficiency.
Maintained strong client relationships with an 85% client retention rate.
Cloud Transformation Consultant at Drake & Drake, Liverpool
October 2015 - January 2022
Helping to support the transformation the business and its partner businesses by implementing cloud operations across multiple platforms.
Advising on cloud transformation to develop partner business models and capabilities.
Evaluating business infrastructure and conducting security audits.
IT Consultant at Woolies, York
January 2010 - September 2015
Responsible for the automation of software integration and deployment within cloud platforms such as Amazon Web Services (AWS), Microsoft Azure and Google Cloud Platform.
Providing IT advice and support to maintain the team efficiency.
CV skills example: Tailored to suit the role
The CV skills section is where you describe the main skills you possess. Make sure to include a balance of hard and soft skills depending on the role you are applying for. For example, if you were applying for an IT consultant role, you may be more focused on technical programs whereas an HR consultant might choose to list more interpersonal skills. Check out our skills section CV sample below.
Adaptable skills section cv example
IT Auditing and Risk Assessments
Data and Network Security
Software and Hardware Installation
Azure, AWS and GCP
Interpersonal Communication Skills
Analytical Thinking Skills
Client Management
Consulting CV education example
You should always include an education section on your CV, even if there is no requirement for specific qualifications. Start with the most recent degree and work your way back. There is no need to include secondary school qualifications if you have completed a higher education qualification. Check out the CV example for an education section below.
Adaptable education cv example
York University, York
2000 - 2003
BEng Information Technology (2:1)
CV layout and design: Keep it simple
The layout and design of your CV can make or break your application – especially when it comes to consulting roles. Your expertise and professionalism are what the company is searching for, and a clean page design is one of the best ways to showcase those attributes. 
Make sure to keep a balance of white space to text and stick with the same one or two font styles throughout your CV. A great header will help capture the hiring manager's attention and encourage them to keep reading down the page.
Just as we recommend tailoring your writing for each opening, we also suggest adapting your formatting to match the tone of each company you apply to. Consider using a professional CV template and saving different versions to make this task quick and easy.
Key takeaways for a consulting CV
Keep the CV to three pages at the most.
Quantify your experience where possible.
Use keywords from the job description and tailor your CV to suit the role.
Check out our consulting CV example for more ideas on creating a great layout.