You excel at strategic planning, marketing, and decision-making and that's part of what makes you a stand-out product manager. These soft skills should help you in your search for a new position. You have the ability to view your career as a story, understand what your prospective employer needs, and know how to match your successes to their needs.
The best product manager CVs do all that and more. Your CV should differentiate your career profile from those of other candidates and answer that all important question that hiring managers have: How will you eliminate my pain point?
Within this CV guide, along with the corresponding CV example, will will address the following topics:
What does a product manager do?
How to write a product manager CV (tips and tricks)
The best format for a product manager CV
Advice on each section of your CV(summary, work history, education, skills)
Professional CV layout and design hints.
Before we get started, keep in mind that there are resources out there to help you. Resume.io provides writing guides and CV examples for product managers and related professions, backed up by an easy-to-use CV builder designed to save you time and get your application into the hands of recruiters.
What does a product manager do?
Broadly speaking, product managers are tasked with understanding consumer needs and developing products to fill those needs. However, their duties go much deeper than that. To beat the competition, they must understand market forces, trends, and forecasts. It's all about staying ahead of the curve. 
Any industry that creates products may employ product managers, who see their creations from idea to reality. Depending on the specific role and size of the organisation, they may be involved in all aspects of product development from design and engineering to marketing, finance, operations, and legal issues.
Product managers collaborate and communicate with all departments which are involved in their product. They must think strategically and analyse feedback from both those designing and creating the product and the customers who use it.
Within IT product management, there are several different roles. They include:
Technical
Product marketing
Growth
Data/analytics
Mobile
Software
Product manager job market and outlook
Product managers who also have technical skills are in high demand in the UK. In fact, ITJobsWatch reports that in the six months ending in January 2023, the demand for product managers rose 131%. Those new to the field can expect to earn about £50,000, whilst experienced product managers may command salaries of more than £85,000 annually.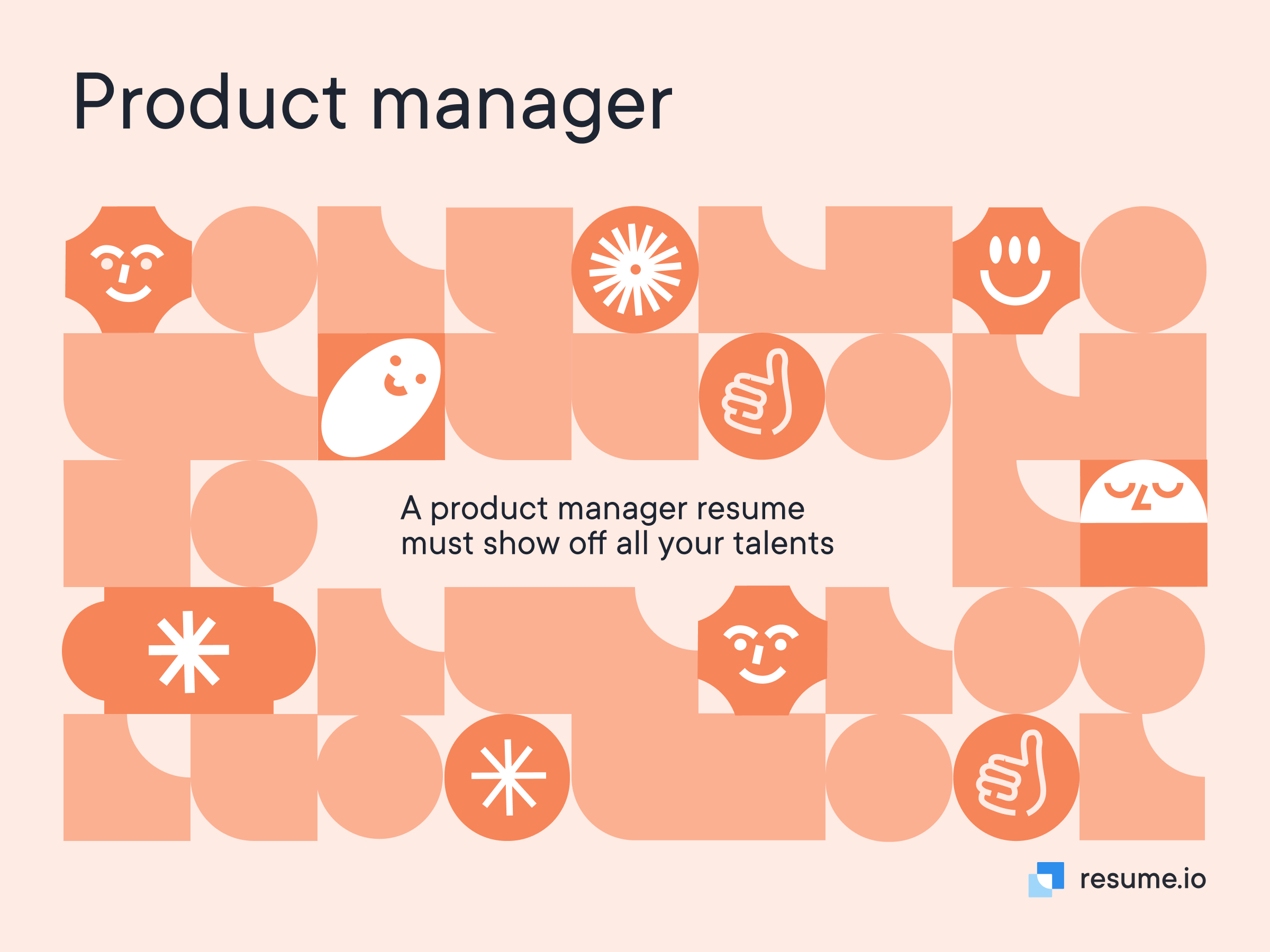 How to write a product manager CV
It is likely that you have a process you follow that makes organising your work easier. Your product manager CV should also follow a structure. That structure dictates which sections you should most certainly include.
Your CV should contain the following elements:
The CV header
The CV summary (aka profile or personal statement)
The employment history section
The CV skills section
The education section
Need some more help? If you are unsure about how to best structure your document, always refer back to our expertly-written CV sample. 
Choosing the best CV format for a product manager
Take into account the following two factors when you decide on the best format for your product manager CV:
Have you taken a circuitous career path to product management?
Do you have a multitude of highly technical skills you want to highlight?
If you answered "yes" to either of these questions, you may consider a hybrid CV format. However, we recommend reverse chronological order in most cases. That's because it is a style recruiters are comfortable with. It will also make applying online much easier since Applicant Tracking Systems (ATS) which scan and input your CV data into HR programs are organised in this manner.
Reverse chronological order mostly affects your employment history section, in which you will begin with your most recent position and work your way back. (But don't go back much further than 10 years unless that early job retains high relevance.)
Expert tip
Personalise your CV
Targeting each employer and position makes great sense: Each position is different, even if slightly, and recruiters want to know that you possess the skills and experience they seek. This extra step can make all the difference in whether or not you get the interview. Make sure that you adjust your tone as well as the successes you choose to highlight.
Another key reason for personalisation is the aforementioned ATS. The algorithms used within rank your CV based partly on keywords and phrases from the job advertisement. Make sure you (organically) insert these all-important words into your CV to ensure you pass by the electronic gatekeeper.
CV summary example 
Personality, philosophy, and strategic thinking play a big role in your career. The best section in your product manager CV in which to show these attributes off is your summary. These scant four prose lines may reveal whether you are a good fit for the role and the company.
You need to grab the attention of your reader here. Although this may not be the first section their eyes are drawn to (that's probably your skills section), if they get this far, they are looking for additional information that will help them determine whether to offer you an interview.
After introducing yourself and your career, place the emphasis on what you will bring to the position. What do you see as the most important aspects of the job? How does your experience show that you will bring value to the organisation? Why do you want this particular job?
Adopt a tone consistent with the company and its products. Give yourself a pat on the back without veering into bragging.
Adaptable summary CV sample
Record of success leading highly successful product development programs. Excel at overseeing all aspects of product ownership and leading cross-functional teams in all facets of product design, delivery and sales. Capable of rapidly dissecting complex product requirements to build product road-maps and plan/execute timely delivery. 
Employment history sample
If you have been in the workforce for several years, the employment history section of your product manager CV will consume much of the space in your 1-2 page document. It is here that you detail not simply your responsibilities, but your achievements.
Details and data make your successes more compelling and relatable, so use them whenever possible. "Communicated with colleagues" is not as strong as "Chaired weekly update meeting and shared feedback from marketing and design departments."
Expert tip
Try the STAR method
| | |
| --- | --- |
| Situation | Analysed negative customer reviews |
| Task | and determined the need to revamp our payment app; |
| Action | oversaw a comprehensive update |
| Result | which led to 30% increase in customer retention and 20% higher than projected sales |
The employment history sample below will give you more guidance.
Adaptable employment history CV example
Senior Product Manager, Selfridges, London
February 2016 - Present
Lead design and maintenance of product backlog, continually ensuring, well-defined and prioritised stories for development.
Compose user stories in close collaboration with business and IT departments in gathering requirements and clarifying details.
Plan and initiate sprints, ensuring featured products are prioritised.
Digital Product Manager, Bupa Global, Brighton 
June 2013 - January 2016
Contributed directly to all facets of digital product lifecycle to meet business objectives and customer needs.
Continually optimised digital products through analytics, requirements gathering/feedback and user research.
Ensured ongoing alignment with company's digital strategy.
Interfaced with stakeholders to identify and drive new business opportunities and manage scoping and requirements definition.
Junior Product Manager, Unity Technologies, Brighton 
March 2011 - June 2013
Interviewed users to gather and document requirements.
Interfaced with product management team members and direct manager in optimising effective application of user requirements.
Gained skills for ensuring continuity of design and user experience throughout product lifecycle.
Product manager CV education example
Most product managers have a college or university degree in business, marketing, or a technical field. Whilst not required, these degrees will give you a boost when it comes time to hunt for a job. The education section of your product manager CV displays these credentials.
Begin with your most recent degree, just as you did in your employment history section. Include all your credentials, since they show determination and a desire to improve. Any online classes you engaged in during the lockdown also demonstrate to HR personnel your focus on personal improvement and your career.
Depending on your industry, you may also have earned certifications or awards. You may choose to list them within this section or create a separate area in which to highlight these achievements.
Adaptable education CV example
Bachelor of Science in Product Design, University of Sussex, Brighton 
September 2006 - May 2010
• Graduated with Honours
CV skills example
A great product manager CV displays the talents and attributes you possess that are essential for the job. There's no better place to do this than the skill section. Because it is a simple listing, recruiters will often use this section to determine whether you are a good fit. Choose your skills carefully.
Product managers need hard CV skills such as data analytics, technical knowledge, presentation skills, and knowledge of the market and overall industry in which they are employed; however, they also need soft skills. Here are some highly sought-after soft skills: communication, organisation, flexibility, strategic thinking, and ability to delegate efficiently.
You may take the first step of generating an all-inclusive list of your job skills. From this list, you can choose those abilities that you believe best represent your qualifications. Asking a trusted colleague to describe your work style and best qualities may help you expand this list, especially if you are modest.
Create a blend of hard and soft skills for this section. Make sure you take keywords and phrases for the ATS into account. 
Adaptable skills section CV example
Product Management
Product Lifecycle
Product Growth
Agile Project Management
Product Metrics
Team Building
Requirements Gathering
Product Design
Product Strategy
JIRA
Product Analytics
Leadership and Management
Stakeholder Relations
CV layout and design
Product managers may not be designers, but design is certainly one aspect of product creation they need to understand. That makes the layout and design of your CV even more important than is typical.
The first visual impression the hiring department will get of you is your CV layout and design. What image do you want to project? This may depend partly on the industry you are in and the company itself. You want to remain professional at all times, but some environments are more casual than others. In those cases, a bit of whimsy in your design may telegraph that your personality will blend well in the department.
Overall, however, avoid too much colour or busyness of any kind. Your main goal is legibility. That means a font no smaller than 10 points or greater than 12 points for your body type, an easy-to-read font, and margins of one-inch. You can skimp a bit here, but no more than one-quarter inch.
Using a professionally-designed CV template such as ours and a CV builder with a spell check function will get your document polished up in no time.
Key takeaways for a product manager CV
Product managers in the IT sector are in high demand, but you need the technical skills to pair with your management acumen.
Any industry that creates products and services needs product managers to oversee projects.
Make sure you demonstrate your strategic thinking, market knowledge, and analytical skills in your summary and employment history sections.
Display your design know-how in a layout that exudes professionalism.