Just like students need to write a top essay to nail an exam, you need a standout education CV to ace your job hunt. You know that you're a pro when it comes to shaping minds, so you deserve an application that reflects that.
Your CV shouldn't be just another assignment to check off the list. Make it a masterpiece that demonstrates why you're an essential part of the education community. We're here to help you craft a CV that shows off your professional experience and your ability to create a positive and engaging learning environment, regardless of the role you're in. 
At Resume.io we know a thing or two about preparing a winning job application. Our library of CV examples caters for dozens of professions with industry-specific tips. We're here to help you to land that dream job by bringing out your best through well-written CVs and cover letters. We've created this comprehensive guide to writing a top-notch education CV that will get you noticed and invited to interview for the education role of your dreams.
This CV guide, along with the corresponding CV example will cover the following topics:
What does an education professional do?
How to write an education CV (tips and tricks)
The best format for an education CV
Advice on each section of your CV (summary, work history, education, skills)
Professional CV layout and design hints.
What does an education professional do?
The education sector is varied with many positions. Perhaps you're working in a school as  a teacher or a school counsellor. On the other hand, you could find yourself in roles that contribute to education on a broader scale, such as an education consultant.
Whichever piece of the education puzzle you've chosen to contribute to, education professionals are responsible for facilitating conducive environments to learning and ensuring that educational institutions are operating effectively. Whether or not it's on your official list of duties, many roles extend to providing support and guidance to students.
Expert tip
Be smart: Optimise for the ATS
The Applicant Tracking System (ATS) will be grading your suitability for the role before any hiring manager does. So, make sure this algorithmic software gives you top marks by including the keywords and phrases it will be looking out for. You can usually determine these through the most important ones used in the job description.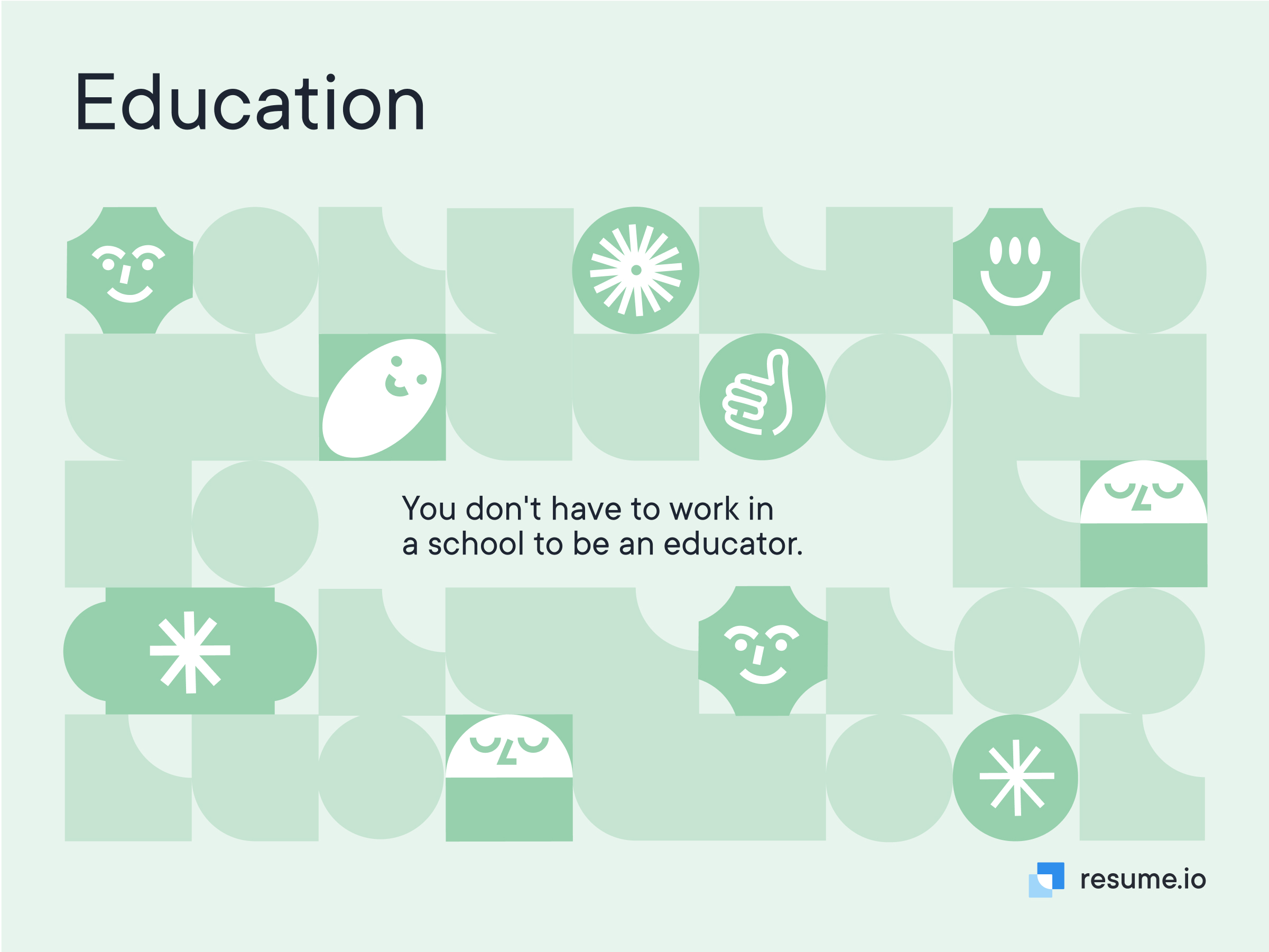 How to write an education CV
When writing an education CV, your educational background and relevant work experience are likely to be under particular scrutiny. While you may be tempted to list all of the specific skills that make you stand out from the crowd, a top-notch education CV needs a top-notch structure.
That's why the very first step in writing your education CV is understanding what sections to include. Your CV should contain the following elements:
The CV header
The CV summary (aka profile or personal statement)
The employment history section
The CV skills section
The education section
Expert tip
You're never too old to expand your vocab
By using strong action verbs to highlight your achievements and responsibilities in previous roles you'll paint a clearer picture of your skills that engages the hiring manager.
Choosing the best CV format for an education professional
The right CV format for an education professional depends on your level of experience and the type of position you are applying for. The reverse chronological CV format is the most commonly used in the education sector. This format focuses on your solid work history and relevant experience. 
However, the function format is the best CV format for those who are changing careers or have gaps in their work history.
CV summary example
The CV summary section is like the opening statement of a lesson plan. It should capture the reader's attention and provide a clear overview of your skills and qualifications. It's an opportunity to showcase your passion for teaching and your expertise in your subject area. Plus, if you're a teacher you should demonstrate your ability to engage the toughest stakeholders of all: your students. 
Make sure to use strong action verbs and keep the summary concise and focused on what makes you stand out from other candidates. Here are some other CV samples that could help you to come up with a great range of ideas for your education CV:
Adaptable summary CV sample
High-impact educator dedicated to empowering students to achieve academic goals through hands-on instruction. Demonstrated experience in creating educational experiences which inspire students and transform academic performance, preparing engaging lesson plans that align with unique student needs and institutional policies.
Employment history sample
The employment history section of your education CV should list all of the basic information from your past job roles. For each previous position, this should include your job title, dates of employment, and the name and location of the organisation. It is, however, just as important to highlight your achievements within those roles. 
Use bullet points to showcase your responsibilities, accomplishments, and contributions to the organisations you've worked at before. Just like a promising report card, you want to demonstrate growth throughout your career journey. Provide specific examples of how you have positively impacted the organisation, for example through improved student learning and academic outcomes.
Adaptable employment history CV example
Year 10 Teacher, St. Francis Education Academy, Birmingham, UK 
September 2013 - December 2022 
Designed differentiated lesson plans and instructional approaches to meet the unique needs of diverse students.
Motivated student achievement through classroom competition and one-on-one mentorship.
Partnered with school administrators to address student challenges and conflicts, engaging parents/caregivers to ensure a unified approach.
Inspired students to explore academic topics with enthusiasm, bringing subjects to life through engaging, dynamic lesson plans.
Head Teacher, King Edward VI High School, Birmingham, UK 
January 2010 - May 2013 
Delivered exceptional classroom instruction, motivating student achievement through engaging and differentiated instructional approaches.
Designed and implemented exceptional course curricula, providing creative learning opportunities for diverse students.
Monitored student performance and shape improvement plans.
CV skills example
The CV skills section is like the assessment rubric of a project. It provides a clear breakdown of your strengths and areas of expertise. Write a bullet point list of the most pertinent skills that you possess for this role. Remember to make sure the language in your CV mirrors the language in the job description to optimise your chances of being invited to interview.
Expert tip
Any top education professional knows the importance of hard (technical) as well as soft (communicative and problem-solving) skills. Make sure your CV skills section includes a mix of both. The CV sample content below will give you some ideas on how to put these tips into action.
Adaptable skills section CV example
Classroom Management
Differentiated Instruction
Student Progress Monitoring
Lesson & Curriculum Design
Administrative Partnership
Student Engagement

Education CV education example
You didn't think that you could leave out this section in a job like yours, did you? Your education is an important part of your professional journey. After all, it not only taught you the skills to break into the sector, but it likely shaped your own education philosophy. Create a subheading for each academic qualification.
Each subheading should include the name of your qualification, the institution you studied at, its location, and the dates attended. The CV sample content below shows you how to do this effectively. Be sure to list your most recent education first and include any relevant coursework or research projects that showcase your skills and knowledge. If you have extra certifications that are relevant, then feel free to create an extra section just for these.
Adaptable education CV example
Postgraduate Certificate in Education (PGCE), University of Birmingham, Birmingham, UK 
September 2007 - December 2009 
Bachelor of Arts (BA) in Teaching, University of Birmingham, Birmingham, UK 
January 2003 - May 2007
CV layout and design
The layout and design of your education CV are crucial in making a good first impression. Use a clean, easy-to-read font with a simple, professional layout. You want to make sure that your CV is easy to scan quickly. If you want to avoid the tedium of reformatting your CV document, you can check out our professionally-designed CV templates.
Key takeaways for an education CV
Quantify your value as an education professional through relevant accomplishments in your summary and/or employment history section.
Let your passion for your sector shine by using strong action verbs.
Your language choices should mirror the keywords and phrases used in the job description.
The visual presentation of your education CV counts. Make sure it has a clear design.