Job hunts are tricky at the best of times, let alone when you're on a time crunch. If you need to find employment in record time, we've compiled a list of tips that will help you to find a job fast regardless of your situation.
How to get a job fast
Sometimes the next job offer just can't come quickly enough. Whatever your personal circumstances, working out how to get a job fast can feel impossible. Luckily for you, we know a thing or two about finding work. In this guide, we've compiled a list of tips and tricks for you to navigate the job hunt in record time. This guide will cover:
Setting your job hunting goals
Methods to generate job leads
Writing a resume and cover letter that will secure a job quickly
Quickly turning a job lead into a job offer
Set speedy job hunting goals to get hired quickly 
Take a deep breath. Whatever your reason for needing to get a job fast, you can easily get swept up in the momentum of your search. For the best long-term results, you first need to set some goals and boundaries. You might be feeling trapped, but even in the toughest of situations, you have a choice.
If realistically you're not going to find the right job to progress your career as quickly as you'd hoped, there's no shame in taking a filler job while you hold out for the right opportunity. Besides, you don't have to include every job you've had on your resume. However, even filler jobs have their challenges and could take valuable time and energy away from your long-term job hunt.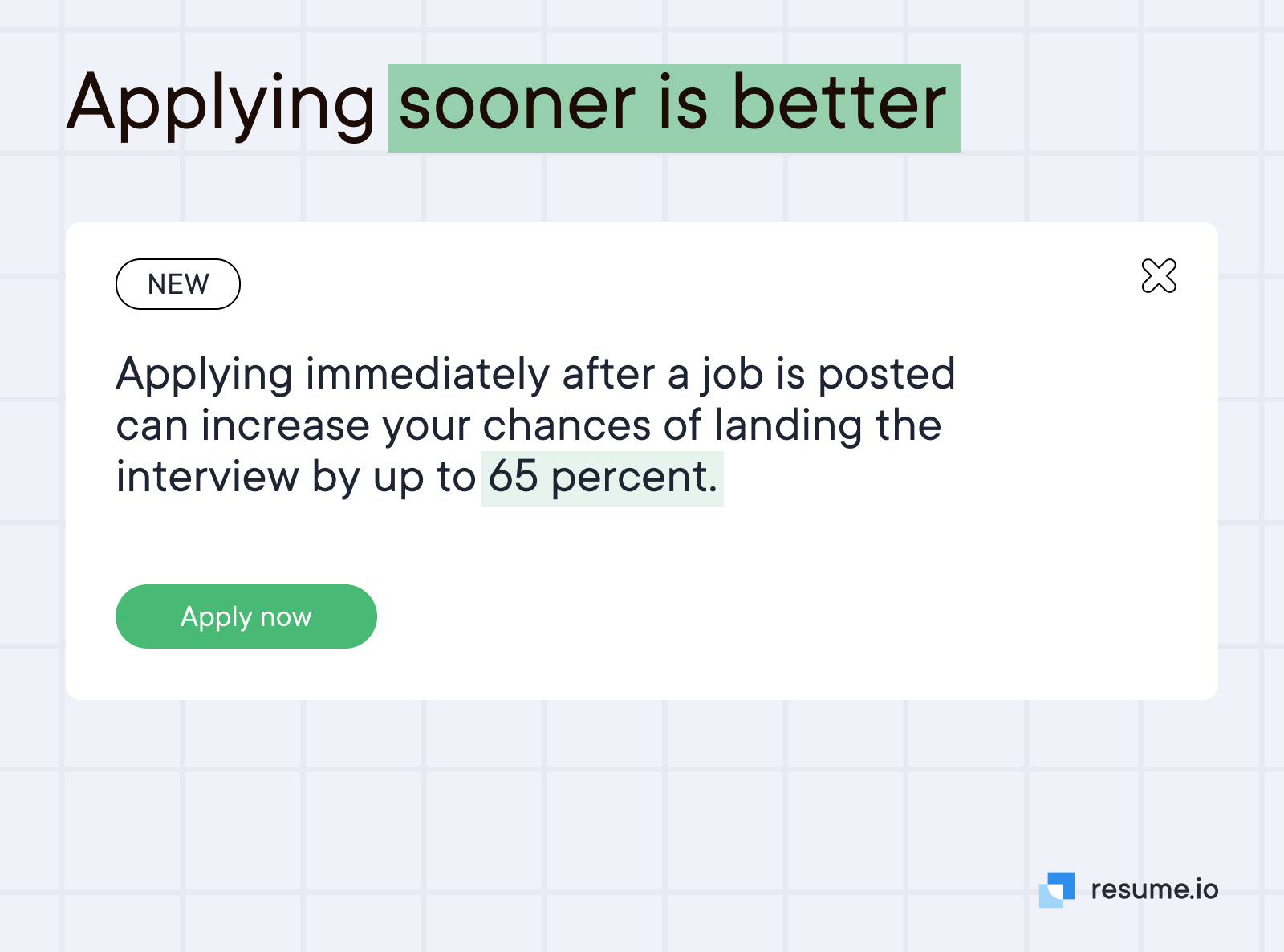 Get specific about your job search
Next, get specific on exactly what you're looking for right now. Niching down on the job you want will save you time and brain power. You need to focus on how to get a job quickly, so automate this part of the process. Make a list of the criteria the job needs to adhere to, and set up corresponding job alerts on the most relevant job boards for your needs.
A job ad doesn't tick the boxes? Then it doesn't get your attention. This is the best way to optimize your workflow and use your energy efficiently to avoid decision fatigue. If you want further tips on how to find job leads, then check out our complete guide to job search methods. 
Expert tip
Let 'em know, you're open for business.
Increase the potential for hiring managers, recruiters, and more to reach out to you by setting your LinkedIn profile as "open to work". If your LinkedIn profile is up to date, this could generate some relevant leads with minimal effort! If your LinkedIn profile isn't up to scratch, check out our guide on how to build an impressive Linkedin profile.
Write a snappy resume and cover letter
When considering how to find a job fast, let's not forget the bread and butter of your application: A strong resume and cover letter. To have the best chances of securing a role quickly, both should be short and to the point. However, they should still be optimized for each separate job application.
A resume is your one-page key to grabbing the hiring manager's attention. The cover letter, on the other hand, contextualizes why you are the best person for the job. Its free-form style is the best place to invite the hiring manager to follow up with you. Who knows, maybe your enthusiasm will help to speed up the hiring timeline. We have an expert guide on how to write a cover letter if you need some inspiration. 
Expert tip
Job-winning resumes in a flash
If you're here, it's likely that you need to create a resume that will wow a hiring manager - and that you need to be snappy about it! Our job-winning templates have helped over 5 million professionals. They're professionally designed and are quick and easy to edit. Plus, our resume-building tool suggests role-specific content. 
If you're curious, check out our resume templates and start building your resume for free.
Other fast job leads
You're using the job boards, and maybe even LinkedIn. However, did you know that most job openings aren't even advertised? If you're trying to figure out how to find a job immediately, then consider your other options.
If they're not already aware, make sure your personal network knows that you're looking for work. The beauty of this option is that it's not as labor-intensive as searching job boards, so you can afford the time and energy to consider any opportunity that presents itself.
There are other professional options that exist, too. Recruitment agencies are paid by companies to find the best fit for open roles. You could be the perfect profile they're looking for! So why not share your resume and cover letter with some of the recruitment agencies that specialize in hiring within your field?
Equally, now could be the time to consider the companies you would like to work with in the future. Speculative applications are usually a mid to long-term strategy for finding relevant employment. However, you might just find yourself in the right time and place for a speedy and smooth hire. If you're interested in this tactic, you can find out more by reading our guide about how to write a persuasive email to apply to your dream job.
Statistical insight
Did you know that 80% of jobs filled don't even make it to job boards? That's right, according to job expert Debra Feldman, it's all about who you know. The truth is that most of these positions are filled through networking. Building your professional network today could help you to find a job fast tomorrow!
Turn a quick job lead into a quick job offer
Just because you don't hear back straight away, it doesn't mean that you should lose hope. While you should leave an appropriate amount of time before following up, don't be afraid to reach out to the hiring manager. There's a good chance they will admire your tenacity and proactive attitude. If you stay polite and make sure they don't feel harassed, you might find that you're able to improve your chances of a quick hire.
There's more that you can do behind the scenes to give your job application the best chance of landing quickly and successfully. Remember to prepare details like your professional references and the other paperwork that HR will need if and when they do start the hiring process. Even if your excellent organization doesn't speed things up, it will avoid delays and make a great first impression! If you need tips on how to navigate the final stages of your job hunt, check out our definitive interview guide.
Key takeaways
Set up an infallible workflow that will speed up your hasty hunt.
Prepare a top-quality resume and cover letter that you can easily adjust for each new job application.
Remind the people around you that you're looking for work.
A persistent and organized attitude is the key to success!