If you are looking for a job, you will encounter countless job responsibilities examples within recruitment advertising. No one role is the same – responsibilities may vary from company to company, so read between the lines.
Have you ever thought about changing careers and found yourself wondering whether you have the transferable skills to make it work?
If you take a deep dive into the crossover of job responsibilities of some of the most popular roles in the job market, you may be surprised. While the jobs in this blog may seem different on the face of it, many people will swap from one to another at some point in their careers. 
When it comes to analyzing your potential fit with any role, it may well be worth expanding your horizons in terms of the types of job descriptions that you consider.
Experience within the industry is always preferable in many of the roles listed in this blog, but we would like to pick out some job responsibilities examples from each role description to show that they have more in common than you might think.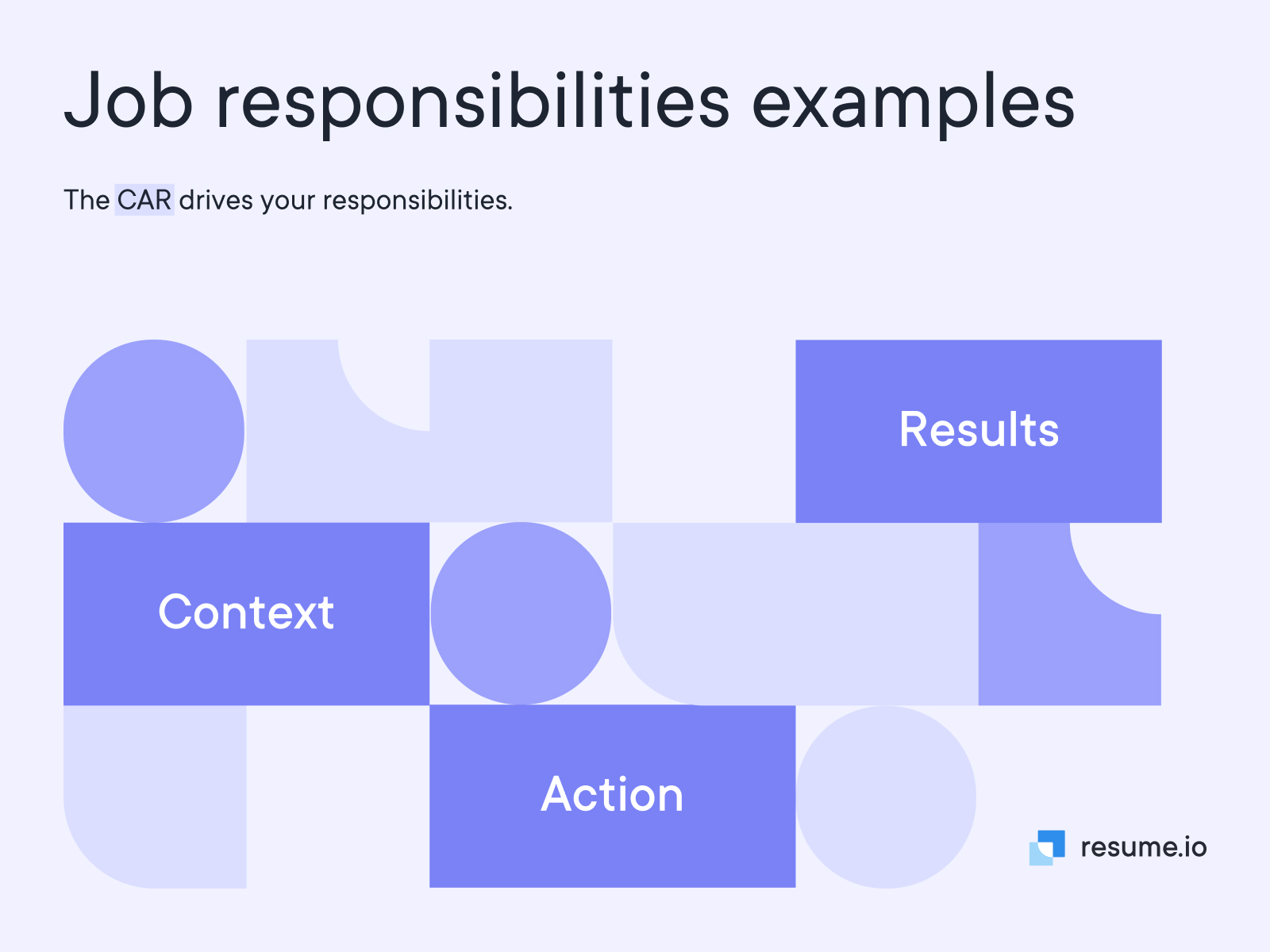 In this blog, we'll cover
What are job responsibilities?
10 Examples of job responsibilities lists for different roles
Should you share job responsibilities in a resume?
As a side note, we have not included roles that require deep technical knowledge in the job duties list as that would be somewhat limiting for those considering a career change, but we hope that you will see just how many potential roles there are out there with enough similarity to make a career swap possible.
We focus here on examples from the corporate sector – within sales, marketing, and operations functions. The same exercise, however, could be carried out within industries such as healthcare, information technology, financial, and engineering sectors - to name but a few.
Expert tip
When you are looking for a new role, it is essential to scrutinize the job description before you tailor your resume and cover letter. There may be subtle (but important) differences in what each role entails. Every company has a slightly different organizational structure and job responsibilities are never shared out in exactly the same way from one company to another.
Why are job responsibilities important?
Clearly defined job responsibilities are essential for many reasons. They create clarity of purpose in the workplace and allow people to collaborate more efficiently. Their boundaries allow new starters to understand their place and add additional value. Managers have a framework to manage their teams and additional responsibilities can be added when employees are ready to develop.
Every organization will have a slightly different mix of job responsibilities for its people. A marketing manager in an industrial conglomerate will not do the same job as a marketing manager in a law firm, but their roles remain closely related. 
In the same way, there is an amount of crossover within functions. An operations manager might move to an administration role, or a sales manager may move across to marketing. 
You will see that there is enough similarity between the following job responsibilities examples to make a career change possible in certain circumstances.
10 Roles and their lists of job responsibilities
While it is useful to consider your own job responsibilities when you are applying for a new role, it is an interesting exercise to consider the duties of those around you and how you might be able to impact them in a positive way. 
It may be that B2B sales are central to the success of a certain employer, so understanding their role in more detail helps to put your job into context. 
Here are ten typical corporate roles that will be represented by the majority of corporate employers. You may be surprised just how many people swap from one to another during their careers. Do any look tempting to you?
Finance manager
Finance managers need a detailed understanding of every part of the business to make the best decisions. Employees can take financial or accounting qualifications and then move into the function from other areas. Finance manager job responsibility examples:
Run financial reports and provide professional financial advice to colleagues.
Lead the financial strategy planning process with regular P&L reviews.
Monitor the financial health and trajectory of the organization.
Analyze business costs, sales initiatives, and performance measures.
Oversee the budget process to support overall business growth.
Keep track of external financial developments that may have an impact.
Advise on potential investment and merger opportunities.
Spearhead cost-reduction efforts and targeted improved profitability.
Work with external auditors and consultants to ensure financial compliance.
Market research analyst
Market research professionals are experts in how their product or service fits into their market niche. They need a close understanding of the mechanics of their business and where the future lies. Market research is a forward-looking role that anyone with a solid understanding of the business model can take on. Market research position responsibility examples:
Map the relevant market for potential opportunities and threats.
Survey customer habits and behaviors – leading to actionable strategy.
Present data on customer preferences to the business in various forms.
Assemble statistical data to support the company's growth plans.
Formulate market research plans and define customer segmentation.
Organize both qualitative and quantitative research work.
Identify market trends and advice on pricing and product strategy.
Use modern technology and data science to gather intelligence at scale.
Be the expert in everything to do with the customer in your business.
Sales manager
Sales managers are the engine of many businesses. They keep the product rolling off the shelves and help explain why their services are best for their customers. Sales is an occupation that professionals from other roles can easily pick up. The job responsibilities listed below require personality, determination, and a commercial brain.
Hit sales and margin targets by introducing successful sales initiatives.
Inform the product team of customer trends to drive product development.
Refine the business plan to maintain and grow market share.
Coaching and performance management of a wider sales team.
Grow social media presence and diversify sales channels where possible.
Present sales and marketing reports to company leadership.
Identify new market opportunities and competitor SWOT analysis.
Partner with customers and clients – seeking to grow alongside them.
Negotiating all aspects of commercial agreements and pricing.
Management consultant
By nature, management consultants require a broad appreciation of a business. Few people start their careers as management consultants, rather than working in one or two business verticals before deciding that they are best suited to offering advice rather than getting things done. They will have experience in many of the following job responsibilities examples in their previous operational or commercial roles.
Manage short-term or long-term projects within an organization.
Meet with a wide range of stakeholders to understand business issues.
Collect and analyze data to come up with actionable insights.
Present findings to company leaders and suggest improvements.
Influence and persuade others to follow the optimal course of action.
Train and develop others in the skills required for the project.
Make tactical adjustments to strategy when the environment changes.
Ensure that their industry knowledge and network are second to none.
Formulate plans in terms of business change initiatives.
Marketing manager
Marketing is an activity that requires a significant amount of creativity and expertise in optimizing how (and where) the messages are shared. It is not something that everyone can pick up immediately, but there is a significant crossover with sales. The typical job responsibilities for marketing highlight its focus:
Promote the products and services of the company on varied channels.
Drive traffic and increase sales by increasing brand awareness.
Experiment with organic and paid media placements – the marketing mix.
Produce content in a variety of media – targeting the right customers.
Develop relationships with marketing suppliers and partners – growing together.
Analyze and optimize marketing campaigns – both online and offline.
Monitor the marketing spend and ensure the best possible ROI.
Create a customer funnel to enable the sales team to convert prospects.
Be the voice of the brand – for both an internal and external audience.
Executive assistant
Executive assistant is a role that people fulfill at the start of their careers or the end. It is not uncommon that an accomplished professional may want to slow down for whatever reason. It is not inconceivable that they could move from any of the roles in the blog to become an executive assistant. The job responsibilities examples for an EA are a testament to this:
Assist your immediate manager and their colleagues in their daily duties.
Manage meetings, organize conferences, and coordinate schedules.
Supervise travel and accommodation arrangement for business trips.
Oversee daily expenses and manage the expenses of any direct hires.
Act as an office manager – responsible for stationery and equipment.
Prepare and format presentations and reports for internal and external use.
Be the first point of contact for all external correspondence and calls.
Dotted line management responsibilities for other clerical employees.
Take minutes during meetings and deputize when required.
Operations manager
Operations managers boss the engine room of their company, but as these job responsibilities examples show, their job could well be done by a career changer with a practical mindset and an intimate knowledge of the business. Anyone with financial or commercial experience could potentially move over and make a fresh start.
Ensure all operations are carried on in an appropriate, cost-effective way.
Improve operational management systems, processes, and best practices..
Purchase materials, plan inventory, and oversee warehouse efficiency.
Help the organization's processes remain legally compliant.
Formulate strategic and operational objectives.
Examine financial data and use them to improve profitability.
Manage budgets and forecasts.
Perform quality controls and monitor production KPIs.
Recruit, train, and supervise staff.
Find ways to increase the quality of customer service.
HR specialist
Working in HR takes a certain type of person, but while an HR qualification would help, some people swap careers to the role and do their training on the job. Everyone has worked with great HR professionals, so there is already a deep understanding of how HR can add value to a company. Here are some HR specialist job duties:
Oversee training and development requirements of employees.
Manage employee records – from legal and operational perspectives.
Administer performance management process and support line managers.
Develop and update HR policies and procedures as appropriate.
Lead the HR and people strategy to support business goals.
Manage hiring and recruitment, including employer branding.
Accountable for compensation and reward initiatives and compliance.
Be a point of contact for employee and manager HR support.
Stay current with labor legislation and manage any legal proceedings.
Customer service representative
Anyone with the right mindset can work in customer service. If you understand the product or service and wish to help your customers make the right choices or respond to their complaints, you can pick up the skills required. There is a sales element of customer service in certain companies that may not be for everyone, but for the most part, the role is about delighting customers rather than selling to them. Here are some related job responsibilities:
Communicate with customers and meet their various needs.
Advise customers on product or service issues – problem-solving.
Put customer satisfaction at the very top of your priority list.
Process customer transactions and keep records of activity.
Handle complaints within an agreed service framework.
Meet operational targets for telephone and email communication.
Build trusted relationships with long-term customers who keep coming back.
Manage efficient document flow of all customer interactions.
Contribute to improving guidelines and processes for the department.
Office manager
An office manager should understand the needs of every department in the business. It may be a role for someone who wants to slow down after a role in a different department, but it may equally be for someone who just loves being at the center of everything that is going on. If you are always helping your colleagues out, these job responsibilities are for you:
Assist with office supplies, equipment, catering, and routine maintenance.
Cooperate with the HR department to ensure that policies are followed.
Manage supplier contracts and ensure timely payment of invoices.
Work with new hires to help them settle into their roles.
Liaise with suppliers for facilities and catering management.
Manage the office P&L and operating budgets – saving costs where possible.
Organizing company functions, parties, away days, and team-building activities.
Managing meeting and conference room availability.
Arranging travel and accommodation for individuals and teams as required.
Should you share job responsibilities in a resume?
It is important for any resume to include accomplishments and work experience rather than simple descriptions of job responsibilities that may have been copied from the job description. Quantify your job responsibilities and give them some context. Prove that you are the best in your field at doing a certain thing.
Understanding the job responsibilities is the first step to working out whether a job is for you. Then you need to be honest with yourself (and the hiring manager) about just how proficient you are at these duties. Telling them you have experience in these areas is not enough. They want to hear about the details.
A resume that reads like a job description will make the hiring manager feel that there is nothing substantial behind the generic role descriptions. That is a surefire way to ensure that your resume ends up on the rejected pile.
Key takeaways
If an employer creates a clearly defined list of job responsibilities for each role, they help their people to understand their duties and at the same time signpost what they are looking for in new recruits. Responsibilities will obviously change somewhat depending on the skill set of the employee – if someone is capable of taking on more, their list of job responsibilities will lengthen, and their impact will grow.
Do you understand which job responsibilities you enjoy?
Are there any new job responsibilities that you would like to take on?
Can you quantify your accomplishments for each of these job duties?
Which responsibilities will be most critical for your next boss?