Of all the hard knocks we hope never to experience, homelessness is high on most people's lists. Even harder to imagine is dealing with unemployment while homeless. We look into the unique job search challenges faced by homeless people and tips for overcoming them.
Even when life is treating you well, job hunting can take a toll on your energy, confidence, and peace of mind. For jobseekers experiencing homelessness, added layers of difficulty make the path to employment infinitely more arduous. But with determination and the right strategies, and support, this life-changing journey towards a sustainably bright future can prove successful.
We've put together some insights and guidance to help homeless job seekers get hired and back on their feet. Here's what we'll cover:
The unique challenges of navigating a job search while homeless
Rebuilding the foundation to restore housing and job security
Where to turn for help and support
Considerations and proactive tips for optimizing job search efforts
Homeless and jobless: a double whammy
Homeless people face exceptional challenges that can make their employment quest especially bumpy, lonely, and discouraging. On top of having to cope with homelessness in its own right, these related job search complications can be daunting. 
Uncertainty about where to start seems overwhelming.
Instability makes it hard to create routines and keep commitments. Immediate survival needs can derail your job search efforts.
Limited access to a computer and the internet can hold you back.
Not having a stable address can be problematic to complete application forms and convey stability.
Limited transportation options can impede your travel to training sites, job interviews, and workplaces.
Negative stereotypes about homelessness can influence biased hiring decisions.
Lack of suitable clothing, shower facilities, and toiletries can undermine your progress and confidence.
Mental and physical health challenges can affect your concentration and performance.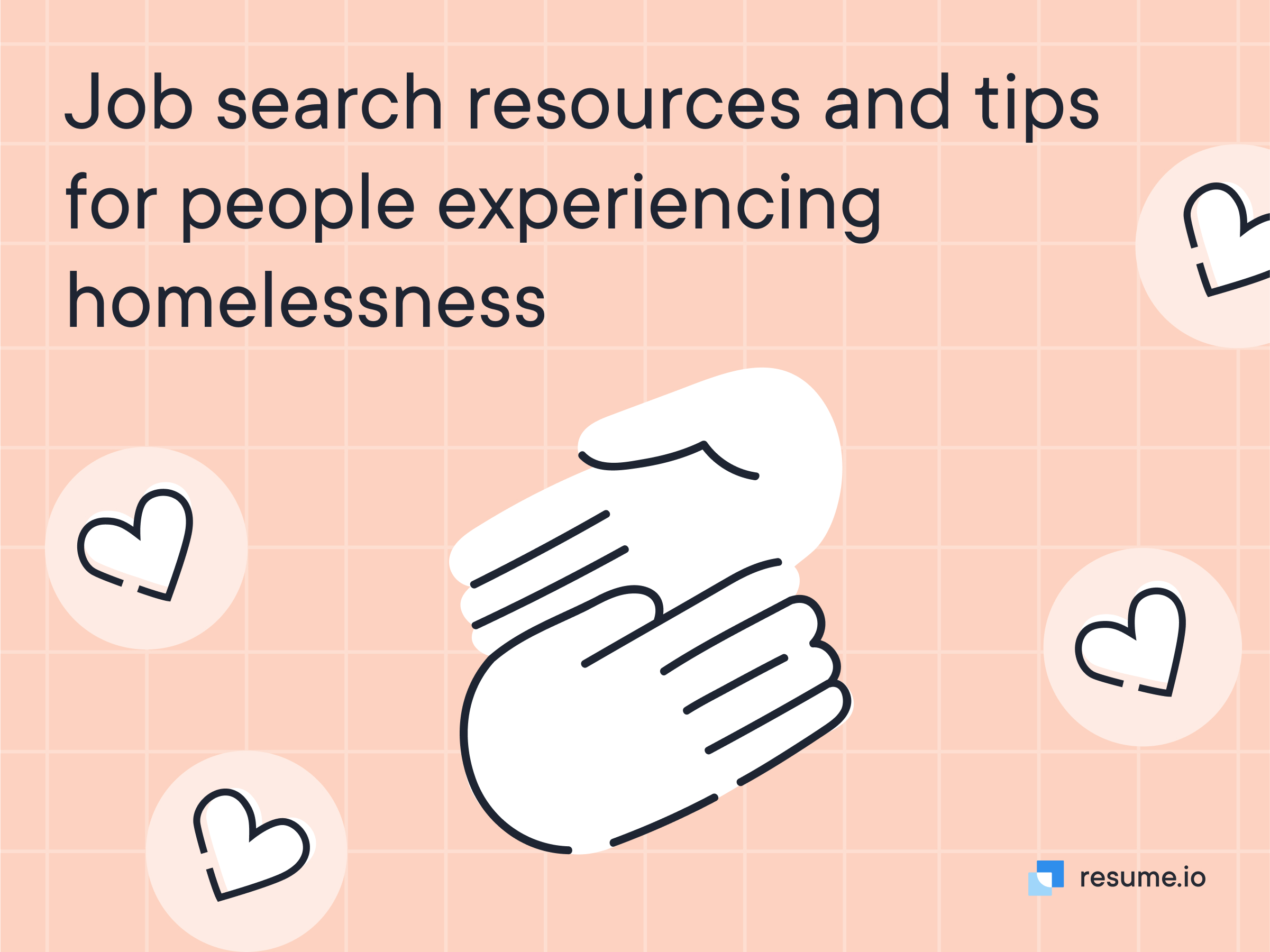 Rebuild a foundation for housing and employment
Any job search can take time and perseverance, even when homelessness is not a factor. Plan to remind yourself of that reality as often as needed on your journey toward being in a better place. 
Expert tip
Mental resilience and self-care go hand in hand
Staying positive and preparing mentally for a job search when homeless is imperative. Be patient and expect setbacks you won't always see coming. The most discouraging moments are when you need to be kindest to yourself. Keep your goals reasonable and celebrate every step forward to stay motivated.
Make self-care your top priority. Unemployment job search preoccupations should never be at the expense of your physical and mental well-being. Access all available avenues to meet your needs for shelter, healthcare, food, and emotional support.
Where to turn first: look locally
Any number of local resources may offer solutions and support towards attaining both stable housing and employment. You're apt to find crossovers in the types of specialized assistance available through interlinked programs and agencies. Whether independently or in a coordinated manner, they can help you gain multiple footholds toward self-sufficiency.
Local homeless shelters, food banks, and soup kitchens may provide more than just emergency housing, meals, and food assistance. With computer and internet access being a lifeline for homeless individuals using their facilities, many are equipped with computer stations and/or connectivity for people to use their own devices. Employment counseling, skills training, and job placement services may be readily at hand, as well as resume help, interview coaching, and perhaps access to clothing, transportation, and even transitional housing.
Expert tip
Help could be a nearby visit away

Local libraries are a gift that keeps on giving to unemployed homeless people. Notably, they offer access to computers and the internet, which are essential for the job search. In addition, libraries might provide:
Resume and job search assistance, including from librarians
Free workshops and events on relevant topics
Quiet, comfortable, and safe environments
Community bulletin boards and job postings
Don't overlook the possibility of housing and employment solutions coming from a nearby church either. From emergency shelter and food bank access to job skills training and counseling, the pastor or congregation members could be a helpful source of assistance or advice. In addition, church volunteer activities could open doors to invaluable work experience and networking opportunities.
Tap into the national network
Some of the programs and services that homeless job seekers can access locally are offered throughout the United States. Availability depends on location. These are some familiar examples:
National Coalition for the Homeless
Salvation Army
United Way
Department of Housing and Urban Development (HUD)
Local Continuums of Care (CoCs)
Healthcare for the Homeless (HCH)
Homeless Outreach Teams
Job Corps
Community Action Agencies (CAAs)
211 Helpline
The online job search creates new opportunities 
Fortunately for homeless individuals,  digital technology has transformed the modern job search scene in universally beneficial ways. Gone are the days when pounding the pavement was your only option. 
Computer and internet access now brings a world of opportunity to nearby doorsteps. As the key to unlocking job posts, it's also your Swiss army knife for preparing and submitting applications, receiving responses, and preparing for interviews. It's the research gateway to explore job market trends and in-demand skills. It helps you identify gaps in your qualifications and learning paths to fill those gaps through additional training, education, mentoring, or certification.
Thankfully, the twin challenges of homelessness and joblessness don't automatically put computer and internet access off limits. As noted previously, free or inexpensive options may be readily within reach.
How to write a resume when you're homeless 
As the cornerstone of all job searches, a resume seeks to persuade hiring managers that you're an excellent fit for the position being sought. Homelessness need not be a handicap where resume writing basics are concerned.
For expert advice on how to write a job-winning resume, you are already in the right place at Resume.io. We offer a wealth of information on job search best practices, including an ever-expanding library of 350+ occupation-specific resume examples with step-by-step writing guides.

No matter what your background or current circumstances, a well-crafted resume plays to your strengths as they align with the job you're applying for. The emphasis is on relevant experience, achievements, and transferable skills, regardless of how limited or extensive your employment history is. Anything you've learned and accomplished as a student, volunteer or trainee counts if potentially valuable to the employer.
Expert tip
Uncertain how to deal with employment gaps in your resume? What if you have little or no work experience at all? You're in good company, but not because these are homelessness red flags per se. Job seekers in more than a few other circumstances have reason to seek solutions. It comes down to matching the custom-tailoring strategy that each specific job application requires.
Self-assessment goes beyond employment history
Self-reflection to assess your interests, abilities, experiences, and accomplishments is a vital first step toward finding employment. It's also an opportunity to psychologically step away from the crisis at hand and regroup by taking stock of everything in your favor. 
Leave nothing off the table when you approach this assets inventory as an open-ended brainstorming exercise. Keep a list handy and keep your memories, thoughts and ideas flowing freely. Keep calm and patient too. Do your best to dismiss the anxiety and sense of urgency you might be feeling. 
Consider all your life experiences. While work experience will be pivotal to the job application process, don't get hung up on that just yet. Think about volunteer activities you've taken on as a student, parent, friend, neighbor, or community member. How did you contribute? What transferable skills did you acquire? Everything counts.
Identify your interests and passions. What specific work tasks or activities are up your alley? What hobbies or personal interests bring you satisfaction and joy? These insights could steer you in occupational directions you've never considered.
Ask others for feedback. Reach out to friends, family members, or mentors for their perspective on your talents and strengths. Especially when under stress and feeling downtrodden, it's easy to overlook their reasons for championing your awesomeness.
Make use of self-assessment tools that can help identify your aptitudes, personality traits and work preferences. An abundance may be found online or in free printed materials you can access from local libraries, schools, job centers, and social service agencies.
Expert tip
Addressing the address issue
Not having a stable home address doesn't have to be a job search deal breaker, as it might have been in the pre-digital age of snail-mailed paper resumes and cover letters. But with today's default being online document submissions and e-communications, having a street address or physical mailbox matters far less, if at all.

In fact, the question of whether to put your address on a resume has become debatable, with some arguing it's unnecessary and also a privacy protection concern.
Still, some employers expect or require a physical address, perhaps on an application form. Some options:
Use your most recent home address (only if you have mail forwarding in place)
Use the address of a shelter, friend or family member
Rent a P.O. box where you're allowed to use the street address for incoming mail
How to prepare for a job interview when you're homeless
Landing a job interview is no small win on any job seeker's scorecard, and for homeless people, it's an especially big confidence booster. Bask in the well-deserved sense of accomplishment while preparing to meet your interviewers face to face, in a video or phone call. 
Your rehearsed answers to common interview questions should focus on your strengths and your awareness of their value to this specific employer. Bridge from your past experiences to future potential. Highlight challenges you've overcome as an employee, student, or volunteer — single-handedly or through teamwork — to demonstrate a solution-focused mindset.
Above all, be ready to cite relevant transferable skills, leaning into the things you can do and away from your shortcomings.
Expert tip
Again, there's no shortage of online advice at the pivotal interview stage of your job search. But it's so much better if you can connect with someone in your local resource network for interview coaching or practice sessions. 
In particular, seek clarity on how to handle interview questions relating to your homeless status, or if it even needs to come up at all depending on the employer's awareness. 
Other ways to build up experience and contacts
Job posts on career sites such as LinkedIn will likely be your job hunt mainstay. Otherwise, as discussed earlier, many of the same resources helping homeless people in your community can help you make contact with job counseling, training, and placement agencies. Be proactive in reaching out to as wide a circle as possible of businesses and nonprofit groups, by email or in person.

Here are some more ideas for homeless job seekers to keep your efforts on track and gain momentum.
Network. Reaching out to friends, family members, and acquaintances can generate tips on resources you weren't aware of, as well as promising job leads and referrals.
Volunteer or intern. Unpaid work experiences are a win-win, helping you gain practical skills, build connections, and demonstrate your commitment and enthusiasm to potential employers.
Set up an informational interview. Contact professionals in occupations or industries that interest you and ask if you can chat about what the work entails, and how to qualify.
Pursue temporary or gig work. Earn immediate income while continuing your job search. Look for opportunities in sectors like delivery services, hospitality, or retail. Check in with temp placement agencies for short-term work possibilities.
Expert tip
Upskilling can pay off
Stay mindful of what you stand to gain by growing your skills and knowledge in fields of interest. Refer to your self-assessment inventory and cross-check it against job requirements. Enroll in free or low-cost courses online or at local colleges and training centers — including programs offered to homeless adults.

Make the most of every opportunity to attend talks and training sessions. Follow up with the presenter to ask specific questions or seek advice.
Key takeaways                                                                                                                                                                                                                                                                                                                                                                                                                                                                                                                                                                        
The complex challenges of being homeless and unemployed at the same time can take a tremendous toll on your well-being. That's why self-care must take precedence over all else.
Explore your local network of resources that assist and support people experiencing homelessness and unemployment concurrently.
Digital technology has leveled the playing field for unemployed homeless people, enabling them to search for jobs, prepare and submit applications, and communicate with employers. They can also access career advice, research occupations and update their skills and qualifications online.