Stars become inseparable from the parts they play and the movies they star in. Read on to find out what stars could have been in your favourite films.
Getting turned down for a job can make you feel pretty low and unglamorous. But even Hollywood's biggest stars face job interview rejection. To bounce back like Gwyneth or Leonardo, it helps to take each knock-back as a learning opportunity. To figure what you need to work on, but also to learn about yourself.
Casting is a lot like the regular interview process: the applicant has to fit the role. The team chemistry needs to be explosive. The interviewer - whether it's Sofia Coppola or Jan from HR - needs to be inspired. If Elizabeth Taylor could handle being rejected 36 times in her career, there's no need to let the odd unsuccessful job interview drain your motivation. Most of us will not get near these 36 rejections (in terms of actual interview rejections), but you can be sure that each one will be a fantastic learning experience if that is the case.
Indeed, the applicant has to feel it's right, too. Plenty of stars have turned down juicy roles they thought would harm their career. Val Kilmer said No to the part of Johnny in Dirty Dancing because he didn't want to spend his life playing 'the hunk.' It worked: he's had the career he wanted as a character actor, and Dirty Dancing wouldn't have been the same without Patrick Swayze. Equally, it is every job applicant's right to say "no" to a role, even during the very final stages of the application process.
Expert tip
Do all actors get rejected? In a word, yes. There isn't an actor on the planet that hasn't been rejected for a role, no matter how famous that have become. Rejection at any part in our careers can shape our characters and it is even an essential part of any actor's journey. Rejection keeps the fires of ambition burning brightly.
A while back, we showed you Hollywood's busiest stars – the compulsively employable actors who never turn down a gig. Today, resume.io brings you the Hollywood stars that didn't get the job, and the movies for which the most actors were rejected – a parallel Hollywood of alternative casts. It is likely that there are roles out there that you think you could do better than the current incumbents... well, just imagine how these actors feel.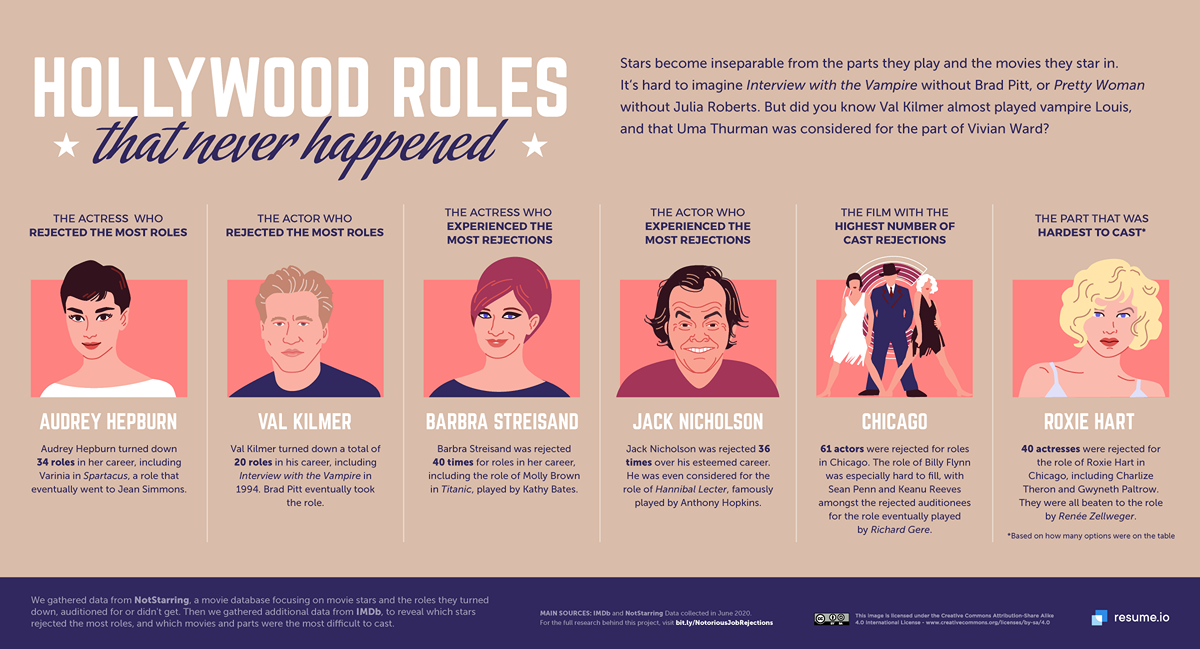 The Hollywood Actors Who Didn't Get the Job
This interactive table shows the 'could've been' stats of fifty top Hollywood stars. Click the arrows to sort in alphabetical order or rank the actors according to their number of rejections or roles turned down.
Barbara Streisand is as famous as it gets, but she could have been the undisputed Queen of Cinema. She is the most rejected actress in our study, overlooked 40 times (and saying No to 22 other jobs). Iconic roles in Cabaret, Klute, Titanic, and The Exorcist went to regular rivals such as Kathy Bates, Ellen Burstyn, and Jane Fonda. I can;t quite imagine Barbara in the Exorcist, though....
Jack Nicholson is, well, very Jack Nicholson, and it's cost him a lot of roles. It's hard to imagine him carrying off the innocence of Raymond in Rain Man or The Graduate's Benjamin Braddock, for example. Both those roles went to Dustin Hoffman instead. Slowly going beserk whilst hunched over a lonely typewriter in The Shining is much more his thing. We've all been there and done that at some point.
Curiously, nine out of the top ten most rejected stars are women, suggesting that directors have more precise expectations of Hollywood's female talent.
Alternative Blockbuster Casts from Another Dimension
Our next chart shows some of the most tough-to-cast films. These are the movies whose directors rejected the most actors, not just in the lead role but in the supporting cast, too.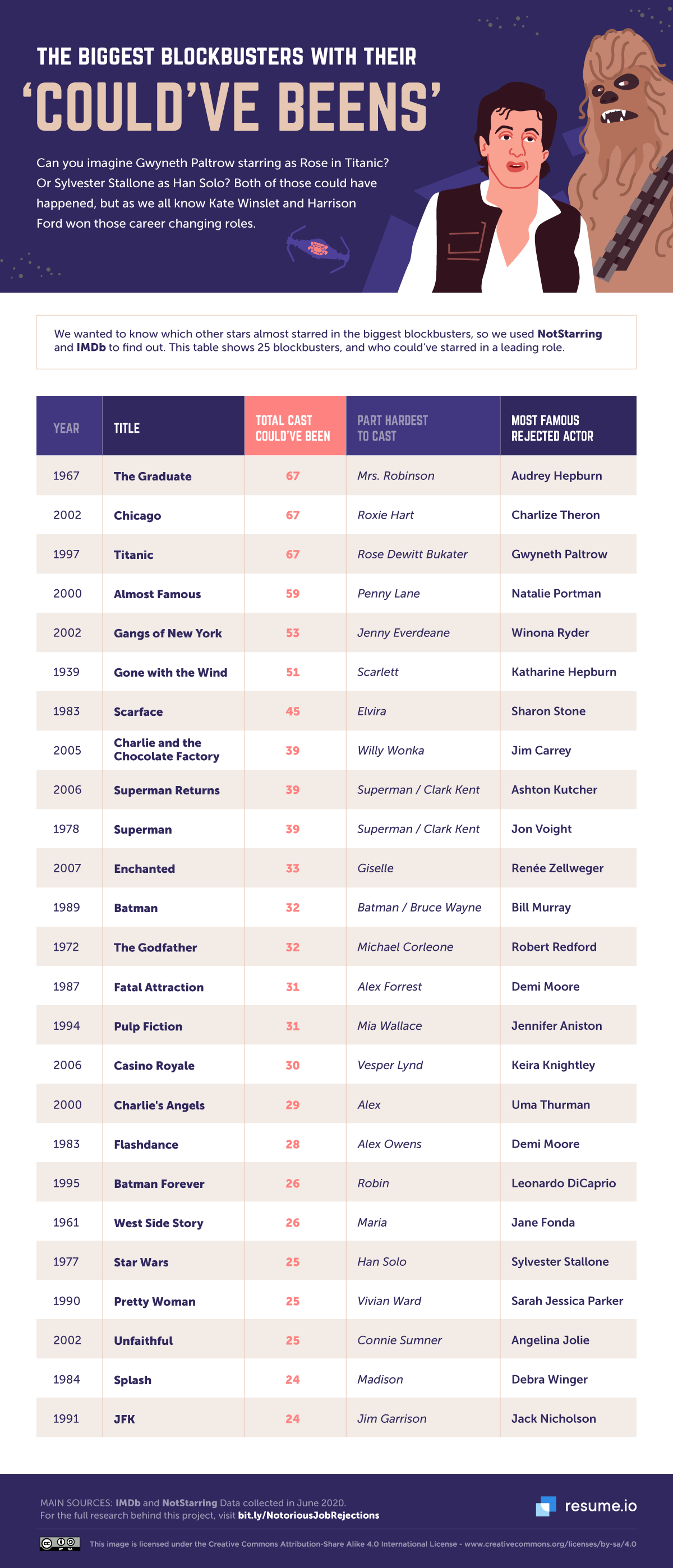 Director Mike Nichols "interviewed hundreds, maybe thousands, of men" for the role of Benjamin in The Graduate. That seems somewhat of an exaggeration, but there are definitely some corporate hiring managers who feel the same way for certain roles. We identified 16 stars who could have played Mrs. Robinson and 16 possible Elaines, too. Robert Redford auditioned opposite Candice Bergen for the roles that went to Hoffman and Katharine Ross, and Audrey Hepburn could've been Mrs. Robinson, making for a glossier – and far less amusing – film.
The original cast of Star Wars has become the archetypal space crew. But imagine Freddie Krueger as Luke, Rambo as Han, and Jan from the Brady Bunch as Leia. Add Bugs Bunny doing the voice of C3PO. And Citizen Kane as Darth Vader. What a universe! Sylvester Stallone is philosophical about being rejected for Han: "Guys in space don't have this face, I get it." While it is hard to imagine Apple haveing been founded by someone other than Steve Jobs, a twist of fate could have easily brought someone else to the (inevitably less successful) helm.
Another Juicy Role Around The Corner
For every movie that is inseparable from its cast, there's another one that flopped because the wrong people got the parts. Everybody loves George Clooney, but… Batman? And Tom Cruise as an "'80s-esque metal rocker"? If the job isn't the right fit, nobody will be happy.
Many an A-lister has hastily learned to do an accent, play the piano, or skin a squirrel to boost their resume. If you face rejection from the jobs you covet, maybe it's not the right fit for you… yet. Better to know thyself, develop some new skills, and then hotfoot it back to the agency! The skills section of any resume can be key to getting that crucial role - you just have to know what the employers are looking for.
For a deeper dig into our research on the roles and movies that could have been, check out the sortable tables below.
Films with the Largest Could've Been Cast
Stars with the Most Could've Been Roles
Methodology & Sources
We identified the stars who didn't get the part more often than anybody else beginning with data from NotStarring, which lists their own top 25. We made it up to a top 50 by adding 25 additional stars using lists from IMDb Insider, Cosmopolitan, Glamour, the BBC, MensHealth and StyleCaster. Extra information on each of the 50 stars was collated from IMBd and NotStarring.
Next, we identified the top 25 movies with the highest number of cast could-have-beens based on existing lists within NotStarring. We collated additional information on each of the movies with the help of IMDb. For the full research behind this project, visit bit.ly/NotoriousJobRejections