Employees around the world have quit their jobs in droves over recent years. Still, employers are struggling to find people to fill their vacancies. Resume.io analyzed current LinkedIn job listings to see which industries are currently most in need of talent around the world and in the major cities of the U.S., Canada, the UK and Australia.
Nearly one hundred million people quit their jobs in the U.S. between 2021 and 2022. But — as the U.S. Chamber of Commerce suggests — this trend might better be thought of as a Great Reshuffle rather than the Great Resignation.
That's because, during this period, more people had been hired than had quit. Sure, people are leaving their jobs, but they've found work elsewhere at such a rate that employers are struggling to fill remaining vacancies. It's a pattern that reflects a 'global workforce crisis' that's likely to get worse in many countries in the years ahead.
At the same time, according to recent research by Gallup, the real global jobs crisis is not so much about unemployment or labor shortfalls as it is about lack of meaningful employment.
Those in the "poorest" countries may be technically employed while surviving by subsistence farming, or so poor as to lack the 'luxury' of being able to look around for a better job. Those in wealthier countries are under economic pressure to take jobs that make no use of their education or passions, or the purpose of which seems so far divorced from the real world outside as to feel depressingly absurd. Globally, just one in three workers agrees with the phrase: "At work, I have the opportunity to do what I do best every day," according to Gallup's survey.
For those with the privilege of being able to switch cities or countries for a better job market, or to switch industries in search of fulfillment, Resume.io has identified which industries in which regions are advertising the most jobs on LinkedIn right now.
What We Did
Resume.io counted the number of job ads posted on LinkedIn's job search engine overall and for each industry and calculated which industry had the highest proportion of job ads in each location among the most populated cities in the United States, Canada, the United Kingdom and Australia. We then isolated the industry with the highest percentage of job ads in a location vs. the global average of job ads being posted for that industry to find which has the most uniquely popular presence in each local job market.
Key Findings
The restaurant industry has the most vacancies in the U.S. (7.86% of all job ads as of June 2023).
Hospitals and Health Care is Canada's biggest potential employer right now (14.82% of all job ads).
The construction industry has the most vacancies in the UK (9.22%).
Government Administration is the sector hiring the most people in Australia (11.60%).
Staffing and recruiting jobs face the most recruitment problems worldwide
All people are not unemployed equally. Global unemployment levels are expected to reach pre-pandemic levels in 2023, although particular areas, such as North Africa and some Arab states, will need to wait a little longer. In general, the re-employment rate is growing at half 2022's rate, and the economic slowdown will "force more workers to accept lower quality, poorly paid jobs which lack job security and social protection, so accentuating inequalities exacerbated by the COVID-19 crisis," according to the International Labour Organization.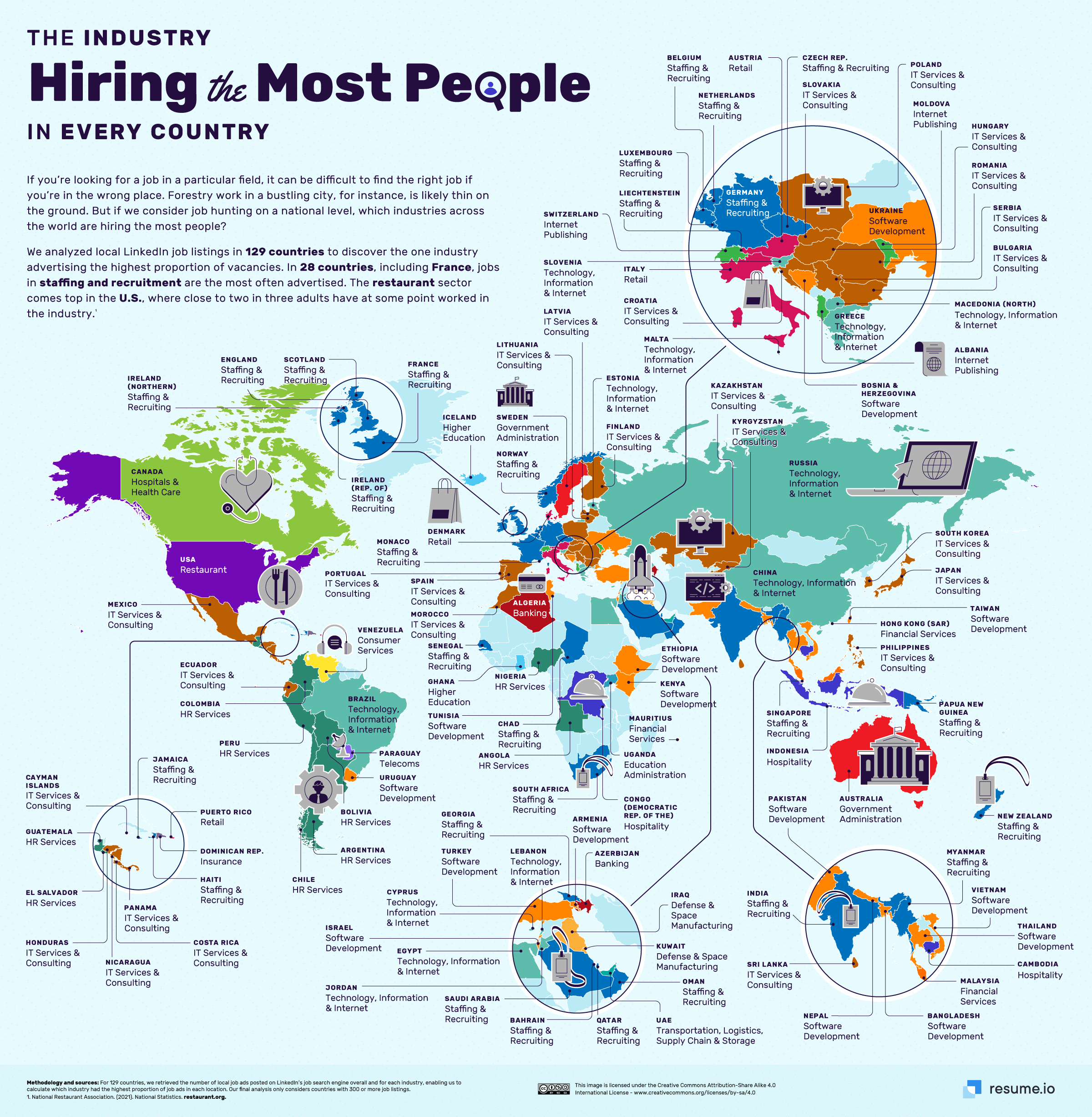 Click here to see the image in full size
Staffing and Recruiting is the sector doing the most hiring in the most countries (28), tied with IT Services and IT Consulting (also 28). The need for HR people was already noticeable before COVID-19. In the age of AI, the emphasis on the human in human resources has become more profound: "The fact that you still have that need to have someone in there that can have that interpersonal relationship, and that kind of skillset, means that it's one of those jobs that's still going very well and even growing, because it's not being taken over by the robots," says Deakin University's Dr. Huw Flatau-Harrison.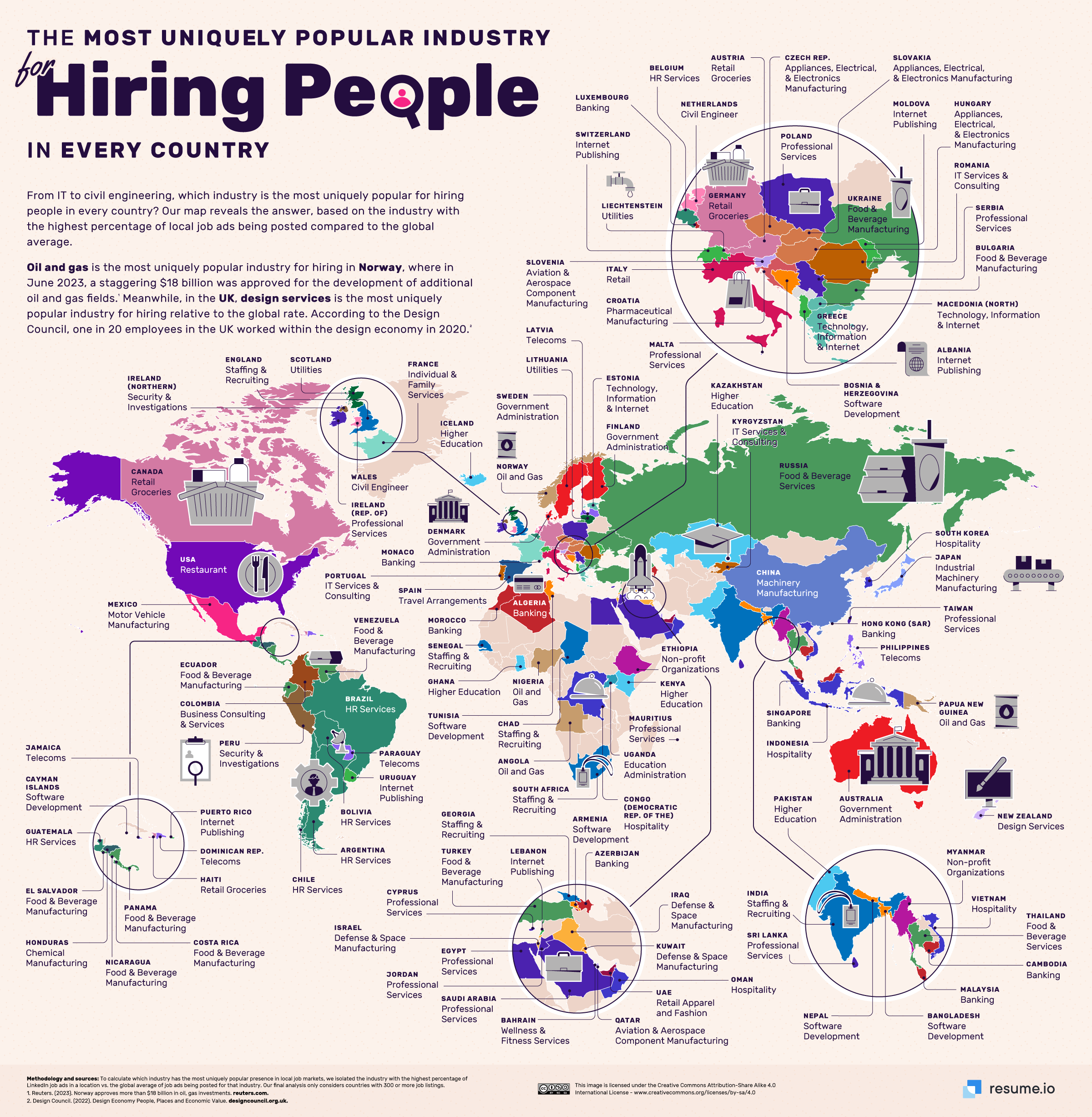 Click here to see the image in full size
An increased emphasis on working remotely, coupled with the AI phenomenon, is driving a rapid expansion in IT services, particularly in Kyrgyzstan, Portugal and Romania, where the sector is hiring at a significantly higher rate than elsewhere. Cloud-based solutions, productivity services and automation are behind a projected 5.5% rise in IT spending globally in 2023 compared to last year.
U.S. restaurant trade posts the most job ads
There were 1.6 vacancies per unemployed person in the U.S. as of June 2023, with some 17,000 jobs added to the leisure and hospitality sector, according to a Labor Department employment report. We found that on LinkedIn, 7.86% of available jobs are in the restaurant trade, with a further 4.07% in hospitality — backing the idea that the leisure sector is still in the process of regaining its former shape post-pandemic.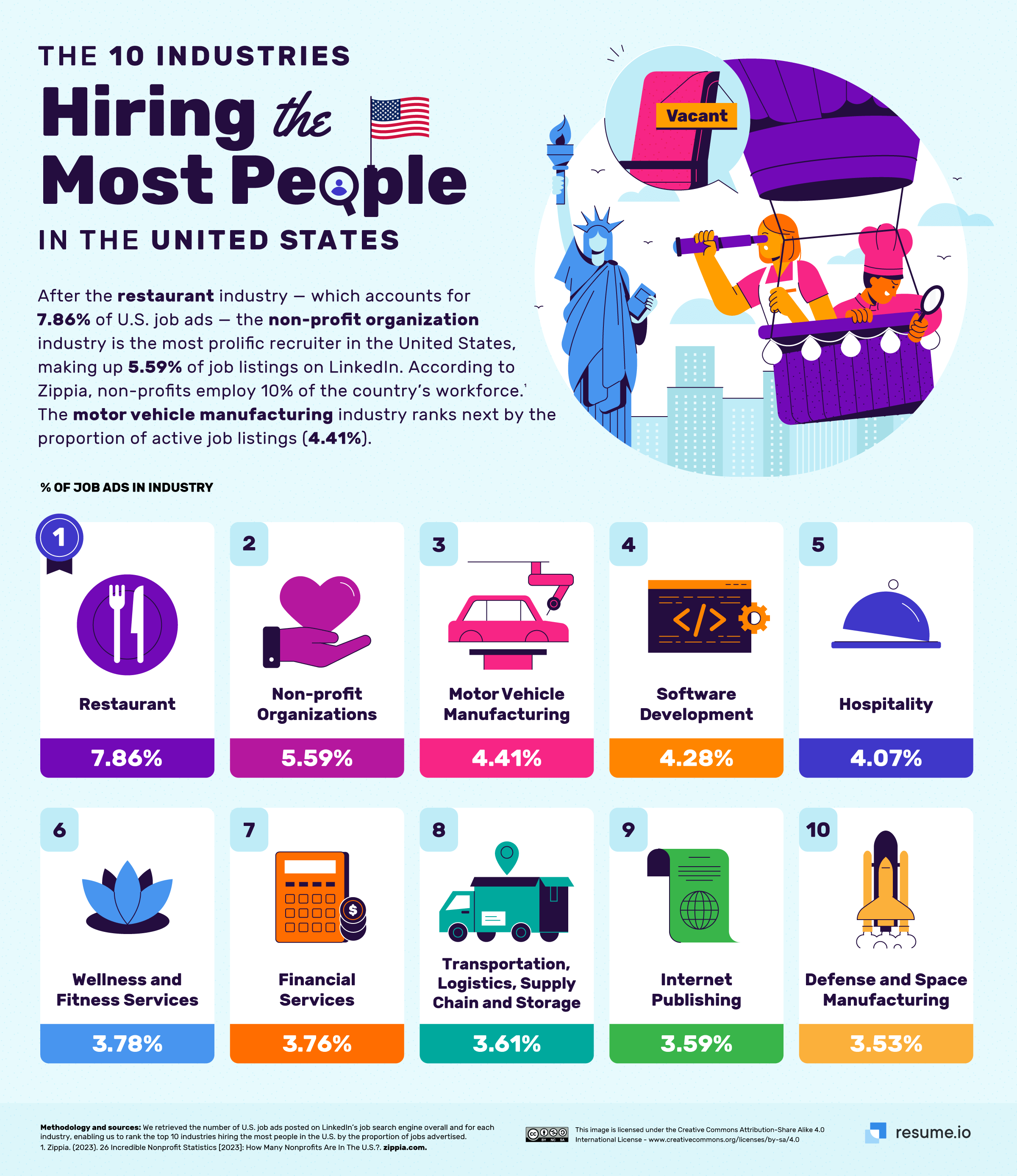 Click here to see the image in full size
This trend in restaurant hiring patterns is indicative of America's return to eating out. In January, sales at food and drink venues rose 7.2% on December's figures and 25.2% over January 2022, according to government data. Chipotle alone announced a desire to quickly hire 15,000 restaurant staff, flagging up promotion opportunities to counter the reputation of restaurant work for being difficult and low-waged.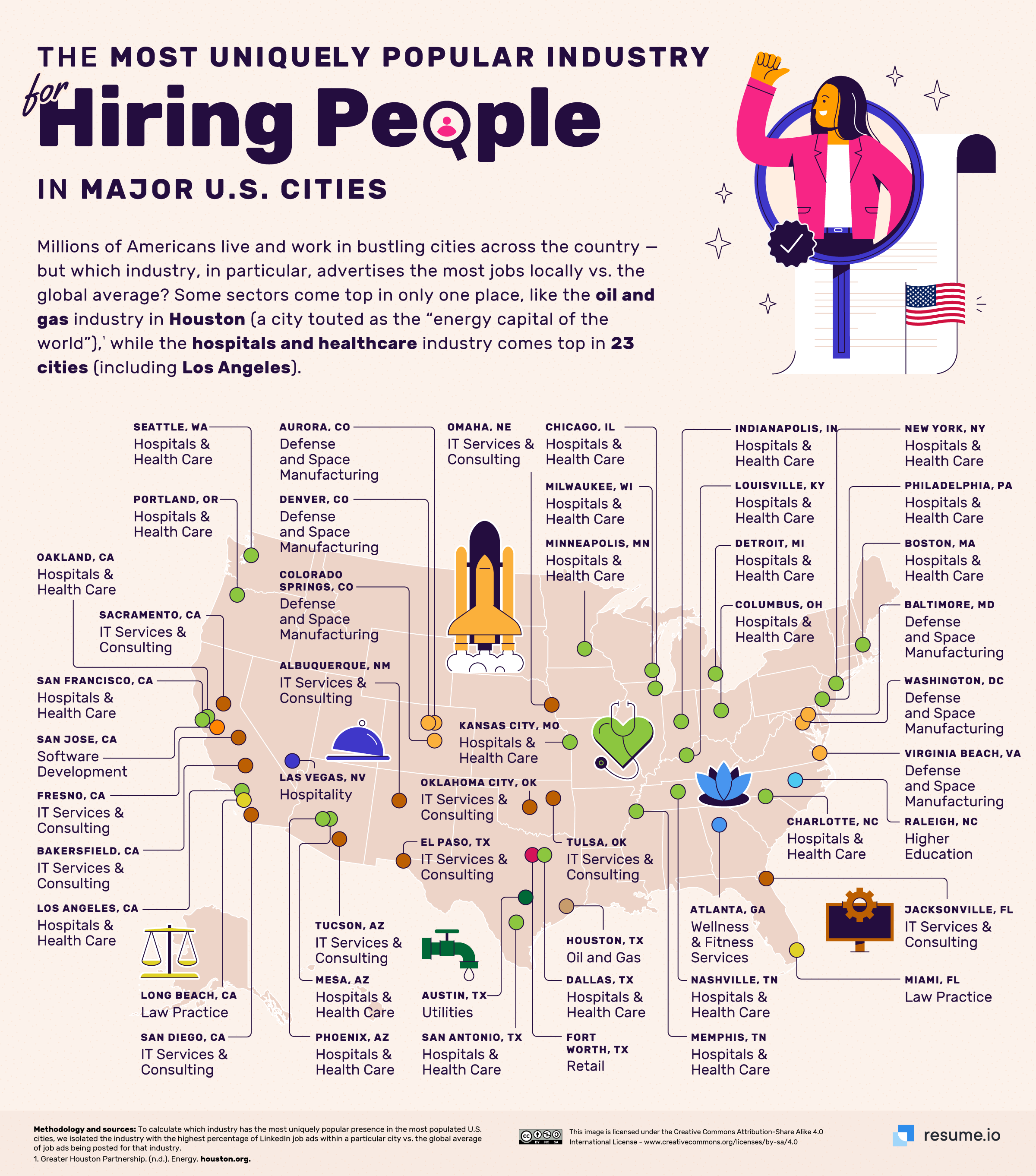 Click here to see the image in full size
The hospitality trade is hungriest for employees in Las Vegas, where it is the most uniquely popular, while Californian cities account for a disproportionate wedge of America's IT vacancies. Raleigh, North Carolina, is an attractive proposition for teachers: higher education is the sector with the most notable hiring figures in the city, and teachers enjoyed an average 4.2% raise following a rethink in 2022's state budget. More recently, the state has removed the prerequisite of a college degree from the job descriptions for many government jobs in an attempt to fill an enormous amount of vacancies in that area.
Canadian healthcare needs workers
Unemployment in Canada remains near an all-time low. Long-term unemployment is now significantly lower than a few months ago as those who left during the pandemic return to the workforce. It has been a challenge to keep the market workable for workers and employers in such conditions. However, that seems to be abating following adjustments to interest rates: "There is mounting evidence that the extreme tightness of the Canadian job market is easing and, if inflation cooperates, suggests that the case for the Bank of Canada moving to the sidelines is now very strong," wrote the Bank of Montreal's Chief Economist Douglas Porter in a recent note to clients.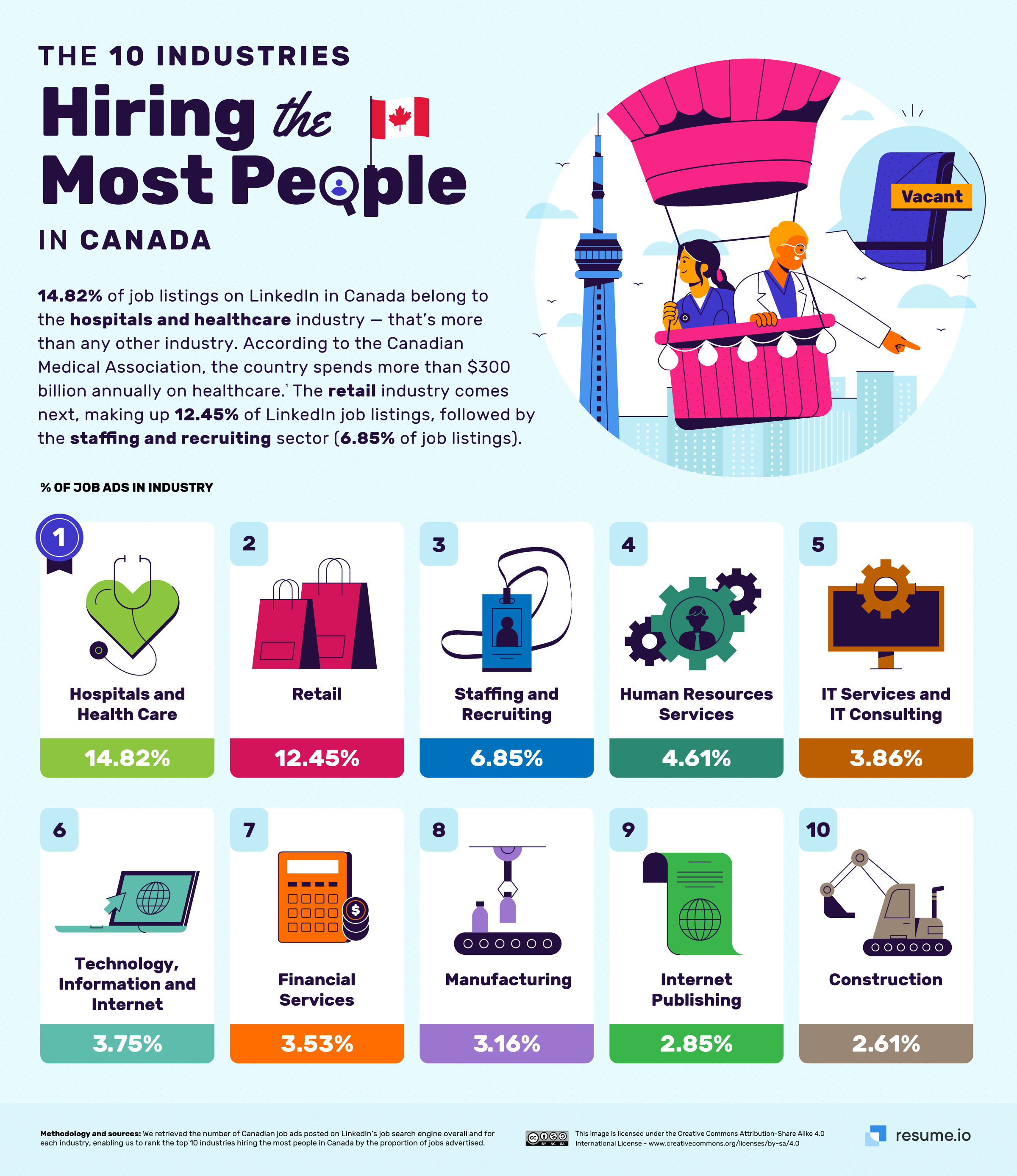 Click here to see the image in full size
The Hospitals and Health Care and Retail industries have around twice or more the vacancies of each of the other sectors in the top ten. Canada's unfilled healthcare vacancies have doubled since the end of 2019, a situation that may be self-perpetuating since potential workers face joining a "demoralized and tired" workforce characterized by mass overtime and high figures for sick leave and burnout.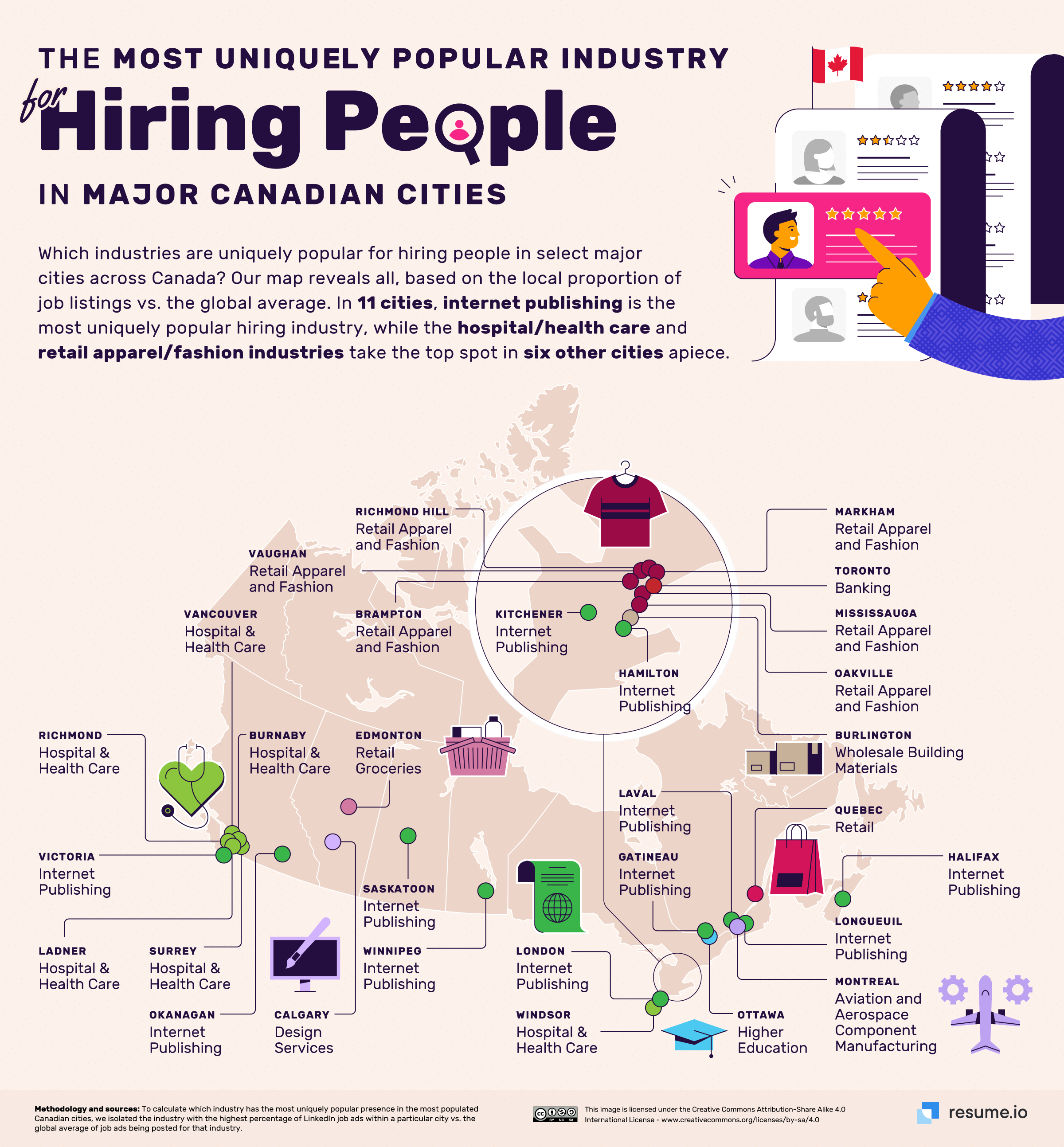 Click here to see the image in full size
The retail industry in Quebec remains somewhat unbalanced, with a surplus of jobs leading employers to raise wages by 12-39% since 2016. Teenagers are a traditional source of retail labor, but in Quebec, this age group is resisting part-time work to focus on their studies and avoid being pressured into working beyond intended hours. Meanwhile, a new government bill aims to find more balance by making it easier for young teenagers to legally take work while regulating what employers can expect of them. Only two retail companies made Canada's top 50 employers list at Forbes this year: IKEA and Sephora.
Construction industry is UK's biggest hirer
In the UK, "near-record wage growth and low unemployment are putting workers in a position of strength," according to the Financial Times. Employment reached a record high of 33.1 million in February-April, even as a summer of labor discontent and strikes has been variously attributed to the soaring cost of living, the economic costs of leaving the EU and "unrest" under a government whose authority has been "whittled away by recent scandals."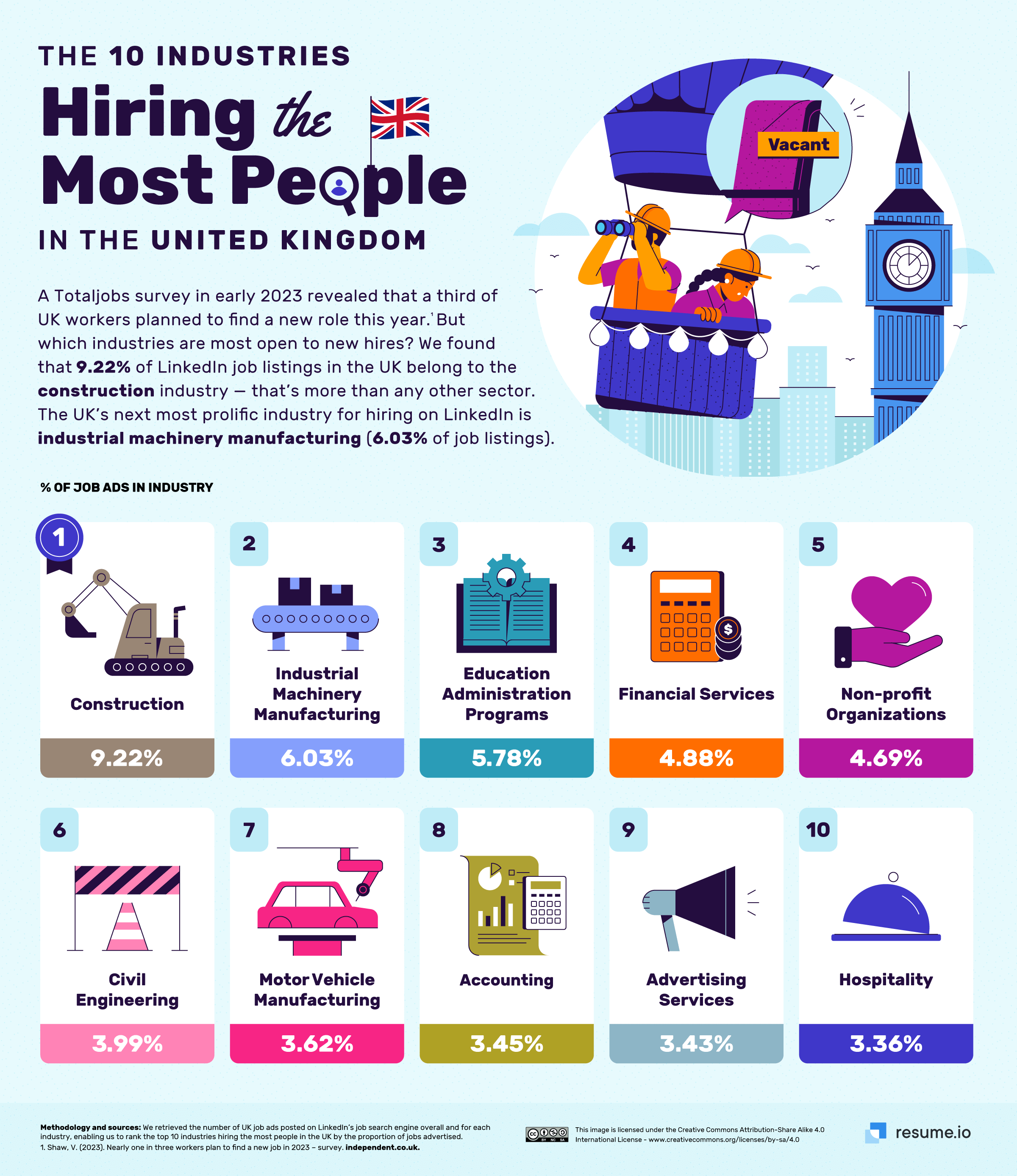 Click here to see the image in full size
The UK construction industry is hiring the most people right now, accounting for nearly one in ten job ads on LinkedIn. "Britain's construction industry has long battled worker shortages," according to the Guardian newspaper, "but Brexit has worsened the gaps as EU citizens can no longer come to work in the UK without visas as before." A recent survey suggested that "across the UK there are big misconceptions around earning potential, job prospects and working conditions," according to Caroline Gumble, chief executive of the Chartered Institute of Building — with many people believing that construction work pay rates are lower than they actually are.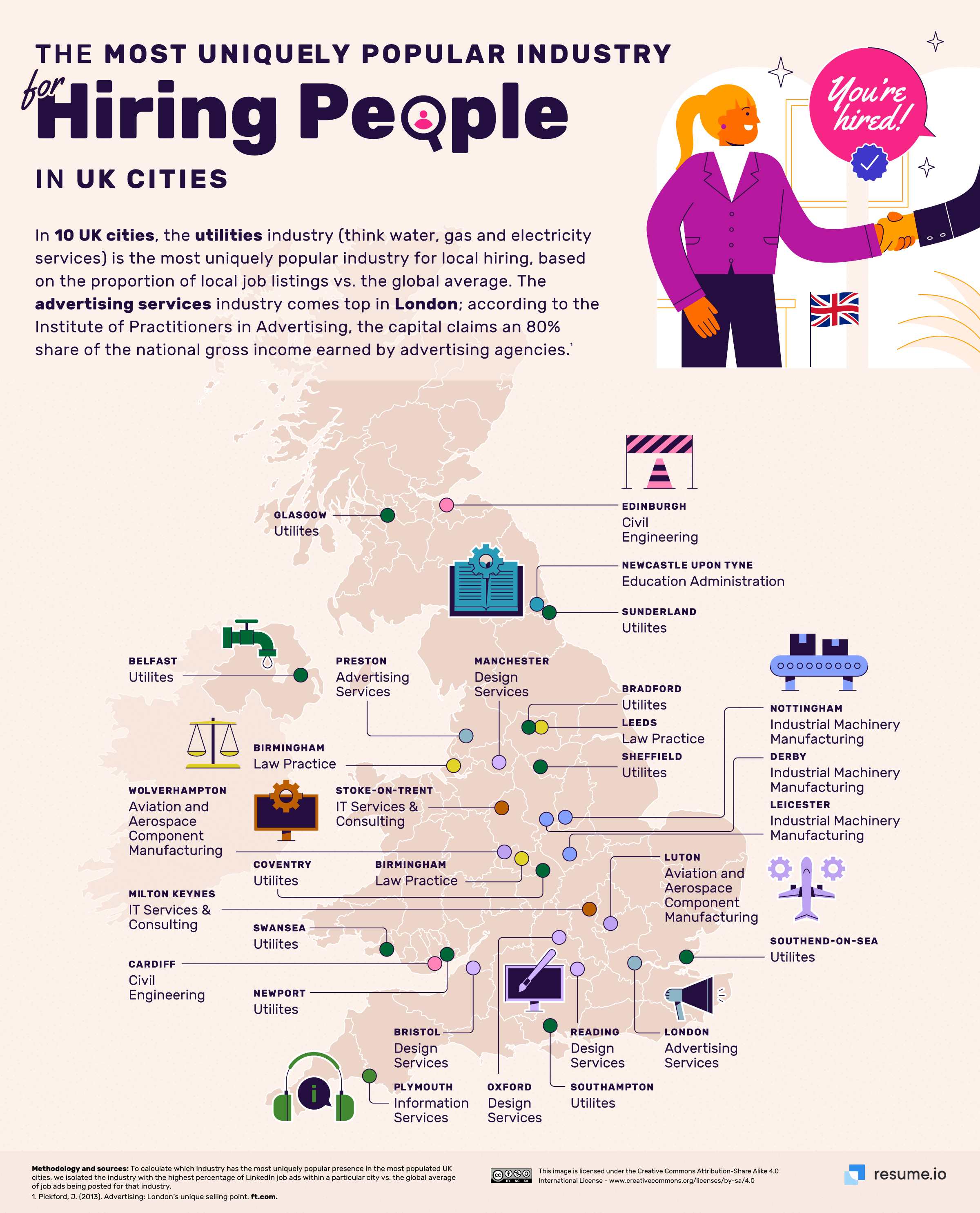 Click here to see the image in full size
There are three big cities outside of London where law is the stand-out sector for job availability: Birmingham, Leeds and Liverpool. One Hampshire firm that has recently expanded into Liverpool credits a flourishing property market for the demand for representation: "The North West property market is strong, and the growth is rapidly exceeding other cities in the south." Meanwhile, efforts to develop greater working-class representation among UK lawyers may also have a part to play.
Australian mining industry struggles to attract workers
Employment levels remain strong in Australia as the market recovers from the disruption of COVID-19, growing by 35,600 employees per month since August 2022. While the number of new jobs being created lags behind, there remains a significant number of vacancies in the country.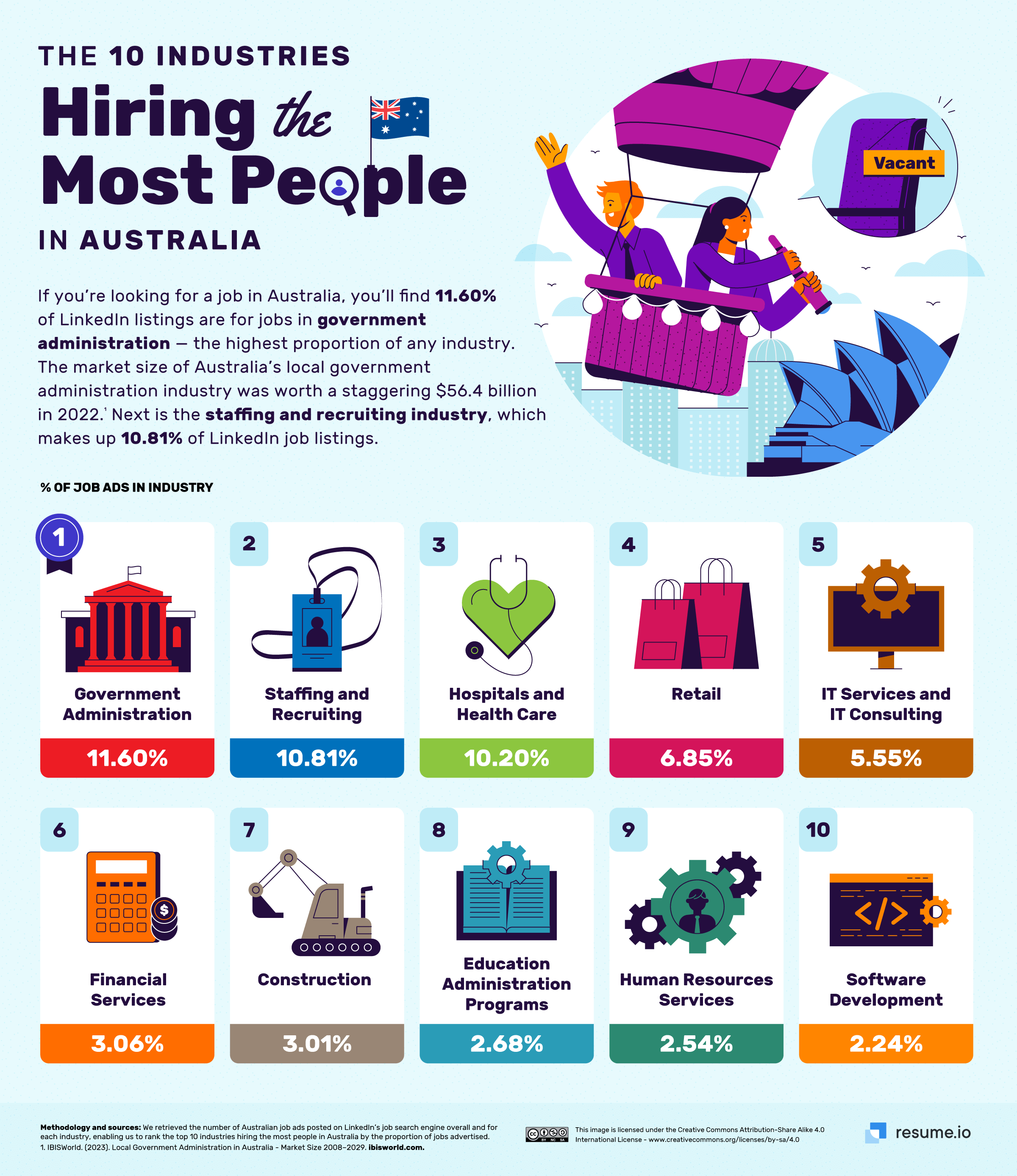 Click here to see the image in full size
Just three sectors account for over 30% of the jobs available in Australia: Government Administration, Staffing and Recruiting, and Hospitals and Health Care. The demand for more government employees coincides with a government review of the alleged "jobs for mates culture" at the top. "We know that half of the Productivity Commission's board members have a political connection to the Coalition and the administrative appeals tribunal was stacked with appointments with clear Liberal party links," says Finance and Public Service Minister Katy Gallagher. The departure of former Prime Minister Scott Morrison has also boosted job availability — it's been revealed that he secretly held five additional ministerial roles while leading the country.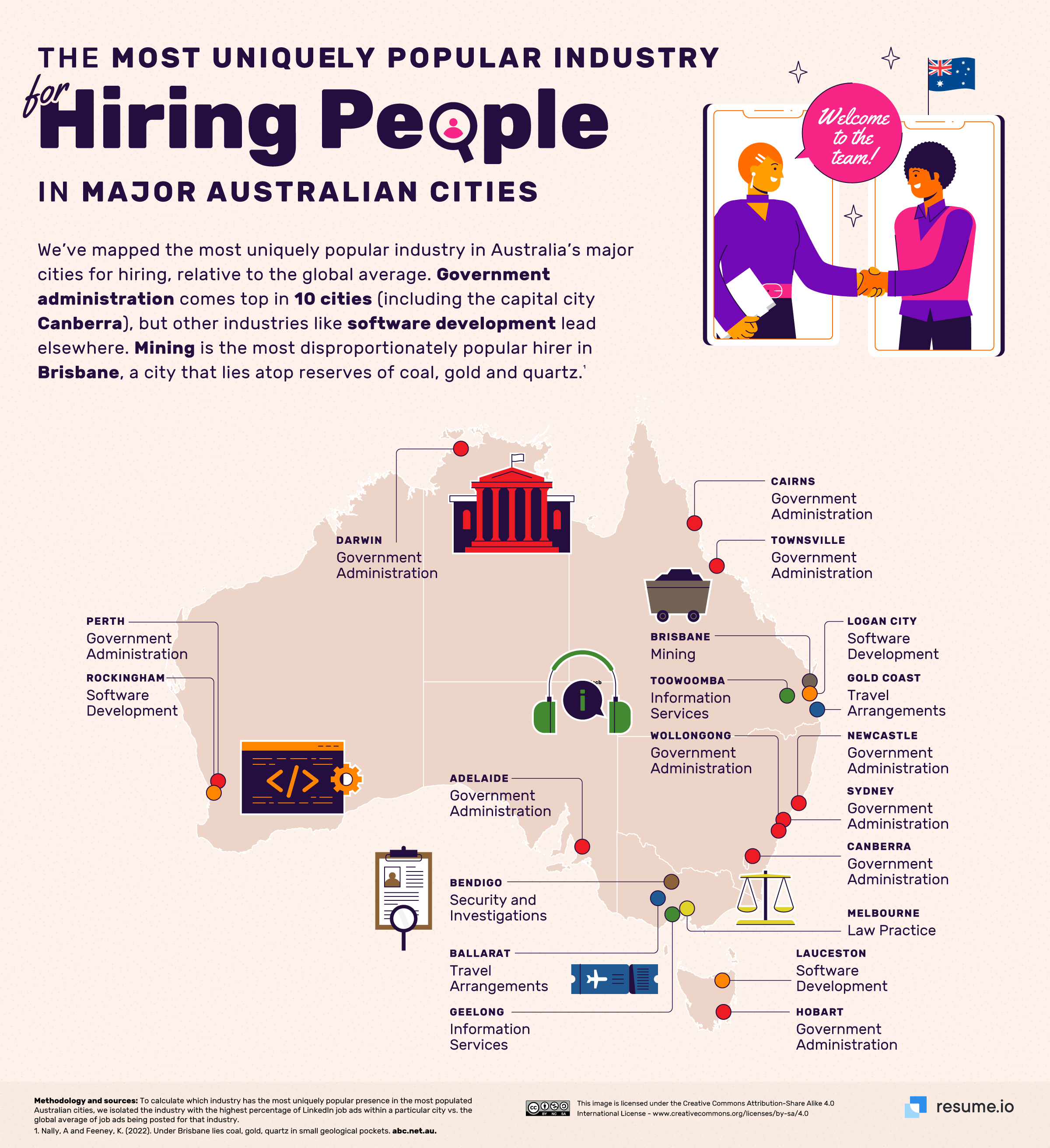 Click here to see the image in full size
The mining industry does not make the national top ten, but it is enjoying a boom — particularly in Brisbane, where it is the stand-out job for availability levels. The work has a mixed reputation, with companies offering tempting six-figure wages for tough manual work in order to lure miners away from home for weeks at a time in undesirable circumstances. The number of women working these roles has also risen as changes in the job's perception and remuneration have redefined its place in Australian society.
Move up or move on
The world of work is a jigsaw puzzle of dynamic markets. In the current post-pandemic, emergent-AI period, the jobs that are available today may vary greatly from those available in a year or more.
And, of course, not everybody has the freedom or the desire to switch jobs, even if they do find themselves dissatisfied with their current place of work. In some cases, it makes more sense to try to find meaning and purpose in the job that you have by identifying what brings you down about it and reconnecting with your colleagues and clients on a human level. Alongside the quiet quitting, the Great Resignation and the Great Reshuffle, another phenomenon is at play: job shaping, where the employee gradually redefines their role in a company by shifting the emphasis of what they do and asking for or assuming new tasks while quietly offloading the ones that bring them down.
For more ideas on where to relocate if you are thinking of a totally fresh start, check out our guide to the Best Cities and States for High-Paying Entry-Level Jobs.
Methodology and sources
For this research, we have focused on job markets around the world and the most populated cities in the United States, Canada, the United Kingdom and Australia to discover which industry is hiring the most people and which industry is most uniquely popular in hiring the most people relative to other locations.
We first retrieved the number of job ads posted on LinkedIn's job search engine overall and for each industry before calculating which industry had the highest proportion of job ads in each location.
To calculate which industry has the most uniquely popular presence in local job markets, we isolated the industry with the highest percentage of job ads in a location vs. the global average of job ads being posted for that industry.
Our final analysis only considers countries with 300 or more job listings.
The data for this research is correct as of August 2023.
National Restaurant Association. (2021). National Statistics. restaurant.org.
Reuters. (2023). Norway approves more than $18 billion in oil, gas investments. reuters.com.
Design Council. (2022). Design Economy People, Places and Economic Value. designcouncil.org.uk.
Zippia. (2023). 26 Incredible Nonprofit Statistics [2023]: How Many Nonprofits Are In The U.S.?. zippia.com.
Greater Houston Partnership. (n.d.). Energy. houston.org.
Canadian Medical Association. (2022). Health care funding in Canada. cma.ca.
Shaw, V. (2023). Nearly one in three workers plan to find a new job in 2023 – survey. independent.co.uk.
Pickford, J. (2013). Advertising: London's unique selling point. ft.com.
IBISWorld. (2023). Local Government Administration in Australia - Market Size 2008–2029. ibisworld.com.
Nally, A and Feeney, K. (2022). Under Brisbane lies coal, gold, quartz in small geological pockets. abc.net.au.