Whether you're drafting a resume or sitting down for an interview, finding the right words to describe yourself is a mission-critical task for any job seeker. Here's our advice on how to describe yourself in a positive light without going over the top.
"How would you describe yourself in a few words?" This is a common question asked at job interviews, and one you should be prepared to answer. So how do you find the right words to describe yourself when a job is on the line?
Describing yourself in positive terms is also critical in resumes and cover letters. In fact, the bar may be a bit higher in these documents because of the permanence of the written word. For example, you might say in an interview that you "can be pretty aggressive at pursuing a sales lead," but you wouldn't want to put the word "Aggressive" on the skills list on your resume. 
In searching for words describing yourself, you need to do two things: focus on your best qualities, and make them relevant to the job you're seeking. Here's what we'll look at in this blog:
25 positive adjectives to describe yourself
The right words to describe yourself on a resume
The best phrases to describe yourself in an interview
Words to avoid when describing your personality.
The story that you decide to tell will influence how you are perceived. Hiring managers will assume that you are being deliberate in your cvommunication, so every word counts. They will be judged.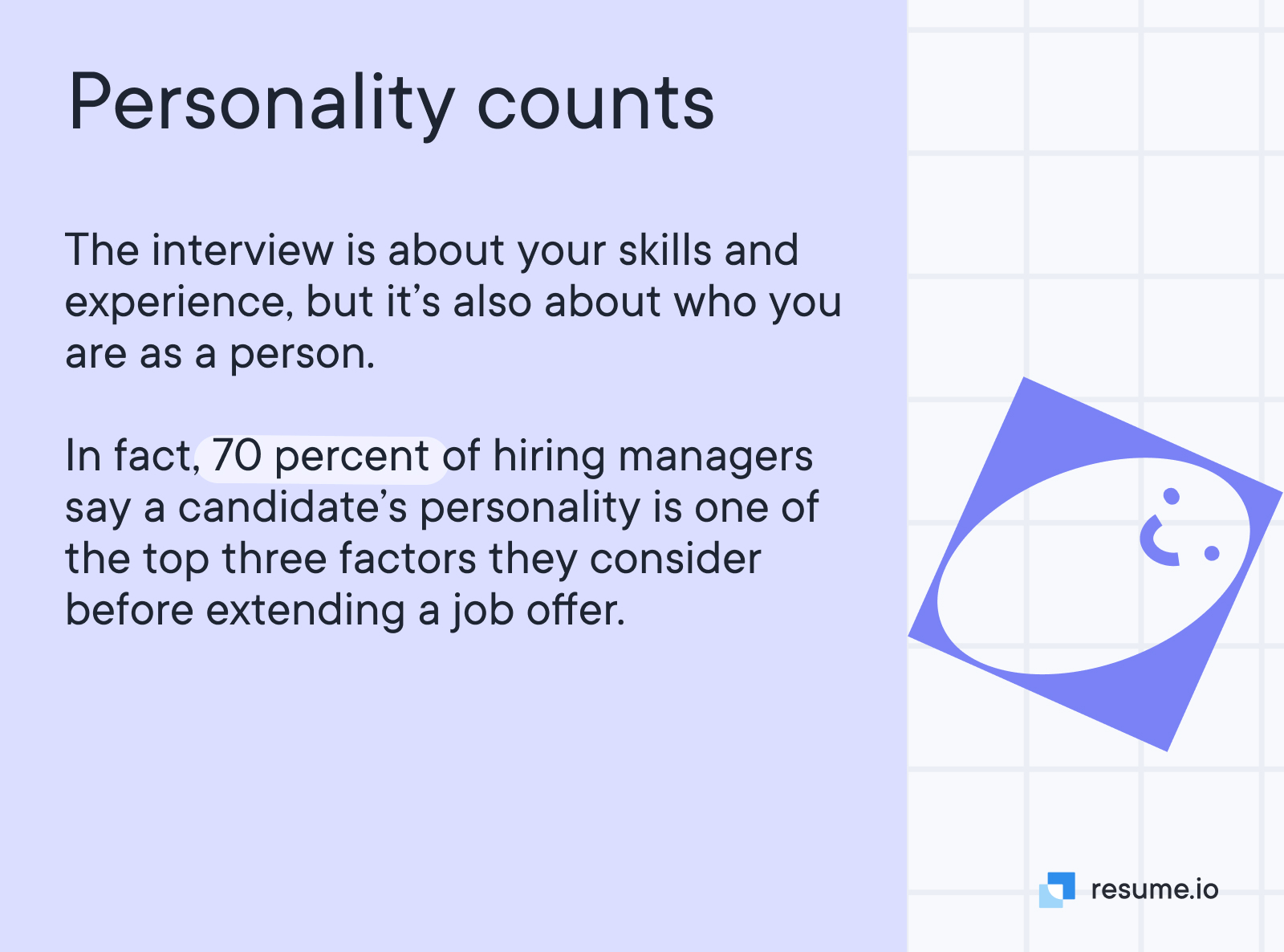 25 positive adjectives to describe a person
Before we delve deeper, here are 25 words you might consider when looking for ways to describe yourself. They will work wonders when they are sprinkled into any interview. Hoe do you introduce yourself? Which of these three words would you use to describe yourself? What do you think that the hiring manager would like you to say?
Accountable
Accurate
Collaborative
Communicative
Compassionate
Creative
Customer-oriented
Dependable
Driven
Dynamic
Energetic
Enthusiastic
Entrepreneurial
Experienced
Fast
Humorous
Innovative
Motivated
Open-minded
Organized
Relentless
Reliable
Resourceful
Skilled
Thorough
How to describe yourself without using an adjective
Hiring managers read and hear a lot of adjectives during a recruitment process. Most candidates can take the liberty of describing themselves with any of the above adjectives, but not all of them will be able to tell a revealing story to show just how true it is. 
If you tell the right story, hiring managers will be able to conjur up their own adjectives to describe you. When they do this, their own words will be so much more powerful than anything that you seek to plant in their minds. When you come to think about describing yourself, therefore, while powerful adjectives can play a part, the most important consideration is the borader story that you aim to tell.
What words would you like a hiring manager to think about you? What stories can you tell for those words to appear at the front of their minds?
Words describing yourself in an interview
Even if you're not asked the " describe yourself" question in a job interview, it's a good idea to be prepared to do so anyway. The whole point of a job interview is for a hiring manager to get to know a job candidate, so you need to be ready to talk about yourself. Make sure that the words that you choose for yourself are believable.
Interviewers sometimes ask, "What are five words to describe yourself?" Or maybe even, "What are three words to describe yourself?" Make a list of your best qualities beforehand and identify those that would be most important for the job you're seeking. Don't just give them a list. Build it into a story and pick the most suitable word from your list to focus on. Turn the conversation in the direction that suits you rather then let them pick a word that you might struggle to expand upon.
Also, an interview gives you a prime opportunity to elaborate on these qualities, offering evidence that you truly possess them and aren't just throwing out words the interviewer wants to hear. For example, a candidate for a police officer job, asked the "three words" question, might say:
Adaptable example
"No. 1, I'd say I'm highly persuasive and extremely effective at conflict resolution, especially in domestic disputes where we want to defuse the situation rather than take somebody to jail. No. 2, I'm always personable and professional in dealing with the public. Even when somebody is trying to goad me into an argument, I take the high road and try to leave a good impression on people. And No. 3, I'm extremely fit – I'm a very fast runner and I work out an hour a day, so people don't have much luck running away from me." 
Words describing yourself on a resume
A resume is a sort of professional self-portrait, and one that needs to be flattering without sounding self-important or presumptuous. Strong adjectives, nouns and verbs can all help to paint a picture that makes you look like a desirable job candidate.
Adjectives are especially useful in the summary and skills section. Adverbs can help too – a nurse, for example, might describe herself as "highly" experienced and "deeply" compassionate. And carefully chosen nouns and verbs are important too, so try to reach beyond the obvious choices to find language that's original and unexpected.
But beware of repeating yourself. Resume writers sometimes find a really good word, and then they ruin it by overusing it. If you've already said you're "innovative," there's no need to discuss "innovations" that you've "innovated."
The resume summary, also known as a profile, is a section at the top of your resume that identifies what you do and why you're good at it. Consider the following sample summary for a prosecuting attorney, with descriptive words shown in bold:
Adaptable summary example
"Experienced and dynamic prosecuting attorney specializing in felony and misdemeanor domestic violence cases. Skilled in compassionate outreach to victims, in both English and Spanish, and in thoughtfully preparing them to testify in court. Excellent courtroom skills, adept at handling unexpected developments, often praised for speaking skills and poise under pressure. Committed to upholding the highest ethical and moral standards, fairness in negotiating plea bargains and ensuring that the innocent are not prosecuted."
The skills section is another place to showcase your positive qualities. This is usually a list of roughly a half-dozen "soft" and "hard" skills. Hard skills are technical capabilities usually learned in the classroom or by experience, while soft skills are innate talents that usually refer to how well you interact with other people. 
You should try to include soft skills within the work experience section, where possible, while the skills section is more the more rare technical skills that can help to set you apart from the other applicants.
For example, the prosecutor described above might compile the following skills list. Notice how this list would fall flat without strong adjectives (shown in bold).
Adaptable skills example
Comprehensive knowledge of criminal law
Outstanding litigation and courtroom skills
Compassionate interaction with victims
Fair and appropriate plea bargain negotiator
Organized, punctual, prepared
What words describe your personality?
Remember that hiring managers are not just evaluating your skills, but maybe trying to peer a little bit into your soul. They're looking for someone who's good at the job, but who's also easy to like. What kind of person are you? Nobody wants to hire someone they don't like.
Think carefully about the tone you use in writing, and the presence you project in person. In an interview, you won't score a lot of points if you come off as brusque, gruff or humorless, much less if you act like a know-it-all with a pronounced sense of superiority.
But if you show up for an interview friendly, smiling, happy, relaxed, talkative, funny, confident, you will probably make a good impression on anyone. These are not words to put on your skills list, but they are qualities that you want the recruiter to see in you. 
At times an interviewer will be satisfied that you have the technical competence to do the job, but then will pose questions meant to explore your character a bit more deeply. Suppose you were asked: "Aside from your obvious technical qualifications, what can you tell me about yourself as a person, about your character, about your inner life?"
There are a million ways to answer a question like this, and you would have to think of your own. But whatever the specifics, your answer should be upbeat, positive and encouraging.
Adaptable example
"Actually, I've been called happy-go-lucky. I am pretty happy, and I do feel lucky to have the life I have. I treasure my family, my friends and my coworkers, and I always make time for them. I try to be open, fair and kind to everyone I meet. I believe you should treat others the way you'd like to be treated. Oh, and my friends say I laugh a lot. I have a somewhat overactive sense of humor, but they say that's the best thing about me."
Words to avoid when describing yourself
There are some qualities that are not necessarily bad in and of themselves, but they're not the kind of traits you would want to boast about in a job interview.
For example, there's nothing wrong with being "shy," "introverted" and a "bookworm," but this might not be encouraging if you're interviewing for a customer-facing job that requires a lot of interaction with the public.
"Witty" is another likable quality in a person, but perhaps not the best fit for a job at a funeral home, where you may be dealing with a lot of death and grieving.  
"Ambitious" is a good trait, but if you're applying for a relatively low-level job, this may signal to the interviewer that you'll be looking for a better job soon.
As with anything that you say during an interview, read the room. Make a judgment about the personality of your interviewer and consider how they might view various words differently. Ambition might be a desriable trait for you, but if you sense that they are a cautious type, you might choose to tone such words down.
Expert tip
There are a few words that are so common in resumes that they've become clichés, and these are best avoided, especially in writing. Here are some of the top clichés and some possible alternatives.
| | |
| --- | --- |
| Cliché | Alternatives |
| Self-starter | Motivated |
| Team player | Collaborative |
| Go-getter | Enthusiastic |
| Thinks outside the box | Inventive |
"Good communication skills" are important in almost every field, yet these words are also among the most commonly used in skills lists. Try to find a different way to describe this skill: "Outstanding communicator," "skilled speaker," "empathetic listener," "effective collaborator," etc.
The words that you use in your resume, cover letter and interview should be deployed to help you stand out - for all the right reasons. While you may share many of the same qualities as the other candidates, using more effective words can give you the advantage. Take your time to find the right ones for every situation.
Key takeaways
Whether writing a resume or interviewing for a job, be prepared with positive, original "words describing yourself."
Be sure that the qualities you describe are relevant to the job you want.
Vet your language carefully, especially in writing, so that it's fresh, authentic and cliché-free.
Use our job-winning resume templates to land your dream job!