Resume.io used a sentiment analysis tool called TensiStrength to analyze hundreds of commuting-related Tweets in order to reveal which cities and states experience the most stress while travelling to and from work.
According to UN research, 55% of the world's population now live in urban areas, and this number is predicted to increase to 68% by the middle of the century. This means that getting around town, especially to work, is becoming more important in our world.
Euromonitor's International's Mobility Survey in 2020 found that 52% of global respondents commute five or more days per week, and 63% of people spend 15-60 minutes commuting on average every day.
With the global pandemic and technological advances opening up new avenues for remote and hybrid working, many commuters are finding it increasingly stressful to complete their journeys every day.
With viable alternatives to long commutes now in place, Resume.io wanted to find out where people of America and the UK have the most stressful journeys to work, and whether locals in the megacities of London and New York have a worse time than everyone else.
What We Did
To find out which cities in Britain and America had the most stressful commutes, resume.io analyzed Twitter data using a sentiment analysis tool called TensiStrength, showing us where traveling causes the most anxiety.
TensiStrentgh enables us to check the pulse of public opinion and see how people feel about certain topics based on strength of emotion. We identified which cities, US states and boroughs of London contained the highest levels of stress in Tweets about traveling to and from work.
Key Findings
New York City has America's most stressful commute, with negativity in 45% of Twitter posts mentioning commutes.
Meanwhile in the UK, residents of Chelmsford have the tensest journey to work. 46.9% of Tweets about commuting here contain negative sentiment.
Despite being one of the closest boroughs to central London, 42.5% of Lewisham residents found their journey stressful.
West Virginia (45%), New Jersey (43.1%) and Rhode Island (42.9%) were the most stressful states in the US for commuting.
West Virginians Are Stuck in Commuter Hell
When John Denver sang about the country roads of West Virginia 50 years ago, little did he know that they would irk the locals so much that 45% of tweets about commuting in the Mountain Range would contain stressed sentiment.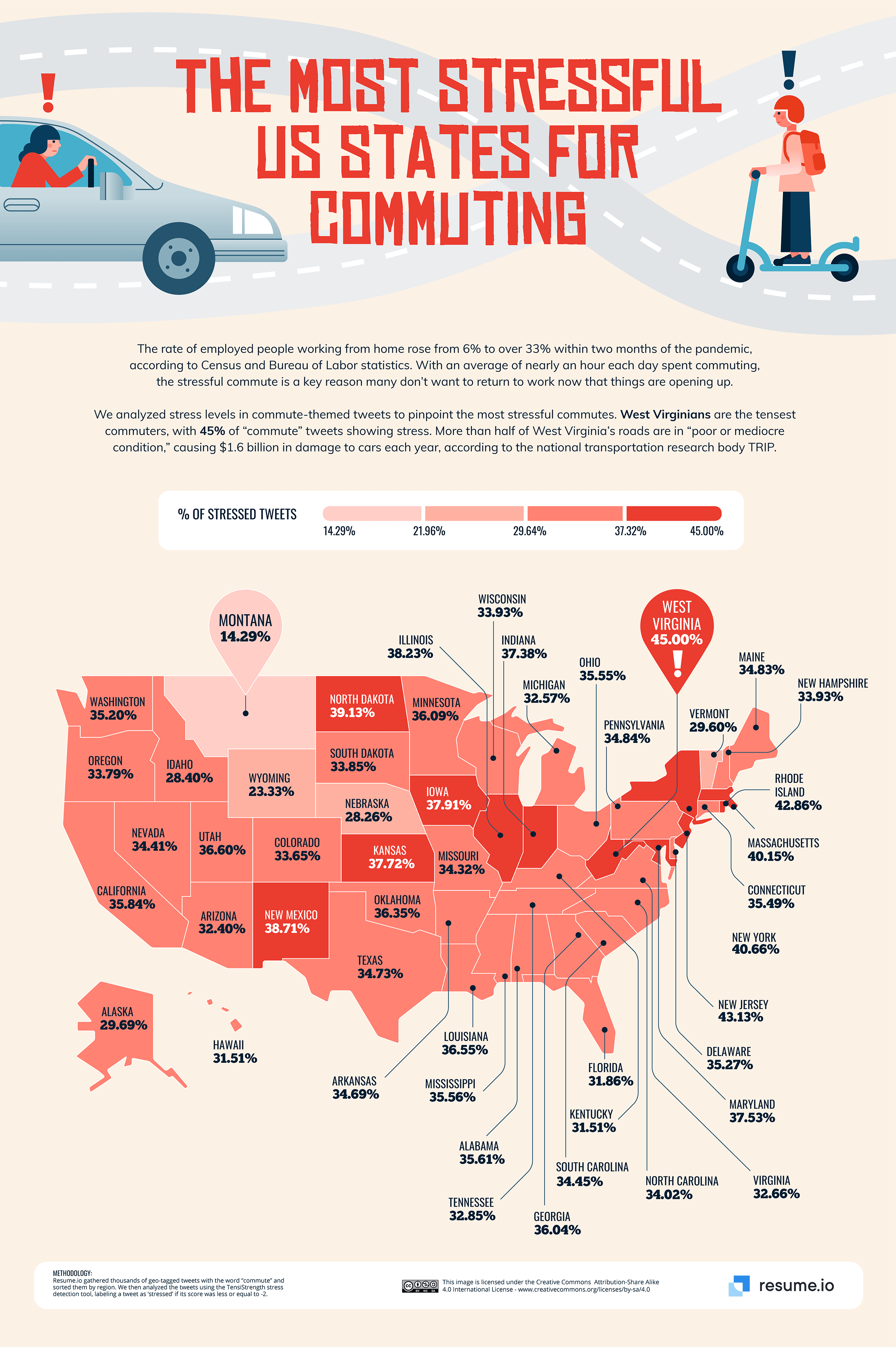 Click here to see the image in full size
A few hundred West Virginia residents also commute into Washington, DC, using commuter rail. Three trains a day serve Martinsburg in the north of the state, though there are fears the service may be cut in the future.
Commuting also causes headaches for locals in New Jersey. Our data showed negativity in 43.1% of Tweets about getting around. The Garden State has the country's worst traffic bottleneck - the George Washington Bridge, connecting the NJ Turnpike with Harlem and the Bronx in New York.
NYC Metro Area Commuters Are the Most Stressed
According to Big Apple city planners, more than a million commuters pour into New York City every day for work, accounting for 20% of its workforce. Census data estimates that around 600,000 of those are 'super-commuters' - people who spend more than 90 minutes per day traveling to work.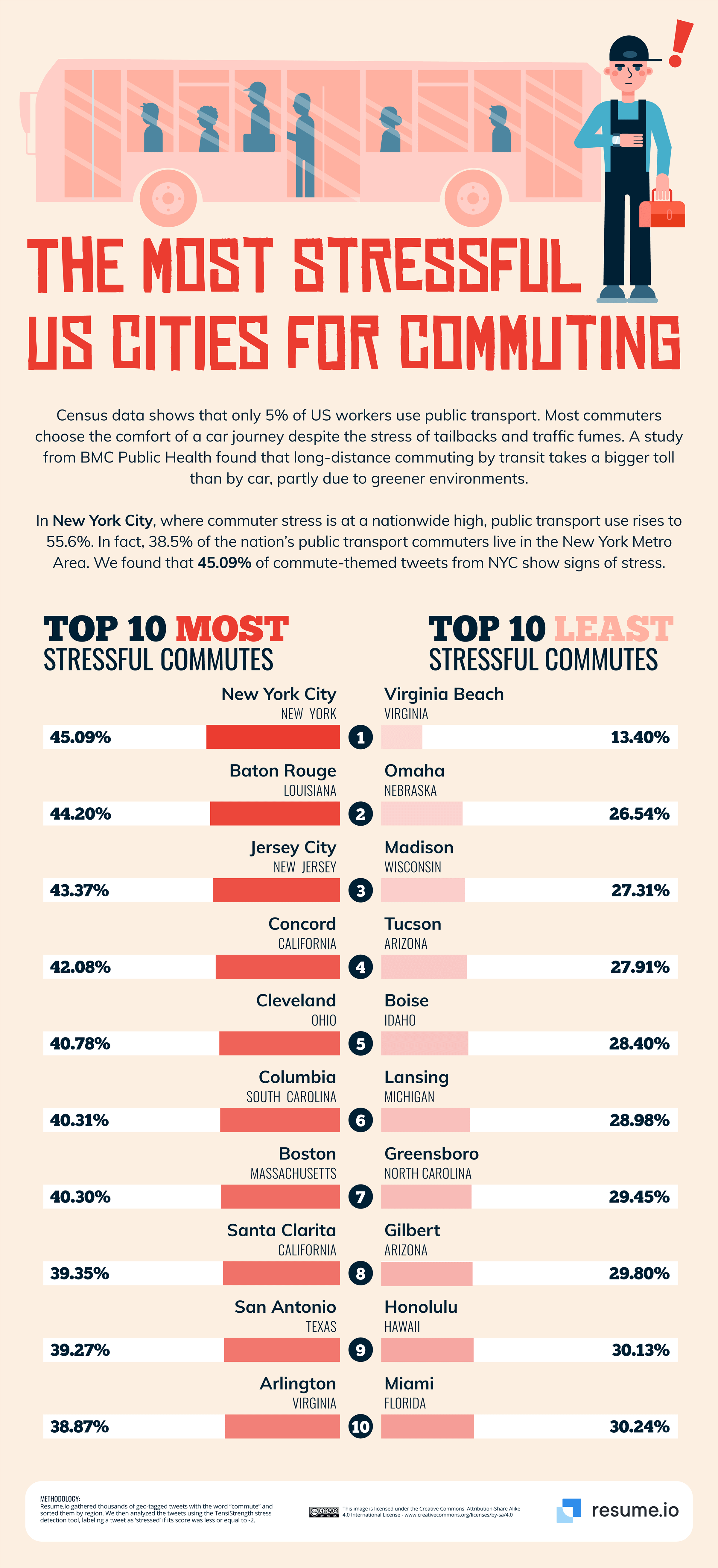 It comes as no surprise then that our research found that New York and neighboring Jersey City have two of America's most stressful commutes. 45% and 43.4% of commute-related Twitter posts in the cities, respectively, were negative.
Second on the list was Baton Rouge. Many Louisiana residents drive 80 miles into New Orleans each day. However, Consumer Affairs research has found the state's roads to be among the worst in the U.S, and a long-term road widening project for Interstate 10 in Baton Rouge has added to congestion for locals.
The Only Way is Essex - If You're Looking For a Stressful Commute That Is
Research from the TUC found that the average commute length in the UK is now five minutes longer than a decade ago. Figures from the same study conducted the previous year showed that commute times were on average 59 minutes long for the combined journey. It found that residents in London and the South East have the longest journeys.
One such town in London's commuter belt is Chelmsford. Located 30 miles from London, our research found negative sentiment in 46.9% of Twitter posts about the journey to work. Chelmsford railway station was the 2nd busiest in the East of England behind Cambridge, with 8.6 million passengers using it in 2019/20.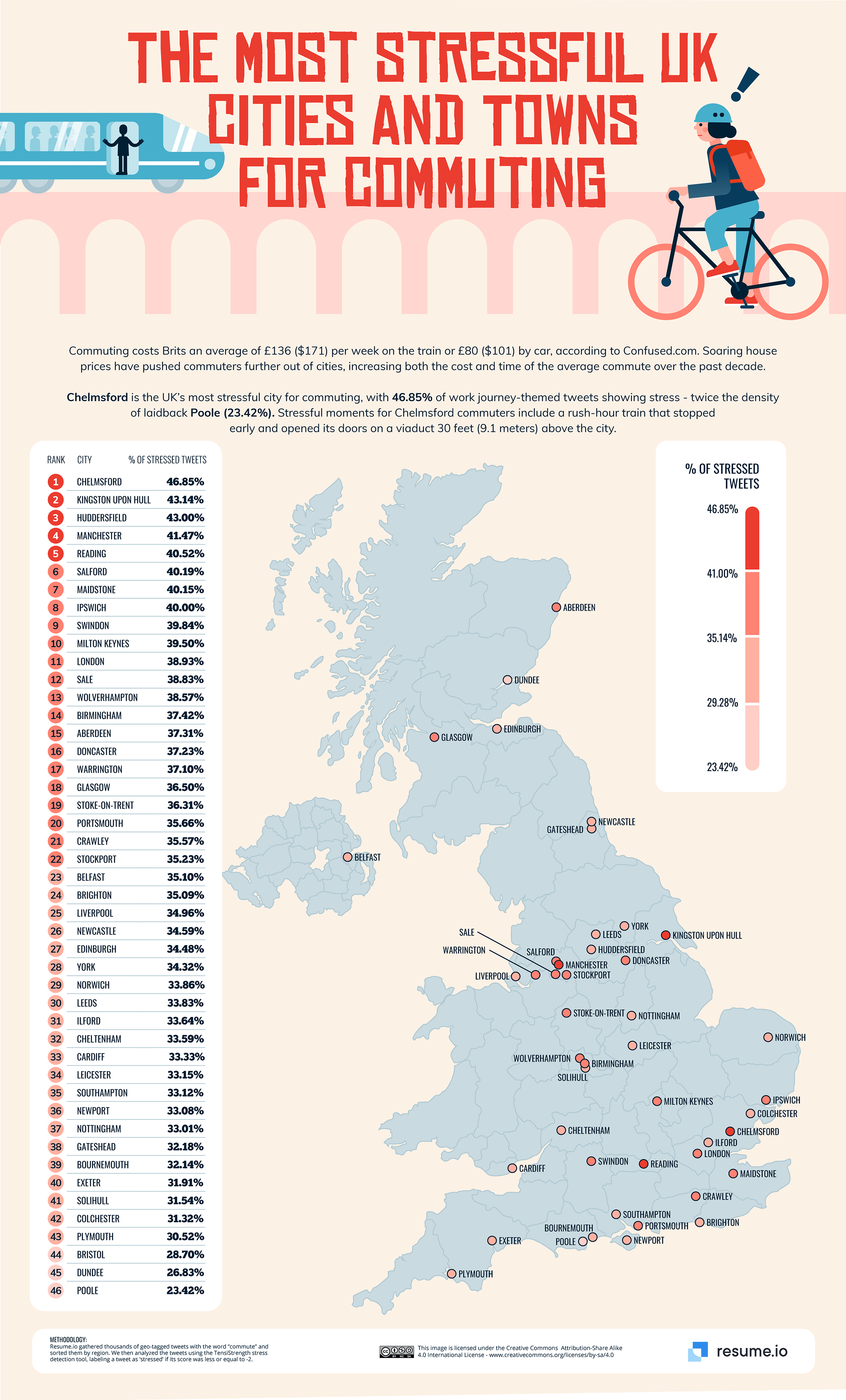 Click here to see the image in full size
Three towns in the North of England feature in the top five. Hull (43.1%), Huddersfield (43%) and Manchester (41.5%). The M62 motorway which links these cities together is among the slowest and most congested stretches of road in the UK. Transport for the North is pushing for a £39bn rail scheme - Northern Powerhouse Rail to better connect major cities in the North of England and improve the lives of commuters and travelers alike.
Lewisham Has London's Most Stressful Commute
Despite boasting the world's 12th-busiest metro system, more journeys around the capital are taken by car than any other form of public transport, according to Transport for London. In 2021, it became the world's most congested city for traffic in the world.
With this in mind, it's no wonder Londoners find their journey to work stressful. Our research shows that Lewisham residents are the most stressed, with negative language in 42.5% of Tweets about commuting in the borough.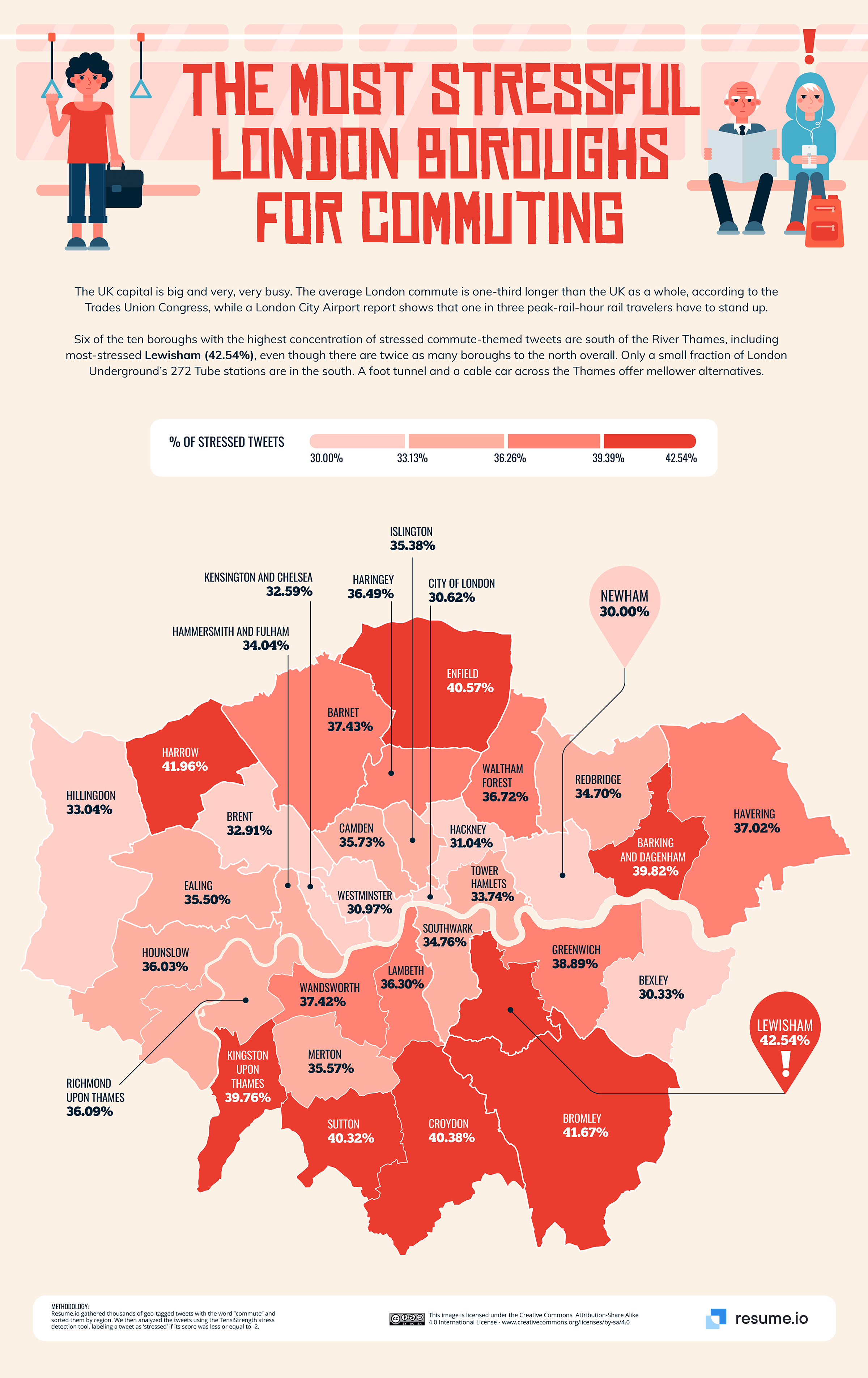 Click here to see the image in full size
Despite its proximity to Canary Wharf and the City of London, commuting from Lewisham can be a struggle. Local rail operator Southeastern has been labeled among the least reliable rail operators in the UK, and ambitious plans to extend the Bakerloo line to Lewisham have been shelved amid a funding crisis at TfL.
Which Cities Have The Most Stressful Commutes?
As businesses in the UK and US return to the office, commuter stress is becoming a reality once again for more and more people.
Whether you live in a megacity like London or New York, or a rural area with long journey times, read through the full data set below to see what people think about the stress of commuting in your area.
How You Can Overcome Commuter Stress
Clinical research has proven that a stressful journey to work is detrimental to a person's long-term physical and mental health. To help manage and overcome your commuter stress, here are some actionable tips you can use every day:
1. Reframe your mindset around your journey.
Katrina Burch, a psychology professor at Western Kentucky University, recommends using the commute time to mentally transition in and out of your work day,
Pro Tip: Set yourself goals for the day and for your time, and use the journey home to reflect on how you will spend time with family or loved ones.
2. Use your commute time to focus on things you love.
Psychologist Carla Manly suggests that "When we put our focus onto a positive or interesting message or story, our attention is taken away from the negative elements of the commute".
Pro tip: Use your commuting time to focus on things you enjoy, such as books, podcasts or music.
3. Practice mindfulness to stay present during your journey.
While a full-on meditation session might not always be possible during a commute, especially if you drive, Healthline recommends practicing focused breathing exercises to relieve stress and improve mindfulness.
Pro Tip: A good breathing technique to practice is the 4-2-6 rule. Inhale through your nose for 4 seconds, hold for 2 seconds and exhale through your mouth for 6 seconds.
Methodology & Sources
We retrieved tweets that contained the word "commute" and extracted the geolocation coordinates.
To analyze the level of stress expressed in the tweets, we used TensiStrength, a stress detection tool for short texts. We labeled a tweet as "stressed'' if its TensiStrength score is less or equal to -2.
The data was collected in May 2022.
Resources
United Nations. (2018) '68% of the world population projected to live in urban areas by 2050, says UN' un.org
Liuima, J. (2021) 'The "New Normal" in Mobility: How Commuting Patterns Will Evolve' euromonitor.com
Holt, A. (2019) 'MARC's commuter train connecting West Virginia to DC may drop to only one round trip per day' ggwash.org
American Transportation Research Institute (2022) 'Top 100 Truck Bottlenecks – 2022' truckingresearch.org
Furfaro, D., Lapin, T. (2018) 'NYC has more than 600K 'supercommuters' nypost.com
Parkman, K. (2022) '2021 US road conditions by state' consumeraffairs.com
Guillory, D. (2022) 'Baton Rouge traffic is bad now, but in just a few years it might be worse' wafb.org
TUC. (2019) 'Annual commuting time is up 21 hours compared to a decade ago, finds TUC' tuc.org
Office of Rail and Road (2022) 'Estimates of station usage' orr.gov.uk
Earnshaw, T. (2021) 'Traffic on M62 slowed to 40mph nearly 300,000 times over last 12 months' dewsburyreporter.co.uk
Transport for the North. (2019) 'The potential of Northern Powerhouse Rail' transportforthenorth.com
Transport for London. (2019) 'Travel in London - Report 14' tfl.gov.uk
Ryan, C. (2021) 'London Officially Has the World's Worst Traffic' bloomberg.com
Micklethwaite, J. (2016) 'Southern and Southeastern trains branded worst in the UK by disgruntled commuters' standard.co.uk
Hakiman, R. (2021) 'Bakerloo Line extension 'completely out of reach', says Khan' newcivilengineer.com
Mariotti A. (2015) 'The effects of chronic stress on health: new insights into the molecular mechanisms of brain-body communication'. future Sci OA. 2015 Nov 1;1(3)
Chiu, A. (2021) 'Dreading a return to your commute? These tips might make it less terrible' washingtonpost.com
Page, D. (2020) 'How your stressful commute affects your health — and strategies to stay sane' nbcnews.com