Fancy setting up your desk from a sunny piazza in southern Italy? How about a beach in Bali? Read our guide on how to globetrot while working remotely.
Why work from the kitchen table or your home office, when the world is calling your name? If you're a remote worker, you can seize the opportunity to travel without using up your vacation days. So, how can you plan the trip of a lifetime? In the following guide, we cover: 
How to plan your working vacation: simple steps
The apps and sites you can use to make it a breeze
Things you need to consider before going abroad
How you can meet people when you are traveling.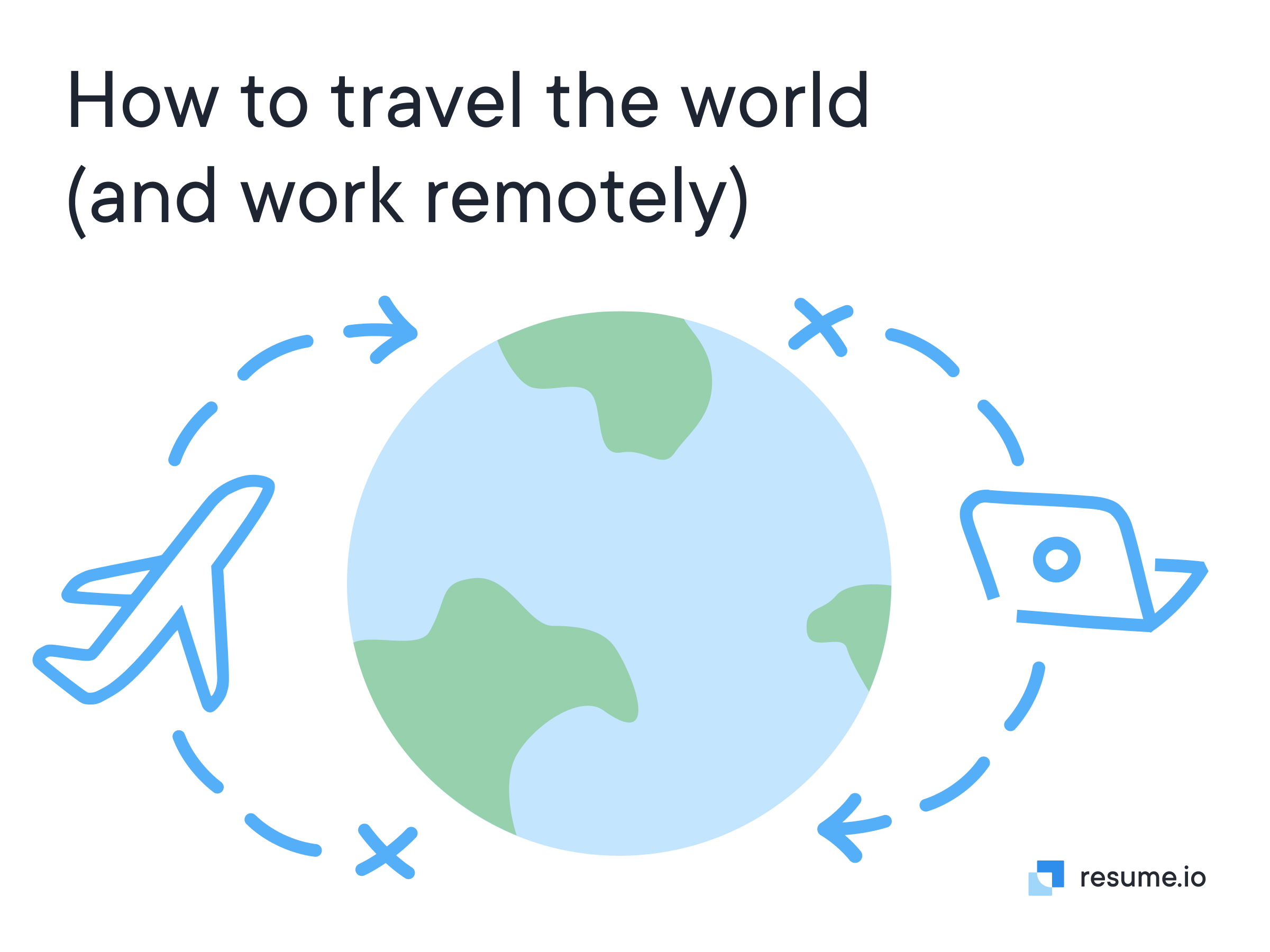 Check that you're allowed to work from anywhere 
It's all in the name. "Work from home" means… exactly that. Unless otherwise specified, your boss likely expects you to be working from your permanent residence. So, before you pack your bags and hop on the next flight, you need to check what rights you have. 
It's a smart move to let your manager know that you plan on traveling while you work. In some cases, there may be logistical reasons that will prevent you from working abroad. For example, your company may need to know where you are for insurance reasons. Alternatively, your boss may worry about the time difference when you're jet-setting. 
Speak honestly with your manager and field any concerns that they may have. While you could just up and leave without letting them know, that is a bad idea. Ironing out the logistics of your working vacation ahead of time will cause both you and them less stress.
Statistical insight
The rise of remote working! 
The pandemic changed the working world forever — forcing many professionals firmly into a remote or hybrid scenario. While it is now safe for people to return to the office, many companies have continued to offer a more flexible approach to work. 
Over 70 million American workers can do their job working remotely, according to an estimate from Gallup. As of 2022, three in 10 full-time employees were working remotely all of the time, with five in 10 working on a hybrid basis. 
Do the math before you leave the country 
Okay, so you've decided that you want to make the most of your WFH status and see the world. What's your plan? Oh… you don't have one? You might want to make one now.
Whether you're thinking of leaving for months on end or simply hopping over the ocean for a short trip, you need to know what you're going to do and how much it's going to cost. 
Research is everything. Decide where you want to go, where you will be staying, and what other expenses you need to cover. It's worth drawing up a spreadsheet to calculate how much cash you should have. That way, you can create a baseline budget to work from. 
Find a place to stay and a place to work 
If you want to travel the world and work remotely, you're going to need two fundamental things: a place to stay and a place to work. These are your non-negotiables. 
Let's deal with a place to stay first. You can book a hotel or an Airbnb or opt for a private rental. Of course, if you want to save some money, there are other options to consider. 
If you want to bag yourself some free accommodation, you could house-sit. You can use apps — such as Nomador, Trusted Housesitters, and Mind My House — to find house-sitting opportunities all over the globe. While you may have to pay a sign-up fee and create a profile, you can live (and work) from someone else's home for a short time. 
Expert tip
Make a list of everything you need! 
Organization is key when you're traveling. Ahead of jumping on that plane, train, or automobile, you need to make sure you know what to take. Here are some ideas: 
Passport (or ID, if needed)
Laptop or tablet
Protective cases
Notebook and pens
Headphones
Personal hotspot
Clothes, toiletries, sun cream, etc.
When you've found a place to stay, you need to make sure that you have somewhere to work. If you're staying in a private home, check that it has a decent WiFi connection. You may also want to look into coworking spaces, cafes, and other remote working options.
Of course, you can look up local coworking spaces and book them ahead of time. If you're skipping from city to city, it may pay to use a site like Deskpass. That way, you can find available desk space wherever you happen to be in the world. Don't leave your workspace to chance. Make sure that you have a plan in mind before heading to your destination. 
Expert tip
Why not travel with a group?
If the idea of flying solo makes you nervous, you may want to look into remote work programs. You can travel with a group of like-minded professionals without having to plan the trip. The program organizer will plan every aspect of your journey. All you have to do is pack your bags and come along for the ride. Here are some options: 
Joining one of the above programs is an easy option. The entirety of your trip is laid out in advance and you get to be a part of a community. Of course, that ease comes with a price tag. You will pay a flat fee for the experience but don't expect it to be cheap.
Get out there and meet new people 
One of the best things about traveling is meeting new people. While you might be fiercely independent, meeting interesting people along the way will enrich your travel experience. Looking to link up with new people? Here are some ideas you might want to try: 
Join Meetup and find out about events wherever you are
Speak to other professionals at your coworking space
Use Bumble BFF to meet new friends when you're traveling
Find traveler Facebook Groups for the destination you choose
Look for solo traveler events on Eventbrite or Facebook
We won't beat around the bush. Reaching out to new people can be intimidating. However, it's helpful to recognize that you're all in the same figurative boat. Whether you're matching with people on Bumble BFF or heading to a group hang-out, try to keep an open mind. Oh, and it goes without saying, you should always prioritize your safety. 
Key takeaways 
Bored of the here and now? If you work remotely and have the option to travel, now is the perfect time to plan your next getaway.
Speak to your manager to make sure that you can work from other countries.
Make sure you make a travel budget before you go. You need to know how much this trip will cost you!
Look for a place to stay and convenient places to work before your trip. You don't want to leave these key things to chance.