Internship CV example & writing guide
Internships are a great way to get hands-on experience in your field of study. As they become more popular in all sectors, internships can vary from short stints of a week or so, to a year's worth of paid employment. 
Understandably, internships are often in high demand, making it even more important to get your CV just right. You need to make a great first impression quickly and show the hiring manager the qualities that make you an exceptional candidate.
Luckily, Resume.io is here to help with many CV examples and writing guides for every occupation and career level. Here's what we'll cover in this internship CV example and writing guide:
What you can expect from an internship role
How to write an effective internship CV, with tips and tricks
The best format to use for your internship CV
The main sections to include in your CV
Suggestions for the best design to use
What does an intern do?
An intern is an entry-level employee who works within an organisation for a set period, often on a part-time basis. Most interns will be students looking to gain experience in their chosen field. An intern will usually help out in ways that will give them exposure to the industry. For instance, an engineering intern may act as an assistant to an engineer. 
The arrangement benefits both parties, as the intern gains useful experience and knowledge, while the company gets insight into the abilities of the intern, with the potential of hiring them on a full-time basis when they graduate. Many candidates work as interns during breaks from their studies, particularly during summer months.
Interns may be paid or unpaid. According to statistics, 48% of young people have undertaken unpaid internships in the UK.
Statistical insight
How much do interns earn?
The average salary for an intern in the UK is £18,910 per year (£9.70 per hour)
Internship job market and outlook
Although internships have become more common in a range of different industries, a common concern is the level of experience needed to obtain one. An analysis of 4 jobs on LinkedIn revealed that 35% of entry-level positions were asking for experience. In short, in many cases, you need to have an internship to get an internship. Increasingly, internships appear not to be for those just entering the workforce.
How to write an internship CV
It is important to follow a defined structure when writing your internship CV. The main sections of your CV are:
CV header – includes contact details
CV summary – also known as the profile
Employment history – this may not be included if you don't have experience
Skills
Education
Every CV you write should be tailored in some way to suit the internship and the organisation you are applying to. These can be small tweaks, but they are vital.
You can follow these guidelines to help keep you on track when writing your internship CV:
Know your audience – make sure you understand as much as possible about the role and company you are applying to, then you can tailor your CV to suit.
Tweak your CV – make small changes where necessary to suit the role you are applying for.
Use any relevant keywords on your CV to suit the role you are applying for.
Choosing the best CV format for an internship
Reverse chronological order is the best way to approach the format of your internship CV. Employment history usually comes before the education section, but in the case of an internship, it may be more appropriate to put education first, unless you have some relevant experience.
Reverse chronological is the format preferred by hiring managers and Applicant Tracking Systems or ATS, the software most likely to scan your CV. However, if you don't have any previous experience to show, you may consider alternative formats.
CV summary example: the introduction
The summary, or profile, is where you introduce yourself to the hiring manager. It should give them some key information relevant to your experience and give them a reason to want to take you to the next stage of the process. Any relevant industry experience should be stated here, which should also be quantified where possible. As an intern, you may not have experience, so you might want to focus on university coursework or student jobs.
The summary must quickly get to the point. The hiring manager should instantly be able to understand what your key experience and skills are. Check out the summary from our adaptable CV example below.
Adaptable summary CV example
Reliable business studies graduate with extensive knowledge of HR topics including employee retention and resolution. Looking to secure an internship with J&D Retailers that will help in the development of current HR skills, as well as learning new skills to help support your business.
Internship CV education example
Since internships are usually a student's first work experience, you can list Education beneath your summary. However, if you do have some relevant positions to show, feel free to switch this section with the employment history one.
Start with your most recent education, which will also be the most relevant. Include any examples of modules/presentations, etc. that are directly relevant to the internship. For example, if you are applying for an internship in human resources and are undertaking a business degree you may want to highlight the relevant HR modules.
Check out the education section from our adaptable CV sample below.
Adaptable education CV example
MSc Management with Human Resources, University of Liverpool
Sep. 2019 - Aug. 2020
Coursework included managing employee relations, recruitment and retention, and organisational design and development.
BSc Management, University of Manchester
Aug. 2016 - May 2019
CV skills example: your key qualities
If your previous experience is at a minimum, the skills section will become one of the key players on your CV, so pay careful attention to it. Consider the essential skills from the job spec and make sure these are incorporated into your CV. For example, interpersonal, problem solving, and computer skills.
If you have skills that are key to the industry, this should also be incorporated onto your internship CV. Don't overlook soft skills either. These are qualities like time management or communication that make you suited for the type of work – even if this is your first time doing it.
Check out the skills section from our internship CV example which can be adapted to suit your needs.
Adaptable skills CV example
Complex Problem Solving
Communication
Interpersonal Skills
Fast Learner
Highly Motivated
Employment history sample: your career path
This section can be quite tricky for interns. How do you write about your employment if you don't have any?
Interns often have some experience, but this may not seem relevant. For example, you may be applying for a banking internship, but your experience to date is based within retail.
You should still add this to your CV but focus on the transferable skills. For instance, working well with others, building relationships, problem solving and computer skills. Always quantify your experience where possible.
If you don't have any experience at all, you may want to leave out the employment section. In this case, you will need to ensure your skills and education sections are as in-depth and effective as possible.
You can find an employment history CV sample below for an internship role, that you may adapt to suit.
Adaptable employment history CV example
Retail Assistant, Walls and Co.
Feb 2020 - Present
Dealing with customers in a friendly professional manner.
Ensuring products are replenished as required and that general housekeeping is maintained.
Resolving customer queries and complaints quickly and professionally.
Handled register transactions ensuring accuracy and swiftness in serving customers.
CV layout and design: basic is best
When writing a CV for an internship, you may be up against some fierce competition. However, this doesn't mean you need to 'think outside the box' when deciding on the most appropriate format to use. For internships, the hiring manager is looking for a clear and concise layout, and they don't need anything overly complex.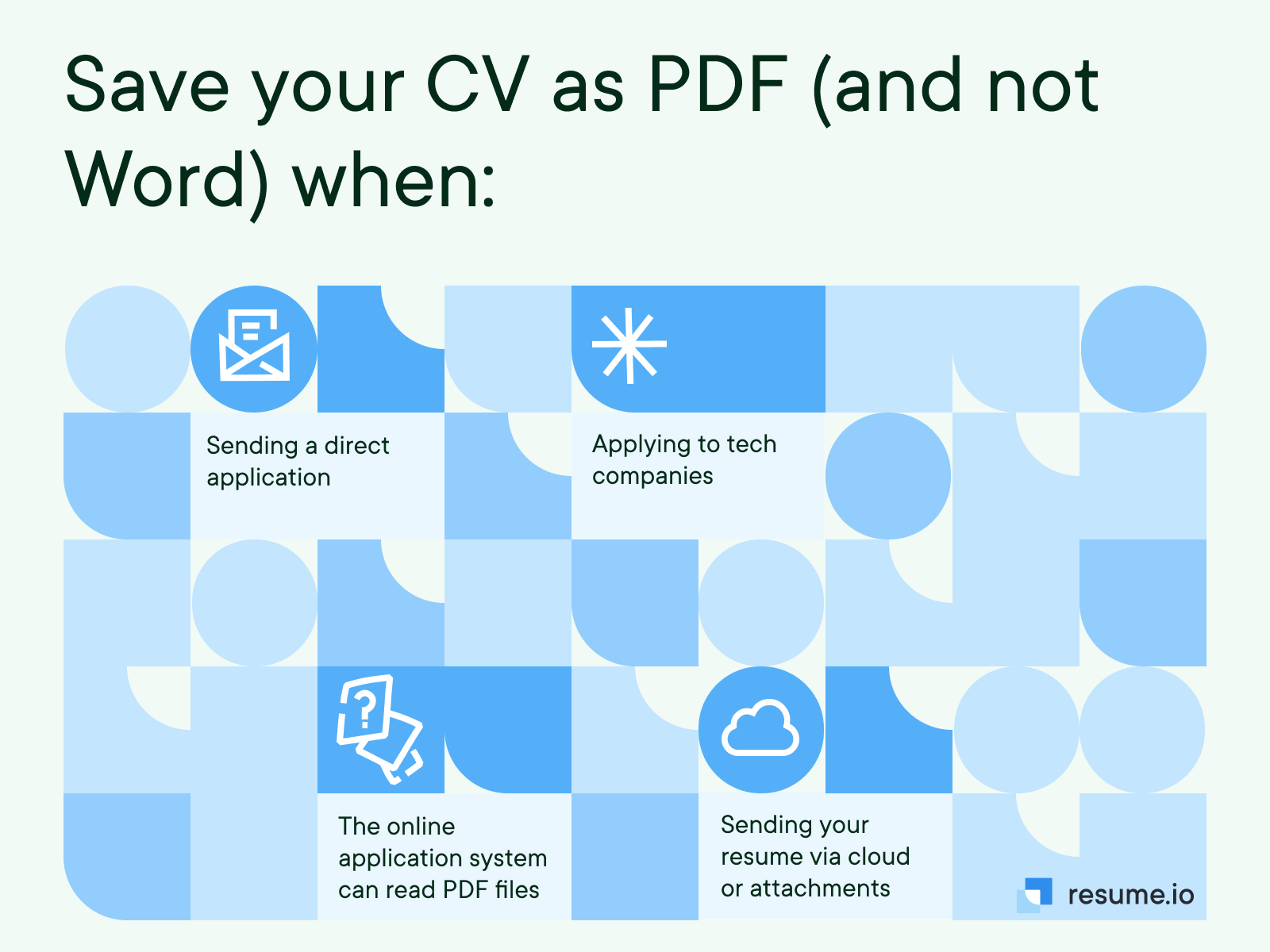 The exception to this rule may be in creative fields or highly-competitive tech ones where visual impression can be the deciding factor. 
Expert tip
It's important to customise the look and feel of your CV for each position that you apply to. This sends the message that you are serious about the role and ready to adapt to the company culture. A CV template can make this process quick and easy.
Key takeaways for an internship CV
Tailor your CV to each role you are applying for. This may only involve small tweaks, but this is important.
Examples, examples, examples! Always back up any statements with numbers and specific details where possible.
Switch the sections around where possible. It is common for interns to have little to no experience. Focus on the sections which will make your CV more attractive and relevant.
Check out our internship CV example for more ideas on creating an attractive and functional page layout.