There are many different types of engineering, and where your career path leads will ultimately depend on your qualifications and interests. When creating your engineering CV, it is vital that your experience and skills across to the hiring manager, as well as your desire to work in the position being sought.
With dozens of occupation-specific CV examples and writing guides, Resume.io is an expert resource for job seekers in every field and at every experience level. 
This CV writing guide, along with our engineering CV example, will cover:
What an engineer does
How to write your engineering CV, including the essential sections and best format
Optimising the impact of each CV section: summary, work history, education, and skills
Creating an engineering CV document that looks good by design
What does an engineer do?
Without engineers, we wouldn't be able to do many of the things we take for granted. Travelling via train or plane would be impossible without engineers. They are responsible for the design and construction of structures and systems such as roads and rail. There are different areas they may choose to specialise in, including civil, electrical or mechanical engineering.
Attributes for a successful engineer includes the ability to work well as part of a team, take initiative and solve problems. 
Statistical insight
With 6.9 million people working in engineering in the UK, it is one of the biggest employment sectors, accounting for 18% of total UK employment
Engineer job market and outlook
Engineers are in high demand in the UK, and that uptrend is expected to continue. Additional pressure has come from the UK leaving the EU, and not being able to recruit talent from other European countries as easily as it was pre-Brexit. Satisfying the demand for engineers could bring an extra £27 billion in revenue into the UK economy.
If you are qualified in engineering, you can expect the outlook to be bright, as there will continue to be lots of vacancies in the sector. The demand for engineers is not confined to the UK. The job is also on the skills shortage list in many other countries, including Australia. If you want to travel, there are a wealth of opportunities for engineers.
Statistical insight
In 2021, the average salary for a graduate engineer was £33,725 and for senior roles £56,506. Directors could expect to earn an average salary of £84,901. Engineer salaries had risen by 10% in the previous two years.
How to write an engineering CV
It is a good idea to plan your CV content before you put pen to paper. It should contain these five essential sections.
CV header
CV summary
Employment
Skills
Education
Adding other CV sections such as professional honours or hobbies is optional. Only do so if you think this information is relevant to the role.
Within engineering, there are many areas you can choose to specialise in. For instance, a civil engineer might want to specialise in road or rail design. There is also the option of working within large or small organisations. No matter what, it is vital to tailor your CV to suit the role you are applying for. Hiring managers always want to be sure you have a desire to work in that position, for that specific employer.
Taken a step further, it's crucial to ensure your CV contains very specific language — notably keywords — so there's less chance of rejection by the applicant tracking systems (ATS) that many employers have implemented to screen online job applications. Closely scrutinise the advertised job listing to determine the most likely keywords and try to include them verbatim in your CV where appropriate.
In summary, these are the general guidelines to keep in mind when writing your CV:
Understand the type of role and the company you are applying to make sure you tweak your CV for the target recruiter.
Focus on the main elements of the role that are important and ensure these are reflected in your CV.
Incorporate keywords to avoid rejection by an ATS.
Your CV should be easy to read and understand. It helps to plan the content carefully and divide into appropriate sections.
Choosing the best CV format for engineers
There are three main types of CV formats: reverse chronological, functional and hybrid. Reverse chronological is the most traditional format, centering around your professional experience in employee roles. This is the best choice for engineers since it allows you to highlight what you've learned and accomplished in each of your previous positions. 
This guide will explain instances where alternative CV formats may be appropriate.
CV header
An attractive CV header is intended to catch the reader's attention for positive reasons. In effect, it serves as a personal brand to distinguish your job application from those of other engineering job candidates. The impact is reinforced if your cover letter and CV headers have matching header designs.
CV headers also serve an important practical reason by prominently displaying your name, occupation and contact information in a way that readily identifies who the document belongs to. Then when the hiring process is further along, recruiters can readily go back to your CV and access your phone number and email to get in touch.
Engineering CV summary example: where it all began
Just as the first stage of an engineering project involves planning, the first section of your CV gives hiring managers a snapshot your skills and expertise. The purpose of your CV summary — sometimes called the profile or personal statement — is to give them a great initial impression so they are keen to read more. Focus on the significant aspects of your employment or education, depending on whether the target role is for recent graduates or more experienced engineers.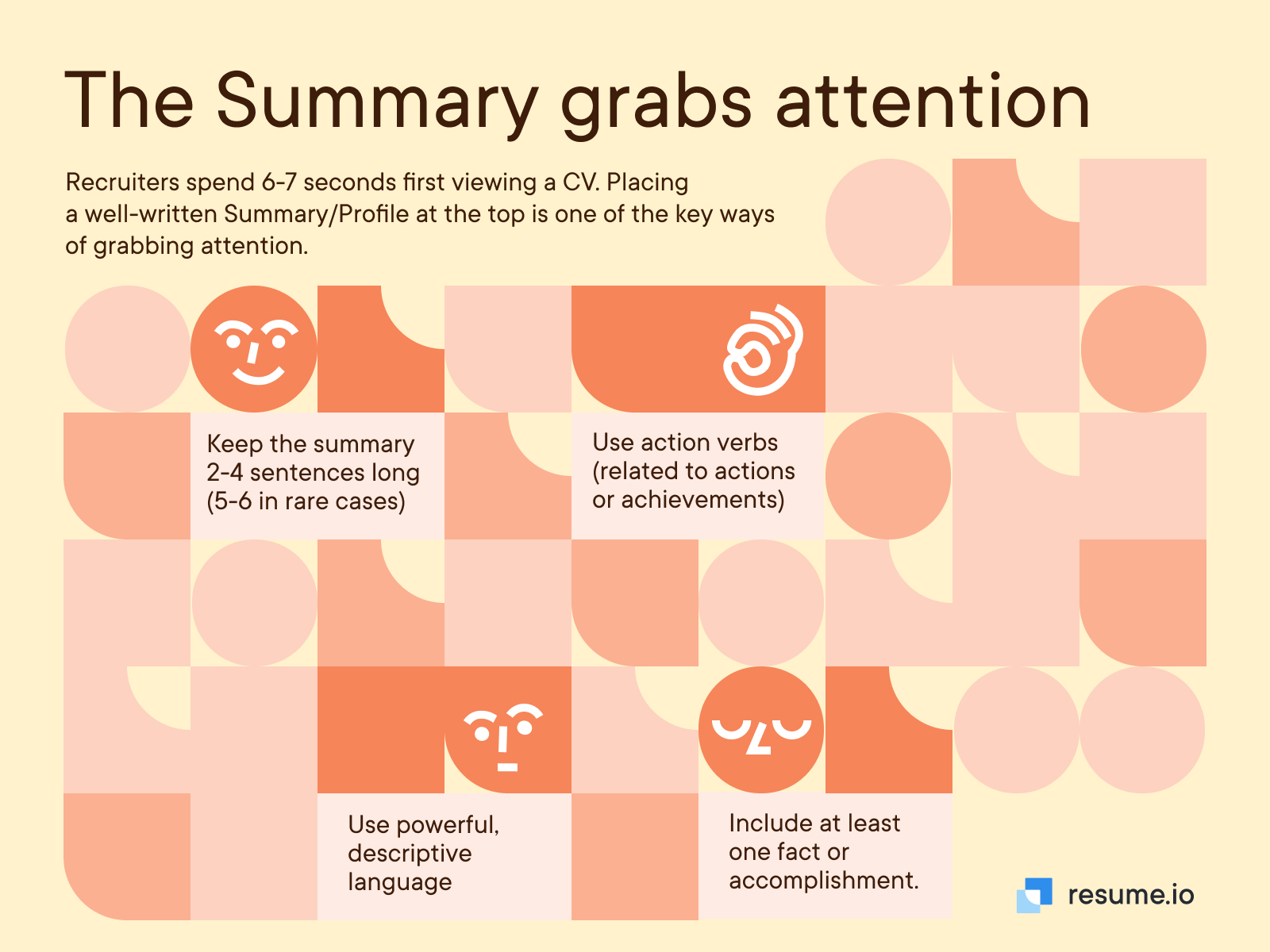 Below is the summary from our CV example.
Adaptable CV summary example
Skilled and driven engineer with 5+ years of experience working on civil construction projects, including highways, rails and roads. Passionate about the creation of environmentally sustainable structures and focused on delivering the highest quality of work.
Employment history sample: telling your story
The employment history section is where you show hiring managers all the relevant experience that has led you to this point in your career. Using the chronological format discussed previously, start with your current or most recent job and then work back to the earliest. Use bullet points to describe the key aspects of each role. Focus on accomplishments and beneficial contributions rather than merely listing responsibilities. Quantify the positive outcomes with facts and figures wherever you can.
Adaptable CV employment history example
Civil Engineer, MC Engineers Ltd, Manchester
Jan 2017 - Present
Oversee rail team and work on major projects within Manchester including the £2.9bn Transpennine Route Upgrade (TRU) project.
Design and plan major structures according to client specifications and legal requirements.
Ensure that ongoing projects are kept within budget and schedule.
Attend regular meetings with clients and contractors to address concerns, questions and ideas.
Assistant Civil Engineer, McWorth's Construction Co., Manchester
Dec 2014 - Jan 2017
Assisted civil engineers with structure design on various projects including the Northern Hub rail project and Manchester Metrolink.
Created reports and answered queries from clients and contractors.
Supported civil engineers with budgets and timescales.
Visited sites to check on the progress of projects and to discuss concerns with contractors.
CV skills example: what you can bring to the role
Always think of your CV's skills section in terms of what you can bring to the job you are seeking. Engineers are expected to have great technical abilities, and they are problem solvers with strong critical thinking skills. Use the advertised job requirements as your base for creating the skills section of your engineering CV and tailor it to suit. 
If you are a recent graduate with little or no work experience, you can cite some transferable skills applied in different capacities, including those obtained at university. For example, you may have demonstrated problem solving skills during an engineering project or shown strong communication skills when working on a team. 
Check out the engineering CV skills sample below.
Adaptable CV skills example
Interpersonal Communication Skills
Principles and Practices of Engineering
Problem Solver
Analytical Thinking Skills
Engineering CV education example: your learning path
Engineers are professionals who invariably require a degree to qualify for positions in their field. That's what should appear first in your CV's education section, again listed in reverse chronological order from highest to lowest level. 
Be sure to include any other relevant forms of education or training you've completed, whether on your own or as a job requirement. Any certifications you've obtained should also be listed, and memberships in associations with professional development opportunities. Hiring managers are always impressed by job candidates with continued learning goals.
Here is the education section from our engineering CV example.
Adaptable education CV example
Civil Engineering BEng (Hons), University of Manchester, Manchester
Aug 2010 - Sep 2014
Graduates with honours.
Achieved Student of the Month Award on four occasions.
CV layout and design: no need for gimmicks
The design of your CV is almost as important as the wording. While you shouldn't go over the top with color or graphic imagery, a clean and professional-looking layout shows the hiring manager you are serious about the position. Make sure to balance the amount of white space to text for ease of reading, notably with wide enough margins. Legibility should also guide your font choices. and create an attractive header to catch the reader's attention. 
Using a professionally-designed CV template is the easiest and fastest path to a well-designed and formatted document.
Key takeaways for an engineering CV
Be clear about how closely your career goals and qualifications match the target job requirements.
Tailor your CV to suit the role and make sure the hiring manager is left with no doubt about your interest and worthiness as a serious job contender.
Focus your CV on the most directly relevant skills and experience.
Check out our engineering CV sample for more ideas on creating an eye-catching page layout and design.