Legal professionals know how to argue and back up their arguments with solid facts and case history. That's exactly what a great paralegal CV does for your job search: It takes your skills and experience, backs them up with data and details, and propels recruiters to grant you an interview.
To get started on your application document, use the resources from Resume.io that are already at your fingertips. We provide CV guides and CV examples for 60+ professions, and  an easy-to-use resume builder. With your abilities and our tools, you'll be on your way to a great job in no time.
Keep reading, because this CV guide, with the its embedded CV example, will offer answers and advice on the following topics:
What does a paralegal do?
How to write a paralegal CV (with a CV example)
The best format for your document
Advice on each section of your CV (summary, work history, education, skills)
Professional CV layout and design hints.
What does a paralegal do?
First up, let's take a look at this job role. Paralegals perform legal tasks and services, most of the time for a solicitor, barrister, chartered legal executive or licenced conveyancer. Paralegals are not qualified in any of these legal capacities, but do have legal training.
Some specific task paralegals perform are:
Legal research
Preparing legal documents
Giving some legal advice
Analysis of legal data
Organisation of files
Attendance at tribunals
Negotiation of contracts
Documentation of witness statements.
Paralegals may work in a firm of solicitors, a paralegal law firm, a set of chambers, in the private and public sector, within government or industry, or for not-for-profit organisations and charities.
Paralegal job market and outlook
The demand for paralegals has been on the rise for the past few years as legal professionals and those seeking legal help realise that they don't need to pay a solicitor's hourly rate to get the job done. An estimated 100,000 paralegals work in the UK, making it the second largest profession in the legal services market after solicitors.
Statistical insight
How much does a paralegal earn?
How much a paralegal earns depends on several factors. The location, the area of practice, size of employer, experience level, and responsibility level all contribute. Here are some salary ranges, according to Prospects: 
If you are employed in a solicitor's firm, salaries for junior paralegals at non-graduate entry level range from £14,000 to £22,000. At a graduate level, salaries range from around £18,000 to £25,000.
With 3-5 years of experience, salaries fall in the £30,000 to £40,000 range.
Larger firms may pay £55,000, and in very rare cases up to £70,000 for experienced paralegals.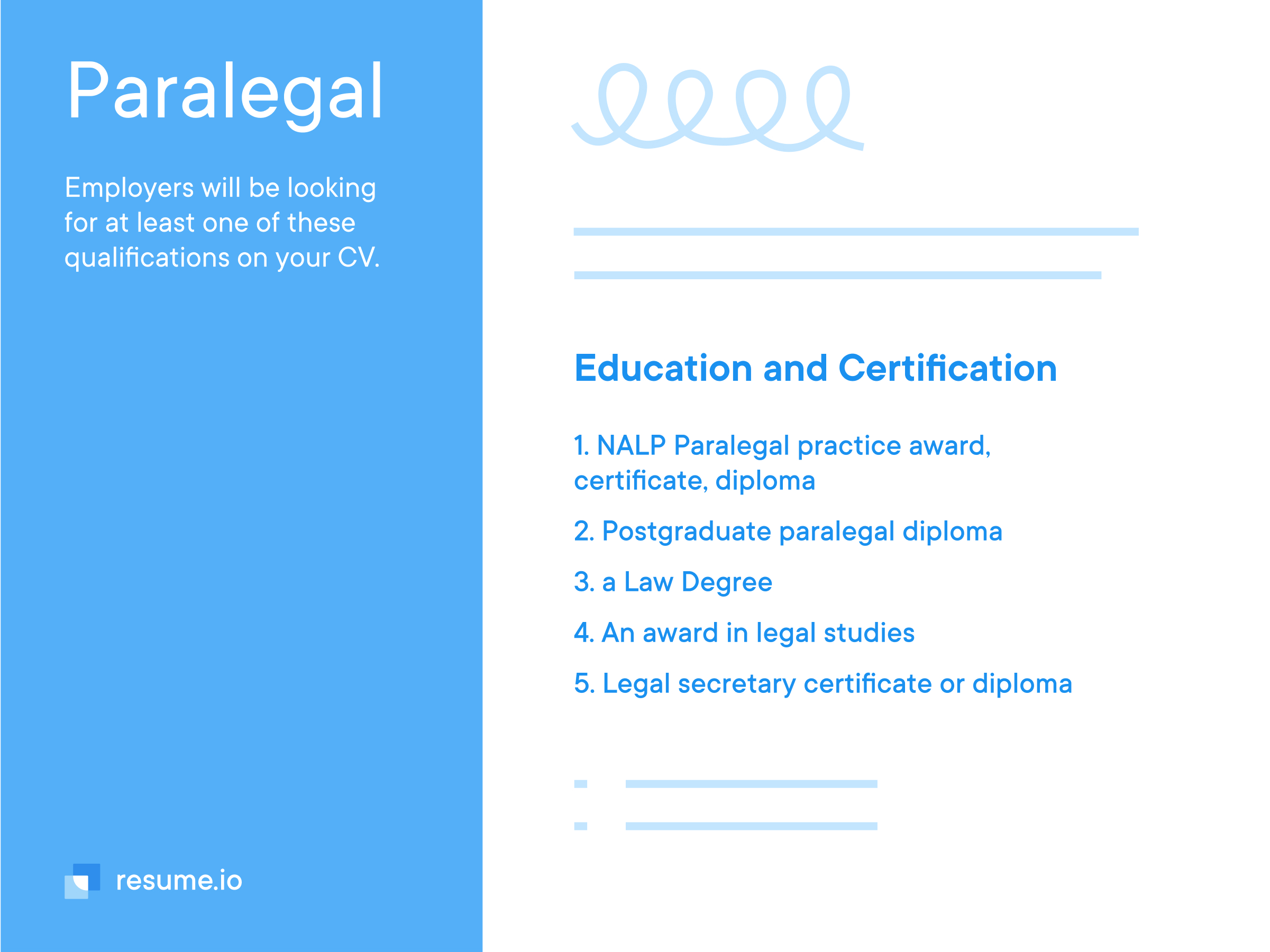 How to write a paralegal CV
Before you begin compiling your paralegal CV, you need to break it down into sections. 
As you can see in our CV sample, your application should contain the following elements:
The CV header
The CV summary (aka profile or personal statement)
The employment history section
The CV skills section
The education section
The next key decision you will make is the format of your CV. Let's discuss that now.
Choosing the best CV format for a paralegal
We typically recommend the reverse chronological order format for CVs and your paralegal CV is no exception. That's because it allows recruiters to easily find the information they seek – your most recent position, skills, and contact information – in a style to which they are accustomed.
It also makes your life easier since online HR software, or the Applicant Tracking System (ATS), is set up to scan CVs in this format. 
Unless you are a career changer with many transferable skills, looking for your first job, or have a gap in your CV you wish to explain, stick with reverse chronological order. Otherwise, you may consider one of the other CV formats we suggest.
Expert tip
Whenever you answer a job advert through an online system, that system will be ranking your CV based on keywords and phrases important to your prospective employer. Make sure you correlate your words with those in the job advert to give your CV the best chance of passing this first test.
CV summary example 
Especially if you aspire to work in a large firm, you must demonstrate not just your legal knowledge, but your professional demeanour as well. The summary of your paralegal CV is the place to accomplish this. Start with a description of your biggest achievement and go from there.
Use the other two or three sentences to relate your legal philosophy and explain how your experience will enhance the law practice. Always keep in mind that employers want to know what you will bring to them, not what they offer you.
Adaptable summary CV sample
Highly detail-oriented and efficient Paralegal with proven capacity for excelling in a challenging litigation / corporate paralegal role with a successful law firm. Deadline-driven in conducting legal research for cases of all sizes and generating / revising documentation to support a wide range of case proceedings. Type 85 WPM with complete accuracy.
You can find additional writing material in our related CV examples:
Employment history sample
Instead of creating a list of responsibilities, the employment history section of your paralegal CV should show your prospective employer how you have grown in your career. Compile a bulleted list of your highest-level or most impressive tasks. Save space by eliminating basic responsibilities.
Just as you develop a case by presenting evidence to back up your assertions, you must do so in your CV. Don't merely say that you assisted many clients; instead, detail a particularly difficult case or research project. Use data to describe how you increased office efficiency or handled numerous cases.
Adaptable employment history CV example
Corporate Paralegal at Law Firm Limited, London, UK 
June 2018 - Present 
Support partners in maintaining / scheduling daily calendar.
Employ legal software such as ProLaw for record keeping and billing of client hours.
Work closely with other paralegals to ensure efficient handling of workload backlog in order to meet critical deadlines.
Interface with court runners to ensure consistent, timely delivery of court filings.
Litigation Assistant at JMW Solicitors LLP, London, UK 
February 2014 - June 2018 
Provided litigation support for white-collar criminal defence cases.
Performed deposition scheduling, client billing, e-filing and docketing functions.
Conducted extensive research, tailoring legal research strategies to align with individual case needs.
Facilitated pre-trial witness interviews and client intake interviews and drafted interview summaries / reports.
Legal Secretary at ITN Solicitors, London, UK 
May 2012 - January 2014 
Delivered executive assistance and paraprofessional legal support to practice of four attorneys.
Conducted extensive case research in LexisNexis and drafted / filed documents, maintaining compliance with all regulations.
Created PowerPoint presentations for law partners to be used for internal training.
Supported partners with various administrative functions, including scheduling of work and personal events and management of travel arrangements.
CV skills example
This section of your CV is designed to allow recruiters to quickly scan your skills to see if they fit their needs. That's why personalisation is so important. Match your CV skills list to those desired by your targeted employer. Choose high-level abilities over basic ones.
As a professional who works with clients as well as coworkers, you also need to demonstrate that you have communication, collaboration, and organisational skills. This section of your CV should contain a blend of your legal knowledge and abilities and your people-oriented skills.
Paralegal CV education example
You do not need a law degree to become a paralegal, but you may have some sort of legal training. That might include a National Association of Licensed Paralegals (NALP) practice award, certificate, or diploma or another type of postgraduate paralegal diploma.
This is the place to list that along with any other academic achievements you have. If you have earned any awards or professional accolades, you may consider creating a new section to highlight them.
Adaptable education resume example
Paralegal Studies Diploma, Law Training Centre, Ashford, UK 
February 2010 - February 2012
CV layout and design
Law firms are traditionally conservative workplaces, so keep your CV design neat, clean, and professional. Avoid colour, fancy fonts, or overly busy layouts. Here are a few more guidelines to follow:
Use no more than two fonts
Leave ample white space for ease of reading
Keep the names of your sections standardised
Avail yourself of spell check and grammar check tools
Always proofread your work
If you're not a layout or formatting whiz, consider using one of Resume.io's expertly-designed CV templates to speed the development of your CV and avoid costly errors.
Key takeaways for a paralegal CV
Law firms increasingly understand that paralegals provide a valuable service at a lower cost than solicitors
Paralegals need legal knowledge, but also excellent communication skills. Take a look at our CV sample for some inspiration.
Develop a career profile that shows growth in your employment history section.
Keep your design conservative and professional.