An exceptional account manager CV has many marks to hit on both sides of the people-pleasing equation. It requires a deep and wide understanding of what it takes to keep the company and clients you represent equally happy.
Let Resume.io help you with the right tips and techniques to impress your next employer. As a leading international source of job search resources, we've developed dozens of occupation-specific writing guides with corresponding CV examples.
Here's what we'll cover in this guide, paired with a CV sample designed for account managers:
A snapshot of the job role and outlook for account managers in the UK
The right framework and format for essential CV components.
General guidelines and step-by-step advice to optimise each CV section: summary, employment history, education and skills.
Professional tips for ensuring your account manager CV looks as good as it reads.
What does an account manager do?
The straightforward job title belies a vast gamut of intersecting roles and deliverables in an infinite range of industries. As the face and voice of their employer on one hand, and valued customers on the other, account managers deftly balance the needs and wants of both along a two-way mutual interest street. 
At every turn, it's all about satisfaction management: ensuring everything gets done in an accurate, efficient and timely manner to meet or exceed the client's expectations. The bar could not be set any higher for communication effectiveness— not only to convey information but also  to ensure understanding. Account managers make clients aware of related products and services that may be advantageous. They are mindful of budget considerations and contract terms, as well as relevant trends, changes and competitor actions. 
How to write an account manager CV
If you're ready to get started, there's no need to feel overwhelmed. That's because there's no need to reinvent any wheels. What virtually all CVs should have in common, regardless of occupation, is this framework of elements that hiring managers expect to see:
Header
Summary
Employment history
Education
Skills
Together they add up to no more than one page. These general guidelines are worth revisiting every time you apply for a different account manager position. 
"Different" is the operative word
Your CV should always be tailored to the role, hiring organisation and type of client accounts your sights are set on. No two versions of this fluid, adaptable document should be exactly the same. 
Customise and optimise 
Help hiring managers envision you as the best fit for this account manager job. Adopt their perspective, appeal to their needs and speak their language to maximise the impact.
Knowing me, knowing you
Thorough research underpins the job-winning edge you are striving for. Scrutinise the posted job requirements, and then dig deeper for insights into what makes the hiring organisation tick. Scour the company website, business publications and blogs, LinkedIn and other social media.
The above-mentioned research should reveal the right keywords to include in your CV. This is the best strategy to avoid rejection by the applicant tracking systems (ATS) software that employers commonly use to electronically filter online job applications. 
Expert tip
For more ideas, check out these other CV example and writing guides: 
Choosing the best CV format for an account manager
The most commonly used chronological format is generally your best bet for an account manager CV. Relevant achievements in the employment history section are listed below employer headings in order from most recent (or current) to earliest dates.
For those whose job history does not follow a linear path of employee positions, there are other CV formats available. A functional CV format, for instance, might be suitable for account managers who have worked independently as consultants, listing their relevant work experience by projects/clients or transferable skills, instead of company job roles.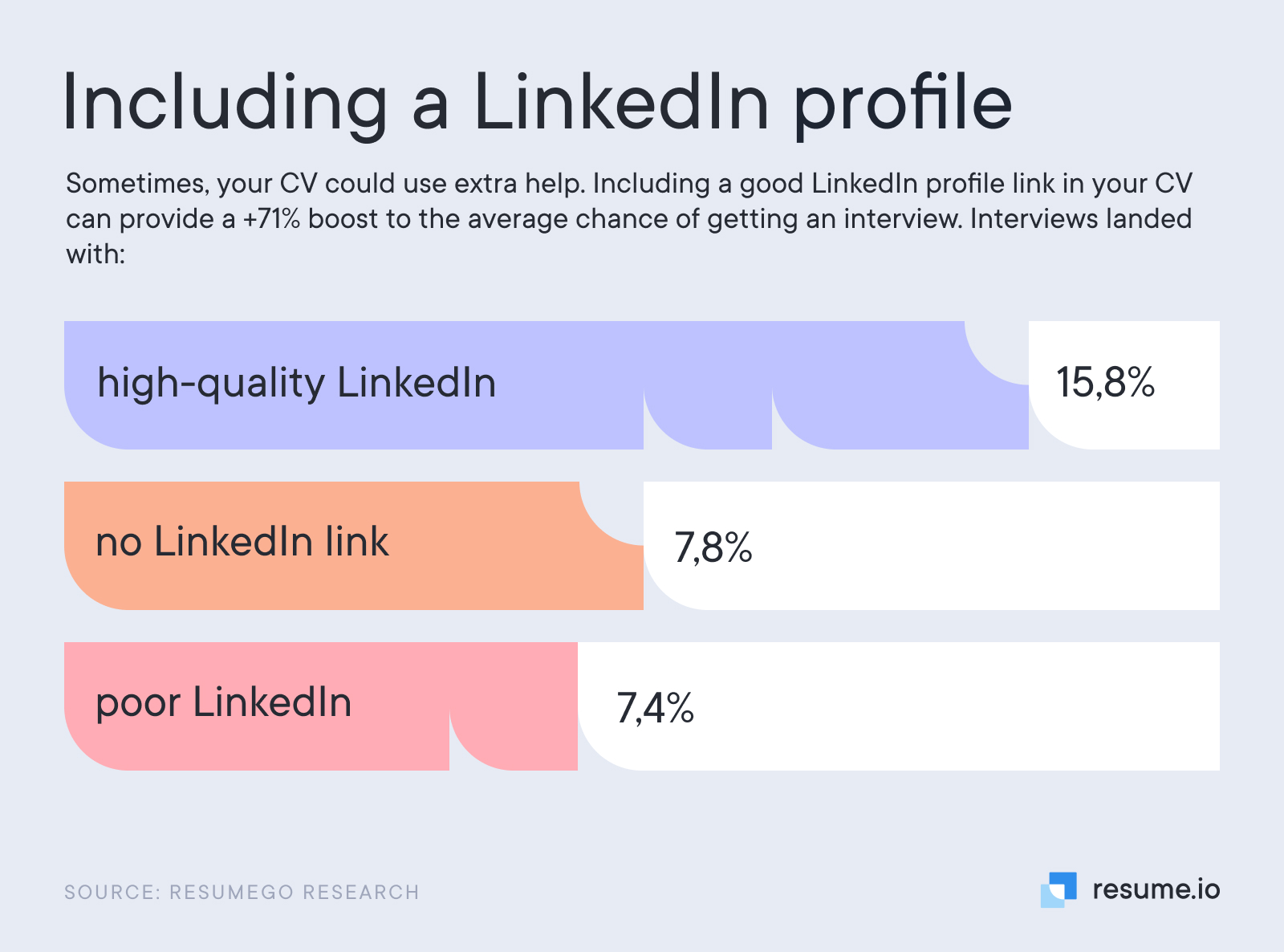 CV header
The most visually effective way to focus recruiters' eyes on your account manager application from the get-go is with a distinctive header. Ideally branding both your CV and cover letter as a matching pair, the design should be at once, professionally striking, attractive and functional. 
Besides creating a favourable and memorable first impression that visually sets you apart from other job candidates, the prominence of your name and contact information makes it easy for recruiters to revisit your shortlisted application and get in touch with an interview invitation.
Account manager CV summary example
From reading your CV summary — sometimes called the profile or personal statement — employers should start gaining a sense of your potential value as an account manager who can build and sustain win-win business relationships. A picture emerges of how much brighter their company's future looks with you on board. 
Besides expressing who you are, what you've accomplished and where you are gravitating towards next, this tightly and brightly worded synopsis should let your "why" shine through. Why were you drawn to this career opportunity — as if the stars were aligned at the right place and time for helping this employer thrive, as you will when hired?

Below is an account manager CV summary example you can customise.
Adaptable cv summary example
Energetic account manager with 10+ years of experience in handling key accounts and fostering strong relationships between company members and customers. Seeking to leverage my history of proven relationship-building and problem-solving skills to benefit the next team I join.
Employment history sample
Avoid the all-too-common tendency to rehash the kind of generic duties and institutional jargon that hiring managers can find in any account manager job description. It's an unhelpful waste of valuable page space. Instead, take full advantage of the best shot you have at proving your unique worth in a head-turning manner. 
What are your proudest and most relevant accomplishments? Think about specific actions you initiated or supported, and especially the impact on customer satisfaction, loyalty, retention, referrals and recoveries. Ponder problems you helped solve, missteps you navigated and tough lessons learned. 
Next, selectively trim and tweak your work history descriptions to a manageable size. Which of these gems reflect your most brilliant facets? Which of your past contributions would resonate the most with future employers standing to benefit? Which ones can be quantified with impressive facts and figures?
The following account manager employment history sample can be modified to suit your situation.
Adaptable cv employment history example
Account Manager at DeVoit, London
April 2018 - November 2023
Proactively managed customer expectations and adeptly resolved issues, maintaining a 95% customer satisfaction rate and reducing resolution times by 25%. 
Orchestrated and nurtured relationships with a diverse portfolio of customers, achieving a 20% increase in programme engagement and a 15% growth in annual revenue. 
Effectively coordinated project deliveries for over 150 client accounts, achieving a consistent 98% on-time delivery rate and reinforcing client loyalty. 
Spearheaded innovative lead generation strategies that generated a 30% increase in new business inquiries, contributing to a 12% rise in overall client base.
Junior Account Manager at B2B Market Group, London
June 2013 - December 2017
Provided forecasting within a 90% accuracy rate to help drive revenues. 
Collaborated in leading end-to-end project management, resulting in a 20% reduction in project timelines.
CV skills example
On an otherwise level playing field for account manager job candidates with impressive qualifications, your CV skills list could be a game-changer. So don't squander this opportunity on any of these counts:
Demonstrating knowledge of what employers and clients need and value
Using ATS-busting keywords if possible
Being specific and original in putting your own spin on skills that are too clichéd or  vague to impress hiring managers
In the latter instance, precision and context are your friends. Recruiters will take for granted that you and everyone else vying for this account manager job will have a few directly relevant hard skills, plus an arsenal of soft skills for dealing with people. So kick it up a notch from the underwhelming "good communicator" or uninformative "customer relations skills." 
Statistical insight
A LinkedIn survey conducted by Account Management Skills, a UK provider of training programs for creative agency leaders, yielded this top 10 list of essential skills:
Listening
Time management
Relationship (trust) building
Communication / people skills
Organisational skills and multitasking ability
Understanding your client's business and needs
Adaptability
Empathy
Asking good questions
Passion
Check out an account manager CV sample for the skills section below.
Adaptable cv skills section example
Account Management
Business Development Strategies
Excellent Customer Service Skills
Project Management Skills
Creative Problem Solving Skills
Account manager CV education example
Although college degrees are required for many account manager positions, the right combination of sales, customer service or account management experience and skills can often be the ticket to a great job. 
In any case, your educational qualifications should be listed here in reverse chronological order, from highest to lowest level. That includes graduation from post-secondary institutions, along with any other relevant training you've completed, in or outside the workplace. Be sure to mention certification courses and association memberships that demonstrate your commitment to continued learning and professional development. 
The education list in our account manager CV example below illustrates.
Adaptable cv education example
Bachelor of Science in Business Administration, University of East London, London 
September 2009 - May 2013
CV layout and design
Looks matter, and a good-looking CV is inviting and easy to read. All of the following are legibility contributors in a document that's dressed for success:
A clean, simple, uncluttered and polished overall appearance
An orderly, well-proportioned layout and design, balancing text-dense segments with ample white space, in the margins and between lines
No more than two font styles, reflecting expert advice on classic, never-clashing favourites
Sparing use of graphic flourishes
Expert tip
An expertly-designed CV template can help you achieve professional results without spending hours on formatting questions.
Key takeaways for an account manager CV
Wear the prospective employer's hat and clients' shoes to write an account manager CV that resonates.
Be selective and specific when describing your most impressive career accomplishments, preferably those with quantifiable results.
Create a CV skills list that's a cut above the obvious and expected.
Our sample account manager CV can and should be adapted to each hiring circumstance you encounter.