Fast-paced and diverse, working in retail is well-suited to people who are always up for a challenge. Should you fit the bill and have oodles of shop-floor experience to back it up, a well-worded retail manager CV might just help you land your next job. 
If you can motivate your staff and make the goods you sell enticing, there's a position for you. The best retail manager CVs put excellent communication skills and proven sales ability at the forefront. So, how do you accomplish that? 
The CV examples, builder tool, and resources at Resume.io are designed to take you through the process of developing a CV that leads to your dream job. Within this guide and its accompanying retail manager CV sample, you will find information on the following:
What does a retail manager do?
Tips and ideas for creating a CV that stands you in good stead with recruiters
The best format for a retail manager CV
Explanations on how to make the most of you summary, employment history, skills, and education sections
Using your design and layout to your greatest advantage.
What does a retail manager do?
A retail manager's position comprises a combination of management, customer service, budget, and sales duties. Depending on the type of establishment, its size, the products it stocks, and the proprietorship, duties may vary or tip heavily into one category or another.
The main responsibilities of a retail manager may include: 
Developing staff schedules
Handling escalated customer concerns and complaints
Gathering and maintaining financial and statistical records
Supervising staff in pricing, inventory control, sales and customer service
Setting sales goals and creating plans to reach those goals
Ensuring product displays are visually pleasing
Recruiting, training, and retaining staff
Statistical insight
The four largest retail employers in the UK are all supermarkets, according to Prospects:
Tesco
Salsbury
Asda
Morrisons
Retail manager job market and outlook
The cost of doing business in the UK is on the rise and has taken its toll on the retail industry. In addition, inflation has put a damper on sales. While the slow growth of 2022 is behind us, the British Retail Consortium (BRC) is predicting only 2.3-3.5% growth in 2023. 
The good news is twofold: sales are expected to pick up in the second half of the year and that nonfood sales are also expected to grow, after a year of decline. 
If you are a retail manager, you may find yourself working hard to maintain employee morale because of the difficulty of hiring and retaining entry-level employees. You can also expect to work weekends and holidays, and generally to be at the store working irregular hours.
Statistical insight
What does a retail manager earn?
The median income for a retail manager in the UK is £25,402 per year. Starting salary may be lower than £19,000, while high-end earners may garner more than £36,000 in wages, according to Payscale.
How to write a retail manager CV
Your retail manager CV must stand out, especially in this market, but the sections are not the place to veer from the norm. All CVs should contain common elements, as follows:
The CV header
The CV summary (aka profile or personal statement)
The employment history section
The CV skills section
The education section
You will have ample opportunity to personalise your CV within the text and design, but the sections you include – and their names – should be those used by most CV writers. That's because:
Your goal is to make it as quick and easy as possible for recruiters to find the information they seek. "My Life of Learning" may sound cute, but "Education" is much more straightforward.
The Applicant Tracking Systems (ATS) that most retail employers use can scan your CV and input your data, but they are programmed to look for standard sections. If you vary from those (and there are a few reasons you may), you will have to manually input your information in the software program.
Expert tip
More on the ATS
Not only does the ATS scan your CV, but it ranks it against all other CVs submitted for the position. The rankings are based on keywords and phrases your prospective employer lists as important and only the top-ranked candidates make it through to human eyes. 
Take note of the skills and attributes within the job advertisement and echo those on your retail manager CV, if they match your skills and experience, of course.
Choosing the best CV format for a retail manager 
Our advice for the format of your retail manager CV is akin to the advice for your sections: Keep it standard unless there's an overwhelming reason not to. That means employing the reverse chronological style for your employment history and education sections.
There are circumstances when you may want to consider an alternative CV format. Perhaps you have been a manager, but not in retail; you began your career in a completely different field; or this will be your very first job or your first job after a break to raise children. In those cases, you may find that a CV that emphasises your skills or education over your work experience serves you better.  
CV summary example
Take the opportunity provided in the summary of your retail manager CV to sell yourself. You know the market is tough, but your business sense, management skills, and sunny disposition make you a great fit for the job.
You have about four lines of text within this section, also called a profile, to introduce your career and explain why the hiring manager should offer you an interview. Here's a suggested outline for this freeform section:
Introduce your career highlight. Consider including years or level of experience. Use a positive adjective ahead of your job title.
Include your greatest career success, making sure it relates to the job you want.
Tell why that success makes you an excellent candidate.
If you have space, explain what attracts you to the job.
Take care to match your tone to the type of merchandise and the image of the establishment. If you want to sell classic men's business suits, your tone should lean toward stiff upper lip, but if you are aiming at a teen boutique, you probably want to pick up the hip factor.
Adaptable summary cv sample
Dynamic and business-savvy Retail Manager with history of success in managing shift and departmental operations within busy retail stores. Currently pursuing Bachelor of Science in Business Management with goal of progressing toward regional management positions.
Employment history sample
If you have been in the workforce for at least a few years, this section will consume the bulk of space on your retail manager CV, but there's no need for you to dig back into the past to your first job if you have been working for 10 years or more.
As you compile your bullet items (because your employment history section should be composed of descriptive phrases), consider the retail successes you have had that prove you can not only step in and run the retail establishment, but make improvements.
While part of your job requires harder to quantify abilities such as communication, much of it is quantifiable. Hard statistics and facts strengthen your case, so instead of saying "improved customer satisfaction" give the exact matrix and add in how you did it. "Increased customer satisfaction by 20% after revising employee training program" is much better. Sales figures, budget savings, and employee retention numbers will also bolster your case.
Adaptable employment history cv example
Store Manager at Primark, Cardiff
June 2017 - Present
Oversee all aspects of shift operations for busy clothing retailer.
Supervise, train and mentor sales and point-of-sale employees.
Created weekly schedules, accounting for employee, store, and payroll needs.
Contributed to staff hiring, training ,and onboarding.
Served as escalated point of contact for resolving customer satisfaction and payment issues.
Participated in regional meetings and offered valuable feedback.
Men's Department Manager at Next, Cardiff
February 2015 - June 2017
Supervised, trained, and mentored highly productive team of sales associates.
Interfaced directly with customers to ensure satisfaction with services and to drive return business.
Ensured consistently stocked shelves and store inventory.
Maintained consistent track record of boosting sales levels and
improving customer satisfaction.
Earned topscore in associate commitment district-wide.
CV skills example
The skills section of your retail manager CV is no afterthought. In fact, it may be the most important part of your document. Why? Because it is among the first places recruiters look. You've made it past the ATS, but do you really have the skills they seek?
The skills you choose to emphasise also say a lot about what you think is most important to do your job well. 
Your job requires you to be an excellent leader who can manage both staff and customer service communication. You also must understand your retail vertical, budgeting and inventory, and the best ways to display merchandise. Those are huge categories. Try breaking them down to offer a more pointed description of your abilities.
Expert tip
Instead of …
Try …
Management skills

Clear delegation to staff 

Scheduling expertise

Precise budgeting

Excellent communication

Active listening

Diplomatic communicator

High-level presentation skills

Customer service

Cultivate customer relationships

Problem-solving with customers
Adaptable skills section cv example
Retail Store Operations
Revenue / Sales Growth
Store Opening & Closing
Customer Satisfaction
Cash Handling
Budgeting
Staff Hiring
Store Promotions
Scheduling
Employee Training
Ability to Multitask
Regional Store Meetings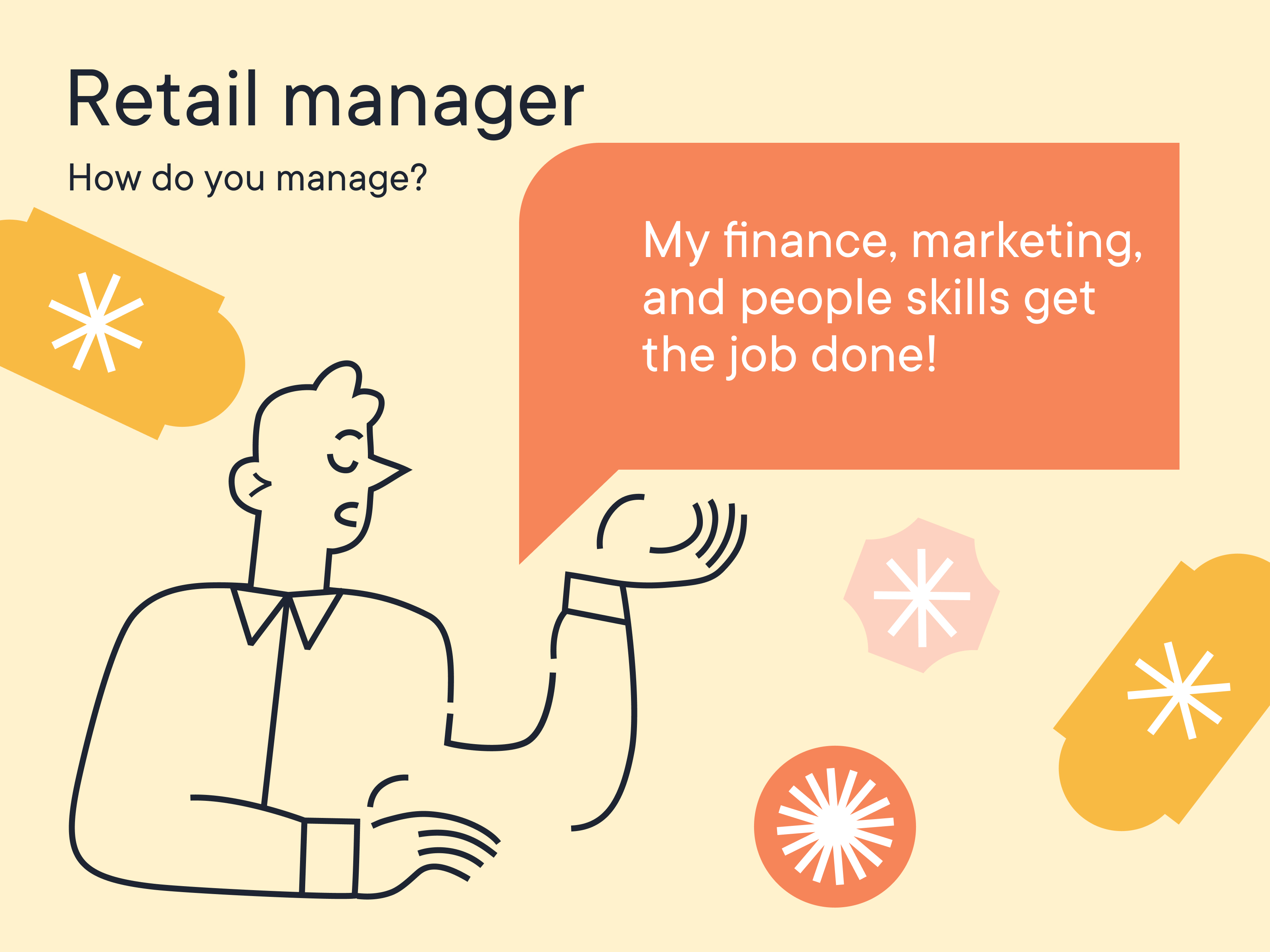 CV education example
While there are no formal university degree requirements for a retail manager, many store managers have an educational background in business, sales, or retail marketing. Some large companies have their own training programs as well.
To get a university degree, you will need A levels or an equivalent qualification. You may also take a college course such as a level 3 diploma in retail skills management or a level 4 diploma in retail management.
Whatever your qualifications, list them here. Consider including certifications or any awards you have earned. If you have earned many retail honours and you have space, break them out into an Accolades or Honours section.
Adaptable education cv example
Bachelor of Science in Business Management , Cardiff University, Cardiff
September 2018 - Present
CV layout and design
One of the components of a retail manager's job is creating pleasing visual displays of merchandise, or overseeing the creation of these displays. That makes the layout and design of your CV directly relevant to your qualifications.
Apply the same principles you use on the job: eye-catching, organised, easy to search. Once again, take care with the image you project. First impressions matter. 
To make your life easier, start with an HR-tested and expertly-designed CV template. You can always customise it, but you won't have to worry yourself with formatting and you will find cover letter templates to match.
Key takeaways for a retail manager CV
Looking for a retail manager job may be a tough row to hoe in the current environment, but a great CV will help
The more detail you can include throughout your document, the better your case for employment will be
Customise your document every time you apply for a new position; this will help you impress the recruiter and make it past the ATS
Adopt a tone consistent with the store merchandise and culture; choose a CV design, such as one of ours, that coordinates as well.