The best supermarket CVs do what the end caps on grocery aisles do for sales items: They entice the customer (or hiring manager) to take notice. If you're looking for the best way to highlight the skills and experience you have (or to get started in the job market), you're in the right place.
Resume.io provides powerful resources for job hunters, including CV guides and CV examples for dozens of professions. Once you've gathered all the information you need, you can take advantage of the easy-to-use CV builder to get your job search started. Let us help you show off your attributes and grow your supermarket career now. 
This CV guide, along with the corresponding CV example will cover the following topics:
What responsibilities does a supermarket employee have?
How to write a supermarket CV (tips and tricks)
The best format for a supermarket CV
Making the most of each section of your CV (summary, work history, education, skills)
Professional CV layout and design hints.
What does a supermarket employee do?
Supermarket jobs are as varied as the food the stores sell. Employees may work the register or bag items in the checkout line, restock shelves, or ensure no outdated products remain on the shelf. Floor workers assist customers in finding items on their grocery list or in carrying groceries to cars.
But that's just the beginning. Supermarket workers may also work a specialty counter, such as cheese, deli, or bakery. As they rise in the industry, they may become managers or buyers. 
Supermarket job market and outlook
If you're looking for the best paying grocery store job, target your supermarket CV to Lidl. The German company recently announced across the board wage increases in the UK. New hirees will earn £10.10 an hour outside of London, and £10.85 to £11.35 within the M25 motorway, the BBC reported.
Tesco announced it will increase pay 5.8% to £10.10 and Sainsbury's said it will pay the Real Living Wage of £9.90 to all workers and the London Living Wage of £11.05 to those in outer London, the Retail Gazette said. 
How to write a supermarket worker CV
Before you get started on a supermarket CV, you need to understand the components. Your CV should contain the following elements:
The CV header
The CV summary (aka profile or personal statement)
The employment history section
The CV skills section
The education section
When you do begin to write, try to adopt a tone and style that fits with the grocery store to which you are applying.
Expert tip
Target each job and beat the ATS
These sections are simply outlines for you to fill in the details that make you a great candidate for the job. Since you may target different supermarket jobs, you will adjust each of these sections to the skills within the job description.
There are two key reasons for this:
To show the hiring manager that you want the specific job they are hiring for
If you are applying online, you need to get past the Applicant Tracking System (ATS).
This HR software scans your information and then ranks your CV based partly on keywords and phrases from the job listing. There's no surefire way to make sure you reach a human being, but inserting those important words into your CV (while maintaining the natural flow of your writing, of course) will give you a better chance.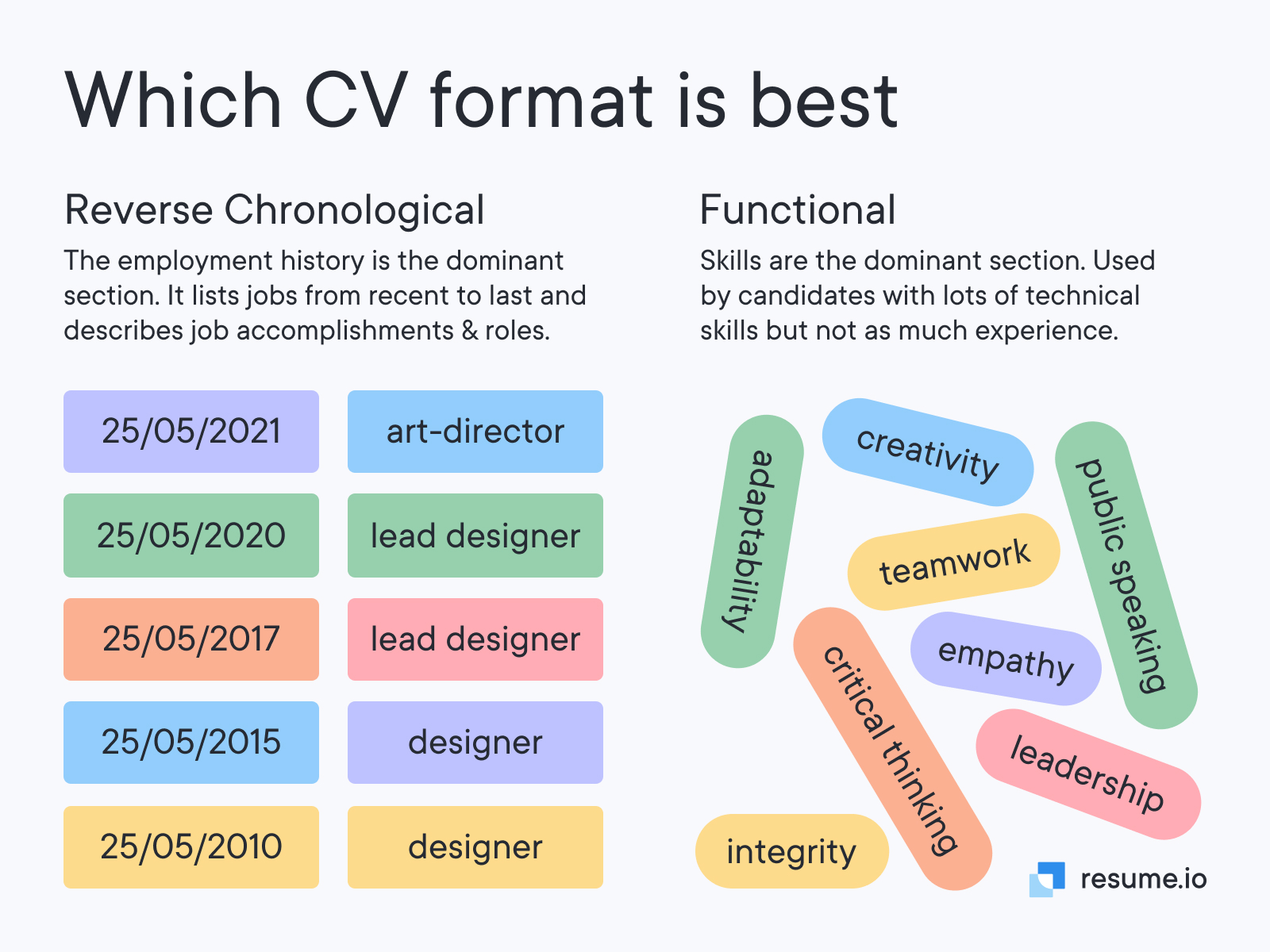 Choosing the best CV format for a supermarket job
The best format for a supermarket CV is generally the reverse chronological order structure. This format mostly affects the employment history section of your CV. Within it, you should list your most recent position and work your way back. If you are looking to enter the job market for the first time, you will find more information in this resume formatting blog.
There are several circumstances in which you may choose a different format:
If you are looking to re-enter the job market after a long gap
If you trying to change careers
If you have a long, varied job history.
In those cases, you may want to consider one of the chronological or hybrid CV formats we suggest.
The functional CV format expands the skills section and contracts the employment history section. It is mostly used for positions that require scientific expertise or highly technical skills.
CV summary example: food for thought
Why do you want to work at a supermarket, particularly this one? Why should the hiring manager interview you? The CV summary, or profile, gives you a chance to answer these questions and spice up what can otherwise be a bland document.
The CV summary sits at the top of the page and offers a glimpse of your work style and personality as well as showing off the accomplishment or trait you believe will give you an edge in getting the job. This may not be the first section a recruiter reads (generally they look at your most recent position and skills section), but it may be the one that makes the difference.
If you would like to see more than just our CV sample text below, you can check out our related examples. Start with the Lidl CV example, especially since the grocery giant ranks as the top paying supermarket. Then, check out the retail CV example. The sales assistant CV example may also help guide you. 
Adaptable cv example
Experienced and energetic supermarket worker, dedicated to ensuring the smooth running of the store. Adept in completing essential tasks like stocking shelves and processing register transactions to ensure that customers enjoy the best supermarket experience possible. 
Employment history sample: polish the apple
The employment history section of your supermarket resume details the work you have done in the past and what you are doing now. Bulleted lists will help you save space, as will eliminating unnecessary words such as "I was responsible for." Instead, cut right to the chase by starting each item with a strong, action word.
Use items that are directly related to the position you want so that the hiring manager knows you can do the job. Check out our CV sample for the employment history section further down.
Expert tip
Focus on achievements instead of responsibilities when possible. For example:
Reduced waste by 20% by consistently rotating older stock to front of shelf
Instead of:
Responsible for moving older stock to the front of shelves.
Adaptable cv employment history example
Supermarket Attendant, Osgood's Grocery,London 
Aug 2019 - May 2022 
Worked in the bakery and adhered to all "Best Fresh" department policies.
Followed store guidelines and food safety protocols.
Consistently worked to provide a clean and organised shopping environment for customers.
Earned the 2020 Star Employee Award for reliability and productivity.
Applied great attention to detail to thoroughly and accurately complete tasks.
Cooperated with all store employees and followed directions.
Supermarket Cashier, Food Source, London 
Jul 2013 - May 2019
Worked to provide customers with a friendly and efficient checkout service.
Quickly and accurately scanned, priced and bagged products.
Processed all forms of payments (i.e., cash, credit, checks, coupons, vouchers, gift cards, etc) in accordance with company guidelines.
Correctly operated the cash register and followed all cash handling procedures.
Performed all store duties in accordance with all regulations as they pertain to front-end operations.
Remained up-to-date about store campaigns, sales, and new product offerings.
Consistently maintained a clean, neat, organised and safe work environment.
Reported to the store manager and maintained an organised and accurate work log.
CV skills example: your best on display
The skills section of your supermarket CV offers hiring managers a quick way to know whether you have what they need. That means matching the list of your attributes with those listed in the job description. It also means adjusting your skills section for each different position.
Within the skills section, list 5-7 attributes that make you a great choice for the supermarket position.
Take stock of all your skills. Consider making a list for yourself of all your attributes. Then use that list to build the best skills section for each job. Remember soft skills such as communication, organisation, and time management. These may seem basic, but they are attributes that employers seek in all their hires. 
Add in the hard skills you have learned on the job. What cash register systems have you used? Have you completed inventory checks? Designed produce displays? Remember the ATS as you curate your list. Below you'll find the skills section from our CV sample.
Adaptable cv skills section example
Ability to Work in a Team
Customer Service
Mathematical Skills
Communication Skills
Highly Organized
Dedicated Team Player
Supermarket CV education example
Higher education is not usually a qualifier for supermarket jobs. The education section of CV should, however, list any secondary educational experience you have. You may also consider listing any training you have completed that relates to your targeted supermarket job. Make sure to check out the CV sample for the education section below.
Adaptable cv education example
A-levels: Maths (A), Physics (A), Chemistry (A), Kingsbury High School, London 
Sep 2009 - May 2013
CV layout and design: make it look appetising
As a supermarket worker, you know that appealing looks are part of food enjoyment. Appealing looks are also a key component of your supermarket resume layout and design. First impressions count, and you need to give a professional, organised impression with your CV layout and design if you want the job.
Here are some do's and don'ts for developing a strong visual resume.
Do
Choose a header style that stands out
Use one typeface for your headings and a different one for your body text
Proofread and have a friend double check before you hit send
Don't
Use a lot of colour
Minimise your margins or reduce the font size to include more text
Get gimmicky with graphics or other visuals
Not a designer? No problem! Try one of our CV templates to get you on the right path quickly. 
Key takeaways for a supermarket CV
Adopt a tone and style that meshes with that of the grocery chain at which you are applying
Personalise each application to take into account the ATS, the different positions and companies you are targeting.
Remember to include soft skills as well as hard skills.
Take advantage of our adaptable CV sample to simplify the application process.