With 800 locations in the UK, Lidl is a favourite for grocery staples at cheap prices. Whether you're a frequent shopper looking to work on the other side of things or just ready to dive into the world of retail, a great Lidl CV can help you get your foot in the door.
With dozens of CV examples and expert guides, Resume.io is a leading resource for job seekers at any stage of their careers. Here's what we'll cover in this writing guide and corresponding Lidl CV example:
What does a Lidl employee do?
How to write a Lidl CV (tips and tricks)
The best format for a Lidl CV
Advice on each section of your CV (summary, work history, education, skills)
Professional CV layout and design hints.
What does a Lidl employee do?
Lidl employees are the support system that keeps each store and distribution centre running efficiently. The first Lidl store opened in the 1970s in Germany, and the company has since spread across Europe and the world, becoming a household name for budget-friendly food products and household items.
Lidl employs people to work across a variety of fields including logistics, marketing, and management, but in this guide we'll focus on the most accessible type of Lidl position: the hourly employee or stock clerk. These associates are responsible for placing items on shelves, handling customer transactions, managing inventory and keeping the store clean and presentable.
Statistical insight
The first Lidl store in the UK opened in 1994 and the company now employs 23,000 people across the country. 
How to write a Lidl CV
Your Lidl CV should contain many of the basic elements that keep it organised and on-topic. Here are the can't-miss sections:
The CV header
The CV summary (aka profile or personal statement)
The employment history section
The CV skills section
The education section
If you've worked in supermarkets or in retail before, then it's important to highlight similar duties or skills you've picked up that will make you a great fit in the Lidl environment. Use the job description to determine the traits that are most important to the hiring manager and place them in the appropriate sections of your CV. This will also help you beat the applicant tracking systems (ATS) in use at most large companies, like Lidl.
If this is your first position or you have no related experience to show, don't fret! Most Lidl managers will be used to training new employees and the skills you need to succeed can easily be learned on the job. That means that your Lidl CV is the place to highlight traits that show how you can quickly transition into the role — think being a quick learner or able to follow directions.
Choosing the best CV format for a Lidl job
The best CV format for a Lidl job will largely depend on whether or not you have previous experience to show. If you do, then the reverse chronological CV format will be your best bet. This format focuses on the employment history section where you can list previous jobs and showcase the duties and accomplishments completed in each. This is also the preferred CV format for hiring managers and the ATS because it makes your skills and experience very clear. This is also the format you'll find on our adaptable Lidl CV sample.
Expert tip
If you don't have previous experience to show, you may consider an alternative CV format such as the functional or hybrid models. While these formats are great for highlighting your skills, they can also make you come across as inexperienced, so proceed with caution. Check out our CV formats blog for more guidance.
CV header
Put some thought into your CV header design as a way to make a strong first impression and set your job application apart. This is where your name, occupation title and contact information is prominently displayed so hiring managers notice it right away. It's also easy for them to find later when getting in touch for an interview.
CV summary example
The summary is the one place on your CV where you'll be able to speak directly to hiring managers and call their attention to your strengths and skills. These 3-5 sentences allow you to describe your previous experience, while adding a touch of personality. For a Lidl position, your summary needn't be long — it should simply serve to draw the employer's attention and encourage them to keep reading the rest of your CV.
Adaptable CV summary example
Lidl store manager with 8+ years of industry experience. Self-motivated and committed to fostering an environment of productivity and growth. Proven success in exercising exceptional leadership to effectively manage operational and personnel-related challenges, with measurable outcomes.
Expert tip
The summary is the most free-form part of your CV, so you may want to take more inspiration from our related CV examples. Check out our:
Employment history sample
The employment history section is one of the most important parts of your Lidl CV. This is where you'll list any previous employment going back 10 years (or as much as you have). Make sure to include the job title, employer name, dates worked, and location. Under each subheading, create a list of 4-5 bullet points that describe the duties completed and skills used in the job. For maximum efficacy, choose examples that most closely align with the needs of the employer, as outlined in the job description. See how this is done in our Lidl CV sample below.
Adaptable CV employment history example
Store Manager at Lidl, London
April 2017 - August 2023
Achieved and maintained a consistent customer satisfaction rating of 94% through proactive assistance, personalised recommendations, and swift issue resolution.
Orchestrated a high-performing team of 40+ employees, driving a 20% increase in daily sales by optimising staff schedules to match peak customer traffic.
Streamlined operations by implementing a new task delegation system, resulting in a 30% reduction in average task completion time.  
Drove KPI improvements by analysing sales data, identifying opportunities, and implementing strategies contributing to a 12% growth in average transaction value over six months. 
Championed safety protocols, resulting in zero workplace accidents over a 12-month period, and conducted weekly safety briefings to foster a secure working environment.
Store Associate at Lidl, London
January 2015 - March 2017
Delivered Lidl's renowned shopping experience by actively engaging with customers, attaining a 98% customer satisfaction survey rating.
Played a pivotal role in store operations, consistently achieving a 100% accuracy rate in stocking, replenishing shelves, cleaning, and supporting bakery operations. 
Demonstrated exceptional efficiency at the register, processing an average of 30 transactions per hour with an accuracy rate of 99.5%, ensuring a smooth and timely check-out process for customers.
Recognised for outstanding teamwork and reliability, contributing to the team's "Employee of the Month" award twice within six months.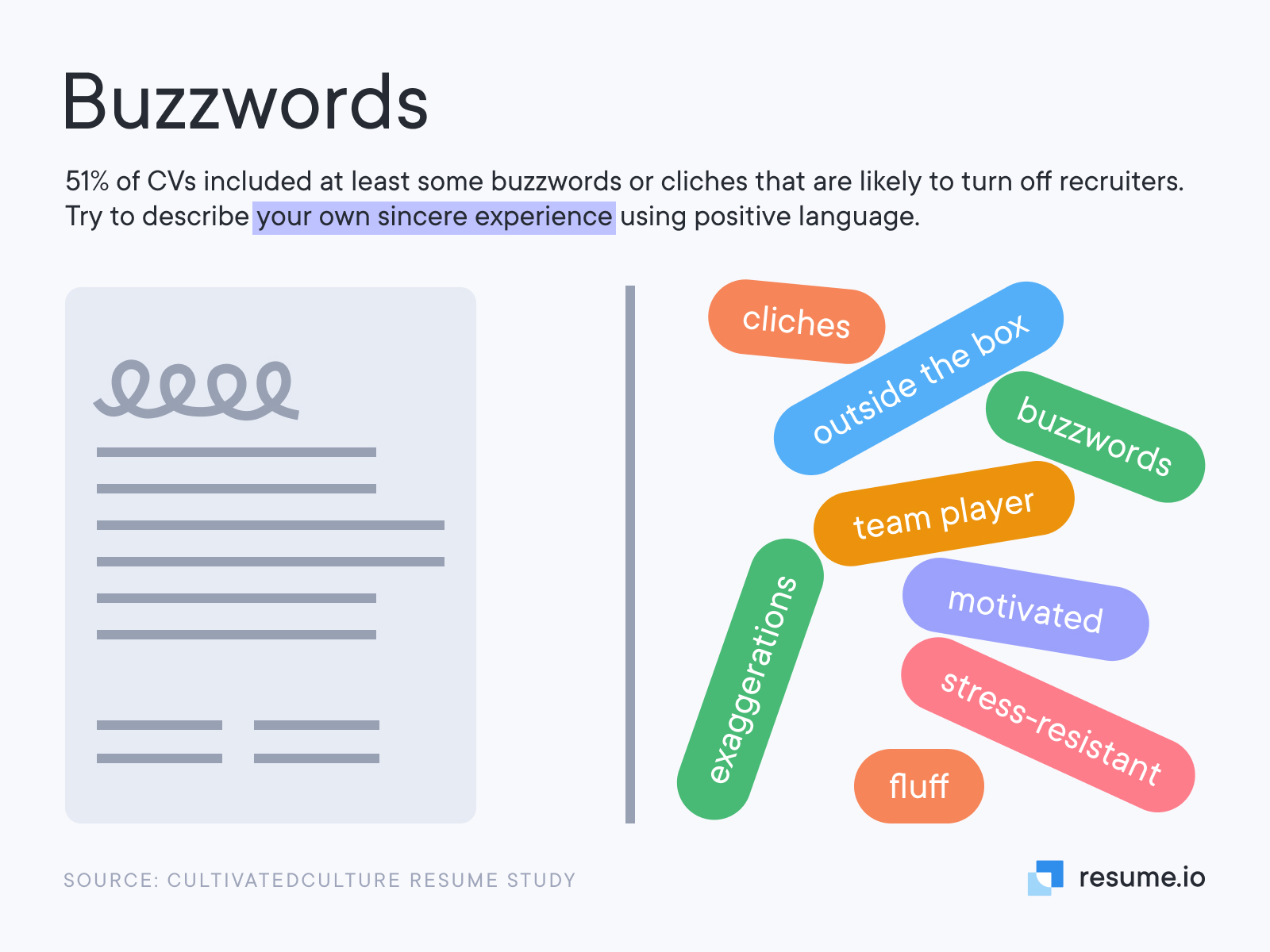 CV skills example
Skills are at the heart of your Lidl CV. Of course, you'll be able to learn new ones on the job, but any relevant abilities you already possess can place you one step closer to landing the interview. The bullet point format of the skills section means you'll need to choose only the most pertinent skills and preferably ones mentioned in the job description to help increase your chances of passing the ATS.
Be sure to include a mix of hard skills — technical ones like register transactions or food safety practices — and soft skills, also known as personal attributes and behaviours. Both of these are essential for this customer service role where you'll need to stock products and answer questions with a smile. Check out the skills section from our Lidl CV sample below.
Adaptable CV skills section example
Customer Relations
Effective Team Leader
Team Player
Time Management
Employee Recruitment & Retention
Knowledge of Food
Lidl CV education example
While formal education may not be required for a Lidl position, the education section helps the hiring manager understand more about your background. Make sure to list all degrees and diplomas here, starting with the most recent and working backwards in order from highest to lowest level. If you hold a bachelor's degree or higher, there's no need to include your secondary school education. Any awards, certificates, or courses can also be added to this section. 

Check out our education resume sample below for guidance.
Adaptable CV education example
A-levels: Commerce, English, Mathematics, Kingsbury High School, London 
Sep 2013 - Jun 2015 
9 GCSEs including Mathematics and English, Westminster City School, London 
Sep 2011 - Jun 2013
CV layout and design
You don't need a degree in graphic design to land the Lidl job, but you do need an attractive CV layout and design. Paying attention to the appearance of your CV can put you miles ahead of other applicants who threw theirs together at the last minute.
For a Lidl position, your layout needn't be complicated. Make sure to keep a balance of white space to text and create a header that highlights your name and contact information. Stick with the same professional font styles across your CV and, of course, double check for any spelling mistakes or typos before you submit.
Expert tip
An expertly-designed CV template can help take the stress out of the application process by allowing you to focus on the writing while eliminating formatting mistakes.
Key takeaways for a Lidl CV
A thoughtful CV that shows your commitment to customer service and a willingness to learn can help you quickly land the interview for a Lidl position.
Use your summary to draw attention to the key elements of your experience while adding a touch of personality.
A reverse chronological CV format is the best choice for candidates with previous employment history to show.
A great page layout and eye-catching header helps your CV get the attention it deserves. Check out our adaptable Lidl CV sample for more inspiration.