With annual retail sales set to hit £500bn, it is no secret that the consumer is one of the key drivers of the UK economy. We have long been a nation of traders and shopkeepers, and Tesco has been leading the way since 1919. While its motto of "every little helps" may have been undercut somewhat by the hard discounters from Germany, this iconic British brand is an undeniable flagship for the British retail industry. In retail, working for Tesco is a badge of honour. This CV example and writing guide will explore some of the nuances.
At Resume.io, we hope to help you to beat the competition to that coveted role. We've got lots of resources to help you get onto that shop floor and pin on the badge. Our CV examples, expert-backed writing guides will give you plenty of food for thought. Our attractive CV and cover letter templates should make your application stand out — as your future boss makes their choice from the shelf, how will you package your retail career story?
With this guide, and corresponding CV sample, we will cover the following:
What does it mean to work for Tesco?
How to write a Tesco CV (plus a Tesco CV example)
Select the right format for a Tesco CV
Advice around each section (summary, work history, education, skills)
Thoughts about design and formatting considerations.
What does a Tesco employee do?
Whether you are a "Tesco colleague" starting out on the shop floor, a shift leader, or work in a variety of head office roles, you are part of a tight-knit retail team at Tesco. Every role is oriented towards getting the right product at the right price to their customers (and hopefully securing their ongoing loyalty). 
Stores and distribution are all about the mechanics of moving products, ensuring a seamless in-store retail experience. These roles are broadly divided into four areas: Tesco colleagues, distribution and fulfilment colleagues, transport colleagues, and management colleagues.
Office and corporate functions are far broader, encompassing any number of roles from: finance, marketing, people, legal, property, communications, retail support, strategy, and customer engagement.
Last, but not least, the commercial department for any retailer is the engine room of their product offering. Roles in commercial at Tesco include: buying, merchandising, supply chain, product development, category planning, sourcing, and product quality.
The requirements for these roles are incredibly diverse, so while we are sharing some general advice on writing a Tesco CV in this guide, we have decided to focus on a shift leader example. This is a position that many Tesco colleagues will aspire to, and it is a springboard to departmental and store management roles.
Statistical insight
According to Payscale, the average hourly rate for a Tesco colleague is £9.31 per hour. Shift leaders can make up to £14 per hour, and store managers up to £26 per hour (far higher for the larger stores). Retail does not pay as well as some other careers, but it is fantastically rewarding and there is a consistent demand for quality staff.
Some retail employees may be tempted to make the move over to a supplier, especially if they are in a head office role. Retail is detail — many people work in the same role for many years, accumulating experience that few others can match.
The Tesco culture is centred around "serving their customers, community and planet a little better every day." Understanding the customer starts with the iconic Tesco clubcard, and a data-driven approach to decision making. Few retailers have a better grasp of the detail than Tesco. They are obsessive about it. 
Your Tesco CV should reflect their passion for the customer and their hunt for product perfection. In this case, you are the product so how should you sell yourself to them?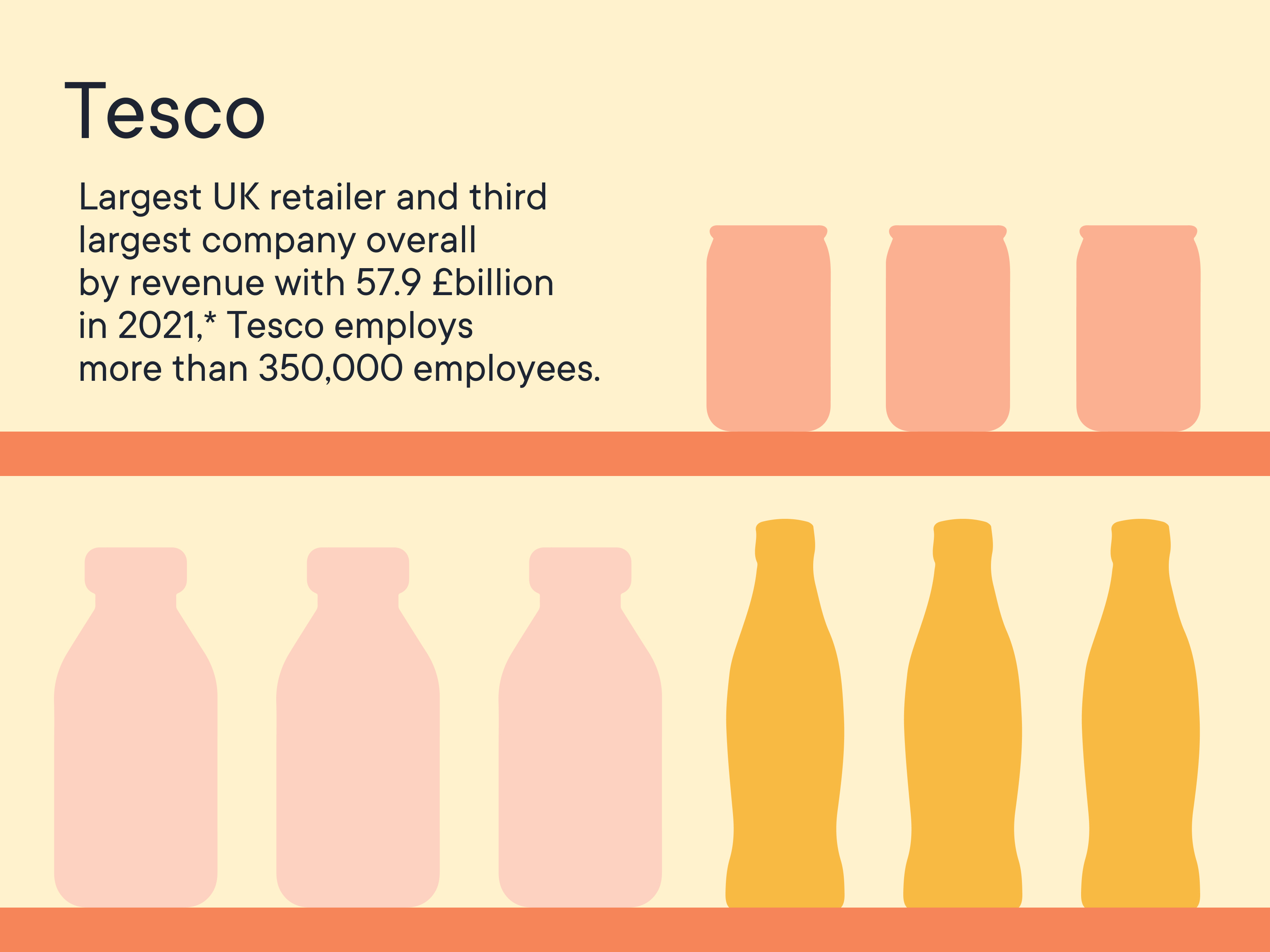 How to write a Tesco CV
No matter which Tesco role you are applying for, a successful Tesco CV will contain the following sections:
CV header
CV summary (or personal statement)
Employment history section
CV skills section
Education section
When you work in retail, you understand the importance of structure. Deciding which aspects of your retail career to include in which section will be key to starting your job search on the right foot. Your CV will share the content that you wish to discuss during an interview, so be thoughtful when you come to writing the content. Most importantly of all, tailor the Tesco CV to the job description. A retail associate at Tesco may have different responsibilities to one at a boutique fashion retailer, for example.
A Tesco CV for a shift manager, for example, should outline their managerial responsibilities, the projects that they have contributed to (such as large range changes), and detail their customer service achievements. When you delight your customers, they come back. This can be tracked in the sales and margin figures – you don't have to work in commercial to back up your successes with statistics.
Expert tip
Tesco CVs will be analysed by Applicant Tracking Systems (ATS) to assist with the large volumes of applicants. This is especially the case for store roles where busy store leadership teams do not have the time to go through every CV in detail. Think about the keywords that you are using in your CV and make sure that there is a decent crossover with the job description. Do not flirt with ATS rejection — play the game.
The final task when you come to perfecting the Tesco CV is to check it for mistakes. Missing a digit from a price point can cost a retailer dearly, so focus on your attention to detail.
Choosing the best CV format for a Tesco CV
When it comes to any retail CV, a reverse chronological format is best. Many retailers start their careers at the very bottom on the shop floor, so a CV that highlights your progression right up to your most recent role will help to show just how dedicated you are to your ongoing development.
It is also fair to say that people come into retail from other customer-oriented industries, so leading with your most recent experience will help to plead your case. Check out the layout options in our guide or look at our CV sample.
CV summary example
The summary of your CV is your elevator pitch, but the elevator is only going one floor down. You have ten seconds and a couple of brief sentences to summarise just why you are right for the role. This involves matching a deep appreciation of the challenges ahead with a justification of why you are the person to tackle them. 
Be memorable and confident. Don't shy away from ambition and tell the employer why you want to join them. Consider leading with an impressive sales stat or a surprising achievement. Whatever you share in the Tesco CV summary, make sure that it will help you to stand out. That is the only way that you will get the job. Look at our summary CV example.
Adaptable summary CV sample
Strong background in delivering exemplary customer service to diverse customer-base within busy retail and grocery sales environments. Talent for building rapport with customers and addressing diverse issues promptly and professionally. Recognised by peers and management for natural supervision and training talents.
Employment history sample
You might think that anyone can work in retail, but when you are putting people in front of customers for eight hours every day, you need to be sure that they are made of the right stuff. If you are applying for a store role, ensure that your employment history details your customer service credentials. If you work in head office, a track record of customer-centric achievement is vital. Use bullet points and action verbs to highlight your accomplishments.
Adaptable employment history CV example
Shift Leader, Tesco, Edinburgh
April 2021 - Present
Oversee high-performance teams of Tesco Colleagues in daily store activities.
Develop and post schedules for multiple shifts.
Monitor daily activities of staff to ensure safe, cleanly environment for customers and staff.
Asked to serve as Acting Manager on several occasions.
Tesco Colleague, Tesco, Edinburgh 
February 2018 - April 2021
Ensured a seamless and personalised experience in serving customers at checkout stations.
Continually demonstrated knowledge of products and services offered throughout in assisting customers with enquiries.
Promoted to Shift Leader due to strong leadership skills and ability to handle shifting priorities within a fast-paced environment.
Store Associate, Foot Locker, Edinburgh 
March 2016 - February 2018 
Assisted customers with selecting purchases within a retail environment.
Interacted with customers throughout shift, aiding with shoe sizing and offering assistance in trying on shoes.
Operated POS system, handled cash, and entered information into sales database.
Regularly recognised and awarded for meeting weekly and monthly sales goals.
Tesco CV education example
Education is not a top priority for most retail roles — especially at low-mid management levels as many people will have developed their careers within the industry. There are some retail qualifications that are worthwhile and careers in head office will usually require some sort of university education. List your educational institution, the name of the qualification and when you received it. This is definitely a place to list any retail-specific qualifications.
Adaptable education CV example
Higher National Certificate (HNC), Accounting, Edinburgh College, Edinburgh
September 2016 - May 2017
CV skills example
Retail is a complicated industry. It takes years to master some of the skills involved. Whether you work in merchandising or marketing, operations or customer service, sharing the skills that help you to do your job for your customers is an essential part of a Tesco CV. Some of the top-line retail skills are:
Retail management
Customer service
Experience with retail technology
People management
Commercial and sales focus
Have a look at the job description and think about the skills that you can link to an impressive job search story. Whatever you share in your CV will be analysed at a later point.
Adaptable skills section CV example
Store Management
Food Handling & Safety
Shift Scheduling
POS Systems
Staff Supervision
Tesco Store Policies
Customer Service
Creative Problem-Solving
Handling Customer Escalations
CV layout and design 
The layout of a CV may not be at the front of your mind, but think about the importance of a good-looking shelf presentation. The products may be the same, but great merchandising can truly influence customers' choices. Here are some CV layout rules to follow:
Do
Keep your CV layout simple.
Offer the hiring manager's eye a break – white space is important.
Use an easy-to-read font.
Don't
Be innovative with design.
Clutter the CV with too many graphics or visual elements.
Include graphs or pictures.
Not everyone is a design whizz, so have a look at our field-tested CV templates.
Key takeaways 
Tesco hires thousands of people every year for its stores and head office. The next one could be you if you think carefully about what you have to offer.
Tailor your CV for the role — not every retail job is the same, even if the title might be.
Share relevant stories in the work experience section — with quantifiable results.
Use our CV templates if you are not sure about how to do it yourself.