Every day, you review a flurry of incoming CVs. You know the score — you're well-versed in what employers want and what they certainly do not. However, when it comes to finding a new job and writing your CV, you might find yourself stumped. How do you get started?
As a recruiter, getting this part of the process right can be a minefield. Since it's your industry, there's mounting pressure to write an absolutely flawless application. That expectation is enough to give even the most talented of wordsmiths writer's block. If that scenario sounds familiar and you're unsure where to start, you've come to the right place.  
Here at Resume.io, we have everything you need to support your job search from expert writing guides to a full library of CV examples. Whether you're looking for a way to level up or want to slide into an entirely new sector, we've got your back. In the following writing guide, along with the accompanying recruiter CV sample, we will be delving into: 
What a recruiter does on a daily basis
How to get started with your recruiter application with a CV example
Advice on choosing the best format for your CV
Help with what to write for each section of the application
CV design and layout tips to help you stand out from the crowd
What does a recruiter do?
Recruiters work on behalf of businesses to screen applicants for job positions. That usually involves posting job advertisements, reviewing incoming applications, reaching out to candidates, conducting interviews, and shortlisting professionals. The aim is simple: you have to find the right professional to fill the post.
That's the basic job description. However, there's a whole lot more that goes into being a successful recruiter. At its heart, this job is about people. How well can you get to know candidates and how can you determine whether they are the right fit? The longer you are in the sector, the more adept you will become at selecting the perfect person for the job.
Statistical insight
Looking for a new job? The recruitment sector may be calling your name.
While the pandemic harmed the recruitment sector, it has bounced back. The UK has the third largest recruitment industry in the world, according to Rutherford Research. The latest data shows that there are around 40,000 recruitment agencies in the country.
Recruiters may work for one company or for an agency that handles multiple clients. You may find yourself neatly nestled in the Human Resources (HR) arm of a business or working for a talent acquisition company. Either way, the core job criteria will be similar.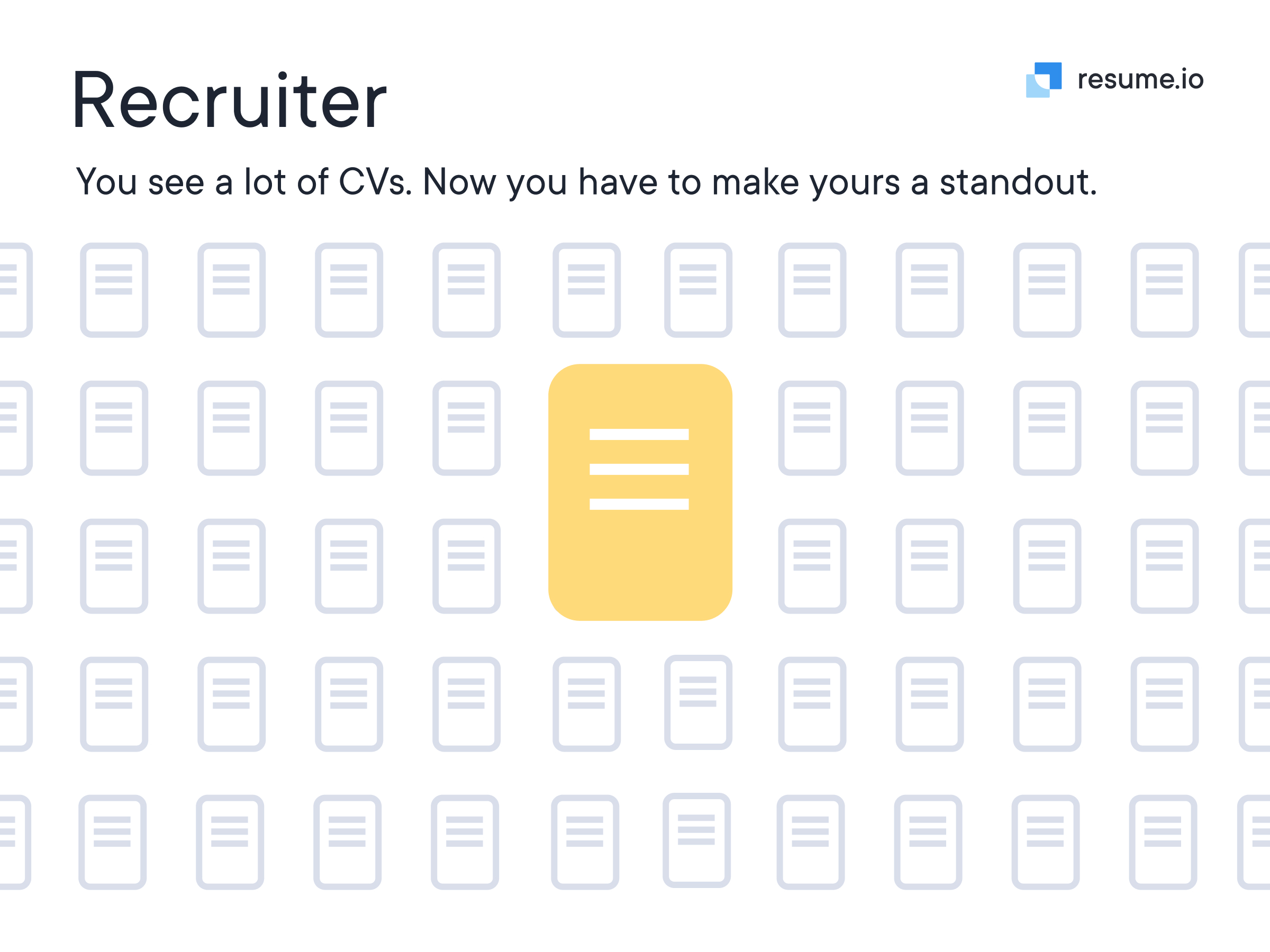 How to write a recruiter CV
Chances are, you've seen your fair share of CVs in your time. Yes, your average work day may consist of your sifting through hundreds of applications. But do you know how to write yours? Let's kick things off with the basics. Your recruiter CV should include the following: 
The CV header
The CV summary (aka profile or personal statement)
The employment history section
The CV skills section
The education section
Using the above structure means that your CV will have a logical flow. When the hiring manager looks at your application, they will have no problem figuring out whether you're a good fit for the position. As you already know, recruiters have to review a large selection of applications for every position they advertise. Make the reader's job as easy as possible.
If you're looking for more general advice on this topic, you can take a look at our full CV writing guide. The long-form post gives you the main details you need to know when you're creating a stellar application. Also, take a look at our CV sample for inspiration. 
Expert tip
Pepper your CV with the right keywords! 
You will already know what an Applicant Tracking System (ATS) is. You have probably used this software when recruiting candidates for roles. It filters incoming applications and ranks them by how well they match the job criteria. This system works by reviewing how many specific keywords each CV has and whether they fit the original advert. 
If you want to beat the bots, include some choice keywords on your recruiter CV. Take a look at the original job advertisement and pick out some of the main words and phrases used there. Sprinkle these throughout your CV to increase your chance of success.
Choosing the best CV format for a recruiter
You know the drill. In general, the best approach is to use the reverse chronological format on your CV. That means that you start at the top of your page with your most recent accolades. As you work your way down the page, work your way back in time. The hiring manager will be used to this structure and it allows them to quickly review your application. 
Of course, there are always exceptions to the rule. If you are new to the world of recruiting or you're a career-hopper, you could use the functional CV format instead. This highlights your talents and skills rather than putting too much emphasis on your (lack of) experience.
Expert tip
Looking for some inspiration? If you're not sure where to start when laying out your application, take a look at some of our related CV samples: 
CV summary example
Also known as your profile, your CV summary is likely the first thing the hiring manager will see. Think about it — when you are reading applications, this is the most interesting part. The freeform section consists of a few sentences and should "hook" the reader's attention. 
Pick your words carefully. You don't want to waste space with superfluous phrases. To save on your word count, get rid of any openers such as "I am," "I have," or "I will". Get straight to the point and show the hiring manager that you're not about to waste time. 
Often enough, it can be hard to know what to write here. If you are struggling to get started, pick out one of your greatest achievements and focus on that. For example, you might highlight your "proven track record of hiring success" or your "speed and accuracy". Wherever possible, you should substantiate your claims with some hard evidence. 
Adaptable summary CV sample
Accomplished recruiter with a proven track record of sourcing and securing top talent for a wide range of business needs. Extensive history of successfully elevating business productivity by matching best-fit talent to diverse roles and organisations. Demonstrated capacity for driving team and company evolution, influencing work cultures through strategic talent acquisition and development.
Employment history sample
If you're using the reverse chronological approach to your CV, you will start with your most recent job at the top of this section. You should include the standard information at the top here:  that is the company name, your position, and the dates of employment. Below that, you can bullet point your main job duties and any special achievements. 
Once again, you don't want to waste space. Keep your sentences short and to-the-point. If you have a habit of writing too much, ask yourself what value each bullet point has. What is it telling the hiring manager about your professional experience? And, crucially, is it likely to help you get a job interview? If the answer to that last question is no, cut it out entirely. 
Adaptable employment history CV example
Recruiter, Exeter Online Inc., Exeter, UK 
January 2018 - April 2023 
Managed the full talent life-cycle, from sourcing and acquisition to placement and ongoing development.
Elevated management culture, onboarding new leadership roles.
Headed succession planning, sourcing talent for all organisational levels to maintain streamlined business operations.
Cultivated and nurtured a robust pipeline, leveraging relationships with local universities and employment agencies to secure a consistent stream of high-potential talent.
Recruiter, Digitas, Inc, Exeter, UK 
April 2012 - December 2017 
Partnered with leadership across all departments to co-ordinate and execute talent recruitment operations, aligning sourcing strategies with key business and department needs.
Leveraged Applicant Tracking System (ATS) and Human Resource Information System (HRIS)  to vet and review candidates, identifying best-fit talent for open roles.
Recruiter, UK Staffing, Exeter, UK 
September 2009 - April 2012 
Consulted with clients to shape and execute recruitment initiatives, building exceptional teams and work cultures in line with client goals.
CV skills example
What skills are you bringing to the figurative table? This is the part of your CV where you get to showcase your unique set of talents. As a recruiter, you will already know the value of combining both hard and soft CV skills. 
Hard skills include those that are specific to the recruitment. They may be marketing and sales skills, data analysis, or job advertisement creation. On the other hand, your soft skills may include communication, confidence, and interpersonal skills. Mix both into your CV! 
Adaptable skills section CV example
Talent Acquisition
Recruiting
Talent Pipeline Development
Business Needs Identification
Succession Planning
Talent Management
Training & Development
Job Advertisement Development
Applicant Tracking Systems (ATS)
Leadership Development
Recruiter CV education example
So much of recruitment is learned "on the job". You may not have a talent acquisition qualification. That's perfectly okay — hiring managers won't bat an eyelid. However, you still need to include a complete education section as part of your recruiter CV. 
Start with your most recent qualifications and work your way back in time. If you have won any awards or have any workplace-related training under your belt, you can pop it here.  
Adaptable education CV example
BA in Business Administration, University of Exeter, Exeter, UK 
January 2005 - May 2005
CV layout and design
Now that you know all there is to know about writing your CV, there's one last thing to cover: how it looks. You will know better than anyone that a messy, chaotic CV is a real turn-off. To help you get the design right, here are some expert tips you can use: 
Make use of white space. Spoiler: you don't have to cover every single part of your CV with content. Ensure that your application has space to breathe.
Choose a professional layout. There are loads of different layouts out there and choosing can be tough. However, you should make sure that you pick a design that reflects your professional personality. Keep it formal and slick.
Don't use too many fonts. Feeling creative when it comes to the typeface? You might want to curb your enthusiasm. Choose just one or two fonts to use throughout the document. That will give it a uniform aesthetic.
Key takeaways for a recruiter CV 
The British recruitment industry was hit hard by the COVID-19 pandemic. However, it has started to bounce back. It's the ideal time to land yourself a job!
As a recruiter, you already know the basics of CV writing. However, you should take the time to optimise your application for the ATS.
When it comes to the design of your document, keep things simple. Overly flashy CVs with loads of colour and imagery can do more harm than good.
Take all of the hassles out of the process by using our field-tested CV templates!