In this blog post we discuss the top tips on identifying when and how a funny cover letter could work for you. Comedy is not for everyone, but by following our tips you're sure to end up with a quality cover letter that makes you stand out for all the right reasons.
You may have seen a few funny cover letters floating around the internet. Perhaps you've even ended up asking yourself whether it's worth trying it yourself. . The truth is that injecting humor into your writing is a risky balance to nail. However, in some cases, it could be the key to making your profile stand out from other candidates. 
This blog post is here to help you to identify whether a light-hearted approach can be the right way to highlight your unique selling points as a job candidate. So, if you want to stand out from the crowd, we're here to provide the considerations you need as you embark on writing your very own funny cover letter.
In this blog post we will cover:
Whether or not a funny cover letter is a good tactic for landing a job
The top characteristics of an effective cover letter (funny or not)
Mistakes to avoid when writing a funny cover letter
How you should approach writing your funny cover letter
Will a funny cover letter get you the job?
Depending on your profession, you may be thinking that the idea of writing a funny cover letter is one of two things: either genius or terrible. The truth is that funny cover letters are nothing new. While the ones you may have read online aren't always advisable to replicate, when it's done right some humor could be the key to standing out from other candidates.
Before you start writing, research the company and the people who work there. What is their company culture like? What is their sense of humor like? Is there room for a sense of humor in their company culture at all? Understanding your audience will help you tailor your humor appropriately.
The purpose of a cover letter, after all, is to help you land an interview. If you're attempting to land a role in an industry or organization where light-hearted humor is accepted, your funny cover letter is more likely to yield favorable results. If not, you might need to dial it back. Puns, sarcasm, or plain old silliness may be less appreciated in, say, a corporate law firm in comparison to a creative startup. 
At the same time, a funny cover letter could be an excellent approach to make a dry topic more interesting and enjoyable to read. There will always be a level of risk with a funny cover letter, but by injecting humor in reasonable doses and doing your research thoroughly, your jokes are more likely to land right. 
Consider the following when deciding whether or not to try your very own funny cover letter:
Will it be engaging or off-putting? This is the best way to hook a hiring manager's interest. If you have a natural flair for being funny, there's a good chance that you can capture that through your writing to engage the reader.
Will it show your value?   Hiring managers are looking for talent that they can retain and will do a good job. If you can show excellent communication skills through a well-targeted cover letter tone that is funny, it's a good sign that you would be a positive addition to their team.
What is the work culture? Industry and company norms play a big part in how your writing will be received. Does humor play a role in what's important to this prospective employer from what you can find out about them?
Whether your research leads you towards some subtle humor or full-blown satire, don't try too hard. Regardless of your position, the best jokes land when they feel like they're not overly engineered.
Expert tip
What to do when it's not the time and place for jokes
A funny cover letter isn't for everyone. If you want to read further into some more traditional tips, check out our comprehensive guide on how to write a cover letter.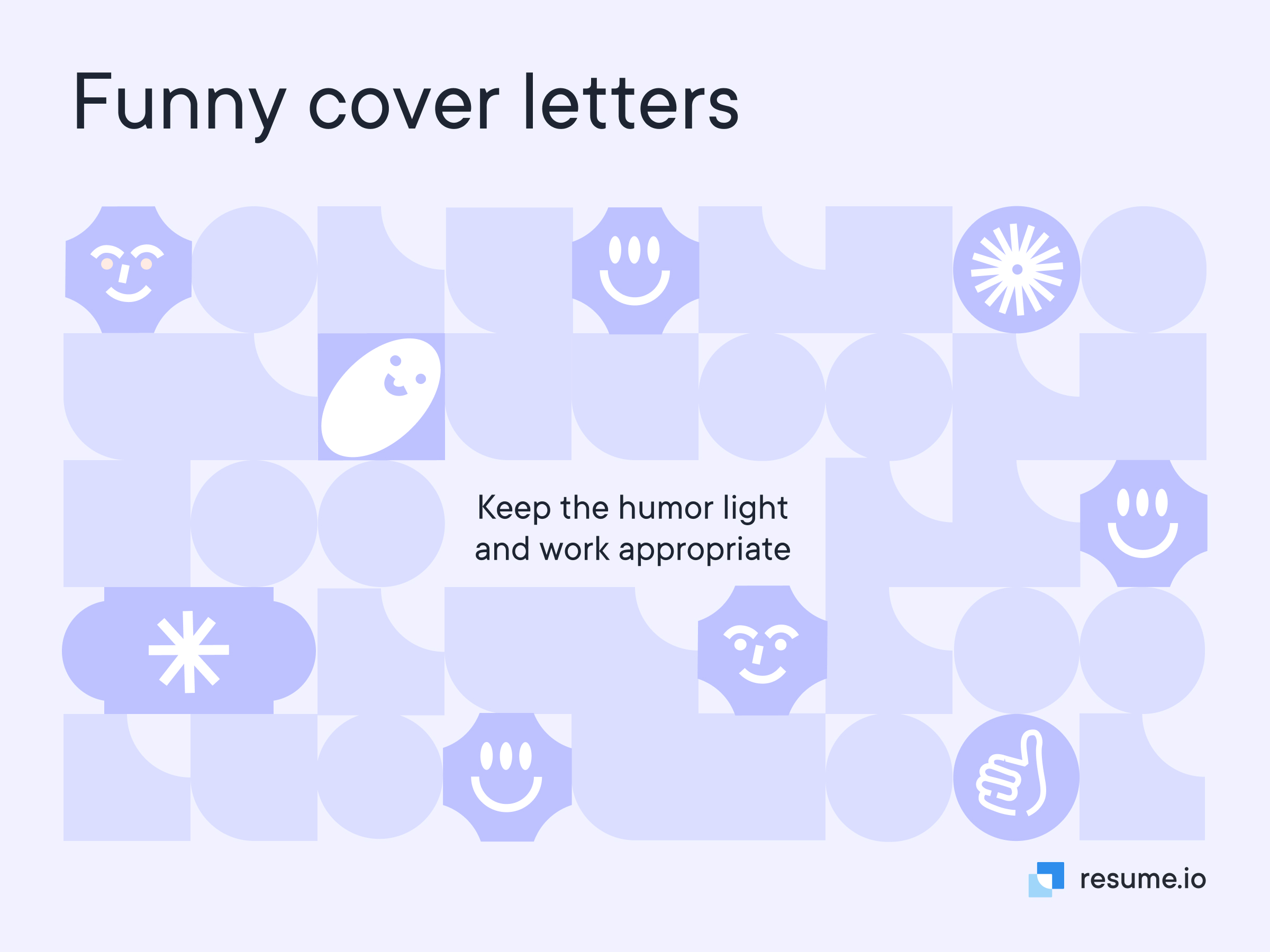 What are the 5 steps to crafting an effective cover letter? 
Before you do or don't attempt to write your funny cover letter, take a moment to think about what a cover letter needs to be at its core. Here are five characteristics you should make sure any cover letter includes and how to tweak it if you decide to make it more entertaining. 
1. Research and personalize
Personalizing your cover letter can be an effective way to stand out from the crowd and show your potential employer that you value their time and attention. Nobody wants to feel unimportant, and taking the time to research the company and the people who work there can go a long way in making a positive impression. When you know who you're writing to, you can also tailor your witty remarks to something they're likely to respond positively to. 
2. Align your profile with the employer's
When writing a cover letter, it's important to show how your values and philosophies align with your potential employer's. If humor is part of the work culture, this is where it fits in. When you adopt this approach, a funny tone can help you establish a connection with your reader and prove that you fit in with their company culture. While this will make your cover letter more memorable, just remember to keep it appropriate and professional.
3. Show - don't just tell - your skills
Where possible, it's far more effective to show, and not tell, your skills. Your cover letter could be the perfect opportunity to do this before you've even met the hiring manager. 
For most hiring professionals in 2023, strong communication skills are one of the most important abilities for new hires. Pitching your profile with a dynamic narrative and striking the right balance on that humorous tone is excellent proof that you can engage the intended audience when you communicate. 
4. Add a call to action
A call to action is a crucial element in any cover letter, but it's especially important in a funny one. After showcasing your personality, remind the hiring manager that you mean business with a clear and concise call to action that encourages the potential employer to take the next step. This could be as simple as asking for an interview or offering to discuss your qualifications further. 
5. Edit your work
When writing any cover letter, it is important to include only the most relevant information in an order that makes sense. This requires lots of proofreading and tweaking. It's easy to get lost in the minutia of writing, so taking a break and reading again to make sure the style lands is always a good idea. This is twice as important when you're attempting a funny cover letter. You want to create a lasting impression for the right reasons.
Expert tip
Flex those desirable soft skills
One reason a funny cover letter could help you is that it shows your excellent communication skills in practice. However, humor is an excellent opportunity to showcase other desirable soft skills such as creativity and emotional intelligence.
How do you write a unique cover letter?
Have you arrived at this point and decided that a funny cover letter is not for you? Don't worry. That doesn't mean that you won't have the opportunity to differentiate yourself from your competition. There are plenty of ways to make a distinct impression on the hiring manager.
The most important thing to focus on is storytelling. The narrative you create behind your professional profile is a powerful tool to make a cover letter that is not replicable. Other tips you could try implementing are starting your cover letter with a bold question or statement to grab the hiring manager's attention.
Also, consider how to make sure the design of your cover letter will stand out. Usually, this means adopting a well-considered and polished design rather than any gimmicky graphics. When done right, all of these examples could help to make your cover letter stand out when your industry peers simply aren't in it for the laughs.
Mistakes to avoid when writing a funny cover letter
It is possible to overdo it when writing a funny cover letter. While you want to amuse the hiring manager, this is still a professional document. Use humor sparingly and strategically to make sure that when you do use it, it hits just right.
Do
Include a balance of entertaining and serious passages.
Vary your language and punctuation.
Ask for feedback on your cover letter from a trusted colleague in your field.
Make sure your professional story is the primary focus.
Stay away from the toilet humor and keep it family-friendly.
Don't
Make every sentence an opportunity to try and be funny.
Use slang or excessive exclamation points.
Send your funny cover letter without reading it out loud first.
Forget to highlight your professional skills and experiences.
Expert tip
Typos are no laughing matter
No matter how witty you are, the hiring manager won't appreciate basic spelling and grammar errors. In fact, they could likely get your cover letter tossed out altogether. So, don't forget to check your work for these errors too!
Tips on how to write a funny cover letter 
So, you've taken the decision to entertain and amuse the hiring manager with a funny cover letter. Your approach to your cover letter should center around the intended reader and, of course, showcasing your professional personality. While comedy will always be subjective, one thing is for sure: you want to make sure your cover letter is funny for the right reasons. You can do this by considering some of the following tips.
Regardless of where your cover letter starts and ends, you want to make sure you take the reader on a journey.
Vary the styles and levels of humor so your cover letter stays engaging rather than predictable.
The space on your cover letter is limited - one page is ideal - so choose what to add carefully.
Every sentence should contribute to a story of how your previous experience made you the perfect candidate for this role.Finally, as you proofread your cover letter, you want to make sure the entire document matches the style and tone of your prospective employer. Think about the tone of voice they use on official communications such as their website, social media, and press releases.
Key takeaways
Research your prospective employer's company culture to identify what sort of funny cover letter could work for you.
Flex your soft skills such as effective communication, creativity and emotional intelligence with your wit and charm.
Vary the humor with serious passages and don't forget to highlight your relevant experience.
Read your funny cover letter out loud before you send it.