If you're on the job hunt, chances are you've come across a job posting that asks you to for an email cover letter. Even in the age of online application portals, many hiring managers still recruit candidates directly via their inboxes. An email cover letter example has many of the same characteristics of a traditional one, with a few key differences.
If you send an introductory email with your resume and cover letter attached, it is an additional opportunity to sell yourself. Why wouldn't you? This email cover letter should never replace your cover letter PDF document (as emails are easily deleted), but it should not be a simplistic "please find my documents attached" one-liner, either.
Hiring managers wouldn't expect you to replicate the entire contents of a cover letter in an email, so does this offer additional opportunities to sell your career story or should you just keep it simple and leave it to a few introductory lines? Our recommendation would be to make the most of the opportunity.
So, where do the potential opportunities of an email cover letter lie?
The following chapters are designed to help you:
Decide whether to send your cover letter in the body of an email or as an attachment
Analyze a real cover letter sample to model your email cover letter
Write the best email cover letter for your prospective employer
Create an email job application sample that increases your chances of hearing back
What is an email cover letter?
The definition of an email cover letter is pretty straightforward: it's a cover letter sample sent in the body of an email as opposed to one that's sent through an online application portal or as an attachment to an email.
You might attached the normal cover letter (as an attachment can be then sent to other people and not lost in an email chain), but as every email will be likely read to the end, the content that you share can make an impact.
While an email cover letter might not be seen as a formal part of the application process, it is your opportunity to stand out from the crowd. While you should definitely keep it short and sweet, the fact that you are putting some thought into the content will set you apart from the vast majority of other candidates who make do with a one-liner about attaching their resume and cover letter. That formality is simply a missed opportunity.
Email job application sample
To get you started, here's an email job application sample (or email cover letter sample) that was designed based on real hiring practices and recruiter experience: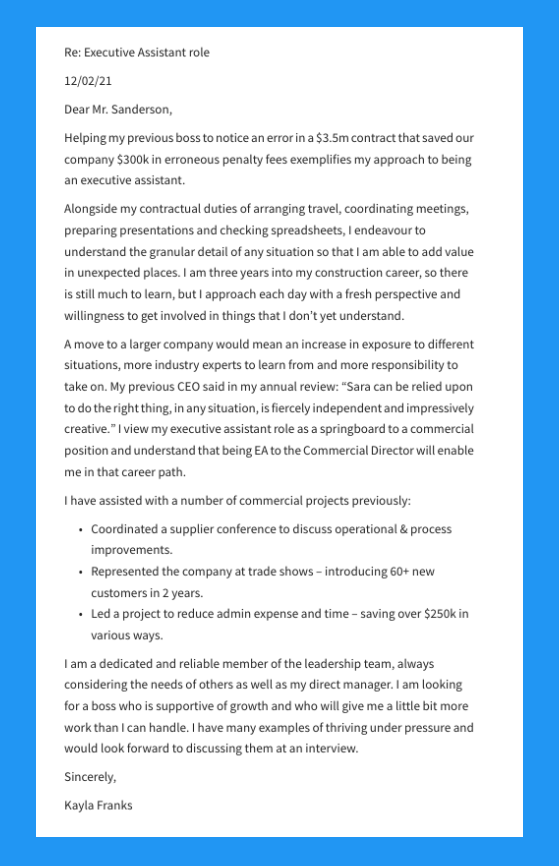 As you can see, this application letter example is based on a job opening for an Executive Assistant position, but you can use this as inspiration for your own cover letter. Accomplishments are front and center, examples are quantified and every part of the story is relevant to the role in question. You can also check out our library of free cover letter examples, perhaps you'll find your own profession or industry there.
People will read emails on various devices and screen sizes, so keep paragraphs short and bullet points tight. A wall of text is somewhat off-putting, so make your email cover letter easy to scan. Lead with the most important pieces of information and make sure that you quantify any achievements. Numbers always jump off the page.
To determine whether you might choose to insert a similar cover letter into the email directly or send it as an attachment, read on below.
Expert tip
Make sure that you keep a copy of the email for future reference. You could either trawl through your sent items or alternatively you could BCC it to your email address and organize a folder that collates all of your job search email correspondence. Why waste time and energy looking for an email that you sent three weeks ago?
Do you write a cover letter in an email or attach it?
The answer to whether you should paste your cover letter into the body of the email or attach it largely depends on the job description. A hiring manager will usually instruct you as to how they want the cover letter to be delivered. Some job postings will even tell you which subject line to use. Make sure to follow the instructions exactly, since any deviation may cause a hiring manager to pass over your application.
If submitting as an attachment: This is the easier of the two options since you'll simply need to attach your existing cover letter file to the email. You should still write a few introductory sentences in the body space of the email in order to bring the hiring manager's attention to the attached cover letter (and other application materials.) Just how much information you include in the body of the email itself is up to you. For everything you need to know about writing a great cover letter, check out our cover letter guide complete with examples!
You can refer to the email cover letter example in the chapter directly above this one when you're submitting a cover letter as an attachment. Obviously, you can also do both.
And here's a simple idea of what you can write in the body for that same email cover letter example.
Example
Dear (Hiring manager's name),
I'd like to submit my application for the position of XYZ at (Company name). You'll find my CV, cover letter and work samples attached to this email.
Thank you for your consideration,
(Your name)
Expert tip
If you're wondering how to send an email with an attachment, here's a quick overview: click the icon to compose a new email. Fill out the To and Subject fields. Write a few sentences in the body paragraph referencing the attachment of the application materials. Click on the paperclip icon to open your file browser. Navigate to your cover letter file and click "open." Your cover letter is now attached!
Don't forget to change the file name to something descriptive, even if it's as simple as Last name_cover letter. This simple step ensures the hiring manager will keep track of your cover letter throughout the application process.
If sending in the body of the email: You'll have to pay a bit more attention to how you send your cover letter in the body of an email. Brevity is key, so you'll want to pick and choose only the most relevant examples from your full cover letter. Keep your email cover letter sample to a maximum of three short paragraphs plus the greeting and signature. 
Here are the steps:
Address the hiring manager by name whenever possible or use "Dear Hiring Manager."
Introduce yourself and mention the position you are applying for.
Offer 1-2 related accomplishments or skills that make you an excellent candidate.
Finish your email cover letter with a call to action that invites the hiring manager to contact you.
How to end a cover letter with a respectful signature like "Sincerely" followed by your name.
One benefit of an email cover letter is that you can include hyperlinks. You might choose to link to your online resume or LinkedIn profile and you could equally link to a longer cover letter. One drawback is that an email cover letter cannot be saved in many ATS systems, so think carefully if you decide not to attach a cover letter.
Here's an short email cover letter example for an attached resume:
Example
Dear Mrs. Greenspan,
It was great to hear you speak at last week's Women in Marketing event. I have attached my resume to apply for the position of associate marketing manager with DGI Global. I believe my six years of experience running digital ad campaigns for target audiences has prepared me for your role.
In my last position, I developed advertising strategy for an up-and-coming clothing brand. During my three years with the company, I grew our Instagram account from 300 follows to over a quarter million. Via targeted ad placement and the creation of an innovative web gallery, I increased the company's online sales by more than 15 percent last year. 
I'd love to speak with you more about my ideas for expanding DGI's online presence within the marketing manager role. Feel free to reach me by email or at 446-731-0080. I look forward to hearing from you.
Sincerely,
Trisha Roberts
Expert tip
If the job description doesn't tell you how to submit your cover letter, you'll have to make an educated guess. First, consider whether you're being asked to send other application materials as attachments. If a cover letter is just one document in a long list, you'll likely want to write a brief introductory email with the full cover letter and all the other materials included as attachments.
Conversely, if a cover letter isn't mentioned at all, you can write it into the body of your email as a way of weaving it into the application naturally. Below you can find a great example of an email cover letter with attached resume that you can modify for your own needs.
How do you write an email cover letter?
When it comes to how you should write an email cover letter, there are a few adjustments you may want to make in terms of formatting and tone.
Email cover letter format:
One major distinction of an email cover letter format is that it lacks a header. Therefore, it's important that you incorporate key pieces of personal information into the final sentences. Sign off with your full name and include your phone number in your call to action or in your email's automatic signature. That's also a great place to link to your LinkedIn, relevant social media accounts, online portfolio or personal website.
Just like with a standard cover letter, your email cover letter format should also be highly readable. Use standard email font styles and sizes with the color black. Don't forget to include a blank space (or maybe two) between each paragraph. 
Expert tip
When submitting your email cover letter sample as an attachment, an email cover letter template can make great formatting an easy process. Our professional cover letter templates are expertly-designed for a variety of industries. Make sure to choose the template that best fits the image and branding of the prospective employer.
The right tone for an email job application sample:
There are a number of reasons why your email job application sample may be more flexible in tone than a traditional cover letter submitted through an online application portal.
First of all, if you have a hiring manager's email address, you likely have their name. In many industries, you won't want to deviate from the standard greeting of "Dear" followed by the proper salutation and last name. In certain fields, however, using a last name can come across as overly formal and out of touch. If that's the case, you may want to use "Hi" or "Hello" followed by a first name for a more personal touch.
Expert tip
One exception to the above guidelines regarding tone is if you are writing an internship application email sample. Since you are likely a student emailing someone in a more senior role, it's best to stick with a semi-formal tone that expresses your enthusiasm while still being polite. No need to go over the top with pleasantries, just make sure your internship application email sample conveys respect for the hiring manager's time.
Another reason you might be emailing your job application sample is because you already know the hiring manager. Maybe you've worked at the company previously or have another connection that afforded you the opportunity to apply directly. In that case, you don't want your email job application sample to sound like it's coming from a complete stranger! Adjust your tone based on your previous relationship so that your email cover letter sample sounds natural and friendly.
Key Takeaways
While you do not want a hiring manager to waste their time reading the same information in your email cover letter that is included in the cover letter document that you have attached, there is great value in making the two slightly different and taking the additional opportunity of impressing them.
Make sure that you follow the typical rules for cover letter content
Include many of the same accomplishments, but present them slightly differently
Understand that the tone of an email can be slightly warmer and less formal than a cover letter
Include all contact information and social links in the footer section of the email (not at the top)
write one if you know the hiring manager, but be careful as others may read it as well
Now that you've successfully written an email cover letter, take a peak at our field-tested cover letters. These professional cover letter templates follow the exact 'cover letter rules' employers look for.