Imagine that you are a job seeker sitting down at your computer to write a long letter. This letter is your one-shot opportunity to sell yourself to a hiring manager for your next job. Broken into a job search cold sweat yet?
Application letter? Isn't that a cover letter, but twice the length? What is that you say? Some people use it to replace a resume and a cover letter? Why on earth would you want to do that? What is a letter of application vs cover letter?
Job search jargon can be difficult, especially when different words mean different things in various parts of the world. So let's take a look at the general differences and similarities between an application vs cover letter. They do have varying uses - so think about the right choice for you.
In this article we will explore:
What is an application letter?
Three situations when you might choose to write an application letter
What is the difference between an application letter and a cover letter?
What is the purpose of a letter of application?
An application letter example
The format and structure of a job application letter
How do I write an application letter?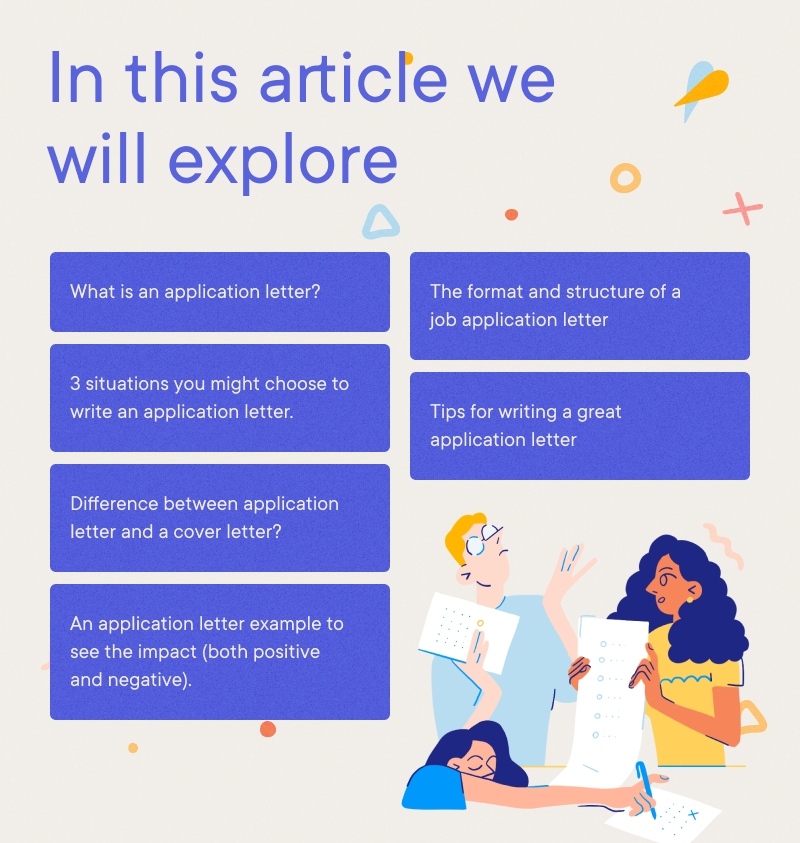 What is an application letter?
An "application letter" is used in limited circumstances in a job search as a replacement for a resume and cover letter. 
These two pages have to encompass the highs and lows of your career as well as describe why you would be a great hire for a potential employer. Tough ask.
Many in human resources view this as recruitment heresy; but hear us out. The specific job application format, despite its unwieldy nature, has a reason to exist. The job application letter is vanishingly rare, but certain people do decide to use it. The argument of letter of application vs cover letter is clear cut. Combining a resume and cover letter into one longer application letter is no easy task.
Recruiter's Note
It should be noted that the term "application letter" is often used to describe the traditional cover letter. In other words, sometimes the two terms mean exactly the same thing. Similarly, the words "CV" and "resume" sometimes (but not always) refer to the same thing, the only difference being that the term "CV" is much more popular outside North America. A cover letter may be referred to as an application letter simply because that's what it's called in that part of the world.

This article deals with application letters as separate documents with their own specific set of goals.
A resume is a strictly formatted, factually based document, while a cover letter adds a personal touch to the application process. But with a single job application letter that does both jobs, where do you start to impress a recruiter?
Is there one occasion in a hundred when a job seeker might choose this option? Might it make a difference to you one day? 
By the way, there is an entertaining 7.5-minute video on cover letters vs. application letters at https://www.youtube.com/watch?v=p7i8I5wFYuk. It offers the same advice we do, although with a delightful African accent. It settles the application letter vs cover letter debate, once and for all.
When to use an application letter
Before we explore all the reasons why a resume + cover letter combo is usually better for job seekers than a single application letter, an examination of online recruitment wisdom does highlight a few occasions when a job application letter might prove a valid choice. So what are the three types of application letter?
Recruiter's Note
We must stress that in 99% of cases, this advice and the following application letter sample is definitely not the norm, but if you have tried everything else in your job search toolbox, it might just be worth a try.
1) Application letter when there is no job opening
When the job market is tight, potential hiring managers and recruiters will have even less time to consider job applications, especially if there is no job posting. 
If job applicants have a genuinely compelling story to tell, some candidates might decide to send over their sales pitch in application letter form (as an attachment in an email or in a forum like LinkedIn), because they know that someone won't spend the time digging through their formal resume for the relevant details. Our application letter sample at the end of this chapter offers a flavor of how it might be worded. 
Sending a formal resume might be presumptuous if there is no role available, but a short cover letter does not offer enough space to sell your career story. Enter the longer, chunkier application letter (that is pretending to be a cover letter and not a resume).
Expert tip
Another type of letter sent when no open position is advertised is called a letter of interest, letter of intent or statement of interest. A letter of interest is very similar to a cover letter, but it's written when no open position is advertised. The usual advice for a letter of interest is to hold it to one page and include a resume. This is different from the so-called application letter, which is generally supposed to be two pages and is sent without a resume.  
For example, if you teach English as a second language (ESL) and you live in Spain, you may become aware of a school that teaches ESL. Even though it's not advertising any jobs for new teachers, you want the school to know that you would be interested in working there and you have the skills to do so. In such a case, you might send a letter of interest and a resume. For more info, see our blog on " Letter of Interest vs. Cover Letter."
Job application letters will never match the factual accuracy and coverage of a resume, but a small number of candidates do decide to use them as a tactic to get their foot through the door.
One consideration with a job application letter is that it will be read in its entirety. The format of a resume makes it easier to dip in and out, so writing a longer letter may be a way of getting every argument across?
2) Job application letter for academic programs
When there is a requirement to describe depth of academic experience, a longer-form letter is sometimes employed in academic circles instead of a resume. Here, the letter of application vs cover letter argument is won in favor of academic rigor. Outlining the importance of your academic work is difficult in a short cover letter.
Again, this is a rare occurrence, but for an academic who is looking to connect with a like-minded faculty manager (outside of the confines of HR oversight), an application letter gives them the opportunity express why they would be a fit for that new job. Many academics are used to reading long pieces of content, so a two-page application letter will not seem overly onerous.
Expert tip
Many in academia would expect an academic resume with a wealth of information about past research papers and qualifications, but for areas of expertise which require more depth of explanation, an application letter may be a useful format.
3) Longer application letter for internships
There is genuine merit for an intern to view the following example of application letter with a little more interest. 
Interns will not have the experience to flesh out a two-page resume, but a one-page resume may not be enough space to describe the passion that they have for their desired role. As social media has brought interns ever closer to potential future bosses, a less formal job application letter might be able to do the job of both a cover letter and a resume. 
The free-flowing nature of a letter allows them to explore their potential from a professional and personal perspective. 400 words is not enough on a cover letter when you desperately want to take that first rung on the career ladder.
Expert tip
If the application progresses onto a more formal footing, interns will still need a resume for an internal recruiter, but a longer initial letter could make a difference. Not every application is standard, so if you feel that you are able to divert from the norm and risk sending a longer application letter, take the plunge.
Application letter sample
Meet Lana. She is writing a speculative application letter to get a job at a new retail outlet that is opening up. She doesn't know when they might be hiring, so this one-shot application letter sample is her best shot of getting on their radar early on. They are unlikely to read both a cover letter and her resume at such a stage. 
We had to dig deep into various professional cases to come up with the best example, but with our desire to provide the most comprehensive set of resources for job seekers, we felt that sharing an example of a job application letter was worth doing. This really does include the best of both worlds.
The following job application letter sample is a good attempt at what such a letter might look like, but it will quickly become obvious that the format is far from ideal. You have to have a really good story to keep a hiring manager reading beyond the second paragraph. Make sure that you hit them with what matters to them early on.
If you start to understand that this format is not for you - you might be far happier and better off checking out our cover letter templates, writing guide and profession-specific letter examples.
Having said all that, here is an example of an application letter: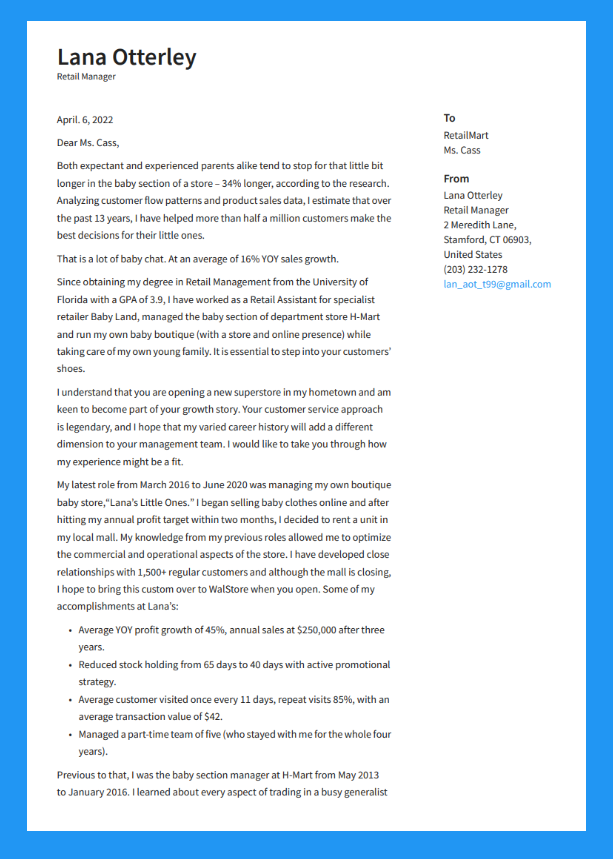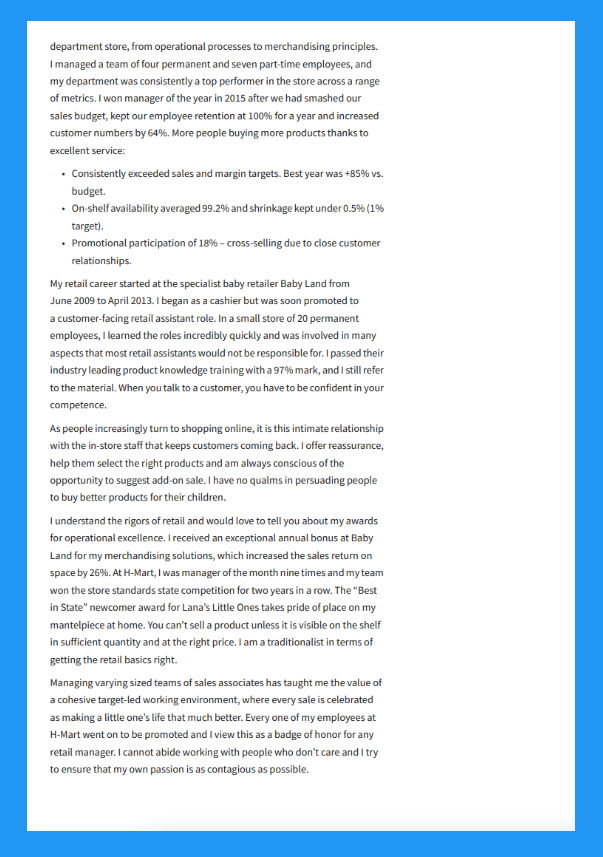 Job application letter format and structure
The format of an application letter is difficult to define. While we have created advice guides for all sorts of cover letters, the bloated nature of the application letter format means that almost anything goes. Just make sure that you use bullets and the odd list to break up the text - white space matters in an application letter, too.
We would like to compare and contrast the structure of the two formats.
Greeting
After starting the header of the letter with your contact information, the greeting section needs to be addressed to the correct person and begin the letter with a personal connection. Everyone likes being called by their name. 
Additionally, make sure that you use the correct form of address. "Dear Mr. / Mrs. / Ms. Surname" is the safest option to get the letter off to a solid start. "To Whom It May Concern" is never acceptable, though if you can't find out the name of the hiring manager, you can opt for a more generic greeting like "Dear XYZ Hiring Team." This advice applies to both cover letters and application letter.
Introduction
The introduction of a cover letter should be a short opening paragraph to grab the attention and focus on one standout aspect of the candidate's experience. It is the one sentence that you want to remain in the hiring manager's mind for the rest of the recruitment process.
The introduction for the application letter format has to work a bit harder. Because there is no factual resume to fall back on, the application letter introduction should be more practically oriented, leaving the reader in no doubt as to the suitability of the candidate.
Where a hiring manager has the option to find a candidate's value in the depths of a resume, candidates have to be mind-readers to work out exactly what to highlight in their application letter intro. It is a really tough ask and very easy to miss the mark.
Body
The body of the perfect cover letter should contain a couple of brief insights into the personal qualities and professional achievements of a candidate, outlining why they are a fit for the role and backing that up with quantifiable numbers. It is eminently possible to create a lasting impression in the space of two or three paragraphs. In communication skills terms, brevity is the soul of wit.
Conversely, it is difficult to know where to start in suggesting how to structure the body of an application letter.
First, the job application format should ideally retain an aspect of the chronological nature of a resume. You don't want the reader jumping back and forth through your career timeline as they read it and you should include dates of employment where possible. 
Elements of personality and culture fit can also be sprinkled throughout the writing. Try to lead with your most relevant characteristics, with the most recent examples at the beginning of the letter.
Recruiter's Note
After a couple of sections about work experience, the job application letter offers an opportunity to expand at greater length on how you understand the role and why you think you would be a fit. 
Anticipate the interview questions and show that you are the right person for the job. This is something that is not always possible in either a resume or a cover letter, so it is ideally suited to a persuasive piece of writing that may well be speculative in nature. Go into significant detail around how exactly you see yourself fitting in.
Conclusion
For a cover letter, the conclusion is a one-paragraph call to action, intended to persuade the employer to invite you to an interview. It's the cherry on top of your job application. 
The length of the application letter format means that such a pithy closing paragraph might seem a little apologetic. In this case, it is worth reminding the potential employer of the key aspects of your candidacy. They may be a bit lost in such a long letter, and repetition can be an effective device (if you are repeating the right things, that is).
Expert tip
Is an application letter the same as a cover letter? 
The industry standard of a personality-led cover letter is intended to complement the factual formality of a resume. As such, the cover letter is often used as a compelling conversation-starter that might entice a hiring manager to read the resume in a little more depth. 
Cover letters hint at the threads of a candidate's career that are worth exploring further during an interview process. 
Application letters, on the other hand, need to communicate both factual experience and a sense of personality. In terms of comparing and contrasting a cover letter and an application letter format, the basic approaches are similar, but the application letter format is more cumbersome.
Tips for writing a great application letter for a job vacancy 
If you are determined to write an application letter, or if someone has asked you to put down your thoughts on your suitability for the role in an email (for example), here are five suggestions for making the most of an imperfect format. Here is how the letter of application vs cover letter thought process plays out. 
Convey resume facts in letter form. 
Weaving the facts of your resume into the broader narrative of an application letter for employment is crucial to getting your work experience across. 
Factual details are far easier to pick out on a resume, so they risk getting a little lost in the depths of an application letter. But if you put the more important facts toward the beginning of paragraphs, hiring managers will be more likely to notice. Numbers and percentages are automatically more visible, so quantify and add context.
Highlight your achievements alongside personality and context.
As an application letter is a mix of fact and personality, you can mix up your factual achievements with descriptive adjectives and more context than a resume typically contains. 
Much is discussed about storytelling in the recruitment process and if you can manage to merge these factors, your story has a chance of being finished. However, two pages of solid text is a lot of story to take in.
Signpost each part of the letter. 
A resume has distinct sections for each part of your experience, and a cover letter usually has a set format to add the extra details. It is therefore essential for job applicants to signpost the content of every paragraph in the first sentence of an application letter.
Some people might decide to use mini-titles, but this often comes across as being too simplistic and may break up the flow of the story. Try to make the first sentence of each paragraph short and direct.
Make sentences shorter and minimize descriptive language. 
Two pages might seem a lot for an application letter, but when you consider that it has to be written in full sentences and with acceptable English, suddenly the simplicity and brevity of skills lists on a resume (for example) seem very appealing. 
Keep your sentences as short and impactful as possible. Otherwise you might find yourself not having enough space for some of your achievements and experiences. Having said this, don't include too many lists with lots of commas - the application letter needs to be legible.
Ensure the application letter is heavy on factual detail.
While the purpose of a cover letter is to weave a more emotionally appealing story because the resume has covered the factual bases, the limitations of the job application letter format mean that it should contain as much factual detail as possible. 
Devices such as bullet-pointed lists are a great way of getting fact-heavy accomplishments across. Put simply, make sure that you don't waffle. The tone should be conversational - it should be a conversation packed with achievement.
The differences between an application letter and a cover letter
To summarize, while the application letter is a mash-up of a resume and a cover letter, it is a little more than that. Essentially candidates use it as an extended conversation starter in certain specific situations.
The application letter allows them to set out their arguments exactly the way that they would like a hiring manager to hear them. With a letter, there is no ambiguity. It is written how it is meant to be received. It is important that the candidate understands which arguments will be effective as this is their "one shot." 
While a hiring manager can dip in and out of a resume where they see fit, an application letter leaves them no choice. If it doesn't hit the mark, chances will reduce significantly.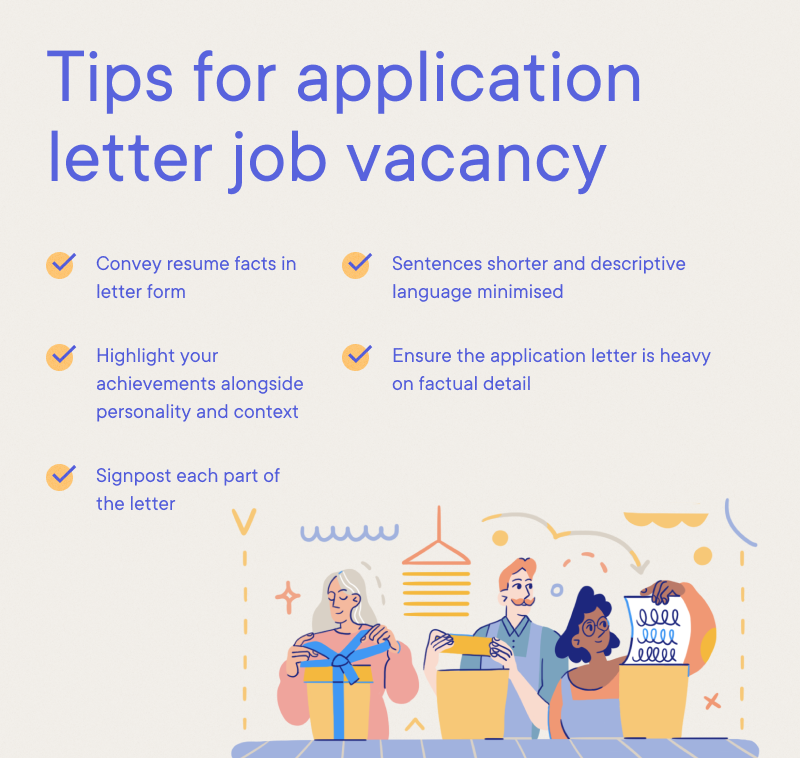 But what if I decide to write a cover letter after all?
We recently shared 9,000+ words of career advice in our blog on cover letter writing and many of the suggestions in that piece will also be relevant to writing an application letter, should you choose to do so. 
Do your research on the employer, choose the right tone for the letter and immerse yourself into the culture to imagine what sort of employee they are looking for. 
The best cover letters are a wonderful medium to complement a resume, yet their impact is often overlooked. A perfectly targeted cover letter can genuinely make the difference between a first interview for that dream job and another rejection. We have a wide range of guides and cover letter samples for multiple professions that bring the reality of the letter to life. 
If you compare the cover letter examples with the application letter example, you will see why most employers would prefer the cover letter plus a resume to create the ideal first impression. In the letter of application vs cover letter argument, there is usually only one winner.
Expert tip
At the end of the day, you should choose what fits you best. If the situation warrants a more free-form and non-traditional document like the application letter, go for it! 
But if you decide to stick with the tried-and-true combo accepted by recruiters worldwide, make sure to check out our online resume tools for resumes and cover letters (complete with pre-generated phrases, a grammar checker and more).  
Save your time, avoid stress and uncertainty. There's no reason not to empower your job search with convenient solutions!