In today's job market, employers have a glut of candidates to choose from, making it difficult for job seekers to stand out. Resume.io analyzed job postings on LinkedIn to determine the cities and states with the highest job competition.
When it comes to landing the perfect job, it's always been a dog-eat-dog world out there. Back in 2018, the average job applicant was already up against fewer than 50 competitors. Nowadays, however, with the post-pandemic Great Resignation trend still looming large in the world of work, employers have (as Forbes puts it) "countless candidates to choose from." Not a very encouraging sentence for those on the job hunt.
With so many cover letters to polish and job sites to trawl, the job search is often stressful enough without thinking about the sheer number of people you may be up against for the same role. But where in the U.S. and the world at large do job seekers face the fiercest competition? In search of the answer, job search experts at Resume.io utilized a nifty LinkedIn feature that offers insight into how many applicants a job listing has racked up. Read on to discover what we found out.
What we did
For each city and U.S. state in our analysis, we calculated how many people, on average, apply for local in-house and hybrid working jobs within one week of a listing being posted on LinkedIn.
Key findings
Doha, Qatar, has the most competitive job market in the world — within one week, 399 people, on average, apply for a LinkedIn job post
Illinois has the most competitive job market of any U.S. state (60.6 applicants per job posting within one week), while San Jose, California, outranks all U.S. cities (107.6 applicants)
London (19.7 applicants) and Leicester (19.5 applicants) are the most competitive UK cities for jobs
In Canada, job competition is the fiercest in Toronto (65.5 applicants)
Sydney's (50.6 applicants) job market is more competitive than any other Australian city
Doha, Qatar, has the most competitive job market in the world
Spare a thought for job seekers in Doha, Qatar — they're up against the fiercest competition in the world. We discovered that the average local LinkedIn job listing receives more applicants (399) within a week of being posted than any other global city.
Despite being one of the smallest countries in Asia, the global spotlight focused on Qatar in 2022, thanks to its hosting of the FIFA World Cup, which boosted the local economy and saw major industries (like hotels and retail) grow. No doubt, job hunters in Qatar (of which Doha is the capital) are attracted by the prospect of earning one of the highest average salaries in the world — which won't be taxed under Qatar law, either.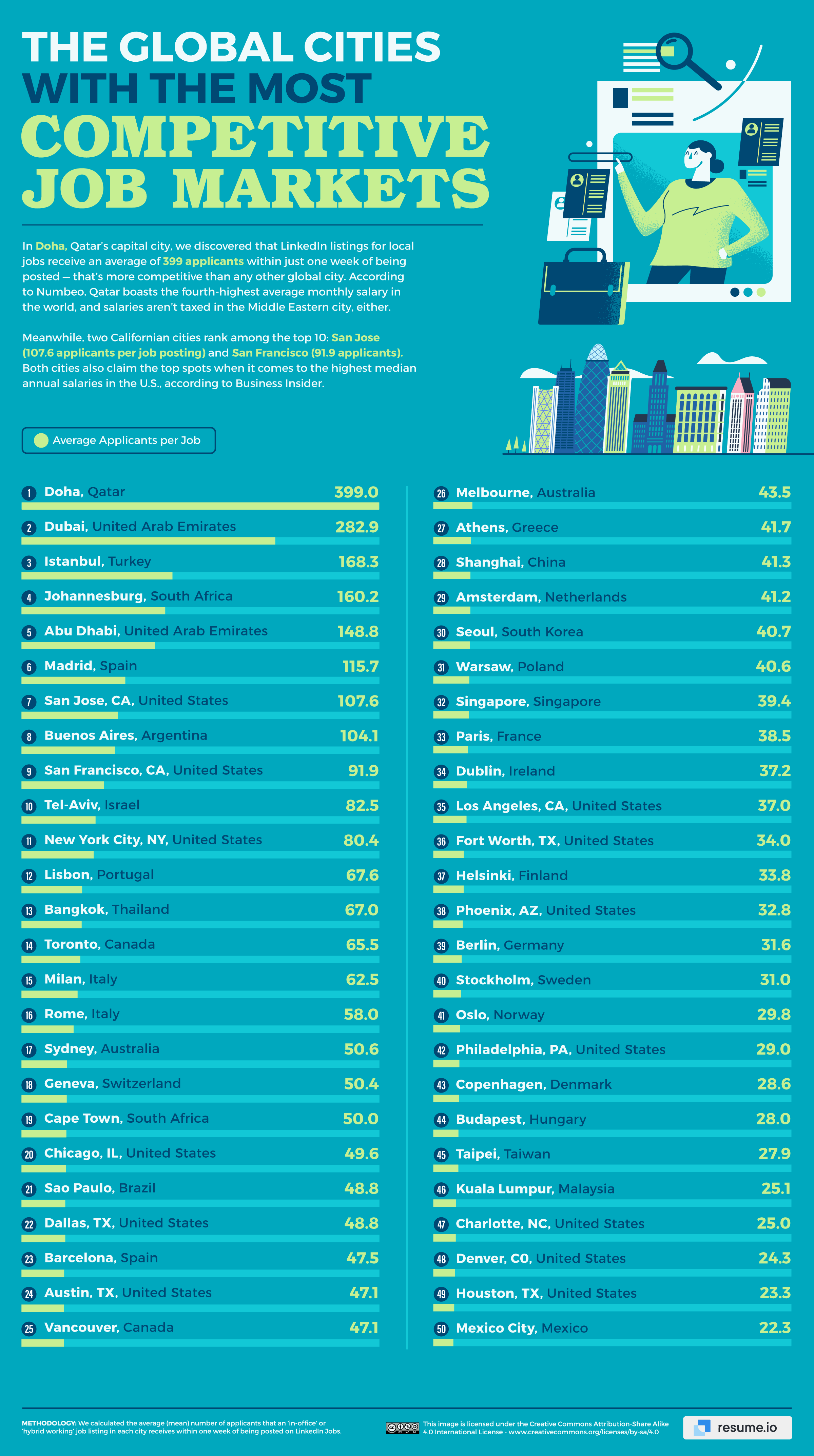 Click here to see the image in full size
Dubai claims the next-most competitive job market of any global city, with the average job listing racking up 282.9 applicants within a week. It's likely that many job hunters with Dubai in their sights have got the memo that employees here, like Doha, can take home their entire salary thanks to no income taxation. In other good news, Dubai house and rental prices are forecasted to decline in 2023 after soaring costs last year, making living and working in the city likely a lot more feasible for many.
Illinois job seekers are up against the most competition for a job role
We've mapped how each U.S. state fares when it comes to job competition based on the average number of applicants a local LinkedIn listing receives within one week. We discovered that Illinois claims the most competitive market, with 60.6 applicants.
Where other states in the U.S. saw more jobs open up during the Great Resignation, Illinois had one of the lowest quit rates, meaning local workers were bucking the trend and holding onto their jobs. The state's job opening rate in 2022 was also the fourth-lowest in the country, no doubt increasing competition for available roles.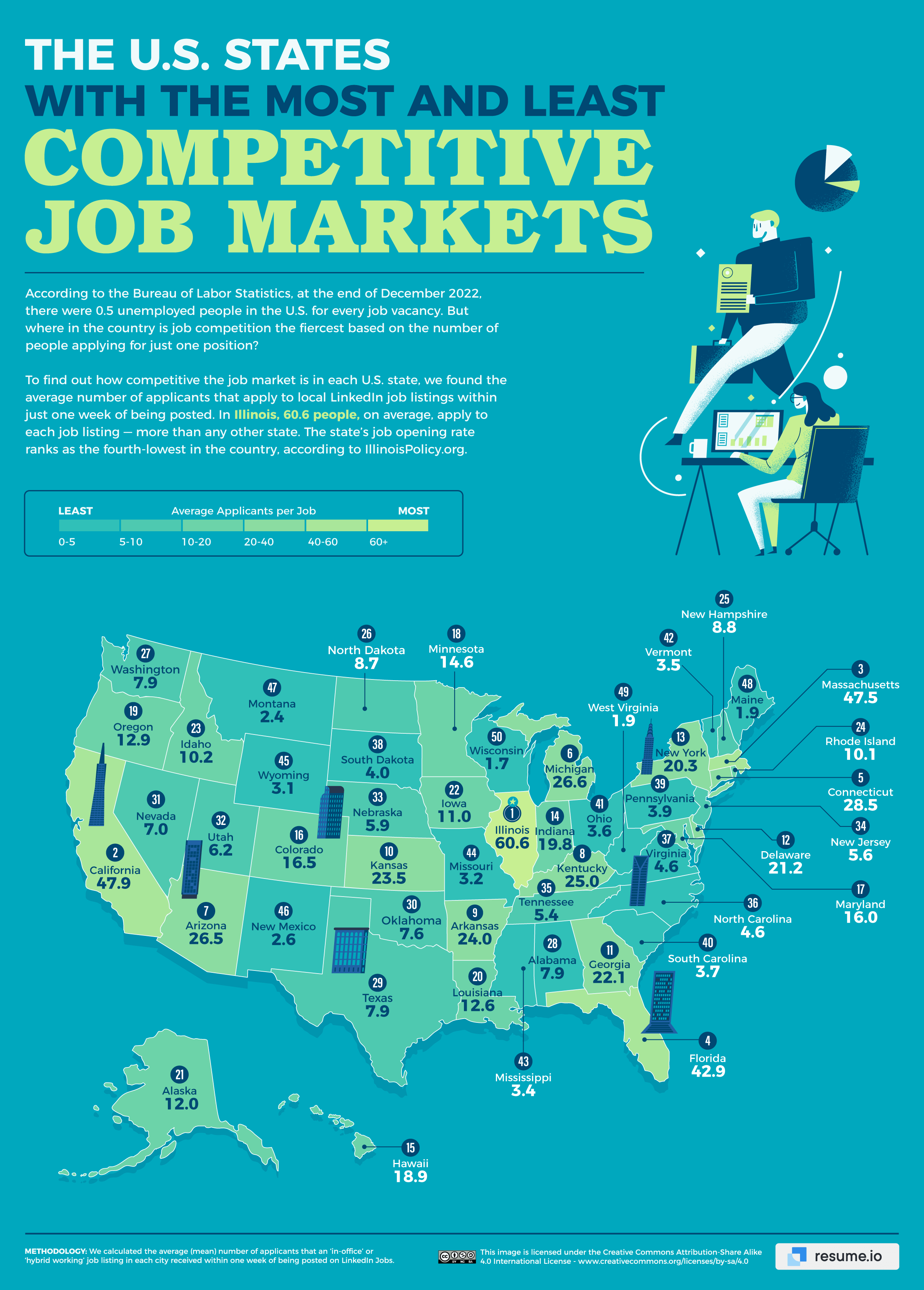 Click here to see the image in full size
Job hunters targeting Illinois might also be swayed because it's placed among the top 10 states to work, according to an Oxfam report. This same report ranks California highly, which we found has the second-most competitive job market of any state (with 47.9 applicants per role) and is home to two cities with their own fiercely competitive job markets…
San Jose, California, has the most competitive job market in the U.S.
Focusing on U.S. cities, San Jose leads our ranking of the most competitive job markets in the country, with the average LinkedIn job posting here receiving 107.6 applicants within just a week.
Job hunters with their hearts set on sunny San Jose might be drawn by the high average salary — but as Silicon Valley's unofficial capital, it's also likely that competition is so fierce because local job hunters were affected by mass tech company layoffs in late 2022. Industry jobs were suddenly scarce: in the San Jose metro area alone, software-related and IT job listings respectively plummeted 45% and 37% from before the COVID-19 pandemic.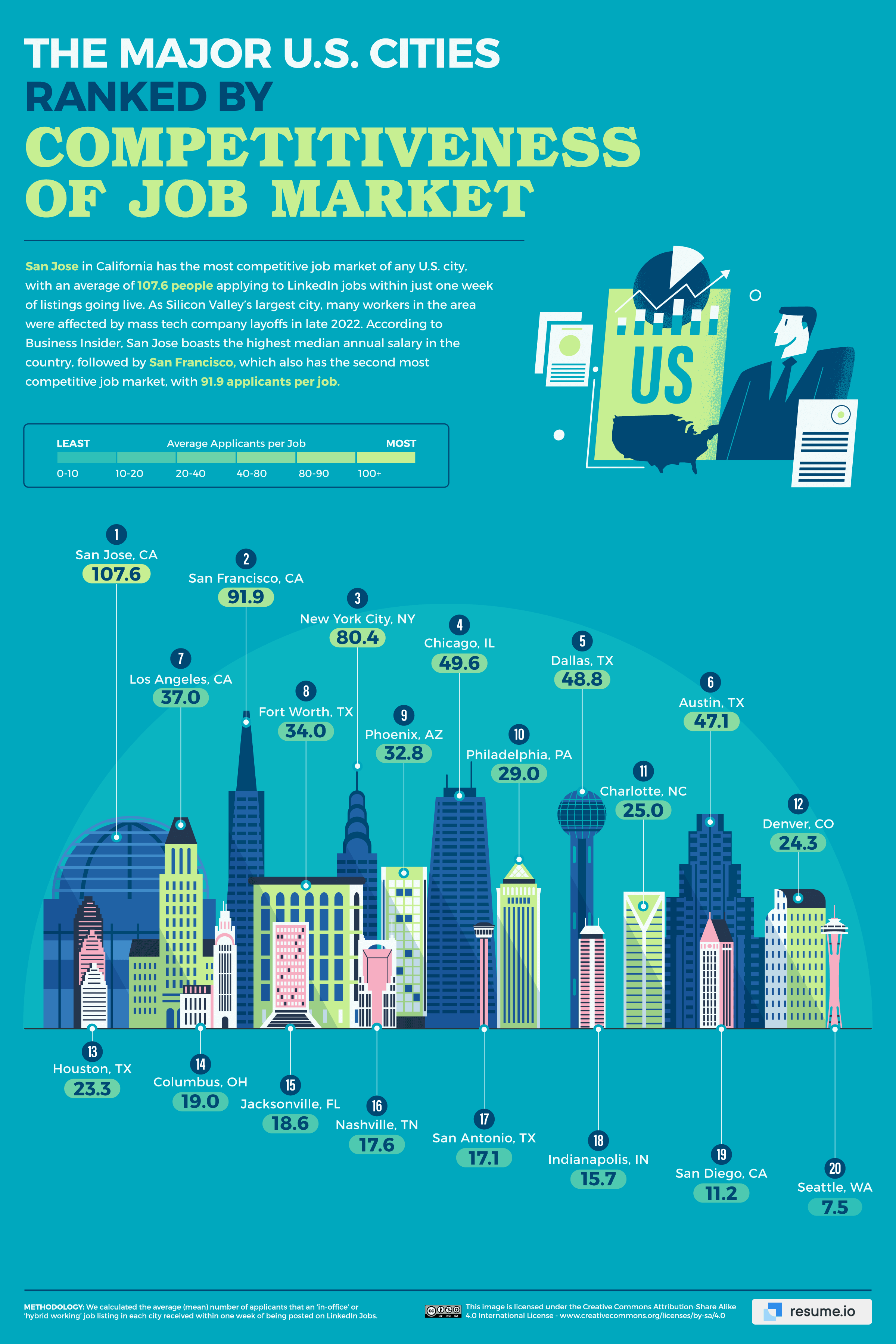 Click here to see the image in full size
You don't have to travel far from San Jose to find the second most competitive job market in the U.S.: LinkedIn jobs based in San Francisco receive an average of 91.1 applicants within a week. Like San Jose, it could be that local job seekers are tempted by the city's incredibly high average salary — the highest, in fact, of any city in the world. Just as well for one of the most expensive cities to live in the world, too.
London and Leicester attract the most applicants per job opening
Across the pond, our research reveals that London jobs attract more applicants (19.7), on average, in just one week than any other city in the UK. No doubt London's status as the best city in the world to visit in 2023 (according to the New York Times) is a draw for job hunters looking not just to visit but to set up camp professionally. But what other factors could be at play?
Like many other major capital cities, London is seriously expensive, but the average salary in the London region happens to be the highest in the UK — a likely draw for job seekers. The higher cost of living in the capital also sees some professions (like teachers) entitled to a London weighting allowance, designed to encourage key workers to stay in the area.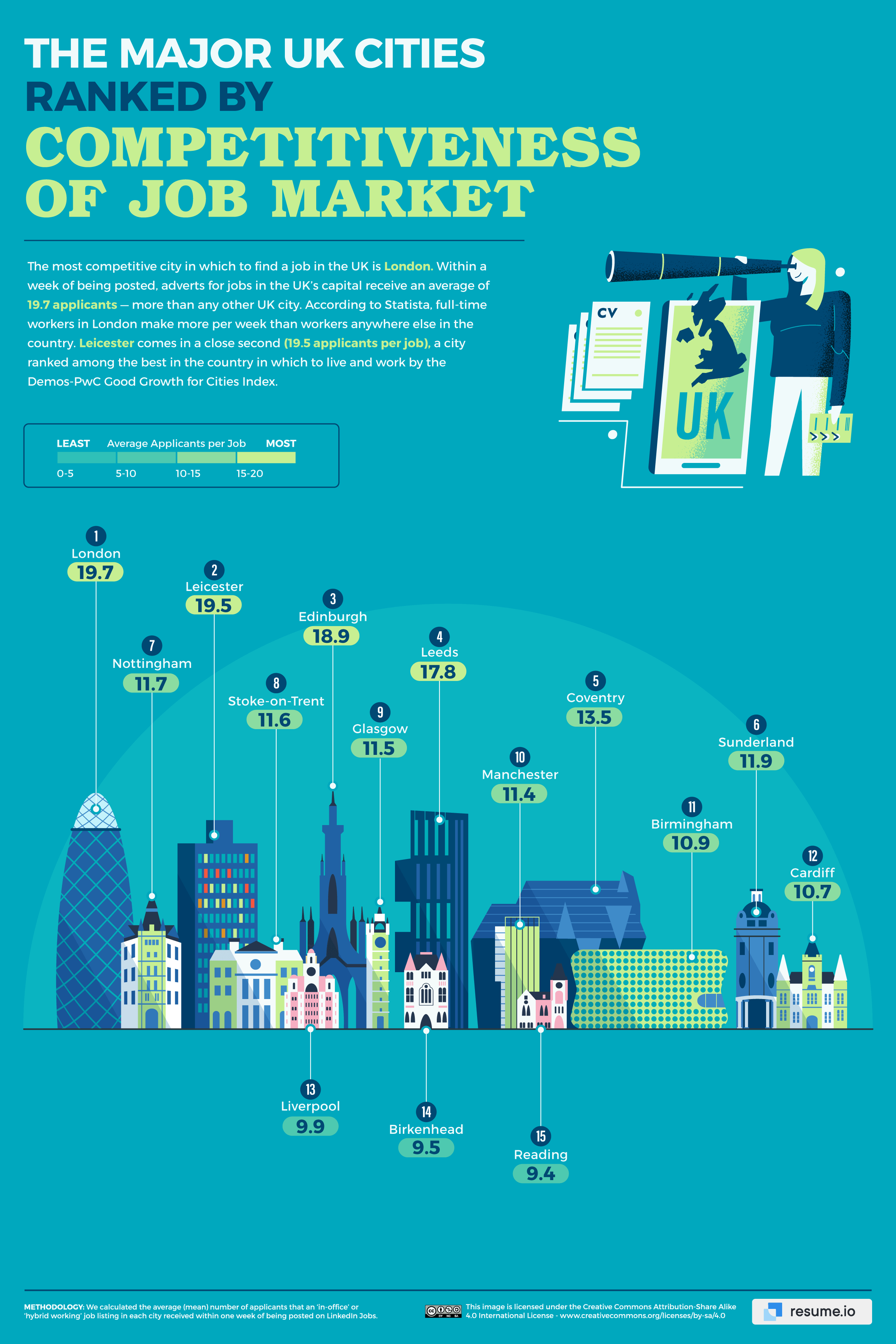 Click here to see the image in full size
Close behind London in our ranking is Leicester, where the average job posting receives 19.5 applicants in a week. This East Midlands town ranks among the best in the country to live and work, according to a study by PwC, based on factors like work-life balance, housing affordability and commuting time. Could it be that Leicester's LinkedIn applicants are looking for a slice of the action?
In Canada, job competition is the fiercest in Toronto
Honing in on Canada, Toronto ranks as having the most competitive job market of any city in the country, with the average local job listing receiving 65.5 applications within one week. It's likely that many jobseekers can't resist the potential of earning 14% more than the average Canadian's yearly paycheck, and thanks to new Ontario rules, the minimum wage is being boosted this year, too.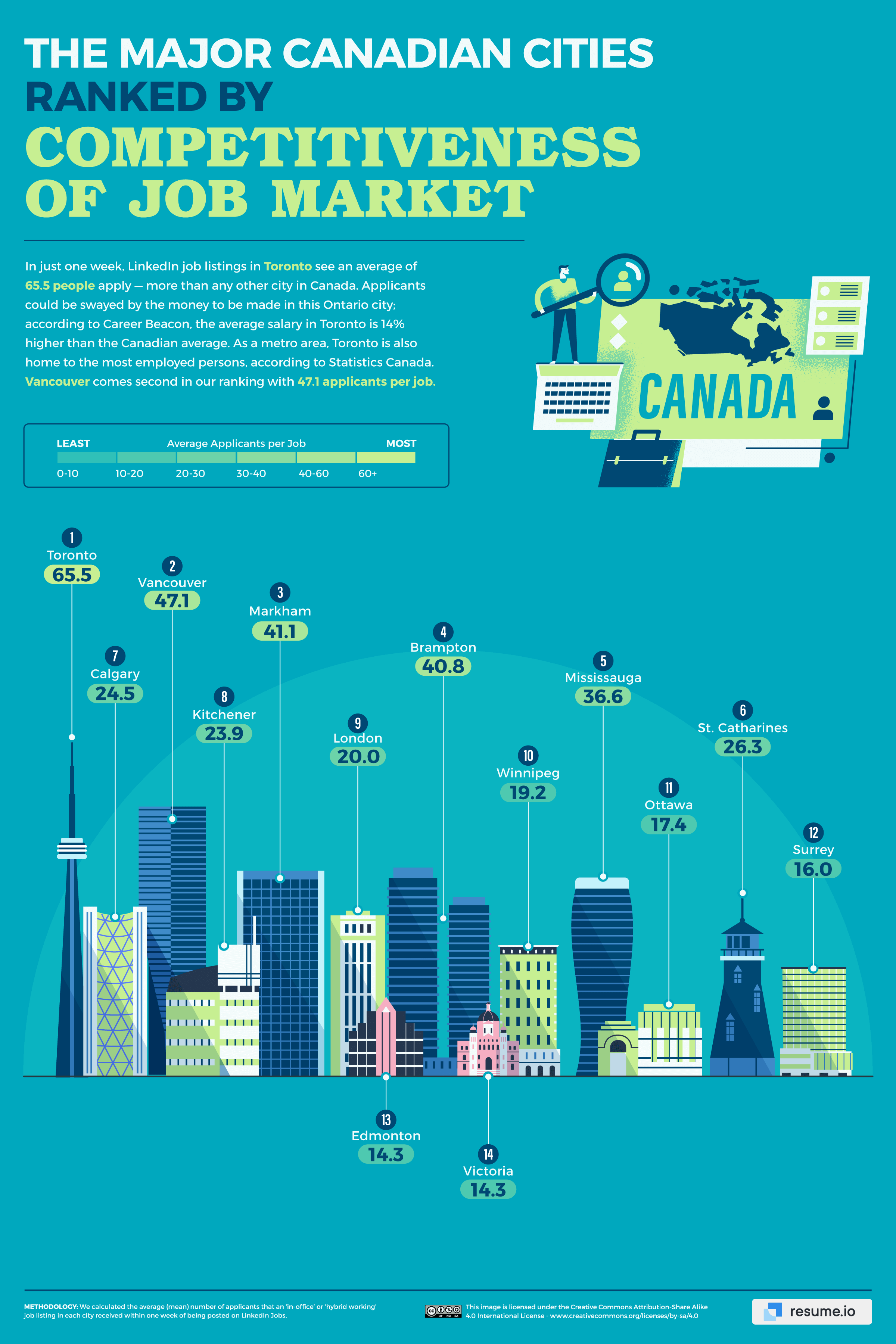 Click here to see the image in full size
It's certainly a city that knows a thing or two about money — not only is Toronto one of the world's wealthiest cities based on the number of super-rich individuals that call it home, but it's also the second-largest financial center in North America. Not entirely surprising, then, that the third-largest share of the city's employed folk work in the finance industry.
Sydney has the most competitive job market in Australia
A 2017 study once found that Sydney's job seekers had "far less competition" than the rest of New South Wales, but our new research tells a different story. We discovered that 50.6 people, on average, apply within just one week of a local LinkedIn job listing being posted — that's more than any other city in Australia. So why might job competition be so fierce in Sydney?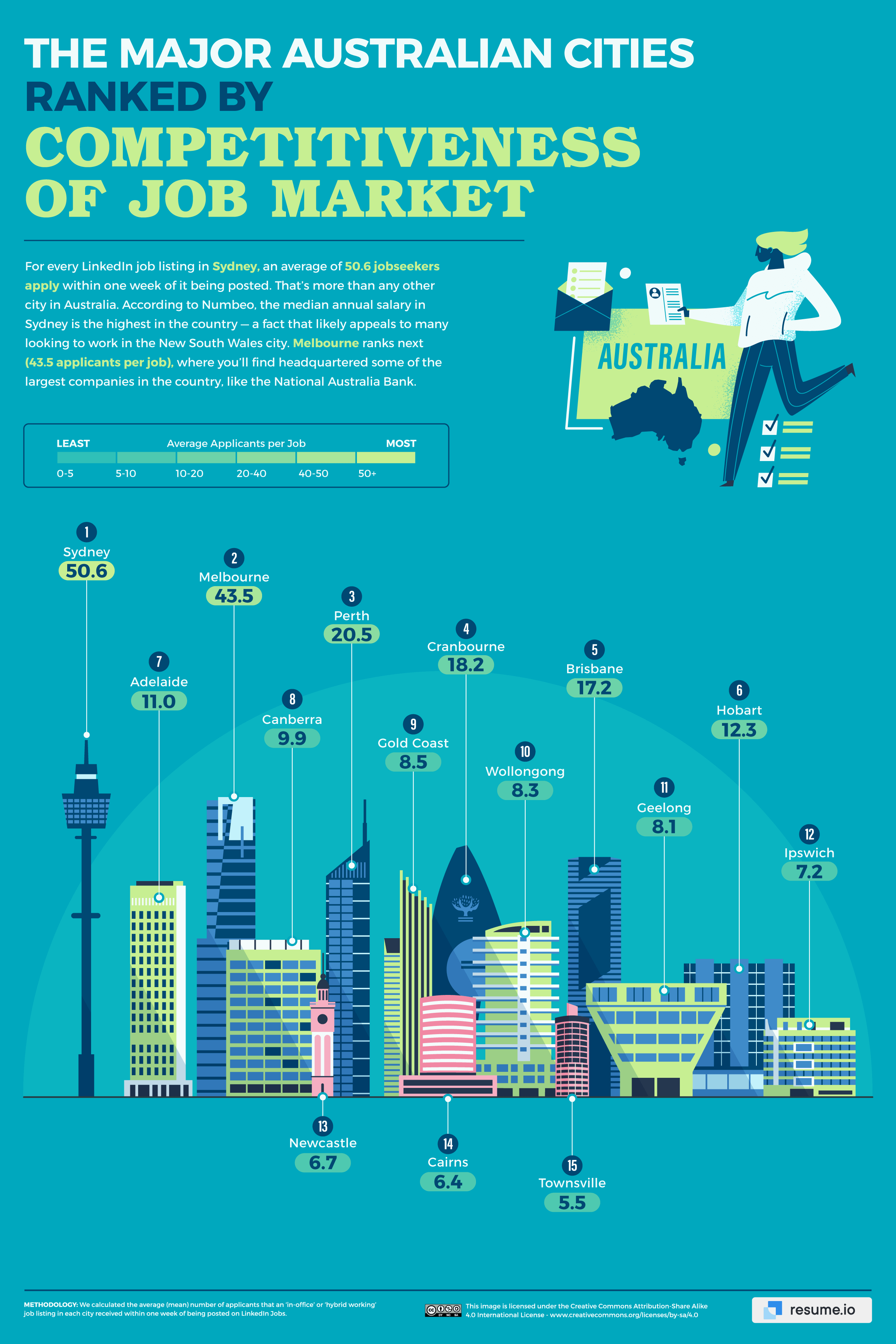 Click here to see the image in full size
Like other top-ranking cities in our analysis, Sydney boasts a high average salary, but it's not all about the money: a PwC study once found that the city outranks 29 other global 'cities of opportunity' when it comes to liveability and is the third most desirable city for professionals thinking of relocating. Working within a stone's throw of over 100 beaches sounds very tempting, too.
Standing out in a competitive job market
It can be discouraging to see a job listing receive what seems like 1,000 applications within mere minutes of being posted. So how can you make yourself stand out from the crowd?
Cover letters are key, with one poll revealing that 83% of recruiters and hiring managers find cover letters to be an important part of decision-making. As well as all the usual rules (make sure it's tailored, play up your strengths and watch for typos), Forbes advises including keywords relevant to the job, as many companies (including 99% of Fortune 500 firms) use applicant tracking systems that may scan your letter for relevancy automatically.
Resumes are perhaps the most important thing to get right, as recruiters, on average, spend only 7.4 seconds looking it over. The time-tested tips still stand true, like keeping it to one page (if you can), including an appealing and well-written personal statement and highlighting your most impressive achievements at your old jobs. But our best tip is to follow a professionally designed and formatted resume structure, for which resume templates can come to the rescue.
How we did it
To find out which cities have the most competitive job markets, we calculated the average (mean) number of applicants that a job advert receives within one week of being posted on LinkedIn Jobs.
We considered 'in-office' or 'hybrid working' job adverts recently posted in any industry within 130 cities and every U.S. state. The seed list of cities included the 20 most populated cities in the United States, Canada, the United Kingdom and Australia, plus an additional 50 cities from around the world that have been highlighted in previous news articles for having a large number of job postings.
For cities to appear in our final rankings, they needed to have included a minimum of 100 job postings available to apply for, which had been posted no longer than seven days before the data was retrieved.
The data was collected in February 2023.