Mastery of maths and Excel expertise may be vital for assistant accountant job seekers, but aren't enough to turn hiring heads in your favour. The formula for an outstanding assistant accountant CV is to zero in on what employers are looking for and match that to your talents.
Resume.io's growing body of advice on how to target hiring expectations includes dozens of occupation-specific CV examples and writing guides. 
What you're reading now is a best-practices blueprint for an assistant accountant CV that adds up to success on all counts. Supported by wording you can adapt from an assistant accountant CV, we'll cover this information step by step:
The assistant accountant's job role and outlook
How to write an assistant accountant CV — the sum of five parts in a suitable format
Your bottom-line message in each CV  section: header, profile, employment history, education, and skills
A professional presentation — CV layout and design details.
What do assistant accountants do?
First up, let's look at what assistant accounts do. Behind every successful accountant is the potential for an assistant to shoulder some of the workload. The professional support services of assistant accountants are valued by organisations of all sizes, across most industries. 
Cookie-cutter job descriptions seldom apply. From ledger entries, bank statement reconciliations, and invoicing to financial reports, budgets and payroll management, whether any task is too large or too small for an assistant accountant depends on the employer. The common denominator in all finance administration roles is about making life easier for bosses and colleagues. 
Account assistant job market and outlook
The ongoing shortage of accountants in the UK and higher future demand forecasts bode well for the assistant accountant employment outlook. While the current UK job market for assistant accountants still favours those seeking permanent, full-time positions, there's been an uptrend in temporary contract opportunities.
Statistical insight
According to the Office for National Statistics (ONS), the average annual salary for accounts assistants is £23,000, ranging from the trainee level of £21,248 to £27,000 for those with experience and weightier responsibilities. 
These average annual salaries were reported by other online income sources:  myworldofwork.co — £31,720; totaljobs.co — £29,000 (ranging from £25,000 to £32,500); and glassdoor.com — £28,190 (ranging from £21,000 to £37,000).
How to write an assistant accountant CV
One step at a time is the least daunting way to approach any CV building task, and one job application at a time is an unbreakable rule. Essentially, your completed assistant accountant CV will be the sum of these of these five vital parts:
Header
Summary
Employment history
Education
Skills

Each posted job advert you respond to calls for a different, custom-tailored version of your assistant accountant CV. That ad post happens to be the best source for precisely matching your CV content and wording to the listed job requirements. Scrutinise for clues about the employer's hiring expectations. Be on the lookout for keywords that you can slot into different sections of your CV. This "square one" preparation point, where you should return at later CV writing stages, is crucial for the two following reasons: 
Addressing the specific hiring needs for each target position shows you're taking the opportunity seriously enough to do your homework. Conveying from the get-go that you're a perfect fit is the surest way to catch and hold the attention of busy hiring managers, who might otherwise not give your CV more than a passing glance.
The best assurance of your CV being seen by human eyes at all is to customise it using keywords and other terminology replicating what appears in the listed job requirements. Then it's less likely to be rejected by the applicant tracking systems ( ATS) software used to screen online job applications.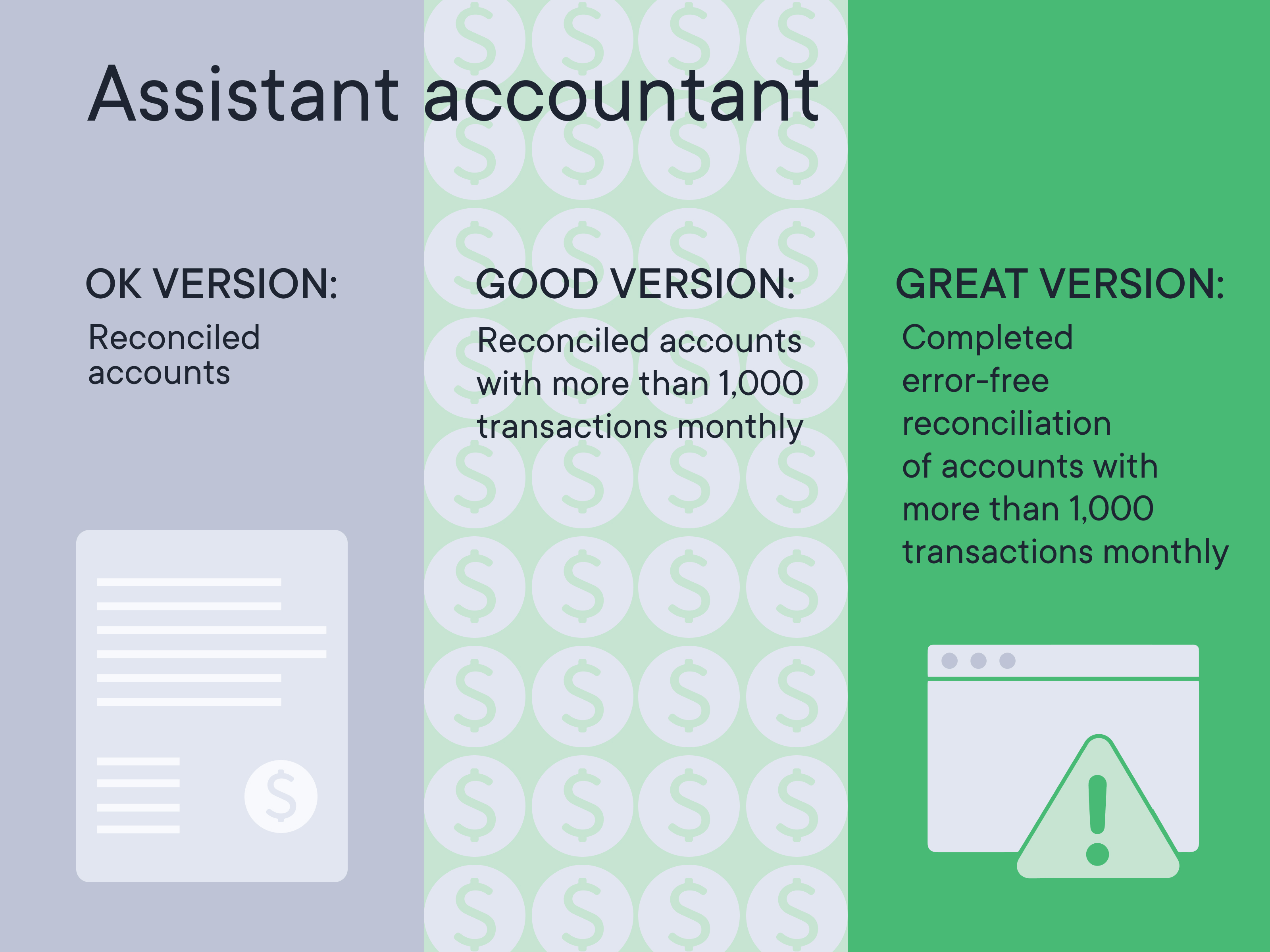 Choosing the best CV format for an assistant accountant
A small minority of assistant accountants might consider using the functional CV format, which emphasises transferable skills. It's sometimes a good option for job seekers who are workforce newcomers, switching careers, or otherwise lacking relevant experience. It might also suit those who are self-employed and seeking contract work.
Statistical insight
According to myworldofwork.co, 60% of assistant accountants in the UK hold full-time positions, 34% work part-time, and 7% are self-employed.
By and large, however, the most popular chronological CV format is recommended for anyone whose work experience follows a progressive path in employee positions. Hiring managers prefer this format, with job highlights listed under dated employer headings in reverse chronological order.
A third option, the hybrid CV format, combines both chronological and functional elements. 
CV header
An attractive CV header sets the right professional tone for your assistant accountant job application. Achieve double the impact when your cover letter bears the same design elements.
This "personal brand" visually distinguishes your CV from all the rest. It also factors into a reader-friendly document layout. The prominence of your identifying information enables hiring managers to notice it right away and easily retrieve it when they want to contact you. Be sure to include your name, occupation or job title, email and phone number, plus a hyperlink to your LinkedIn profile if you have one.
CV summary example
You are likely familiar with the executive summary of a financial report — a high-level overview of key information contained within. Think of your CV profile the same way from a "why hire me?" perspective. It's a value proposition to the hiring organisation that stands to benefit with you on its accounting team. 
Given the importance of communication and teamwork in any assistant accountant role, your CV profile (sometimes called the summary or personal statement) should demonstrate that you have a way with words, in addition to a passion for numbers.
In fact, economy of words is crucial here to optimise both the compact page space and dynamic impact. "Less is more" to catch the reader's attention with an incentive to dig deeper for details. Use concise and precise language to form a connection between your past performance and future promise. As discussed earlier, the posted job advert should help you hit the most relevant high notes.
Below is an assistant accountant CV sample profile you can adapt for your own use.
Adaptable summary cv sample
Dedicated accounting professional with a strong track record for ensuring efficiency across all accounting operations. Demonstrated capacity for creating and maintaining detailed reports, records, and invoices, delivering clear insights for accounting and leadership teams. Keen talent for uncovering and remediating discrepancies to maintain optimal accuracy.
Employment history sample
Approach this CV section like a balance sheet highlighting only assets and no liabilities. Employer relevance is your basis for adding or subtracting bullet points to tell an impressive story of career growth and development. Review the listed job requirements to focus on what matters most to the hiring organisation.
Selectively describe achievements and contributions you could replicate if hired as an assistant accountant. Frame these as problems solved or actions taken to achieve positive outcomes. Quantify with facts and figures — including dollar amounts, of course  — illustrating the significance in context. Mention instances where you showed initiative, met deadlines, and collaborated with others.
Energetic action verbs will guide readers smoothly through this section. Try to incorporate keywords here too. 
Below is an assistant accountant employment history CV sample you can modify.
Adaptable employment history cv example
Assistant Accountant, Thomas & Thomas, Cardiff, UK
November 2021 - Present
Partner with Accountant to provide vital support for all bookkeeping and accounting needs.
Provide direct support for Finance and Business teams in general clerical operations, maintaining strict adherence to company-wide standards.
Ensure accounting accuracy, uncovering invoicing discrepancies for immediate remediation.
Prepare and maintain expense reports, digital records, and invoices.
Communicate with clients and vendors to manage payment and payment processing.
Accounting Clerk, Andgar Inc., Cardiff, UK
January 2021 - October 2021
Leveraged industry standard tools to manage invoicing, ensuring timely responses.
Reconciled statements and invoices, overseeing accounts payable operations for accuracy.
Reduced payment backlog through regular follow-ups with customers.
Maintained complex reporting and data management systems.
Assistant accountant CV education example
Although degrees are not always essential for assistant accountant positions, some employers require or prefer qualifications such as:
In any case, list your academic credentials here in reverse chronological order, from highest to lowest level. Below is the education section from our assistant accountant CV example.
Adaptable education cv example
Bachelor of Science in Finance, Cardiff University, Cardiff, UK
January 2016 - December 2020
CV skills example
Assistant accountant skills that are explicitly required for any given role — check that job ad again — should take priority in your CV list of key skills. Otherwise, strive for a strong mix of hard skills and soft skills that might help you outshine other job contenders. 
Expert tip
The following list of top skills for assistant accountants was compiled from various online sources of career advice:
Superior maths skills
Knowledge of accounting and budgeting principles
Analytical and problem-solving abilities
Attention to detail and accuracy
Able to work on a team
Able to prioritise work to beat or meet deadlines
Proficiency with accounting software and other IT applications
Excellent oral and written communication skills
Able to listen and take direction
Ambitious attitude
Willing to learn
Honest and trustworthy
Relationship building
Resource management
Check out an assistant accountant CV sample for the skills section below.
Adaptable skills section cv example
Accounting Software
Cross-Functional Collaboration
Invoicing & Accounts Payable
Accounting & Budgeting Principles
Attention to Detail
Financial Reporting
CV layout and design
Just as your choice of interview attire would show you belong in this assistant accountant role, so should your CV document be "dressed for success." Otherwise, a negative first impression could instantly sink your chances of landing that interview.
Polished and professional in every clean, streamlined and orderly sense is how your CV should appear at first glance. It sends the right message about your work habits and attitude. But that doesn't mean "buttoned down" always equals bland and boring. Stick to these basic CV layout, design and formatting principles and you'll seldom get the wrong result.
Graphic elements and even touches of colour are fine when understated and used sparingly.
Ensure adequate white space for ease of reading. Conform with the default one-inch margin width on all sides of the page, and loosen up the line and paragraph spacing.
Legibility should also guide your choice of CV fonts, with two different styles being the limit — one for body text and another compatible style for header text and section titles.
Proofread, proofread and proofread again — enlisting help from friends with impeccable spelling and grammar — so your CV is error-free.
Expert tip
A put-together look can be achieved quickly and easily by leaving your CV layout and design details up to Resume.io. Choose from our collection of field-tested CV templates in four style categories. Then it's a snap to customise with your own replacement text using our online CV builder tool.
Key takeaways for an assistant accountant CV
Diverse opportunities in the UK for assistant accountants will continue in the foreseeable future.
Customising your CV to fit each job application is a failsafe formula for success.
Take direction from the posted job ad to pinpoint priorities for relevant CV content and closely matched wording.
Using an expert-designed CV template helps ensure your document looks as good as it sounds.