One part customer service, two parts craftsmanship and a garnish of sparkling personality – that's the recipe for both a great bartender and a great bartender CV. No wonder a character with this job is found in nearly every popular TV sitcom – bartending is just as much about chatting with customers and making them feel welcome as it is about the drinks you serve.
Your CV isn't always the most obvious place to convey your character traits, but you'll need to make an effort to impress the bar owner and show them you're the right candidate for the job. Don't worry – if spirits and cocktails are your language, we'll help when it comes to writing your bartender CV. In this guide, along with our corresponding CV example, we'll cover the following topics:
What does a bartender or barman do?
How to write a bartender CV (tips and tricks)
The best format for a bartender CV
Advice on each section of your CV (summary, work history, education, skills)
Professional CV layout and design hints.
Expert tip
Applying to multiple jobs at once? Check out Resume.io's collection of CV examples and writing guides created for dozens of occupations.
What does a bartender do?
Bartenders, also known as barmen or barmaids, are professionals who work in restaurants, bars and pubs serving a variety of alcohol and other drinks to patrons. Bartenders are a staple of the restaurant and hospitality industry where they generally work behind a well-stocked bar. Bartenders may also work on cruise ships, in resorts, at nightclubs, and in concert venues.
Bartenders take on a variety of tasks to keep the operation running smoothly. Here are some of the duties you may be asked to perform as a bartender:
Preparing garnishes and ingredients before opening hours
Checking supplies and ordering more as necessary
Creating classic and speciality cocktails to order
Pouring beer and wine for waitstaff to bring to tables
Monitoring patrons alcohol intake and taking measures to prevent harm to themselves or others
Cleaning the bar after closing hours and making sure it is ready for the next service
Statistical insight
Government data shows that hospitality jobs, including bartending, remain some of the hardest to fill in the wake of the global health crisis. The 2023 strategy includes signposting job seekers to vacancies that the hospitality industry are still working to fill.
How to write a bartender CV
Like any good drink recipe, there are a series of steps to follow when it comes to writing your barman CV. Luckily, as long as you have all the right ingredients, it shouldn't be complicated. Here's what your CV should include:
The CV header
The CV summary (aka profile or personal statement)
The employment history section
The CV skills section
The education section
Before beginning to write, it's worth spending a few minutes to research the bar or establishment you're applying to. What is their visual presentation? How about the demographic of their customer base? A pub next to a university campus will cater to a different crowd than an upscale London restaurant. 
Consider these factors as you determine the tone and visual style of your CV. If you're applying to multiple bartending jobs, it's a smart idea to customise your CV for each. The goal is to show a prospective employer that you're the natural solution for their particular needs.
Choosing the best resume format for a bartender 
Bartenders with previous experience in the hospitality industry will largely benefit from the reverse chronological resume format. This format gets its name from the fact that it centres on the employment history section where you'll be able to list your experience starting from most recent and working backwards up until about 10 years (or as much as you have).
However, bartending can often be a great entry-level or summer job for university students, so you may find yourself a bit lacking when it comes time to fill out the employment history section. That's where the functional and hybrid resume formats come in. These alternative options allow you to focus more on the skills and abilities that make you the right fit for the job. Learn more about them in our guide to resume formats.
Expert tip
Find more writing and formatting tips in our:
CV summary example
The summary of your CV is the one place where you'll be able to speak directly to the hiring manager and communicate your strongest selling points. If you have previous experience as a barman or barmaid, make sure to mention it here. A brief mention of your soft skills, or personality traits, can also go a long way in the summary. The goal here is to communicate your personality and skills so that the hiring manager or bar owner is motivated to continue reading about your experience further down the page. Below you'll find the summary from our adaptable CV sample.
Expert tip
The CV summary, also known as the personal statement, is not to be confused with a CV headline or CV objective. While all of these sections serve a purpose, the summary gives you the most space to expand on your winning qualities.
Adaptable cv summary example
Bartender with three years' experience serving busy city bars.   Skilled in mixology and the creation of craft cocktails. Committed to exceptional customer service and experienced in maintaining a bar environment that keeps patrons returning again and again.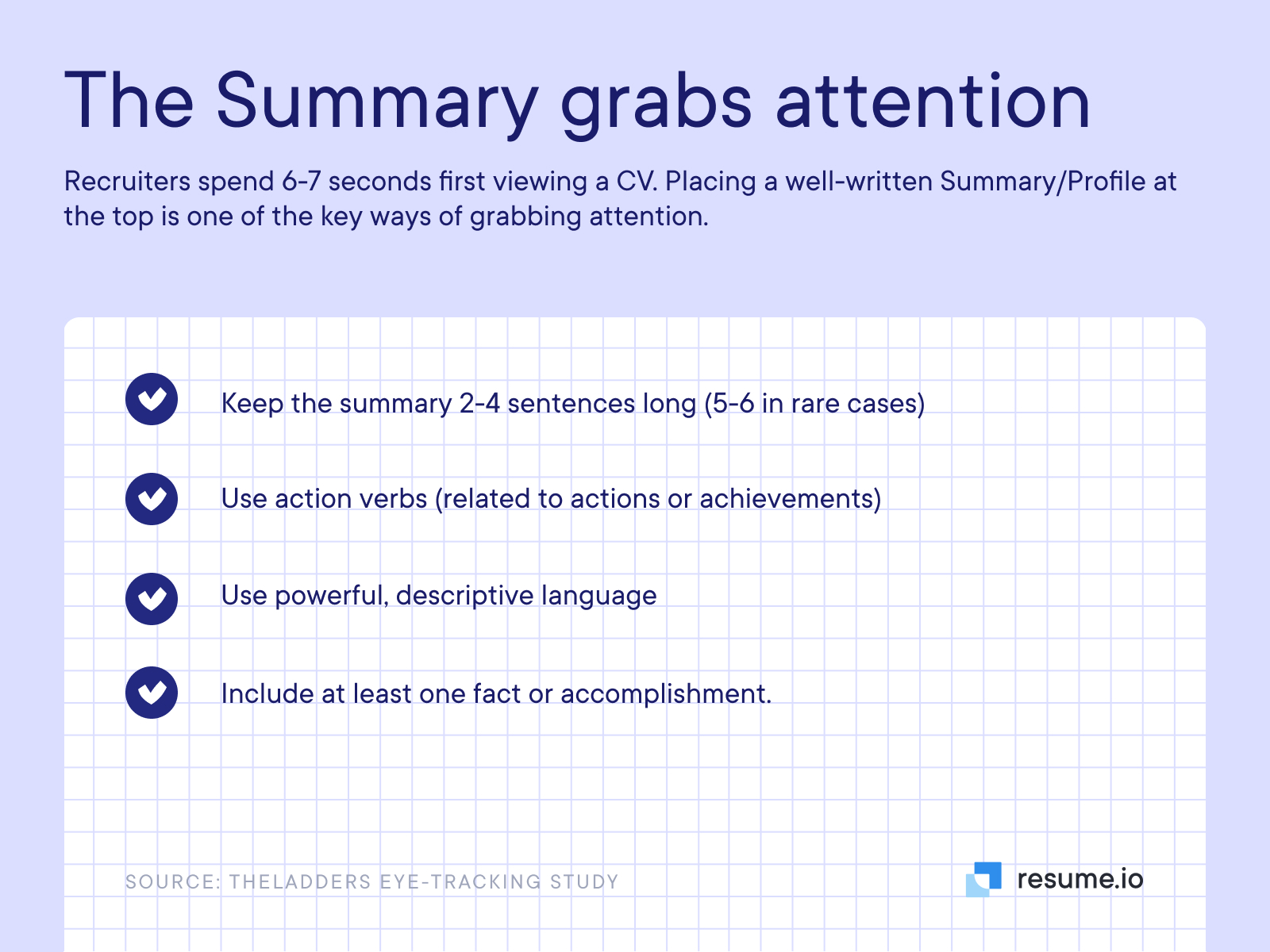 Employment history sample
The employment history section will likely be the most important part of your CV in the eyes of the hiring manager so it's imperative that this section is done right. First, create subheadings for your previous roles. Include the job title, employer name, dates worked, and location. Underneath, add 4-5 bullet points that describe the duties and skills performed in each of the roles. Wherever possible, use numbers and action verbs to quantify your achievements. The number of customers served each shift or the number of speciality drink recipes memorised can make for good, detailed information. Get more inspiration from our CV sample below.
Adaptable cv employment history example
Bartender at Antoinette's, York
May 2019 - Present
Delivered top quality classic and innovative cocktails at top tier bar.
Assessed the needs and preferences of customers and made beverage recommendations accordingly.
Maintained smooth operations behind the bar with quick order times and clean workspaces.
Restocked and replenished bar inventory and supplies before shifts.
Ensured compliance with food and beverage regulations.
Trained new employees on how to mix and garnish drinks.
Bartender at Wilson's Quarter, York
April 2018 - March 2019
Served clientele top quality cocktails at pace while maintaining a welcoming bar atmosphere.
Maintained a clean and orderly bar space and a welcoming environment for guests.
Collaborated with head mixologist to update seasonal cocktail menu.
Partnered with the York Shop Small Organisation to promote local business owners.
Maintained and organised an up-to-date inventory of liquor and supplies.
CV skills example
Your skills are at the heart of your job as a bartender so this section can't be overlooked. Although you might have addressed most of your qualifications in the previous section, the bullet point format of the skills section allows you to call attention to your strengths one more time. Include a mix of hard skills, which are learned and job specific (drink mixing or payment systems, for example) and soft skills like your outgoing personality and motivation to learn. Check out our adaptable barman CV example below.
Adaptable cv skills section example
Mixology
Inventory Management
Friendly and Outgoing Attitude
Multitasking Skills
Excellent Customer Service Skills
Bartender CV education example
While bartenders in the UK aren't required to have formal training in their field, the education section is an important part of any complete CV. Make sure to include all schools attended and the dates and location of your degrees. You can also include a degree in progress if you're still a student.
The education section is also the place to include any training, certifications, or memberships you hold related to bartending or the hospitality industry. If you have many to show, you may consider creating an additional section just for this information. See our CV sample below.
Adaptable cv education example
Advanced Mixology, The Spirit Lab, London
December 2021 - March 2022
Associate of Arts in Communications, New College of the Humanities, London
September 2017 - May 2020
CV layout and design
The layout and design of your CV are like the exterior of the pub – if the neon sign is busted and the door is rusting, customers will form an impression of the quality of the establishment before they even enter.
While your CV layout needn't be complicated, it should convey professionalism and warmth from the very top of the page. An attractive header that highlights your name and contact information with an accent colour should do the trick. Here are a few more design tips to consider:
Choose one or two font styles and stick with them throughout your CV
Leave enough white space (areas with no text) so that the page isn't tiring on the eyes
Stick with common section heading titles like "Education" or "Skills" so that the hiring manager can quickly find the information they are looking for
Expert tip
Make quick work of the design tasks and download your CV in the appropriate format by using an expertly-designed CV template and online builder.
Key takeaways for a bartender CV
Bartenders and other hospitality workers are in huge demand across the UK so there's never been a better time to prepare your CV!
Personality counts for a lot in this role so don't forget to use the freeform sentences of your summary to your advantage.
Include numbers and action verbs to show that you're a dynamic and efficient bartender.
Boost your layout by starting with our adaptable bartender CV sample.