A chef CV should consist of just the right ingredients to pique the hiring manager's interest and persuade them to invite you for an interview.
Hiring managers and restaurant owners don't have a lot of time to spend pouring over your CV, so how do you make a great impression and ensure you catch their attention?
With dozens of occupation-specific CV examples , Resume.io is an expert resource for job seekers at every stage of their careers. In this CV guide, together with our chef CV example, you can expect to learn more on the following topics:
The role of a chef and what this entails
How to write your chef CV (with plenty of tips and tricks!)
The most effective format to use for your chef CV
What sections to use on your CV and how to ensure these are effective
Information on the best layout and design to use for your chef CV
What does a chef do?
A chef has responsibility for the kitchen. They can work in various settings, including restaurants, hotels, and schools. The chef will plan the menu, deal with the food preparation, and manage the kitchen staff to deliver the meals with quality in mind and within a short timeline.
Most chefs work over 50 hours a week as it is a high-pressure and extremely busy role.
Statistical insight
How much does a chef earn?
The average salary for a chef in the UK is £27,255. So if you work for a high-end restaurant in London, you can expect to earn over £50,000 per annum.
The sky's the limit when you work as a chef if you are willing to commit and put the hours in. Gordon Ramsay is a shining example of this, a now world-famous TV chef who came from humble beginnings. He started his culinary career as a teenager and has worked his way up to become the second richest chef in the world, with a staggering net worth of over £200 million.
How to write a chef CV
Your chef CV should include various sections, and these will ensure that you cover the essential elements of your skills and experience. The following sections should be included in your CV:
CV header
CV summary
Employment history
Skills
Education
When writing each of these sections, it is important that you keep your target audience in mind. For instance, your tone will be different if applying to a prestigious restaurant than a local café. Consider your audience and the tone they would appreciate, and make tweaks to your CV for each role you are applying for.
The best way to build rapport before you even meet someone is to find out about them. Get a feel for the hiring manager and make sure to customise your CV for the job spec.
These are some rules you can follow to help you create a CV that will entice the hiring manager:
Tailor your CV to the employer, and adapt your tone to suit.
Use a clear, concise template and design without any gimmicks.
Ensure that there are relevant keywords scattered throughout your chef CV. You can find these in the job description.
Expert tip
Make use of LinkedIn
When researching the company and the hiring manager, LinkedIn is a great tool for finding useful information on individuals and general company information. It is well worth signing up for – if you haven't already. 
Choosing the best CV format for a chef
The best format to use for your chef CV is reverse chronological. With this format, your employment section is at the forefront of your CV with the education and skills following later.
The only time we would suggest that you divert from this format is if you don't have any relevant experience and want to focus on your education instead of your experience. For instance, if you are looking for a trainee chef role and are qualified but without expertise in the industry.
You can swap the sections to suit, but in most cases, for an experienced person, reverse chronological is the favourable option.
CV summary example: the starter
Your summary (also known as profile) should be the first section on your chef CV. It should be a short synopsis of your experience and skills to date – a brief introduction to YOU.
It only needs to be a few sentences long and should include action verbs, such as "led," "managed," "demonstrated." Avoid using 'I' to describe yourself on your CV. Action verbs are better.
Adaptable cv summary example
Passionate and innovative chef with 7+ years of industry experience working to create memorable and flavorful dishes. Skilled in Italian and Spanish cuisines. Dedicated to elevating the dining experience by experimenting with new techniques, fusions, and cooking approaches.
Employment history sample: the main course
Your employment history section is the "main course" of the chef CV, i.e., the most significant.
You should begin with your most recent employment, detailing the employer, company name, and dates employed. Next, you can use bullet points to detail the duties of the role. You don't need to describe every aspect of the role; the main points are fine. Keep it short but ensure you cover the important points. Again, using action verbs instead of 'I.'
As a chef plays an essential part in managing a team of kitchen staff, there are naturally many targets they need to achieve. If you can use statistics to support any statements you make, this will pique the hiring manager's interest even more. For instance, instead of "responsible for ensuring a quick turnaround of meals from kitchen to table," you could say, "ensuring meals were prepared and on the customer's table within 15 minutes." It gives the hiring manager a clearer insight into the deliverables they could expect from you, making your chef CV more appealing to them.
Below you'll find the employment history section from our CV sample.
Adaptable cv employment history example
Head Chef at Amara's Bistro, Bristol 
April 2018 - May 2022 
Effectively managed all kitchen processes and employees.
Ensured top notch quality preparation and delivery of all menu items.
Researched and planned menu offerings based on seasons and availability of produce and meats.
Maintained all department expenses within the budgeted guidelines.
Experimented with recipes and suggested new and refreshing ingredients to elevate meals.
Prepared menu items properly and adjusted ingredients and cooking methods based on customer preferences.
Ensured compliance with all health and safety regulations within the kitchen area.
Prepared more than 150 meals during busy shifts.
Chef at Lemondrop Cafe , Bristol September 
2014 - March 2018 
Worked closely with other kitchen staff in a small team to produce high quality and delicious meals for guests.
Applied excellent attention to details to ensure an outstanding customer dining experience.
Helped to manage food inventory supplies by purchasing necessary ingredients in a timely manner.
Ensured a safe, secure, and healthy food preparation environment by following and enforcing preparation standards and procedures.
Assisted the executive chef in planning and budgeting the food costs.
CV skills example: the accompaniment
The skills section is the bread you have as an accompaniment to your main meal. It acts as a support to your experience and gives it a little extra value.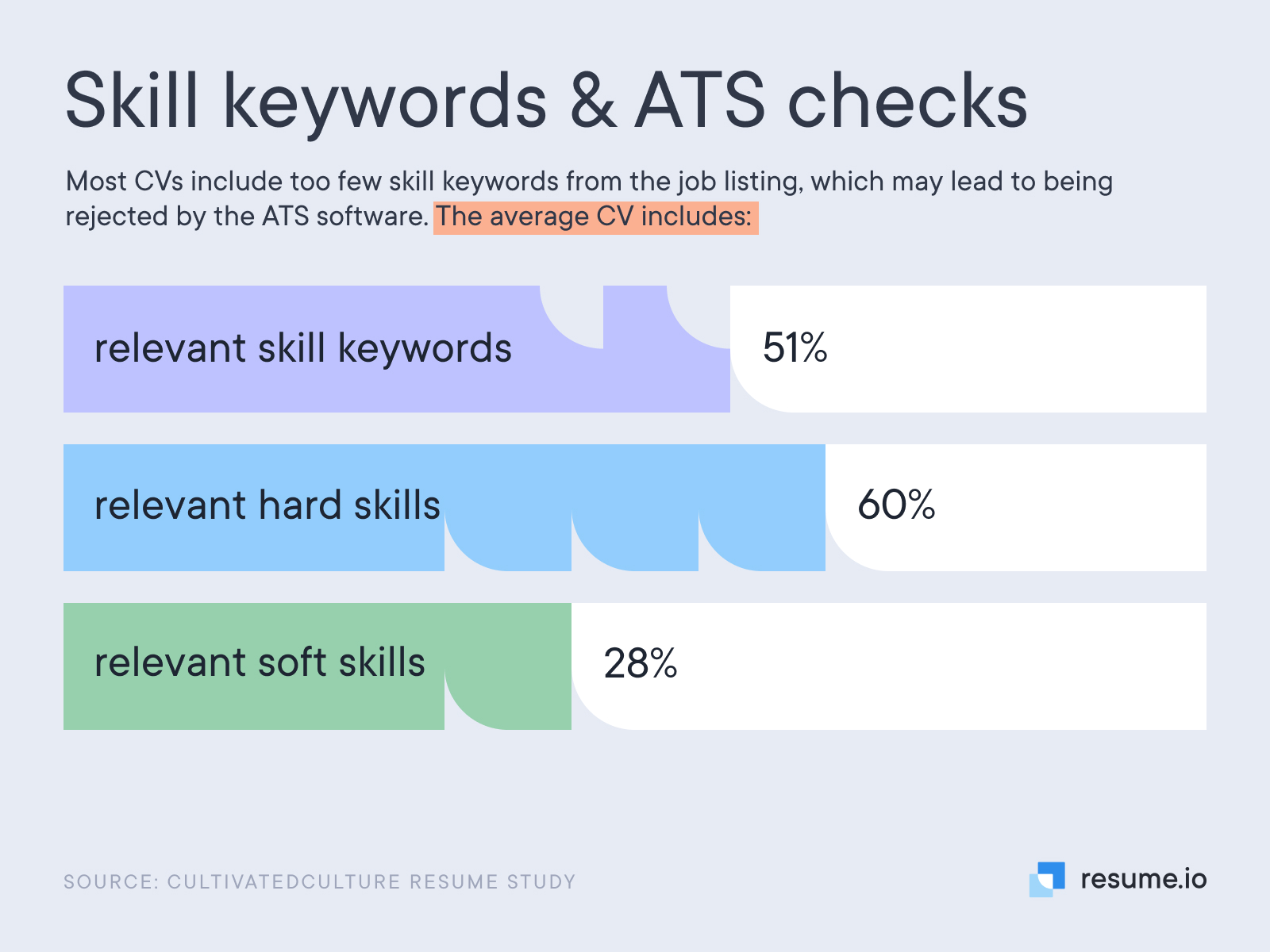 As a chef, you need to possess a good combination of hard and soft skills. You need to have the hard skills and training required to understand food, cooking, and preparing meals, but you also need the soft skills of communication, working under pressure, and managing stress. A chef is an all-rounder, they require a wide array of skills, and therefore, your skill section should show the hiring manager what you're good at and what makes you the right person for the job. Check out the skills section from our CV example below.
Adaptable cv skills example
Effective Time Management
Culinary Techniques
Knowledge of Food Chemistry
Knowledge of Food Safety
Staff Management
Creative Thinking
Ability to Work Under Pressure
Ability to Work in a Team
Expert tip
Show your passion
Chefs need to be passionate about food and deliver outstanding service to customers. Your CV should leave no doubt in the hiring manager's mind that you are passionate and love everything about food and preparing mouth-watering meals. Keep the language positive and incorporate your desire to create your menu where possible.
Chef CV education example: the dessert
As there are no specific educational requirements for a chef, the education section can sit at the bottom. On-the-job training is more relevant. However, education is still significant. If you have no experience but relevant qualifications, you may want to switch the education and experience sections around. This section would include any qualifications with the latest at the top. You can look at this graduate CV example for some inspiration on how to write your education section.
Adaptable cv education example
Culinary Arts at Chef Academy London, City of London September 
2012 - May 2014
CV layout and design: the finished product
Just as you would want your finished dishes to taste great, you also want to ensure the finished product is aesthetically pleasing. The same applies to your CV layout and design. You don't need to overthink the design of the CV. The main focus should be on ensuring it is clear and concise.
Expert tip
An expertly-designed CV template can help you focus on the writing without worrying about costly formatting errors.
Key takeaways for a chef CV
Use a clear structure and ensure you cover the most important aspects of your skills and experience.
Make sure your CV is targeted to each role you are applying for.
Ensure positive language throughout your CV and use relevant keywords.
Check out our adaptable chef CV sample for more ideas on creating a great page layout.