As a waiter you serve all types of customers as they take a moment away from their everyday lives. So, is your waiter CV doing you a service or just the opposite?
In the hospitality industry, a strong CV is arguably the most important document you will write when it comes to securing that waiter job. So it's important that you take the time to make sure it is written with your prospective employer in mind. 
Resume.io has created a range of CV guides and CV examples for dozens of professions, backed up by an easy-to-use resume builder. We want to help you to express your suitability for any waiter job with confidence. This CV guide, along with the corresponding CV example will cover the following topics:
What does a waiter do?
How to write a waiter CV (tips and tricks)
The best format for a waiter CV
Advice on each section of your CV (summary, work history, education, skills)
Professional CV layout and design hints.
What does a waiter do?
As a waiter you do more than just serve food. You are a cornerstone of making sure your customers have a pleasant dining experience. When people spend their hard-earned money on a bite to eat, you are the friendly face that tends to their needs.
Whether you're working in a fast-paced cafe or a refined restaurant, as a waiter or waitress you are serving food and drink to a hungry public. We may all have to eat, but your customers have chosen your workplace. You're the face of their experience and have a huge influence on whether or not they will choose to come back.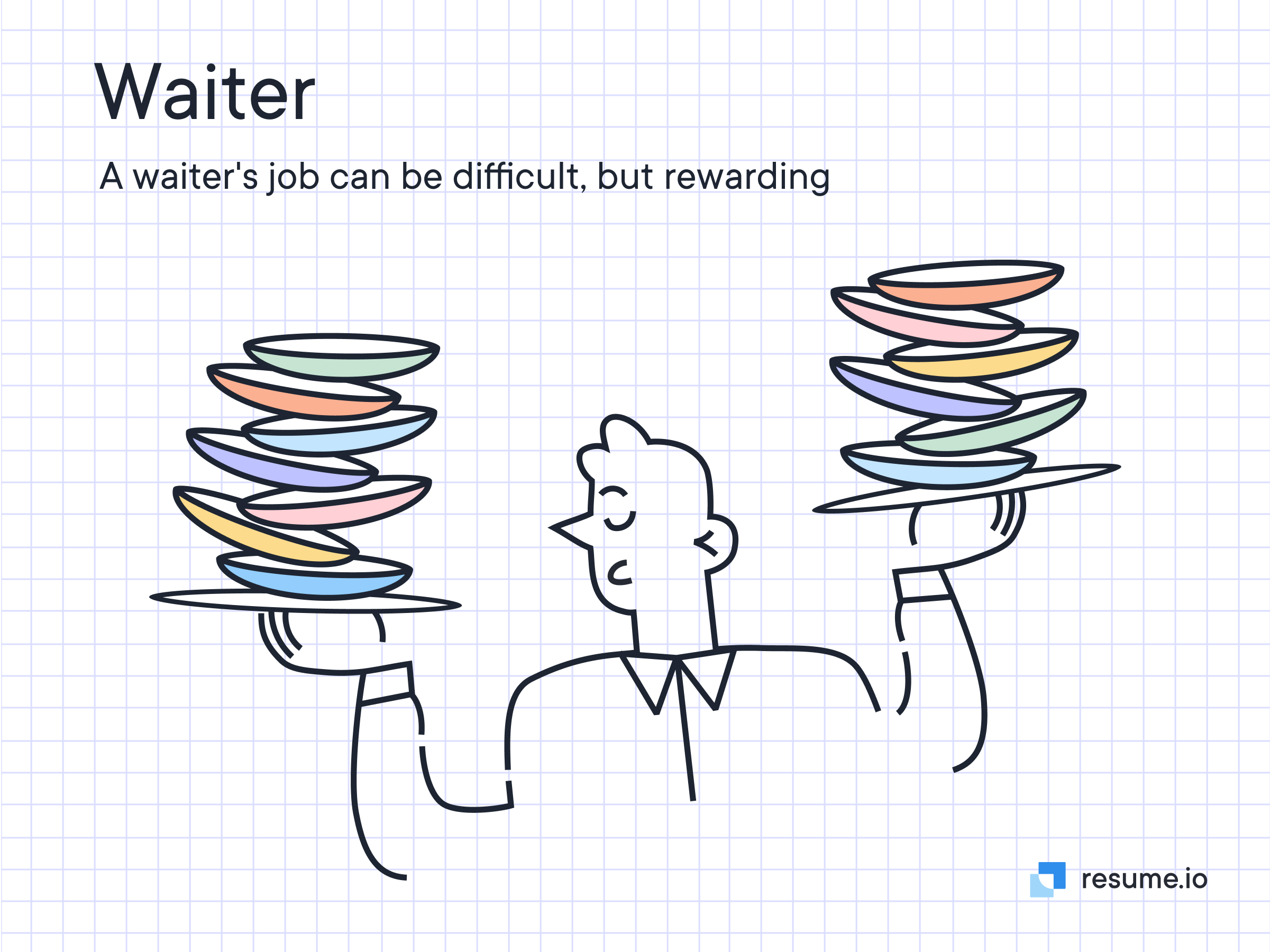 How to write a waiter CV
Before you start writing the content of your waiter CV, it's important that it follows the correct format. Your CV should contain the following elements:
The CV header
The CV summary (aka profile or personal statement)
The employment history section
The CV skills section
The education section
Expert tip
Serve the ATS' needs
When writing a CV for a waiter position, it's important to optimise it for the Applicant Tracking System (ATS). The ATS is used by many companies to scan CVs for specific keywords and phrases related to the job description. 
By optimising your CV for the ATS, you increase the chances of being among the system's top-ranked applicants and getting noticed by the hiring manager. So, carefully tailor your CV for this role by including relevant keywords and phrases from the job description throughout.
Choosing the best CV format for a waiter
Like many jobs, the most important element of your waiter CV is proof you have the skills and experience necessary. The best way to show this is to use the reverse chronological CV format. This CV format focuses on the employment history section, where you can prove in a clear and concise way that you have the experience for the job.
If you are having trouble filling out the employment history section of your waiter CV example, you may want to think twice about the best CV format for you.
Expert tip
No experience? No problem!
Everyone has to start somewhere. So, if you are lacking professional experience as a waiter but still want to go for that job, don't despair. Focus on some of the following points in your resume to show that you're still the right person for the job:
Highlight any transferable skills and customer service-related experience.
Emphasise those soft skills. Communication is an important part of creating a great dining experience.
Mention any relevant courses or training such as food safety or customer service.
CV summary example
The CV summary should communicate in three or four sentences why you are right for this particular waiter job. The section sits at the top of your CV; it's the first personalised content the hiring manager will read. Make sure you reflect the key points most important to this role. 
As a waiter you have a lot of transferable skills, but it's important to adjust your CV for each job you apply to. If you are thinking about the best way to communicate the attributes and experience that are most important in your CV, you can study the CV summaries and other CV example content. 
Our hospitality CV example,  student CV example, and barista CV example could be good places to start. The waiter CV sample content below will also give you some ideas.
Adaptable summary CV sample
Engaging, service-oriented waiter with a passion for delivering exceptional experiences in an array of both casual and fine-dining environments.
Employment history sample
If you've had consistent waiting experience this section may seem straightforward. However, other candidates can offer similarly consistent employment as a waiter. The employment history section should illustrate why your previous experience has shaped your skills and knowledge to be the best person for this role. 
There are several important things to include for each previous place of employment. To start out, create a subheading with the essential information. You should include the title of your position, the name of your employer, as well as the location and dates worked.
Underneath this subheading you can insert several bullet points that highlight your noteable responsibilities and/or highlighted accomplishments from your time in this role. Remember to keep this relevant to what the hiring manager for this position will find interesting.
You can make your previous employment even more interesting by quantifying your achievements. Did you consistently upsell menu items? Or improve the time taken for tables to be turned around? If you can convert your skills into numbers or statistics then it creates a clear picture of your value as a waiter.
Adaptable employment history CV example
Waiter at La Lune, Swansea 
September 2020 - January 2023 
Greeted and engaged guests in a fine-dining environment, providing personalised service with exceptional attention to detail.
Consulted with guests on dietary restrictions and allergies to make informed recommendations on food and beverage pairings.
Expertly diffused conflicts and challenges, offering premiere service to smooth over issues and maintain stellar customer satisfaction.
Waiter at Chaco's, Swansea 
November 2017 - September 2020 
Fostered a welcoming, casual dining environment, creating an relaxed, welcoming environment for guests.
Built a client base of loyal repeat customers through exceptional service and engagement.
CV skills example
In the skills section you will highlight the knowledge and capabilities that make you a great waiter. Remember to look for any clues in the job description about important keywords to use. Matching the language helps the human hiring manager and the ATS understand your suitability.
This section becomes particularly important if you have not opted for the reverse chronological CV format. In a functional CV, for instance, this section is the most important. Whatever format you opted for, your skills list should prioritise your most important and relevant abilities at the top of the section.
Adaptable skills section CV example
Customer Service
Teamwork & Leadership
High-Pressure Environments
Casual & Fine Dining
Food & Beverage Knowledge
Customer Engagement
Expert tip
Soft skills vs hard skills
Remember that being a great waiter is more than knowing how to take orders. While your technical skills — also known as hard skills — need to take you part of the way, your soft skills are just as important. 
Soft skills refer to how you communicate with people and the way that you carry out a task. When it comes to creating a pleasant dining experience, soft skills take you a lot of the way. 
In short: remember to include a mix of both types of skills in your skill section.
Waiter CV education example
The education section of your waiter CV is also important. Whether you have been out of school for years or you are working as a waiter while studying, your employer will want to understand this part of your professional journey. 
Like the employment history section, include the essential information in a simple subheading. You should mention the name of your qualification, the place of study, the dates attended and its location in the subheading. 
Look at the waiter CV sample content below to see this in action. Keep in mind that if you have attended university or have an equivalent higher education qualification then there is no need to include your secondary school or college education.
Adaptable education CV example
BA in Hospitality, Swansea College, Swansea, UK 
September 2014 - June 2017 
Completed Master level coursework in Wine Tasting & Wine Pairing
Completed work-study under Maître d' at Bella Noche
CV layout and design
Sticking to the dress code during your shift is important for any waiter. Similarly, your waiter CV needs to look the part. Remember to use a simple colour scheme and stick to one or two fonts. 
If you're not confident you can make a great impression with the layout and design of your CV, you can consider using one of our field-tested CV templates.
Key takeaways for a waiter CV
Commit to the reverse chronological CV format if possible.
Lean into training experience and soft skills if you're building your experience as a waiter.
Keep your skills section relevant for this particular role.
Make a professional first impression with a well-designed CV.