Servers are an essential part of a customer's dining experience. From the initial greeting to bringing out dessert, servers wear a lot of hats to make sure customers leave feeling satisfied. For those feeling less than satisfied in their current job, an outstanding server resume could find them at finer tables much faster than imagined.
Resume.io is here to help, with resources that include more than 300 occupation-specific writing guides and corresponding resume samples.
This resume writing guide, along with the server resume example, is designed especially to showcase your experience and best qualities to a busy restaurant owner or manager. It will teach you how to show off your skills and make your most relevant experience stand out to a busy manager or restaurant owner. Our insights and advice will cover these topics:
The server job market and hiring process
How to write a server resume that will streamline your experience to highlight your most outstanding qualities and convey a passion for serving others
The best format for structuring a server resume
Advice for each section of your server resume: header, summary, employment history, education and skills
Extra tips for capturing both your sparkling personality and technical skills, and for landing better-paying jobs at high-end restaurants
Professional layout and design suggestions
What do servers do?
While serving is often a great part-time or summer job, experienced servers know the expectations can be demanding: be friendly, yet authoritative. Move quickly, but give enough attention to each table. Resolve disagreements while making sure that customers want to come back.  
So how do you convey all of these intricacies on the perfect server resume? Having an understanding of the job market and hiring process is a good place to start.
Statistical insight
According to the National Restaurant Association (U.S.), 1 in 3 Americans have their first job experience in restaurants. Nearly 6 in 10 adults have worked in restaurants at some point. It's a great way to start your professional journey.
Server job market
Understanding the server hiring process
While many other industries use applicant tracking systems (ATS), most restaurants still hire servers the old-fashioned way: a hiring manager reviewing paper resumes tries to determine who can handle the job best. To succeed, it's crucial that your server resume shows quickly and concisely that you have accumulated the industry knowledge others lack. 
A top-notch restaurant server resume also increases your chances of working in a more respected restaurant, which translates to more customers and better tips. If you've worked in the industry for any length of time, you know one problem all kitchen staff management suffer from is a high turnover rate — sometimes up to 75%. It seems restaurant workers are quitting the job almost as soon as they get hired. 
That means two things: 
There are a lot of server openings available to you, and
Your server resume needs to convey reliability and the ability to stick out difficult situations.
When servers quit and leave a restaurant, they're taking with them hours of training and time invested by the employer. No managers want to spend what can amount to thousands of dollars on a server who will ditch them for the next best opportunity. So make sure your server resume highlights your ability to keep jobs and be a team player in the long term.
Beyond the numbers
Whereas most other sectors have seen their turnover rates decline during the past decade, restaurants have seen an increase. According to the National Restaurant Association (U.S.), hiring and keeping servers and other employees is one of the biggest challenges restaurants face. In 2018, the turnover rate was at its highest level since the Great Depression.
Landing a top job
According to the U.S. Bureau of Labor Statistics, employment opportunities for waiters and waitresses is projected to grow by 20% from 2020 to 2030 — much faster than the average for all occupations — which translates to about  407,600 new server jobs. That means work is there — if you know how to sell yourself on your resume.  
But statistics also show that while work in run-of-the-mill restaurants is plentiful, the competition for server positions at the sort of tuxedo-clad dining rooms that bring in top-notch tips is much tougher. For these types of jobs, you need to prove that you know the ins and outs of formal food service and have an exceptional level of professionalism. If you're after that type of job, it's worth putting more effort into your server resume now: servers report that high-end restaurant work can pay more than six figures in tips annually.
Statistical insight
Just over half of restaurant operators – 51% — regard staffing as a top challenge to success, and 35% say training staff is a top challenge. Source: Restaurant Success Report (U.S.)
Expert tip
For more ideas and inspiration to help you craft a winning server resume, check out these writing guides and examples in our related   hospitality & catering category.
How to write a server resume
Regardless of industry or occupation, the same basic framework is recommended for all job applicant resumes. We'll be going through each of these components, one at a time, in this server resume writing guide and the corresponding resume examples:
Header
Summary (sometimes called profile or personal statement)
Employment history
Education
Skills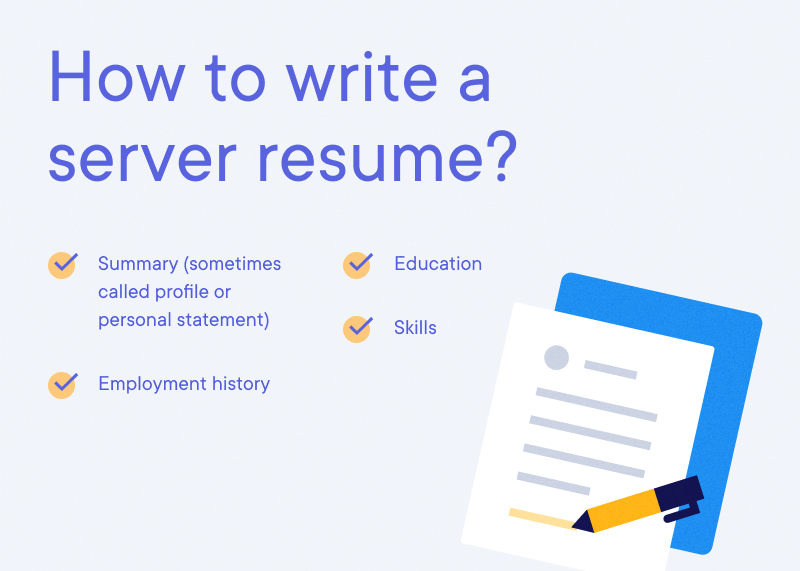 Choosing the best resume format for a server
The chronological resume format is likely the best option for structuring your server CV, as the server resume example referred to in this guide will illustrate. As the most commonly used format for job seekers, it provides an overview of work experience attained in a series of employee positions, 
But if you are new to the workforce, making a dramatic career shift, or your most relevant experience has not been in employee positions, then take a look at alternative resume formats. A functional resume structure is sometimes suitable for emphasizing specialized skills or training, or for those who have been self-employed. 
Resume header: First impressions
For the kind of favorable first impression you want to last when hiring managers see your resume, don't overlook the importance of an eye-pleasing header design. Besides creating a personal brand that visually distinguishes  your job application from the rest, the header serves a vitally important practical purpose. It clearly identifies who your resume belongs to and how you can be reached for an interview.  
 
Summary example: Show off that sparkling personality
For restaurant hiring manager, your resume summary is the written version of what the customer sees: a smiling face ready to make them feel at home. It's also the place to prove your expertise to a manager who needs a disciplined, motivated and patient server — pronto! 
The summary (sometimes called profile or personal statement) should highlight your strongest characteristics while also giving the facts. Some sample questions your summary statements might answer: How many years of experience do you have? Were you a top-earner at your last restaurant? What skills did you master? Maybe it's bartending, maybe it's upselling the menu. Whatever your greatest strength as a server is, now's the time to mention it on your resume summary. 
If you have formal training or certifications, give the manager a taste for that, too. They can read the details in the following sections of your resume.
Finding stronger words
Here's where creating writing comes to play in resume writing. Use descriptors that are clear, precise and energetic. For example, instead of "friendly," try attentive, welcoming or approachable. Instead of saying you were motivated, explain how you quickly and effectively managed a dining room of 115 seats.
Below is a server resume example summary you can customize.
Adaptable summary example
Professional and enthusiastic food server with over three years of experience delivering first-class service to dining patrons in busy restaurants at banquets. Upbeat energy, confidence and poise have earned praise from employers and customers alike, along with my ability to multitask and work well under pressure. Extremely customer-focused and dedicated to maintaining restaurant and food industry standards, while enhancing the positive reputation of dining establishments.
Employment history sample: I've got this
The employment history section of your resume show managers you know how to take charge and keep customers happy. List your work experience in reverse chronological order, working backwards from your current or latest position. Describe your duties in terms of tangible accomplishments, giving facts and figures wherever possible. 
These are some sample sources of numbers to substantiate the employment history section of your server resume:
How big was the team that you worked with? Did you have any leadership roles like training others?
How many seats were in the restaurant? How many customers did you routinely serve during a shift?
How many dishes were on the menu? Were you able to memorize their names and components?
Extra roles
Server jobs go beyond just making sure the food gets from the kitchen to the table. Drink and food servers are often asked to prepare cold dishes, salads, desserts and drinks. They're responsible for setting up the dining before the food service and making sure utensils and glasses are washed and properly stored when the night is over. During the shift, they put orders into the point of sale (POS) system and make sure the customers are able to pay and leave in a timely manner. 
All of these tasks on a resume show that the server is a well-rounded custodian of the dining experience, not merely a food runner.
Here is a server employment history resume sample.
Adaptable employment history example
Server, Roister, Chicago
Febrary 2017 - Present
Recorded food and drink orders and served customer requests to the highest standards.
Maintained full product knowledge of menu and specials.
Made suggestions to customers based on preferences.
Committed member with other restaurant professionals to ensure customer satisfaction.
Always mindful of sanitation and safety considerations when handling food.
Server, Little Goat, Chicago
March 2016 - February 2017
Efficient and effective customer service contributed to improved rates of return business.
Passed food orders through to kitchen staff clearly and quickly
Cleaned and reset tables promptly and efficiently for incoming customers, with a noticeable impact on reduced wait times.
Helped managers train new serving staff.
Barista and Cashier, Pour Cleveland, Cleveland
July 2012 - June 2014
Prepared specialty coffee and tea beverages in a fast-paced environment
Provided excellent customer service
Played integral team role to efficiently complete orders and maintain the cafe's pristine conditions and orderly workflow.
When you're new to the job
Working as a server is a popular part-time gig for students and young people. If you're just starting out as a server, don't fret. Local restaurant owners know they can teach you the skills needed to become successful, you just have to be willing to learn. You have personality and determination on your side, but if you have any additional experience that might be relevant, make sure to mention these examples.
Sample related activities:
Babysitting or childcare
Camp counseling
Working at a retail store
Working in an organization as a member of a team
Volunteering in a soup kitchen or other volunteer food work.
Examples of skills that can be transferable to a server role:
Handling customers' needs while working in a retail store
Ability to work long hours on your feet after spending a summer in lawn care
Attention to detail and the individual needs of each customer after working as a camp counselor.
Here is a server employment history if you are new to this role.
Adaptable employment history example for new servers
Was approachable and offered quick serve to customers as a retail associate in a large clothing store
Had the stamina to work long days and evenings as a lawn care professional
Attended to children's individual food allergies and dietary restrictions while preparing lunches as a camp counselor
Exuded patience and persistence while tutoring teenagers in foreign languages
Handled money and the POS system with accuracy and attention to detail while working at a local ice cream shop
Expert tip
Look for the most important qualities in your existing experience and mold them to fit the fast-paced demands of the life of a server.
Achievements
Quantifying your abilities as a server on your resume proves to the manager that you're not just a friendly face, but a committed team member. For example, maybe you were voted server of the year or maybe you were one of the highest earners. Maybe you trained 10 new servers. Don't be afraid to show off your accomplishments by adding them as bullet points next to the corresponding experience on your server resume.
Below is a sample of achievements for a server resume.
Adaptable achievement example
Voted server of the year by customers (2019)
Advanced from new employee to lead server in just six months
References
It's generally better to highlight your past work experiences, even if they are not as a server, than to take up precious resume space with references. You can include the line "references available upon request" to take care of this resume section. Just make sure you are prepared in case you do get asked. That means you actually know at least three former employers, teachers or coworkers who can vouch for your personality and abilities as a server.
Expert tip
If your potential employer does ask for references, you can add them as a custom section in our resume builder.
Server resume education example: An intellectual profile
Whether you have formal education or are just starting out, this server resume section is about showing you're willing to learn and improve. Servers often don't need formal education in the area of hospitality since many responsibilities can be learned on the job. However, if you are knowledgeable in the areas of tourism, hospitality management or food service this can be a major bonus, especially when looking for higher-level server jobs. 
Even if you don't have a degree in a related field, it doesn't hurt to show that you've studied on your resume. If you're just starting out, you can include your high school diploma. And for college students and high school students, be sure to include your diploma in progress in the education section of your server resume.
This is also the time to mention any additional certificates on your resume. Examples include bartending, restaurant service, food safety or other related areas.
Below is the education section from a server resume example.
Adaptable education example
Associate of Photography, Art Institute of Chicago, Chicago
August 2016 - June 2014
Merit Scholarship Recipient, graduation 2018
Honors Diploma, John F. Kennedy High School, Cleveland
August 2012 - May 2016
Bartending
Tips earned from bartending can make your server job much more profitable. If you already have a certification, make sure to include it on your resume education section. If not, consider the laws where you live. In the U.S., laws on who can serve alcohol vary from state to state. Most states require the server to be at least 18 years old, but some places won't hire bartenders who are younger than 21. Some states offer online certifications, while others mandate an in-person course. Whatever the requirements, being a certified bartender can help you boost your income and broaden your reach when looking for a job.
Adaptable certification example
Courses and certifications: 
2019 – Licensee Education on Alcohol and Drugs (LEAD)
Completed an 8-hour program designed to help servers understand alcohol laws and safe drinking to protect customers and the public
2018 – Servsafe course (16 hours)
Completed certification and training on food safety regulations, kitchen cleanliness techniques, food allergens and more
Statistical insight
53% of restaurants offer food safety and alcohol certification training. Source: Restaurant Success Report (U.S.)
CV skills example: This is where you shine
Soft skills
Regardless of your experience level, showing off your communication and soft skills — commonly known as people skills —  on your resume is essential to landing your next server job.
Examples include: dependable, honest, hard-working, attentive, efficient. Show employers that you have the innate characteristics of a server that would be hard for them to create in someone who is unfriendly and sluggish. It's especially advantageous to focus more on this section if you are just starting out as a server and don't have as many of the abilities that come from on-the-job training and experience. And don't forget to mention on your resume that not only do you take feedback well, you actively seek it out as part of the learning process.
Hard skills
The more server experience you have, the more prominence should be given to your hard skills. If you've been a server for a while now, a manager assumes you know how to treat guests with respect. Now, use your resume to show them that you've picked up more precise industry knowledge.
Sample advanced skills:
Quickly and effectively use the POS system to put in orders and modify them based on requests and food allergies
Upsell menu items like wine and dessert in a way that is honest and makes customers happy they decided to spend a little more
Make a variety of drinks, salads and desserts
Create flower arrangements or other dining room decorations
Handle the cash register and money with confidence and accountability
Memorize a large menu and be able to recite individual ingredients if asked
Know the specific health codes and food sanitation laws for your area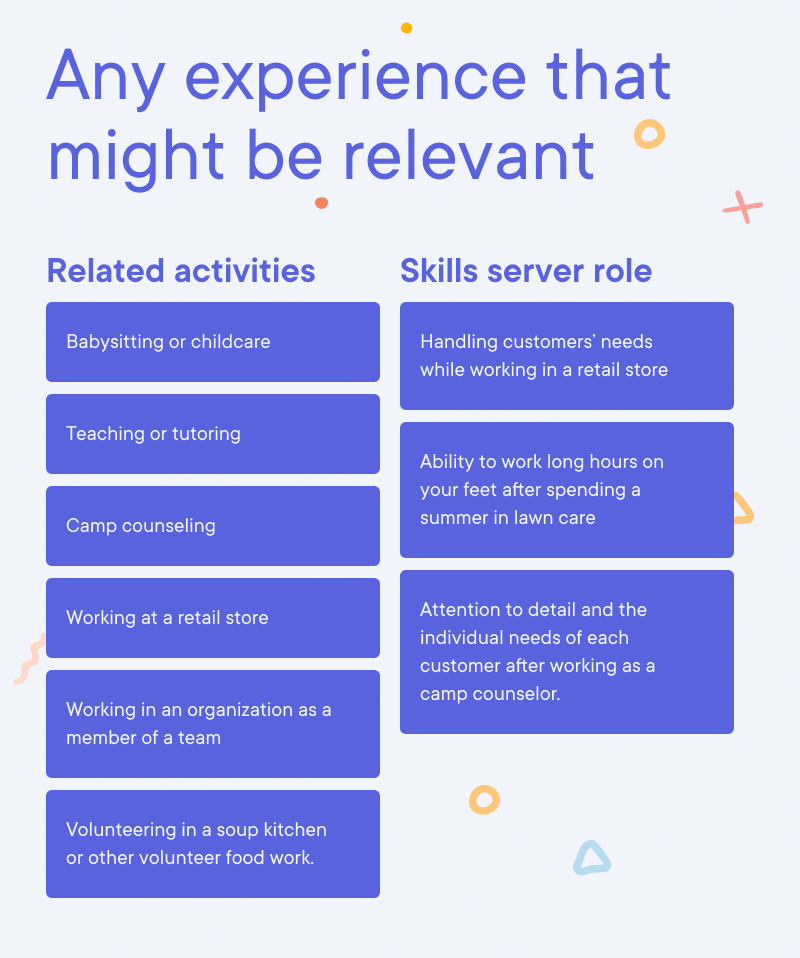 Check out this server resume sample for the skills section below.
Skills section example
Excellent Customer Service Skills
Food Safety Practices
Communication Skills
Friendly and Outgoing Attitude
Multitasking Skills
Expert tip
Sometimes the line between hard and soft skills can be blurry. To determine hard skills, try asking yourself if there's a concrete action or even an object involved. If not, keep the item on the soft skills list.
Languages
Including language proficiency on your resume resume can be very valuable in a restaurant setting where customers may come from all over the world. List each of your languages and your fluency level. A manager may be very thankful to find someone who can bridge the gap.
Adaptable language section example
French: Conversational
Russian: Beginner
CV layout, design and formatting: Try a template
For a server resume, clean and simple CV layout is a must. Whether you're a new server or an experienced one, an attractive resume document sends the message that you are a professional. It's not necessary to include color, pictures or other creative elements on your server resume, since a manager is looking for someone who can do the job efficiently and with a smile. 
If you have some graphic design experience, you can probably handle creating a resume format yourself. If not, using a professionally designed resume template can make the process much easier. From the Resume.io collection of field-tested resume templates, you can easily download one that suits you best and customize it to your preferences and style. Our resume builder tool allows you to plug in your own text to fit your experience and needs.
When selecting a template, it's important to evaluate the branding of the restaurant you're applying to. For example, a quirky cafe might appreciate a creative template, while a fine-dining Japanese restaurant may favor a design from the professional category. In most cases, a simple template would be perfect for server resumes. And if you change your mind, it's easy to switch templates at any stage. 
Expert tip
Since you'll most likely be handing the resume to restaurant owners in person — or emailing to the manager prior to an interview — be sure to download the final version of your server resume as a PDF. This will not only allow for optimal printing of a hard copy, but also ensures the formatting of your electronic document is retained so it looks exactly the same on another computer. The resume builder tool makes it easy to save, download and send pdf files in just a few clicks.
Key takeaways for a server resume
Server positions remain one of the best entry-level jobs, in terms of earning ability and abundance of available positions.
The high server turnover rate will continue to be a challenge to employers in the industry, which means work will be plentiful as the market grows over the next decade.
Higher-paying server jobs exist, but access tends to be very competitive, so it's essential that your server resume highlights your professional experiences in an authoritative way.
Success in a serving job has a lot to do with personality. But do make sure managers have a good sense of your more concrete abilities, especially in the resume summary section at the top.
If you don't have previous serving experience, try to draw parallels in your resume between other types of work and the qualities needed for serving.