If you're looking for a job as a waiter, chances are you won't have difficulty finding an open position. Hospitality workers are in high demand at the moment, meaning you'll have a choice when it comes to finding a higher-paying waiter job with hours that suit you. To get that great gig, however, you'll need a well-crafted resume that puts your service skills on display.
Whether you're looking for your first job or are well into your career as a waiter, Resume.io is here to help. With 350+ resume examples and occupation-specific writing guides, we're an expert resource for every job seeker. This resume guide, along with the corresponding resume example will cover the following topics:
What does a waiter do?
How to write a waiter resume (tips and tricks)
The best format for a waiter resume
Advice on each section of your resume (summary, work history, education, skills)
Professional resume layout and design hints.
Statistical insight
One-third of all Americans got their first job in a restaurant! A waiter job is a great opportunity for those looking for their first professional experience.

Source: National Restaurant Association
What does a waiter do?
A waiter is a restaurant or dining establishment staff member who is primarily responsible for taking customer orders, bringing food to tables, and checking on the needs of the diners throughout their meal. Waiters, often called servers, are key members of front-of-house staff where they work alongside hosts and restaurant managers. They also interact with the kitchen staff and may even be responsible for light kitchen tasks like preparing drinks or adding garnishes to dishes.
A waiter's role can take on many different facets, but here are some of the most common responsibilities:
Memorizing menu items, allergens, ingredient lists, and wine pairings
Greeting customers and taking their orders while answering any menu questions
Offering recommendations and upselling desserts and drinks
Preparing drink orders and bringing them quickly to the table
Serving food and bringing additional items to the table as needed
Clearing plates away and taking payment from customers
Helping with light decorating tasks, table setting, or inventory work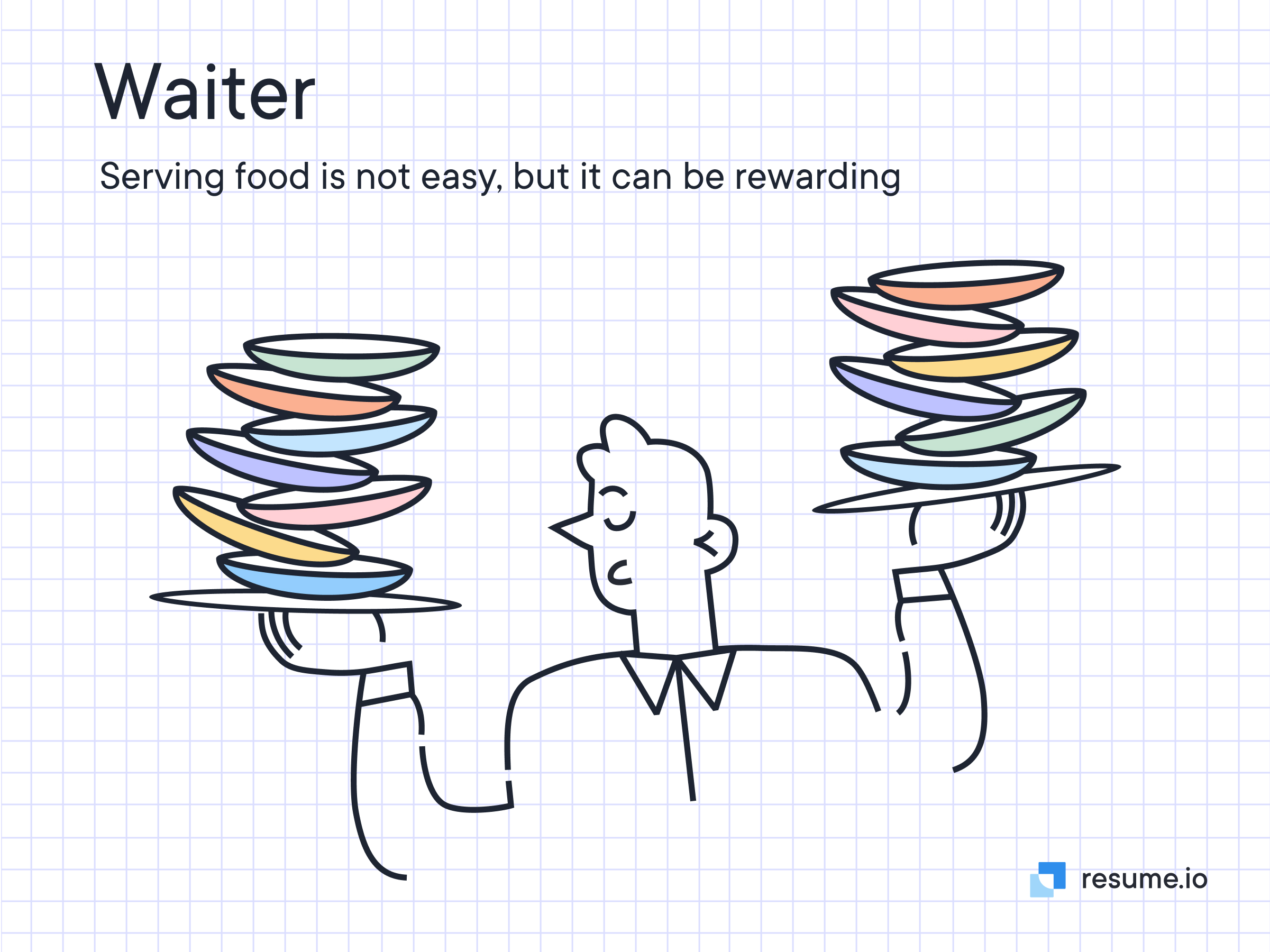 How to write a waiter resume
The very first step in writing your waiter resume is understanding what sections to include. Your CV should contain the following elements:
The resume header
The resume summary (aka profile or personal statement)
The employment history section
The resume skills section
The education section
Since hospitality jobs are highly skills-based, many applicants for waiter positions do not spend much time on their resumes. While this is a mistake on their part, it means that with a bit of time and effort, you can easily rise above the competition and prove your professionalism to a restaurant manager. 
The first step to writing a great waiter resume is to do your research. Even if you're a hospitality veteran, each business is a bit different and it's important to know the type of work environment you are applying to. Make sure to research the restaurant online and visit it in person if possible. Take note of the menu offerings, the location, and the type of clientele. What type of uniform does the waitstaff wear? Is the interior elegant and upscale or more casual and family-oriented? How big is the menu and what are the average prices? These may seem like basic questions, but they can help you tailor your resume to the exact needs of the employer, increasing your chances of landing the job.
For a waiter position, you may or may not have a job description. If you do, make sure to read it closely to better understand the types of skills the employer is looking for. Make sure to place any specific, technical skills on your resume using the employer's exact language to increase your chances of standing out.
Choosing the best resume format for a waiter
Waiters have a few options when it comes to choosing the best resume format. If you have a few restaurant or industry-related experiences under your belt, you will likely want to opt for the reverse chronological resume format. This format gets its name from its focus on the employment history section where previous positions are listed starting with the most recent and working backward through the past ten years of experience. This is the format you will see in our waiter resume sample because it is the one most hiring managers expect to receive.
However, waiter positions can make for great first jobs. If you're looking to get your professional start, you may choose a functional or hybrid resume. A functional resume focuses on skills and may also include an "Experience" section where you can list any unrelated jobs, volunteer work, or school activities. The hybrid format is a combination of both types and often starts with the skills section before including a shorter work history section. These alternative resume types are best suited for students and those applying for their first job. If you have some experience in the field, the reverse chronological format is the way to go.
Resume header
Found at the top, or occasionally the side, of your resume, the header is the section that captures your name and contact details so that the employer can identify your application and contact you easily to set up an interview. For a waiter, your name and phone number are generally the only contact details you will need to include, although you may also choose to add a location. The resume header also helps to add a touch of attractive formatting which should be appropriate for the restaurant you are applying to. We'll discuss design questions later on in this guide.
Resume summary example
The resume summary is the first section following the header. These 3 to 5 sentences serve as the introduction to your resume and are meant to highlight your top skills and experiences. As a waiter, your personality and ability to make a great first impression are essential to your work, so the resume summary is the best place to prove that you have the right personality for the job. 
Make sure to use descriptive language and action verbs to show that you're a charming and effective waiter. Mention your top attributes in the summary and leave the details for the rest of the resume. If you've done a good job with this section, the employer should be excited to read on. See our adaptable resume example below.
Adaptable summary CV sample
Dedicated, energetic service professional with a keen talent for providing guests with premium service in fine dining environments. Strong talent for cultivating authentic connections that delight and satisfy, building a loyal guest base of repeat patrons.
The summary is the most freeform part of your resume so you may want to take a look at our related resume samples for inspiration. Start with our:
Employment history sample
The employment history section is the main course of your resume. This is where you'll get into the details of your previous waiter positions or other hospitality jobs. For each entry, create a subheading with the job title, employer (restaurant) name, dates worked, and location. Then, add 4 to 5 bullet points with your duties, skills, and any noteworthy accomplishments like being chosen as employee of the month or a record sales number. 
Instead of just listing your responsibilities, make sure to craft each bullet point in a way that shows your value to the business and convinces the prospective employer that you could do the same for their restaurant. Numbers, statistics, and concrete information can all help to convey your impact. Check out our employment history resume sample below for more insight.
Adaptable employment history CV example
Waiter at Ivan's Stakehouse, New York, NY 
June 2018 - April 2023 
Delivered exceptional dining experiences for guests, offering personalized service and food/beverage recommendations to ensure satisfaction.
Collaborated with back-of-house staff to develop menu options, utilizing insights gleaned from customer interactions to recommend new, trend-driven recipes.
Quickly responded to guest issues and conflicts, finding resolutions in partnership with restaurant management to maintain positive experiences.
Head Waiter at Pearl Asian Fusion, New York, NY 
January 2014 - May 2018 
Guided guests through a unique menu, recommending popular dishes based on unique customer taste preferences and dietary restrictions.
Engaged with high-profile clientele, delivering stellar service and hospitality to elevate restaurant reputation.
Offered prompt service in a high-volume environment, closely attending to all guest needs and wants.
Waiter at Le Coucou, New York, NY 
January 2012 - January 2014 
Upsold desserts and drinks through expert pairing suggestions.
Provided premiere service for high-profile, high-value clientele, cultivating trusted relationships through hands-on engagement.
Maintained expert knowledge of all menu items, wine pairing suggestions, and allergens to offer guidance to guests.
CV skills example
Skills are at the forefront of your work as a waiter, so make sure to complete this CV section with care. First, reread the job description, if you have one, and pick out any duties or knowledge emphasized by the employer. The skills section usually takes the form of a bullet-point list, so you'll want to choose the top 4 to 5 skills that are most relevant to the job you're applying to.
As a waiter, it's very important to include a mix of hard and soft skills. Hard skills are technical knowledge like bartending, POS systems, and inventory management. Soft skills are the personality traits like a welcoming disposition, attentiveness, and efficiency that allow you to give customers a great dining experience. See our resume example below.
Adaptable skills section CV example
Customer Service
Food & Beverage Pairings
Wine Recommendations
Guest Experiences
Knowledge of Food Allergies
Conflict Resolution
Waiter resume education example
One of the great things about working as a waiter is that you won't need an advanced degree in order to earn a consistent income. However, as the education section is part of any complete resume, you'll still need to include one no matter the level of education completed.
As you did with the employment history section, make sure to list your previous educational experiences from most recent to oldest. Include the degree name, school, dates attended, and location. Under each entry, you can also add a bullet point or two to mention anything relevant to a waiter role. Leadership positions, hospitality classes, or honors can all make for worthwhile additions. See our resume example below.
Adaptable education CV example
Bachelor of Arts in Performance, New York University, New York, NY 
January 2007 - May 2011
Expert tip
Waiters often complete continuing education courses or certificates relevant to their role. If you've done any food safety, management, CPR, or bartending courses, make sure to add them to the education section of your resume.
Resume layout and design
Just as the look of a restaurant tells the client something about the dining experience they'll have, the layout and design of your resume tell the employer about your skills and seriousness about the position.
Make sure to tailor the layout and design to the prospective employer. A pop of color in the header can help you fit into a family-oriented establishment while an upscale, fine-dining restaurant may prefer a neutral color scheme. Professionally-designed resume templates can help you quickly try out different styles and even create different versions of your resume when applying to multiple jobs.
Here are a few more formatting tips to follow:
Do
Keep a balance of white space to text to make your resume easy to read.
Add a touch of color to make your resume stand out.
Use bolded section titles and bullet points to keep your resume organized.
Don't
Adjust your margins to cram in more information or to make your experience fill the page.
Use more than one or two font styles.
Forget to proofread before you submit!
Key takeaways for a waiter resume
Waiters and other hospitality workers are in high demand so now is a great time to write that resume and land a new opportunity!
The summary serves as an introduction to your resume and should help present you as a friendly and effective waiter.
Don't forget to use numbers and statistics to show the impact you had in previous waiter roles.
Our adaptable resume sample can help you get started creating the layout for your own waiter resume.