Your career as a restaurant manager awaits. The hospitality industry has taken a bit of a beating lately, but a great resume will help you get your foot in the door. Restaurant management often requires long hours, weekend and night work, and a revolving set of duties, but on average, restaurant managers are highly satisfied with their jobs, according to professional surveys done by Payscale. 
How to write a restaurant manager resume
Whether you are already managing a restaurant or want to move up from other food service work, your first step is creating a resume that will impress. With an informed approach to your job search, you can land a great job. The opportunities are out there! Let resume.io, our builder tool, and expertly designed layouts give you the edge you need to stand out among the field of applicants.
This guide will teach you how to:
Focus on the skills most desired by hiring managers
Understand the market
Pass the Applicant Tracking Software designed to sort and eliminate resumes
Create an elegant and eye-catching design
Get that interview for your dream job!
First, let's look at an overview of other inspiring hospitality & catering cv examples:
Job outlook and pay for restaurant managers
Even before the COVID-19 pandemic, jobs in the hospitality field had begun to decline, and it remains to be seen what will happen in the years ahead. What's not in doubt is that a great resume is essential to compete for a dwindling number of jobs in the current market.
What does a restaurant manager do?
"Restaurant manager" is a broad description that encompasses several different positions. Each restaurant operates a little differently and day-to-day responsibilities may shift, so keep that in mind when customizing your resume. The general manager is the restaurant's business leader. This job requires soft skills, the general people skills necessary to work well with customers and employees, and hard skills, the discrete knowledge needed to run a restaurant. In this job you will:
Hire and fire workers
Sign paychecks
Order food and supplies
Balance the cash intake at the end of a shift
Supervise employees
Monitor adherence to health and safety regulations
Implement marketing and advertising campaigns
Ensure customer satisfaction.
Expert tip
Make sure you tailor your resume to the role you are applying to. For instance, a restaurant manager will be different to a kitchen manager. If you are applying for both, make sure you tweak your resume to suit.
The restaurant manager is the second-in-command to the general manager. In this job, you are the face of the restaurant to the patrons. In this job you will:
Manage staff during service hours, including monitoring health and safety
Recruit, train, and schedule staff
Prepare the cash register for each shift
Promote and market the restaurant through social media (or coordinate this process, depending on the marketing staff available)
Plan menus for special events
Prepare staff pay.
The kitchen manager is charged with running the kitchen. In this job you will:
Order supplies and keep them organized
Monitor ingredient inventory
Supervise and schedule kitchen employees
Oversee kitchen cleanliness and food preparation
Change the menu when necessary
Maintain cost reports.
Not every restaurant has a bar, but those that do also need a bar manager. In this job you will:
Maintain the restaurant's liquor license
Order supplies and inventory
Manage budgets
Negotiate contracts with suppliers.
Notice that all of these jobs require you to be adept at various degrees of business management as well as the hospitality and creative skills often associated with restaurant work.
Statistical insight
The U.S. Bureau of Labor Statistics (BLS) classifies restaurant managers among "food services managers," and it forecasts job growth in this field from 2019 through 2029 of just 1%, which is below the average of 4% for all occupations. This means that a superior job application is more important than ever.
Each job function listed above contains a strong action verb. You will use words like these to show you have the energy it takes to work in the high-stress environment of a restaurant, as well as provide specific details rather than vague ideas. But first, you need to understand how to get your resume into the hands of hiring personnel. Just as there are many types of restaurant managers, there are many types of restaurants. Restaurants owned by a corporation, including fast-food restaurants, often offer management training programs that can help you get your start. In fact, 9 of 10 restaurant managers began their careers at the entry level, the National Restaurant Association says. So don't discount chain restaurants.  
Statistical insight
Ninety percent of restaurants have fewer than 50 employees. Seventy percent are single units — in other words, there is only one of its type, according to the National Restaurant Association.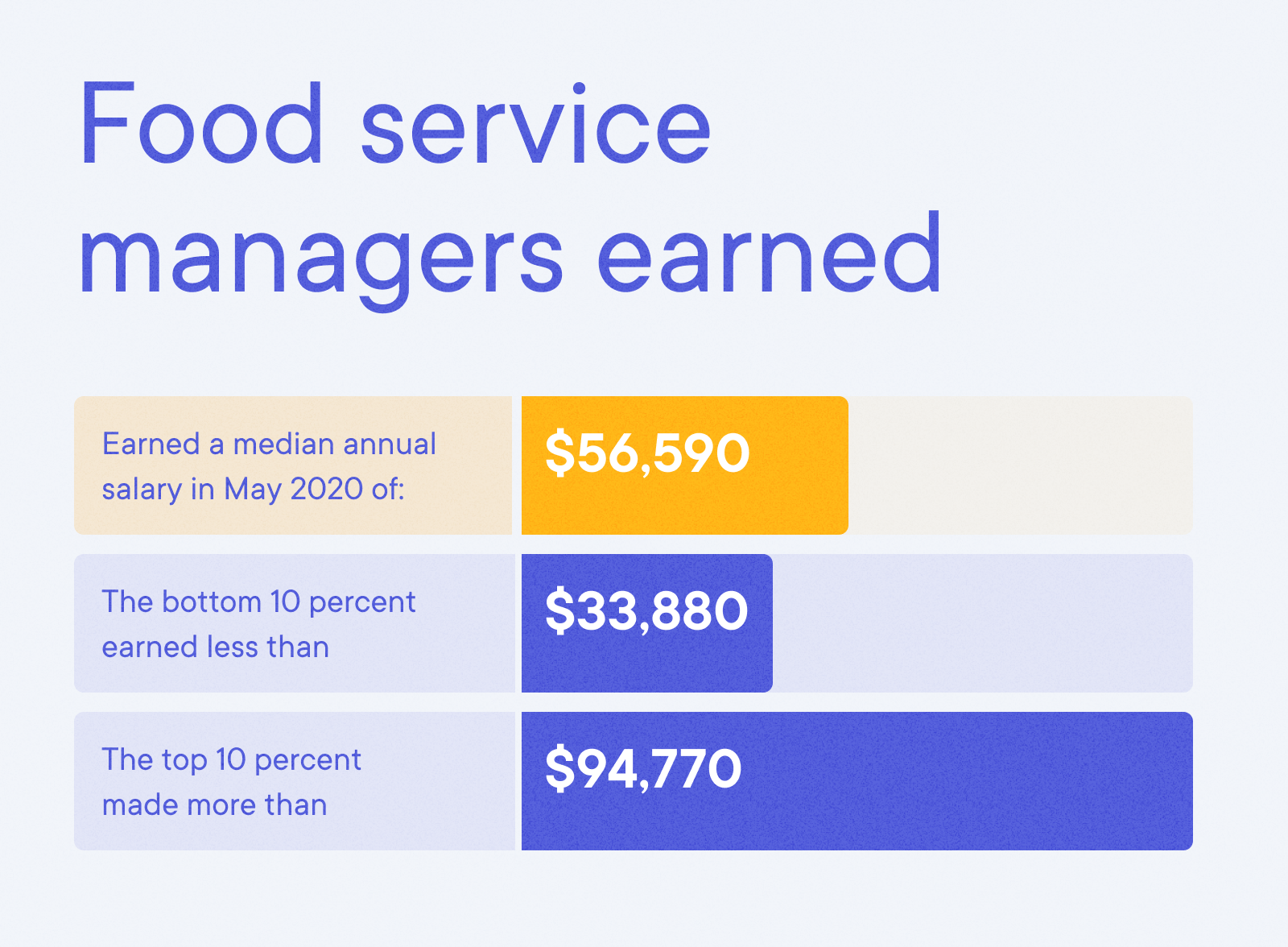 Food service managers in the U.S. earned a median annual salary $56,590 in May 2020, according to the BLS. The bottom 10 percent earned less than $33,880, while the top 10 percent made more than $94,770.
According to Payscale, another aggregator of salary info, the median income for each job below is as follows:
Statistical insight
General manager: $50,353 a year
Restaurant manager: $47,521 a year
Kitchen manager: $14.49  an hour
Bar manager: $12.05  an hour
Applicant Tracking Systems
Most businesses use programs called Applicant Tracking Systems (ATS). While small local restaurants may not, they are the exceptions. ATS programs are designed to make hiring managers' jobs easier by limiting the number of resumes they see. The ATS does this by eliminating "bad" resumes, or those that don't include the keywords and phrases an employer is looking for. The ATS may also eliminate resumes with faulty formatting if it cannot scan them. 
Your first challenge is to get your resume past the ATS and into the hands of a person. There is no single formula to do this because there are hundreds of ATS programs, but most are looking for words that appear in the job listing. Make sure you highlight the skills employers have asked for. Pay attention to the exact wording and terminology used in the listing!
Expert tip
If job listings are vague, or too wordy, it may be difficult to figure out which keywords are most important. Try creating a word cloud by cutting and pasting the listing into a program such as wordle.com or wordart.com. The bigger the word, the more frequently it appears in the listing. This is also helpful if you are a visual person. 
Be careful with formatting as well. Do not put information into headers and footers that may not be scanned. Instead of a word processing program, use a dedicated service such as resume.io's builder tool and save your resume as a PDF file. That step will eliminate the possibility that a different version of a program will read your formatting incorrectly or that it will end up as a visual mess on another person's monitor (which, for example, Microsoft Word documents are prone to do).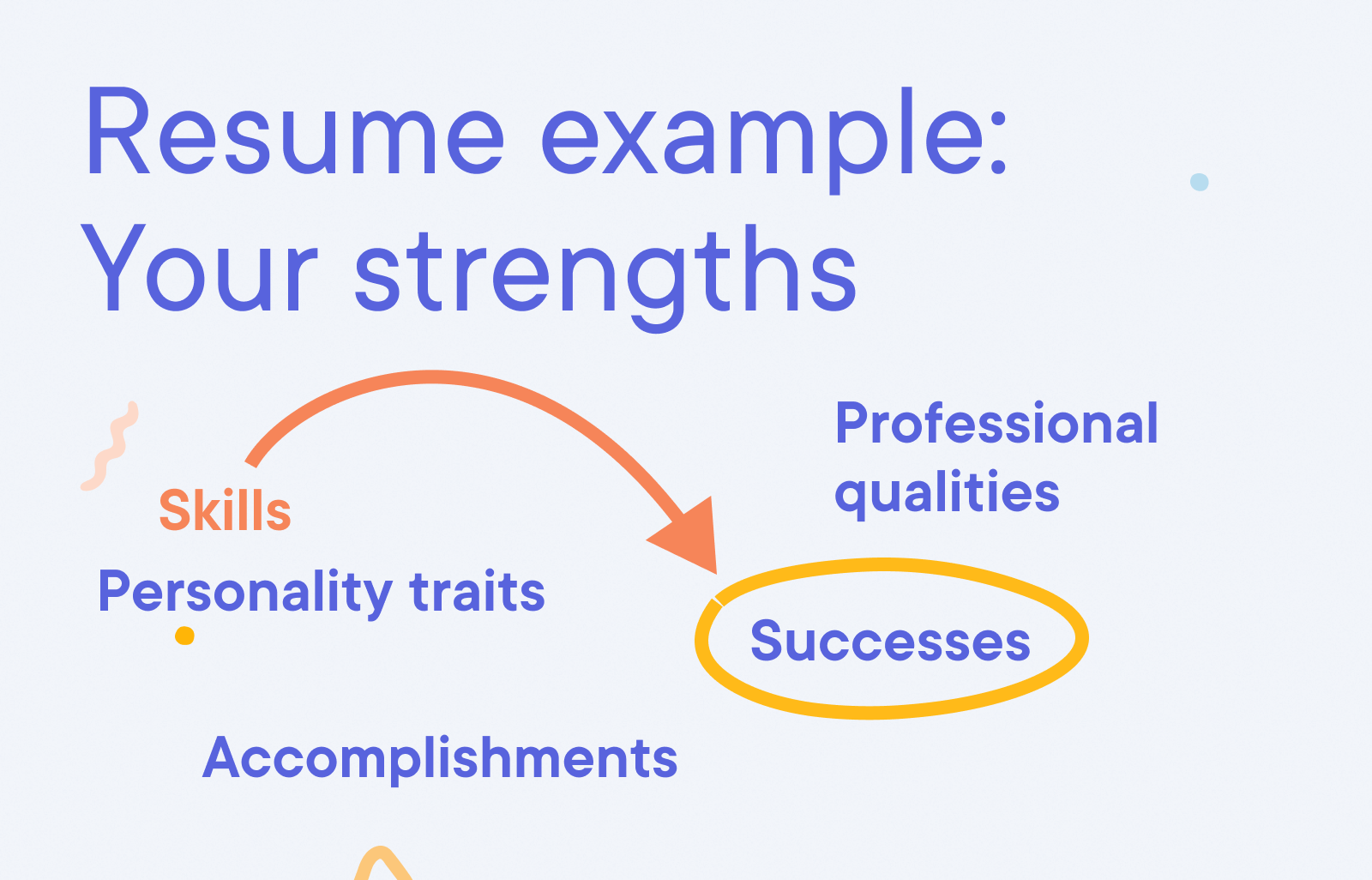 Resume example for restaurant manager profile
Restaurant workers function in close quarters and under time pressure. Here's your chance to explain how you will fit in and what professional style you will bring to the table. Most of your resume consists of lists — of past jobs, schools and skills. Your profile, or summary section, is your opportunity to stir in a little personality. This section goes at the top of your resume and highlights your biggest professional accomplishments, but also allows you to describe yourself. Are you calm under pressure? Are you great at anticipating customer needs? Put that in here. You have two to four sentences to distinguish yourself from the crowd. Before you begin, make a master list of your career using these categories:
Skills
Successes
Accomplishments
Personality traits and professional qualities
This list will be your guide for writing your resume, but it is also a resource you can add to as your experience grows. The profile gives hiring managers a chance to get to know your personality, but keep it professional. Studies have found that if you make it past the ATS, your resume will get a 7.4-second scan (on average) by human eyes before the recruiter decides whether to read on, so make every second count. This isn't the place to be modest — you don't want to be arrogant either, but you do want to showcase your talents in glowing language.
Adaptable summary resume example
Experienced and effective Restaurant Manager adept in all aspects of successful restaurant management. Bringing forth several years of industry experience and expertise in managing staff and restaurant functions. Equipped with a diverse and promising skill-set, conducive to creating positive team relationships resulting in optimal customer service. Passionate about the food service industry, and eager to bring my years of experience and growth to another flourishing establishment.
Skills section resume sample: Your biggest assets
This list gives an overview of the abilities you will bring to the job of restaurant manager. Choose the menu carefully: it's important to make sure you match this list to the skills in the job description. Managing a restaurant is no easy task! You must be focused on the customer, a fair and firm boss, and be good with numbers and details. It's a balancing act. Your skills section should reflect that balance. To make your resume shine brighter than others, you must highlight the unique blend of abilities necessary to be a great restaurant manager. Think about both soft and hard skills. Use concise but powerful phrases (in the Skills section bullet-point list) and vivid descriptions (when mentioning your skills in other sections)  to give hiring managers an insight into your talents.
Here are some categories of skills to consider:
Social media savvy: Many restaurants use social media as a marketing tool. Play this up if you have the experience because 90 percent of U.S. restaurant patrons say they look at a restaurant online before deciding to eat there, according to Upserve.
Business administration: You will be responsible for budgets, hiring and scheduling, and inventory. All these require that you understand basic accounting and finance.
Teaching and mentoring: Don't overlook these skills. You will be hiring staff, who all need to learn your restaurant's process, some of whom have never worked in a restaurant before. A good manager can teach new skills and mentor employees who dream of a restaurant career.
Technological knowledge: Many restaurants use software for accounting, scheduling, point-of-sales and inventory management. They may also use analytical software to help them determine what is selling and how to plan menus accordingly.
And of course, customer satisfaction:  A restaurant cannot survive without happy customers. All your other tasks as a manager are designed to ensure the restaurant is prepared for its diners. It is your job to make sure the kitchen and dining room run smoothly, but when they don't that you take care of the customer.
Statistical insight
Technology improves the efficiency of their eateries, 95 percent of restaurant operations told HubSpot. 
As you think about your skills in these areas, try to be as specific as possible. Instead of simply stating "customer satisfaction," try "ensure satisfied diners" or "turn customer complaints into positive experiences." Pick your top five to 10 skills and remember you will be adding details in your employment history section.
Adaptable skills section resume example
Interpersonal Communication Skills
Project Management Skills
Business Development Strategies
Managerial Skills
Marketing Techniques
Restaurant manager employment history resume sample
Maybe you started at the bottom and worked your way up; most restaurant workers do. Here is where you show your growth and your career achievements through your jobs. This is your chance to show in a little more detail what you can do. Your employment history is a recounting of your accomplishments and career growth, not a listing of job responsibilities. Here are some do's and don't for this important section:
Do
Use data to enhance your case: How much money and/or time did you save by streamlining the inventory process? By how much did you increase table seatings?
Be specific: What did you do to reduce employee turnover? How did you earn a promotion?
Include keywords from the job listing: Remember you have to beat the ATS first.
Describe using strong action verbs: Recruited new employees, overhauled budgeting, systematized customer interactions.
Don't
List all your job responsibilities: There's no need to say you wiped down tables or every small detail that's not directly relevant to the position for which you're applying.
Write in generalities: Not "trained workers," but "trained and mentored 32 new wait staff and busboys."
Underplay your contributions: Not "did the budget" but "managed $50,000 daily budget for food and supplies."
Statistical insight
Restaurant jobs have a 75 percent turnover rate, an all-time high, according to Toast, a restaurant software company. 
Show your growth in the industry through your job achievements. If you have statistics or successes in customer satisfaction, highlight those. A great resume tells hiring managers they must grant you an interview, and keeping diners happy is a sure winner.
Adaptable employment history resume example
Effectively coordinated daily restaurant management operations, resulting in greater productivity and higher levels of customer satisfaction.
Altered the menu based on seasonal offerings and customer feedback.
Monitored the dining room and made seating changes as necessary.
Addressed any customer concerns or wishes appropriately.
Interviewed, hired, and counseled qualified waitstaff and kitchen staff.
Evaluated staff performance and provided constructive feedback to improve overall productivity.
Education resume example: On-the-job training counts
You don't need a college degree to work in the restaurant business, but culinary training can boost your resume, especially if you are just starting out. A high school diploma is all you need to get into the restaurant business. Of course, any training you have had beyond that is valuable. Even if you have taken a high school class in cooking, you will have learned the basics of food safety. Hiring managers may be impressed by business classes, too, since a lot of your job will require budgeting and management skills. 
Expert tip
The less work experience you have, the more important your education is. Instead of padding your employment history, you may choose to list any jobs that show your basic work skills (including alternative experiences like social projects or volunteer work), and list your education section before your work history. This is a rare case for managerial staff, but may be relevant if you're applying to a tiny business looking for up-and-comers.
Most restaurant workers receive on-the-job training. If you have completed a training program through a job, definitely list it here. Also list any certificates from food preparation and safety courses.
Adaptable education resume example
2005- 2009 St, Peter's Academy, High School Diploma, New York, NY
2001-2005 Hofstra University, Associate of Marketing, Hempstead, NY
Resume layout and design: Your professional style
You've developed a great resume full of strong language and the keywords that will get you past the ATS. With resume.io's expert-tested layouts you can make it visually appealing as well. Attracting the eye of a hiring manager means keeping the design clean and legible. You've gotten this far, so don't let a design mistake trip you up!
Expert tip
Resumes without clear section headings or with multiple columns were more likely to be rejected by recruiters, an eye-tracking study by TheLadder found. 
Use fonts recommended for legibility, try to vary sentences in length, and allow room for white space. Big chunks of text are less likely to be read. Be aware of formatting and the errors that can occur when moving between word processing programs or versions of a program. Unless you're specifically asked to use another file type, always send your resume as a PDF file, which will look the same on the hiring manager's computer as it does on yours. One last tip before you head to the builder tool or try one of resume.io's layouts: Have a friend or colleague read your resume. Finding errors in your work is a difficult task and you want your resume to be perfect.
Key takeaways
Learn the current state of the job market you're in, and be aware of the competition and professional requirements.
Custom-tailor your resume for each potential employer, and don't rely on a "one size fits all" approach, which is one of the surest way to decrease your chances.
Use action verbs, facts and figures, and detailed descriptions of achievements when describing past jobs.
Brainstorm master lists to cherry-pick the best/most relevant skills and experiences for each job listing.
Use professionally designed templates and software to avoid formatting bugs and technical pitfalls.
Your perfect resume is only a few clicks away. Get started now!