Whether you're experienced in the kitchen or looking to launch a new career in this field, an excellent line cook resume is the place to start. 
This writing guide, along with our adaptable line cook resume example, will cover everything you need to know about writing this crucial job-search document. What we'll discuss here:
What does a line cook do?
How to write a line cook resume
The five elements of a successful resume
Choosing the best resume format for a line cook
Resume.io is a top global provider of occupation-specific resources for job hunters. Take some time to review some of our 300+ other resume examples and writing guides for more tips. 
What does a line cook do?
While a short-order cook will probably prepare your burger and fries with nobody else's help, line cooks tend to work in larger, more sophisticated restaurants, preparing only one part of a meal. Line cooks may be responsible for salads, vegetables, fish, meats or desserts, but rarely all at once.
Line cooks are responsible for food preparation, like mixing sauces or chopping vegetables; cooking the food for which they are responsible; maintaining a clean kitchen at all times; and following the head chef's directions.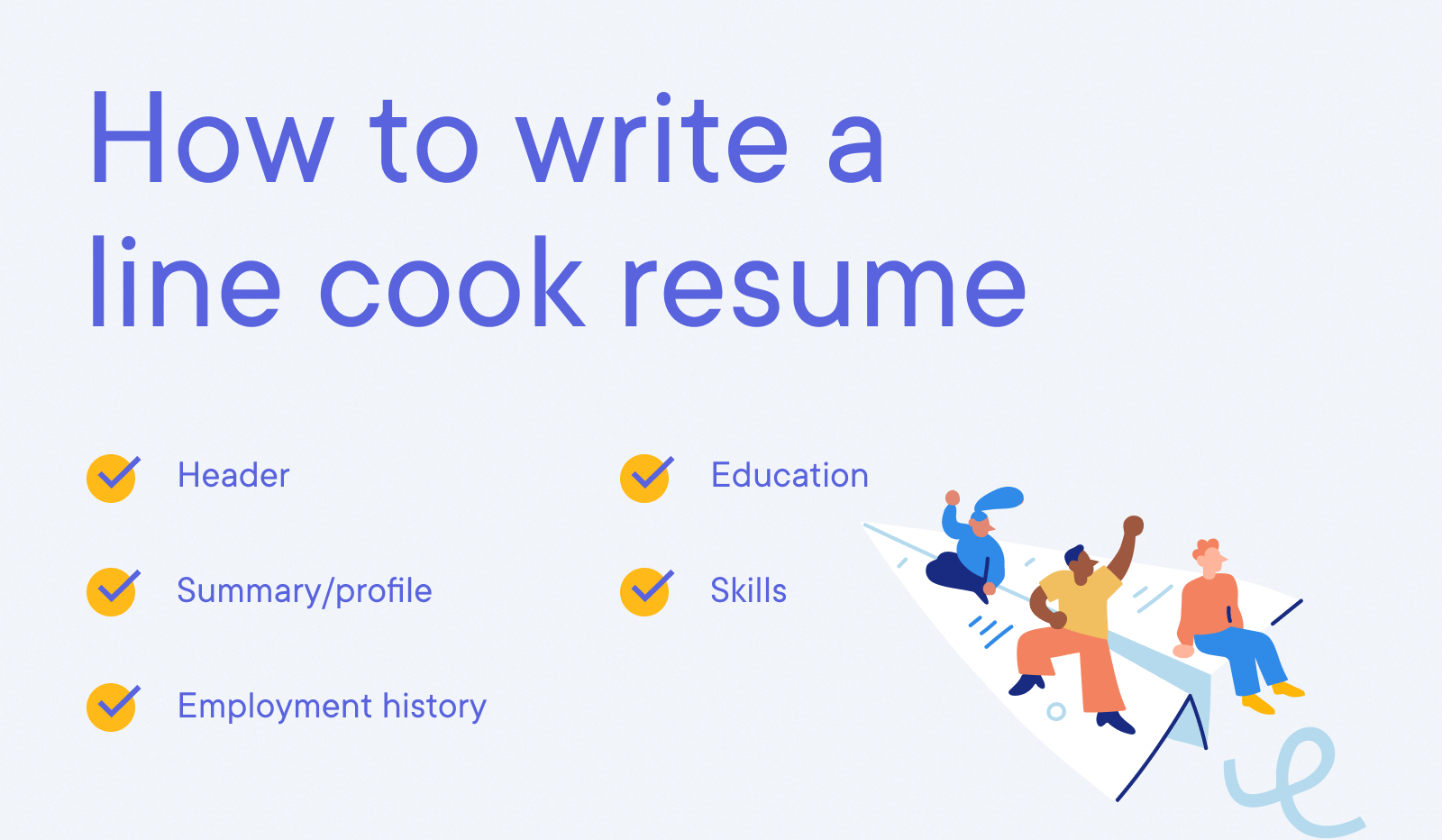 How to write a line cook resume
A line cook resume (known as a CV in many countries) should be one page only, and it should be customized for each job you seek so that it addresses different needs that different employers may have. 
Every resume should have five essential elements:
Header
Summary/profile
Employment history
Education
Skills
The header at the top is the space where you put your name (which should be the largest thing on the page), plus your occupation, address, email, phone number and possibly a LinkedIn profile or another website that showcases your professional skills. The header not only contains critical contact info but should be an eye-pleasing element that sets a nice visual tone for the page.
Choosing the best resume format for a line cook
One major formatting consideration is whether to use the reverse chronological or functional format for your work history. The reverse chronological (last job listed first, first job last) is the most popular and is usually the best choice for a candidate with more or less continuous employment in a related field. But the functional format may be the right choice for those with employment gaps on their resume, or those who have often worked as contractors rather than full-time employees. You can read more about the differences (and even a third option) in our guide to resume formats.
Resume summary example
The resume summary, also known as a profile or personal statement, is a two to four sentence self-portrait of you as a professional. It identifies your occupation, your experience, your talents and your passions. Ideally it will hook the employer by suggesting that you're the right candidate for the job you're seeking.
When writing your summary, avoid bland language and resume cliches. Use fresh, original, compelling language that the hiring manager hasn't seen a hundred times before. 
Check out the summary from our line cook resume sample below. For additional inspiration, look at some of the related hospitality and catering resume examples, including our cook resume sample, chef resume example, food service worker resume sample, pastry chef resume example and restaurant manager resume example. 
Adaptable resume summary example
Experienced and meticulous line cook seeking to implement my culinary creativity and industry best practices to ensure the ultimate dining experience for customers.
Expert tip
Be aware of Applicant Tracking Systems (ATS), which are software programs that larger employers use to filter resumes according to whether or not they contain critical keywords. Employers first input into the system the job qualifications that they're seeking (which are usually reflected in the job listing), and then the ATS searches incoming resumes for those terms.

If your resume contains few or none of the keywords the ATS system is searching for, your resume may be rejected without any human review. This is why you must study help-wanted ads closely and try to match the job qualifications they mention. It's also one of the reasons you should tailor your resume for each job you apply for. 
Employment history sample
In your employment history section, you should list up to 10 years of relevant job experience. Mention the places you've worked in the past, where they're located, your title at each job and when you worked there.
Be specific, focusing on what you actually accomplished at these jobs, using facts and figures where possible. Below is the employment history section from our line cook resume example.
Adaptable resume employment history example
Line Cook, Down the Hatch, New York 
August 2018 - September 2021 
Prepared food in accordance with applicable federal, state, and corporate standards, guidelines and regulations.
Prepared 15+ gastronomic menus according to recipes and instructions.
Efficiently operated and maintained kitchen equipment.
Set up and stocked stations with necessary supplies.
Successfully executed techniques under the direction of the sous chef and executive chef.

Line Cook, DeVito's Ristorante, Hoboken 
October 2014 - June 2018 
Cooked and prepared food to be served complying with all sanitation, health, and personal hygiene standards.
Followed established recipes, portions, programs,and procedures.
Properly assembled and plated food according to menu descriptions.
Fulfilled 200+ daily orders in a fast, efficient and timely manner.
Worked cooperatively with all restaurant employees.
Storied food properly and safely by checking dates and labeling items.

Cook, Jamie's Pub, White Plains S
eptember 2014 - August 2013 
Assisted with preparation of salads, desserts and cold plates in a small tavern.
Prepped ingredients for daily specials and followed recipes from head chef.
Organized supplies, tools and dishes ahead of dinner rush.
Line cook resume education example
Whatever level of education you have, list it here in reverse order. Any special training in the culinary arts will be especially valued. You don't need a college degree to be a line cook, though it certainly helps if you've attended a culinary school or have any related vocational training. See the education section from our line cook resume sample below.
Adaptable resume education example
Culinary Arts, County College of Morris, Randolph 
September 2015 - June 2016 

High School Diploma, Ridgewood High School, Ridgewood 
September 2010 - May 2014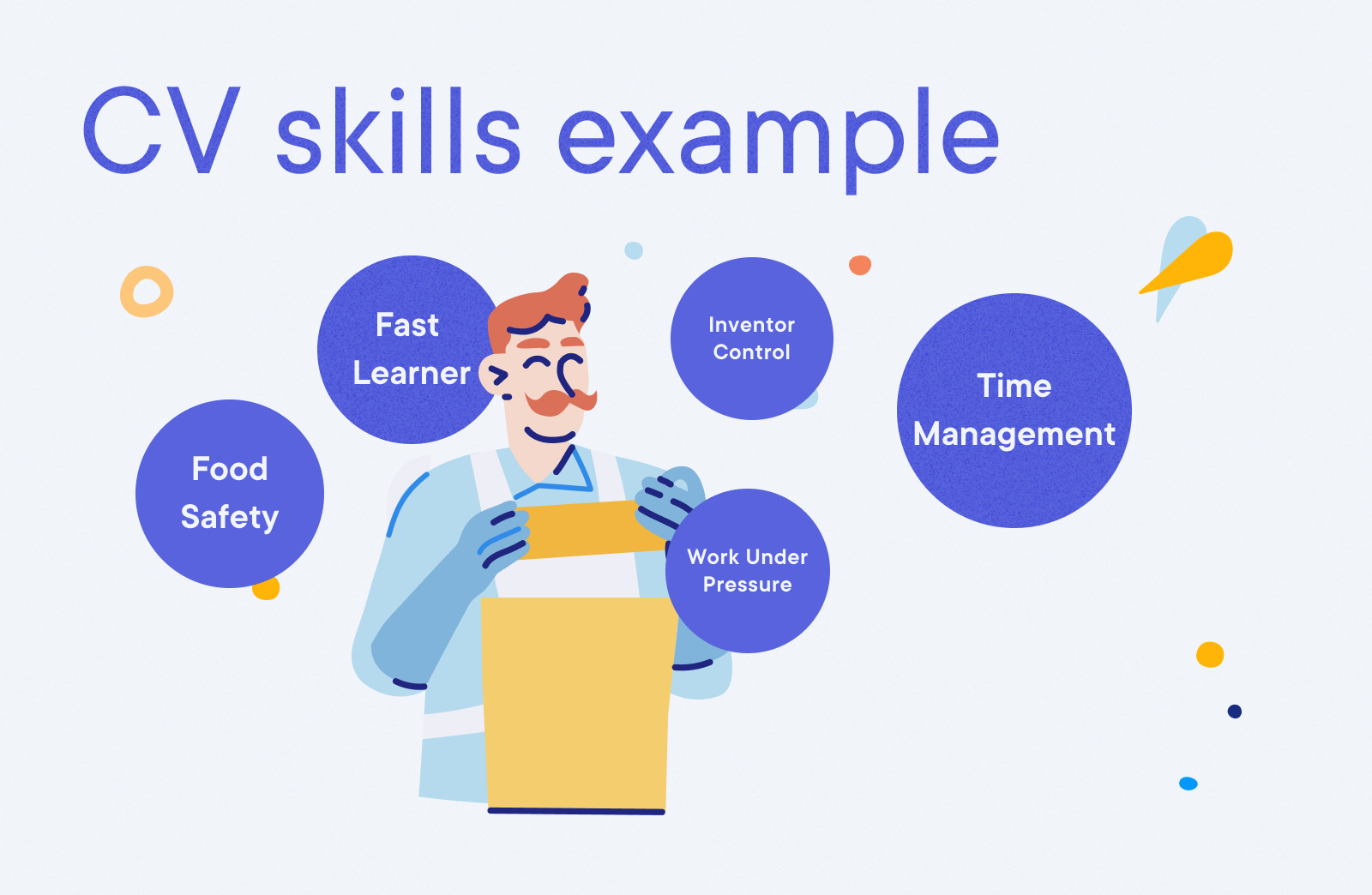 CV skills example
Every CV should contain a list of your special skills and talents. Generally these will include a mix of hard skills and soft skills. Hard skills are technical capabilities like a talent for preparing pastries or cooking fish. Soft skills are interpersonal "people skills" like good communication. The line cook resume sample below may give you some ideas for your skills section.
Adaptable resume skills section example
Food Safety
Fast Learner
Inventory Control
Effective Time Management
Ability to Work Under Pressure
Resume layout and design
Good resume format requires good structure, design and layout. Presentation is always important in plating a dish, and the same is true in preparing a resume. You want your resume to not only read right but look good. Be sure to use appropriate fonts and font sizes, proper margins, an adequate amount of white space and a balanced layout.
If you'd prefer not to leave your resume layout to chance, you may consider using a professionally-designed resume template. This is one way to save yourself time and focus further on the writing while still customizing certain design options.
Key takeaways
Your resume should be one page only and should consist of five essential elements.
Your resume should be optimized for ATS software by using keywords that describe the qualifications employers are seeking.
Your resume should not be set in stone, but should be customized for each employer you approach.
Check out our line cook resume example for more ideas on how to create an eye-catching page design.
Best of luck in your job search!