Important business decisions arising from data analysis may take a while to formulate, but CV-influenced hiring decisions can happen in mere minutes! Keep that in mind when creating an impactful data analyst CV that does justice to your expertise and skills. You only get one chance to make a persuasive first impression, and only a few seconds is how long that chance lasts.
Resume.io offers a wide range of tips and tools to help job seekers turn the heads of hiring managers instantly in their direction.That includes dozens of occupation-specific CV examples and writing guides.

In the CV guide you're reading now, together with the corresponding data analyst CV example, we will look at these topics:
The role of a data analyst and job market outlook
How to write your data analyst CV — the correct structure, best format, and some general tips
Making the most of each CV section: header, summary, employment history, skills, and education
Layout and design hints for a visually impressive CV document
What does a data analyst do?
Data has become is crucial for organisations in the information age, allowing them to make important decisions that affect their viablity and success on all levels. Data analysts are responsible for taking the data and producing relevant reports that help the business make crucial decisions.
Expert tip
Companies can use data analysts to improve all aspects of their business, from enhancing ad campaigns, and personalising their content to developing better, more popular products.
With a revenue of $524 billion (as of July 2023), Amazon uses big data well. The company stores information for every customer and uses that data for product recommendations, customer experience enhancement, and stronger customer relations.
Businesses seeking to improve their profitability and the effectiveness of advertising and social media, will benefit in countless ways from employing data analysts.
Data analyst job market and outlook
It would be safe to acknowledge that a data analyst career is a secure one. The global big data analytics market size was valued at $271.83 billion in 2022 and is projected to grow from $307.52 billion in 2023 to $745.15 billion by 2030. The demand for data analysts — especially those who are highly skilled and experienced — will continue to grow in the foreseeable future.
Statistical insight
How much do data analysts earn?
The average salary for a data analyst working in the UK is £35,000 per annum. Therefore, data analysts are one of the most needed professions globally. However, there are relatively few data analysts whose experience level is high enough to meet the demand. 
How to write a data analyst CV
The standard length of a CV is between one page and should never exceed to pages. Before getting started with writing yours, awareness of the correct structure will keep you on track. With few exceptions, all CVs should include these essential sections:
CV header
Summary (also known as the profile)
Employment History
Skills
Education
In some instances, the last three sections could fall in a different order, usually depending on the degree of professional experience or whether there are educational prerequisites. But for the most part, the sequence of sections follows the outline above, as illustrated by our adaptable data analyst CV example.
No two versions of your data analyst should ever be exactly alike. It's vitally important to tailor your CV to each job application so it's 100% relevant. That's one reason to make sure you carefully scutinise the posted job description and requirements. It's your best source for customising your resume content and tone accordingly. 
The other reason is to identify keywords and phrases that are obviously important to the employer. These should be used liberally in your CV as a precaution for passing through the automated tracking systems (ATS) that many hiring organisations use to screen online submissions.
Choosing the best CV format for a data analyst
Most job seekers are well-advised to use the reverse chronological format for their CV, which tends to be preferred by employers. Your employment history takes precedence, organised in order from your most recent position back to the earliest.
Some job applicants choose the functional CV format instead, where skills are most prominent, or the hybrid (combination) format. For the majority of data analysts, the reverse chronological CV format is the best choice. 
CV header
Located at the top of your CV, the header contains essential contact details that the hiring manager can use to identify you and get in touch with you — ideally for an interview invitation. A distinctive header design can help your CV stand out from all the rest, and make it look more inviting to read.
CV summary example: a quick insight
Every CV should start with an introduction, and this is where your summary comes in. The summary (sometimes called the personal statement or profile) consists of two or three statements below your CV header that briefly describe your accumulated experience and skills. Done right, it gives hiring managers a good vision of what makes you suitable for the job and where you are in your career.
Your CV summary should hit the high notes of your accomplishments in dynamic, results-oriented action statements. Examples: "successfully initiated a data-led social media program" or "managed the data set for over 1,000 customers to help the business make important product decisions."
The summary can be tricky to write, and some candidates find it a challenge. We have additional CV samples you can for summary inspiration and ideas, including: 
Here is a summary you can modify for your own use from our data analyst CV example.
Adaptable CV summary example
Experienced and dynamic data analyst with a keen ability for interpreting data and drawing conclusions. Adept in reporting on key metrics and analysing and interpreting trends while providing actionable insights.
Expert tip
Include an achievement
If you want the hiring manager to sit up and take notice from the outset, a significant achievement or two in the CV summary will help. That is, something that ties your abilities with an impressive result, such as: "Effective market analysis helped attain a 30% sales increase."
Employment history sample: the first step to success
The next CV section is your employment history, where you will detail your work experience, starting with the most recent and working backwards to the earliest.
Create descriptive bullet points for the most directly relevant duties and achievements in each role, resisting the urge to list everything and dilute the impact.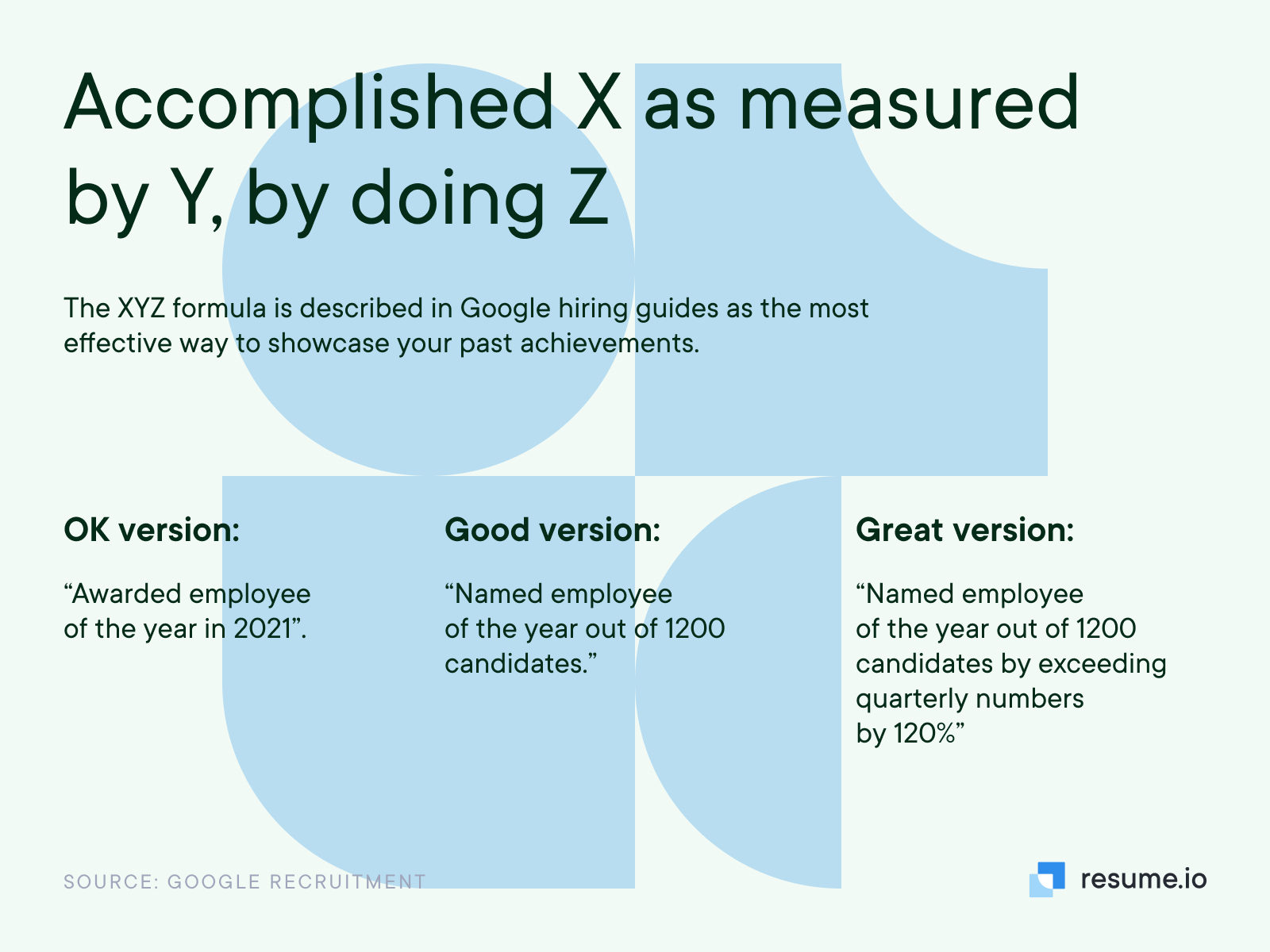 With no need for the "I" pronoun, start each statement with an action verb such as "analysed," "delivered," "managed," or "supported."  As a data analyst, you are well-equipped to cite tangible outcomes using metrics, which will add weight to your CV. Example: "Contributed to 50% sales boost by conducting effective market analysis."
Below you'll find the employment history section from our data analyst CV sample.
Adaptable CV employment history example
Data Analyst, Optimal Radar, Bristol  
January 2018 - May 2022 
Designed and executed data management systems.
Effectively utilised data sources to understand and troubleshoot performance issues.
Planned and updated interactive web-based visualisation tools with new data.
Exercised a logical and methodical approach to problem solving.
Successfully explained technical aspects of the service to non-technical audiences.
Collaborated across departments to measure and report performance metrics.
Conducted statistical analyses, including descriptive statistics and regression modeling.
Documented data processing and workflows.
Associate Data Analyst, Spectator, Bristol  
September 2014 - December 2017 
Served as a central point of contact to drive business decisions by leveraging deep analytics.
Provided solid recommendations for new strategies to reduce losses and to retain customers.
Worked collaboratively with leadership and business partners to identify data for analysis.
Successfully identified data sources and data attributes that supported business goals.
Conducted analyses that led to 20 percent increase in product sales.
CV skills example: your key attributes
When compiling your CV list of skills, focus on their value-added impact to the employer. Assess the job specs to understand which skills are most likely to attract the hiring manager's attention.
A data analyst CV should include a balanced blend of hard skills and soft skills. That is, your strengths such as data cleaning, data visualisation, and machine learning should be supported by attributes such as strong attention to detail and problem-solving skills, to name but a few. 
A data analyst will have hard skills, such as data cleaning, data visualisation, and machine learning. They would also need to support these with soft skills, such as strong attention to detail and problem-solving skills – to name but a few.
Use the following skills list from our data analyst CV example for guidance.
Adaptable cv skills section example
Data Analysis
Effective Time Management
Data Clean-ups
Programming
Ability to Work in a Team
Data Authoring
Leadership Skills
Customer Service
Data analyst CV education example
College degrees are not always necessary for a data analyst position role, although they can give you an edge over other candidates.
The education section of your data analyst CV should include any postsecondary education qualifications you have, listed in reverse chronological order from highest to lowest level. In that instance, you do not need to mention secondary school graduation. 
Be sure to highlight any on-the-job training or courses you've completed in addition to formal education, showing you are committed to continuous learning and development; this is highly appealing to employers. 
In addition, undertaken courses since you completed higher studies, these will show that you are committed to continuous development; this is highly appealing to employers. 
Check out the data analyst CV education example below.
Adaptable cv education example
University of London, Bachelor of Science in Computer Science, London 
September 2010 - May 2014 
CV layout and design: success at first glance
Most hiring managers don't have much time to assess job applications in depth. That means it's vital to make a great visual first impression at first glance
You don't need to overthink the design of your CV,  as long as it's clean, uncomplicated and easy to read. Recruiters are less interested in creativity than they are in legibility. Your CV must be easy to read and assess quickly and efficiently.
Expert tip
Be aware of fonts
A CV can look messy if it is full of different font types and sizes. Use a consistent font throughout and only change the size for the header or the section headings. Always make sure you use a standard size (10 point or 12 point) throughout to optimise readability.
To get the layout just right, consider using a professionally-designed CV template.
The hassle-free way to get all of the layout layout and design details just right, consider using one of Resume.io's field-tested CV templates with our builder tool.
Key takeaways for a data analyst CV 
Tailor your CV to suit the specific data analyst job and employer, aimed at your target audience.
Give the hiring manager insight into what you can achieve as a data analyst by showcasing relevant measurable achievements.
Use keywords throughout your CV. These can be found on the job specs and will help you bypass the ATS.
Using an expert-designed CV templates can put you on the road to securing your dream data analyst job as quickly as possible.