When you create an impactful data analyst CV, you are using the most important aspects of your expertise and skills to take the first step into securing your next data analyst role.
Decisions around data may take a while to conclude, but decisions around CVs happen in mere minutes! 
At Resume.io, we have created CV guides and CV examples for dozens professions, along with a powerful CV builder to help simplify the creation process. In this CV guide, together with the corresponding data analyst CV example, we will look at these topics:
The role of a data analyst and what this entails
How to write your data analyst CV
The most appropriate format for a data analyst CV
The relevant sections for a CV and how to make the most of each section
Layout and design hints and tips
What does a data analyst do?
Data is crucial for organisations, as it allows them to make important decisions that affect the entire business and its success. Data analysts are responsible for taking the data and producing relevant reports that help the business make crucial decisions.
Expert tip
Companies can use data analysts to improve all aspects of their business, from enhancing ad campaigns, personalising their content, and developing better, more popular products.
With a revenue of $386 billion, Amazon uses big data well. They store information for every customer and use the data for product recommendations, customer experience, and customer relations.
Businesses that want to improve their profitability and the effectiveness of social media, advertising, etc., will benefit from employing data analysts.
Data analyst job market and outlook
It would be safe to acknowledge that a job as a data analyst is a secure one. With the global big data and business analytics market set to grow from 168.8 billion to 274.3 billion (US dollars) in 2022, it is one market that is continuing to grow. Consequently, there will be a requirement for data analysts in large quantities for the foreseeable future, especially those that are highly skilled and experienced.
Statistical insight
How much do data analysts earn?
The average salary for a data analyst working in the UK is £35,000 per annum. Therefore, data analysts are one of the most needed professions globally. However, there are very few highly experienced data analysts compared with the demand. 
How to write a data analyst CV
The standard length of a CV is between one and two pages. Taking your time when writing your data analyst CV is critical, and this includes creating a structure before you get started. As a base, your CV should consist of these sections:
CV header
Summary (also known as the profile)
Employment History
Skills
Education
It is perfectly acceptable to swap these around if you feel that one section is more valuable than another. For instance, if you have little experience but strong, relevant qualifications.
You may also want to include additional sections, such as achievements or hobbies if your data analyst CV is shorter than you would desire (less than a page.) Again, you can find inspiration from our wide range of CV samples.
There will be variations in each CV you send to your desired role, and you should always tailor it to the position and the company. Consider how you would address the hiring manager if you were face to face, and tailor your CV in the same way.
Use our tried and tested winning formula when writing your data analyst CV:
Ensure that you keep the employer in mind when writing your CV and tailor it through the tone and style.
Use a relevant CV template and design, ensuring the CV is clear, concise, and easy to read.
Optimise your CV with relevant keywords. You can find these on the job spec, and don't forget to use our CV examples to help guide you.
Choosing the best CV format for a data analyst
Most job seekers choose to use the reverse chronological format for their CV, which tends to be the most relevant to employers. With reverse chronological format, your experience is the main focus.
In this structure, your employment history section starts with the most recent employment and works back to the earliest. Some employees choose the functional format, where skills are most prominent or a combination, but in the case of a data analyst CV, reverse chronological is the favourable format choice. 
CV header
The CV header is located at the top of your CV, and this contains essential contact details that the hiring manager can use to identify you and get in touch with you. If you neglect to include your contact details, the hiring manager may not be able to get in contact to arrange an interview. Therefore, it is a vital section of your data analyst CV!
CV summary example: a quick insight
Every CV should start with an introduction, and this is where your summary comes in. The summary is two or three statements situated under your CV header, and these will briefly describe your accumulated experience and skills. It will give the hiring manager a good vision of what makes you suitable for the job and where you are in your career.
It is best to use action verbs in these statements. For example, 'successfully initiated a data led social media program,' or 'managed the data set for over 1,000 customers to help the business make important product decisions.' 
The summary can be tricky, and candidates often find it a challenge. We have additional writing material you can use as a base to create your own, including the computer scientist CV example, marketing CV example, or, if applying for an internship, you may find our internship CV sample useful. Our CV samples have been designed to help you make the most of your CV summary.
Adaptable cv summary example
Experienced and dynamic data analyst with a keen ability for interpreting data and drawing conclusions. Adept in reporting on key metrics and analysing and interpreting trends while providing actionable insights.
Expert tip
Include an achievement
If you have any significant achievements relevant to the role you would like to highlight, the summary is the best place to do it. An example may be a considerable increase in sales due to market analysis. Also, if you want the hiring manager to sit up and take notice from the offset, a significant achievement will help.
Employment history sample: the first step to success
The next section of your CV is your employment history, where you will detail your jobs from the most recent to the earliest. You should include the employer, job title, and dates of employment.
You can use bullet points for each responsibility you had in the job, although you should refrain from listing everything, only the main aspects of the role.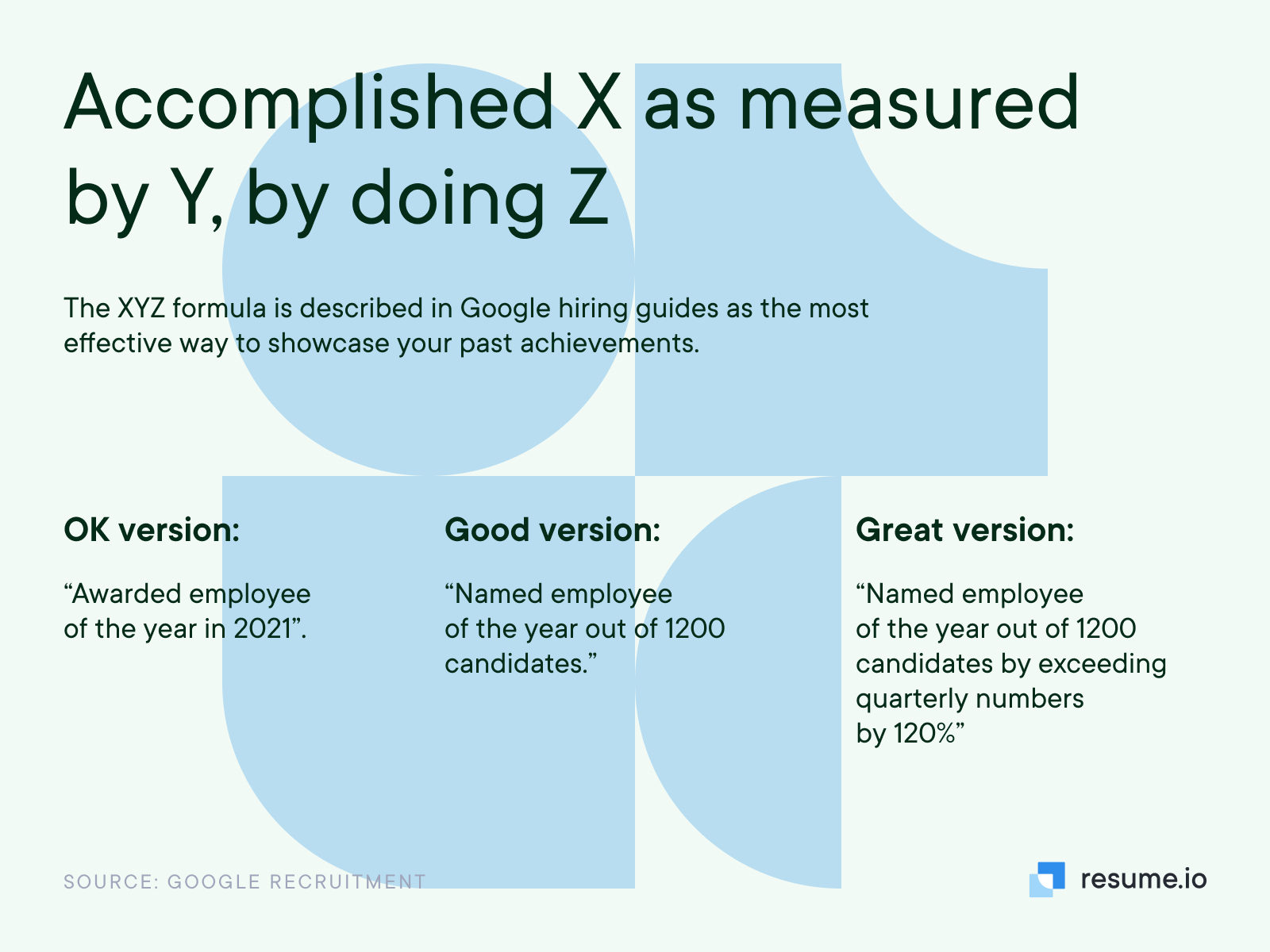 Action verbs are more effective here, such as 'delivered,' 'managed,' 'supported,' instead of  using 'I.' As a data analyst, you have many tangible outcomes, and listing some of these will also add weight to your CV. For instance,"'improved sales by 50% due to conducting effective market analysis." Below you'll find the summary from our adaptable CV sample.
Adaptable CV employment history example
Data Analyst, Optimal Radar, Bristol  
Jan 2018 - May 2022 
Designed and executed data management systems.
Effectively utilised data sources to understand and troubleshoot performance issues.
Planned and updated interactive web-based visualisation tools with new data.
Exercised a logical and methodical approach to problem solving.
Successfully explained technical aspects of the service to non-technical audiences.
Collaborated across departments to measure and report performance metrics.
Conducted statistical analyses, including descriptive statistics and regression modeling.
Documented data processing and workflows.
Associate Data Analyst, Spectator, Bristol  
Sep 2014 - Dec 2017 
Served as a central point of contact to drive business decisions by leveraging deep analytics.
Provided solid recommendations for new strategies to reduce losses and to retain customers.
Worked collaboratively with leadership and business partners to identify data for analysis.
Successfully identified data sources and data attributes that supported business goals.
Conducted analyses that led to 20 percent increase in product sales.
CV skills: your key attributes
When compiling your CV skills, it is good to reflect on what attributes you have that will add value to the company. Assess the job spec to understand what you might include to attract the hiring manager's attention.
A data analyst will have hard skills, such as data cleaning, data visualisation, and machine learning. They would also need to support these with soft skills, such as strong attention to detail and problem-solving skills – to name but a few.
Consider the employer's needs and what you can offer to benefit their business. If you don't have direct data analyst experience, consider the transferable skills you possess that might be helpful for the role. Use our CV examples for extra help and guidance.
Adaptable cv skills section example
Data Analysis
Effective Time Management
Data Clean-ups
Programming
Ability to Work in a Team
Data Authoring
Leadership Skills
Customer Service
Data analyst CV education example
It is not always necessary to have a degree for a data analyst role, although it can give you an edge when up against other candidates.
The education section of your data analyst CV should contain any qualifications you have, particularly those relevant to the role. If you have a higher qualification, you do not need to mention those you gained in secondary school. However, if you have undertaken courses since you completed higher studies, these will show that you are committed to continuous development; this is highly appealing to employers. You can use our project manager CV example and guide to keep you on the right track when writing your education section. Check out the adaptable CV example below.
Adaptable cv education example
University of London, Bachelor of Science in Computer Science, London 
Sep 2010 - May 2014 
CV layout and design: success at first glance
Most managers are busy with their day-to-day workload, and consequently, they don't have much time to assess CVs. It is, therefore, vital that you make a great first impression with the design and layout of your data analyst CV.
You don't need to overthink the design of your CV – the main point is to ensure it is clear, easy to read, and free from complexities. Hiring managers are not looking for creativity when it comes to the CV; they want to be able to read and assess it quickly and efficiently.
Expert tip
Be aware of fonts
A CV can look messy if it is full of different types and sizes of font. You should use a consistent font throughout and only change the size for the header or the section headings. Always make sure you use a standard size (10 or 12) throughout the main sections so it is readable for everyone.
To get the layout just right, consider using a professionally-designed CV template.
Key takeaways for a data analyst CV 
Tailor your CV to suit the job and the company, and aim it at your target audience.
Give the hiring manager an insight into what you can achieve as a data analyst, including key examples where possible.
Use keywords throughout your CV. These can be found on the job spec and will help you bypass the ATS.
Use our online CV maker and CV samples to make the job easier, so you will be on the road to securing your next dream data analyst job as quickly as possible.