No matter what groundbreaking discoveries you aspire to make down the road, your researcher CV right now is potentially the most important project of your career. At least that's the best approach to take when a fabulous job opportunity arises. Don't underestimate this pivotal opportunity to show — not just tell — where your research talents lie.
In fact, the need to research every new job prospect in a self-analytical manner is something Resume.io emphasises in all of its occupation-specific CV examples and writing guides. 
We'll elaborate in the advice to follow, corresponding to an adaptable researcher CV example. Here are the topics we will be covering:
What researchers do and the UK job outlook
Organising your researcher CV — essential sections and format options
Synthesising the right information in each CV section  — header, profile, employment history, education and skills
CV visual details — showcasing your report formatting finesse.
This writing guide does not apply to the so-called "academic CV" — a much longer document listing educational credentials and scholastic achievements, along with employment highlights. Researchers sometimes need that type of CV to apply for academic or scientific positions, or grants and fellowships.
What do researchers do?
First things first, what does this job role entail? Put simply, researchers are purposeful problem-solvers in their field of expertise. The information they seek, interpret and present to their peers can profoundly benefit institutions, industries, and society as a whole.
Using predetermined methodology, researchers collect, collate, and analyse relevant data supporting the conclusions they ultimately report. They often have a front-end role identifying study topics, crafting research proposals, and securing project funding. 
Administrative duties might include budget and work schedule management, and research team supervision. Experienced researchers commonly contribute to professional development as educators, authors, committee officers, and conference presenters. 
Research job opportunities are infinitely diverse in the public, private and non-profit sectors. Some researchers fit the science lab stereotype of test tubes in gloved hands and high-tech equipment. Others look equally at home in business offices, libraries, and industrial settings. The bodies of knowledge at stake run the gamut from medicine, pharmacology, IT, and social sciences, to economics, fine arts, psychology, and marketing. 
Statistical insight
According to Randstad, the career outlook for researchers in the UK is bright, with a 6% projected job growth rate boosted by innovation investments. 
Researcher salaries in the UK vary depending on education and experience levels. Average annual incomes reported by three online sources are as follows: payscale.com —  £34,000, uk.talent.com — £35,093, and reed.co.uk — £52,268.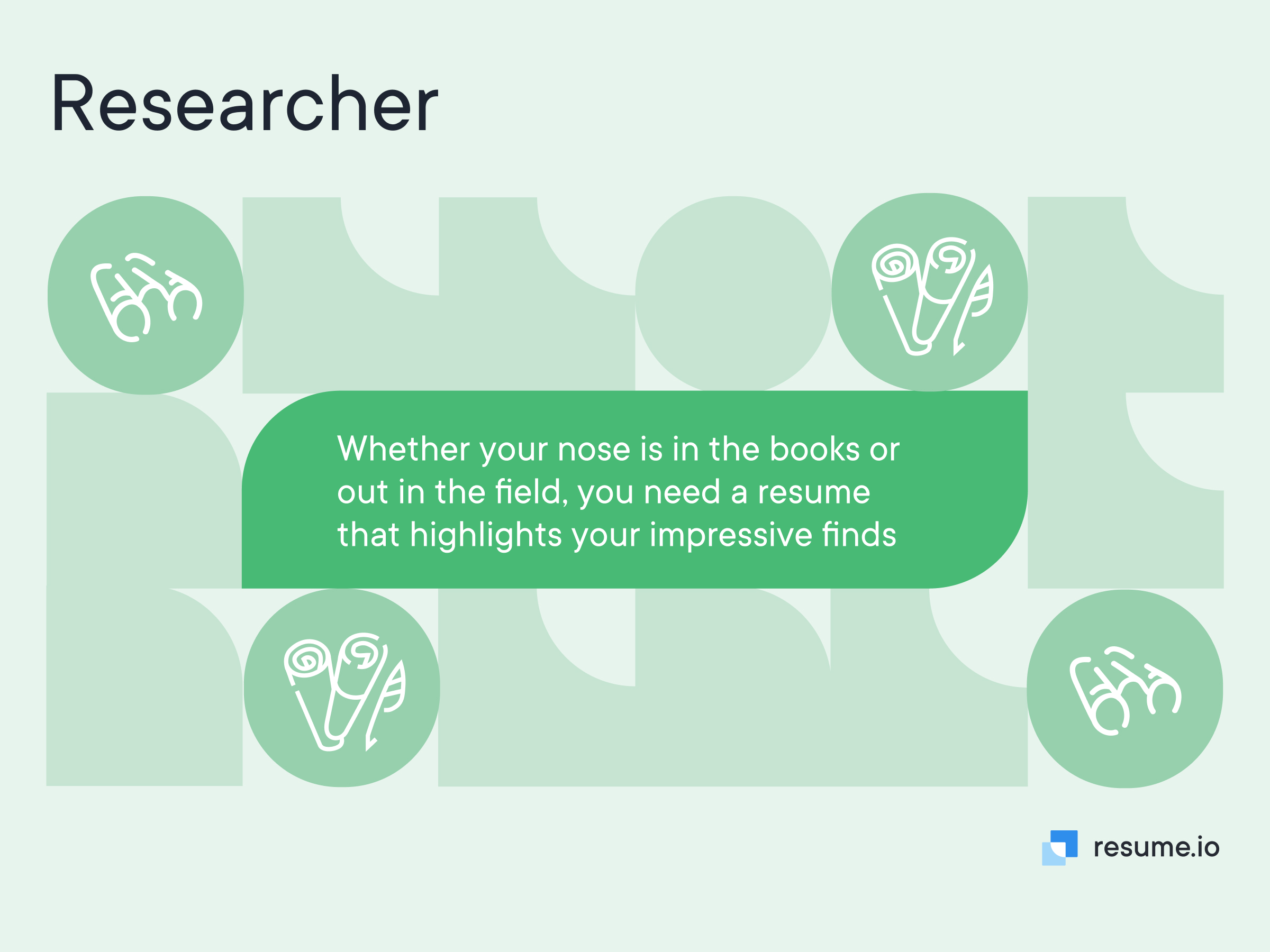 How to write a researcher CV
The simplicity of structuring your researcher CV might seem like a treat when you're accustomed to condensing immense volumes of information into orderly, focussed reports. All CVs should include these sections, preferably fitting on one page:
Header
Summary
Employment history
Education
Skills section
Otherwise, an outstanding CV is just that — one of a kind, tailored to the employer's specific interests. That means it not only sets you apart as the ideal hire but also is unique to each job application.
Expert tip
Vitae, a career management resource for researchers, points out the usefulness of research skills when crafting a custom-tailored CV:
Yourself —  conduct a self-evaluation of your experiences, achievements and strengths.
Job and employer — visit the organisation's website, talk to current employees, and analyse the job specifications.
Match your qualifications to the job needs — identify the best evidence of your ability to do the job, with varied examples.
Your CV recipient — choose the most suitable format and presentation style/tone.
One opportunity at a time, make a fresh case for being an exceptional match to this employer's research needs. Review the advertised job requirements closely, including keywords that help ensure your CV isn't rejected by an applicant tracking system (ATS).
Choosing the best CV format for a researcher
Traditions die hard when it comes to the chronological CV format being the preferred way to organise the information that recruiters prioritise. Emphasising work experience, it's well-suited to job seekers who have held mostly employee positions.
But times have changed, so the same cookie-cutter format isn't optimal for everyone. Some researchers might be better served by a functional CV, where skills, specialisations, or projects take precedence over employers. Hybrid (combination) formats allow even more versatility.
The choice is yours, depending on what your career path looks like. Check out our "Best CV format" guide for the best-fitting advice.
CV header
An eye-pleasing CV header draws attention to your identifying information and makes it easy to retrieve later when hiring managers want to get in touch. It also makes everything else on the page look inviting to read. Double the impact with a matching cover letter header. 
Researcher CV summary example
Whether you call this CV section a summary, profile, or personal statement, the intent is equally crucial — to assure recruiters straight away that you belong on the interview shortlist. Up-front evidence of your worthiness compels them to keep reading, while starting to envision your contributions on the hiring organisation's team. 
Your awareness of the employer's needs and goals should be apparent in the relevant career accomplishments you single out here. Let your personality, purpose and passion shine through too.
Here is a CV summary example to help you write yours.
Adaptable summary CV sample
Highly-effective researcher and data analysis professional with a passion for supporting organisations in informed, data-backed decision-making. Demonstrated talent for partnering with teams to lead complex data analytics and research initiatives.
Employment history sample
Play to your strengths by illustrating them in action. "Here's what I can do for you, and how I'il do it" is the message to send when highlighting your proudest and most relatable professional achievements. Bridge your past success stories to unwritten chapters involving your future employer. Above all, take advantage of every researcher's secret weapon — facts and figures to quantify tangible outcomes of projects to your credit.

Below is a researcher employment history CV sample you can modify.
 
Adaptable employment history CV example
Researcher at Digital Insights, Inc. Hul, UK
Mar 2018 - Present 
Leverage a wide range of methodologies to gather, interpret, and synthesise data for research initiatives.
Generate key insights into business and project performance, presenting data in a story-driven format to clearly communicate challenges, successes, and progress.
Evangelise new practices in order to elevate business performance.
Researcher at Saga Ltd. Hull, UK
Dec 2015 - Februari 2018
Conducted online usability testing, generating recommendations on user needs for product evolution. 
Co-ordinated multiple concurrent projects, adhering to timelines to ensure efficient project operations.
Partnered cross-functionally across engineering, development, and product teams to drive alignment and leverage data insights.
Data Analyst at Hull Bank 
Oct 2015 - Nov 2015
Monitored and analysed bank data, generating actionable information on performance and issues to inform ongoing business decision-making.
Prepared detailed reports, providing recommendations and general insights to leadership team.
Monitored operations to ensure optimal data quality.
Researcher education example
More so than for most other occupations, a researcher's education might remain important to employers even after work experience has accumulated. List your degrees here in reverse chronological order, from highest to lowest level. Include apprenticeships, certifications, and additional skills training, as well as professional society memberships.
Relevant awards and other special honours can also appear in this CV section, below the corresponding education program heading. But if there are quite a few, consider listing them together in a separate CV subsection.

Below is the education section from a researcher CV you can modify.
Adaptable education CV example
University of Hull
Sep 2011 — Sep 2013 Hull, UK 
MSc (Hons) in Data Analytics
University of Hull
Sep 2008 — Jun 2011 Hull, UK 
BA (Hons) in Data Science
CV skills example
More than likely, the CV skills that make you an exceptional researcher are too numerous to fit in the CV space available. Again, we stress the need to target the specific job application. Be sure to include all of the skills stipulated in the posted ad, and cherry-pick others that might set you apart. 
Check out this researcher CV sample for the skills section.
Adaptable skills section CV example
Data Analytics
Research
Consumer & User Research
Project Management
Data-Based Recommendations
Proposal Development
User Testing
Research Method Application
Attention to Detail
Report Preparation
Data Quality
Expert tip
Aim for a balance of hard skills and soft skills that would be integral to the researcher role you are seeking. Prospects.ac.uk regards these skill types as essential for research scientists:
Methodical approach
Problem solving
Time management and organisational
Collaborative
Tenacity and patience
Networking
Resume layout and design
You can never go wrong with a CV that looks clean, crisp and uncluttered at a glance. A streamlined, uncomplicated layout is the best assurance of reader-friendliness, with one clearly labelled section flowing logically into the next. 
Allow enough white space on the page to offset the blackness of "text walls." Stick to the one-inch default margin setting and loosen up the line and paragraph spacing. 
Shy away from fancy fonts and never mix more than two font styles: one for body text and another for header text and section titles.

 
None of this is to say you should aim for the stark and sterile extreme. Don't be afraid to display your knack for adding eye appeal to research reports and presentations. Sparing graphic elements in your CV design, and even touches of colour, are fine.
Expert tip
Even with a good handle on layout, design, and formatting basics, a DIY document is not your only CV option. Leave the visuals up to Resume.io by using one of our good-to-go CV templates.
Key takeaways for a researcher CV
Treating your researcher CV the same way you would any research project can effectively demonstrate your investigative and analytical skills.
As a basis for understanding the hiring organisation's needs and how it would benefit from hiring you, your research will help you custom-tailor your CV to each job application.
Each CV section should reinforce why you are an excellent match for the researcher position being filled.
Visually professional results are assured when you use one of resume.io's field-tested and expert-designed CV templates.