Your posts are top notch, but does the most important document for your job search do your skills justice? Crafting a top social media manager CV could be the key to standing out in a growing market.
If you're ready to showcase your skills and experience in the best possible light, we're here to increase your chances of getting noticed by potential employers. In this blog post, we'll explore some tips and tricks for writing an amazing CV that will help you land your ideal role as a social media manager.
At Resume.io we're just as passionate as you are about getting the right information to the right audience. In our case we have cultivated a library of resources for jobseekers, including CV examples and guides for dozens of professions. 
From social media managers to plumbers, there's something for everyone who wants to create a CV that impresses potential employers. This CV guide, along with the corresponding CV example will cover the following topics:
What does a social media manager do?
How to write a social media manager CV (plus a CV sample)
The best format for a social media manager CV
Advice on each section of your CV (summary, work history, education, skills)
Professional CV layout and design hints.
What does a social media manager do?
As a social media manager, you are the driving force behind the social media accounts of a brand. As well as creating and curating content for social media channels, you also likely plan social media campaigns, monitor analytics, and even engage with the page's audience.
Social media managers often wear many hats. Or, in the case of larger companies, work closely with other departments. Marketing, public relations, and customer service all play their part in a user's social media journey. These teams likely want to ensure that all messaging is consistent and aligns with the overall goals of the business. That means that as a social media manager, it's important to be a people person.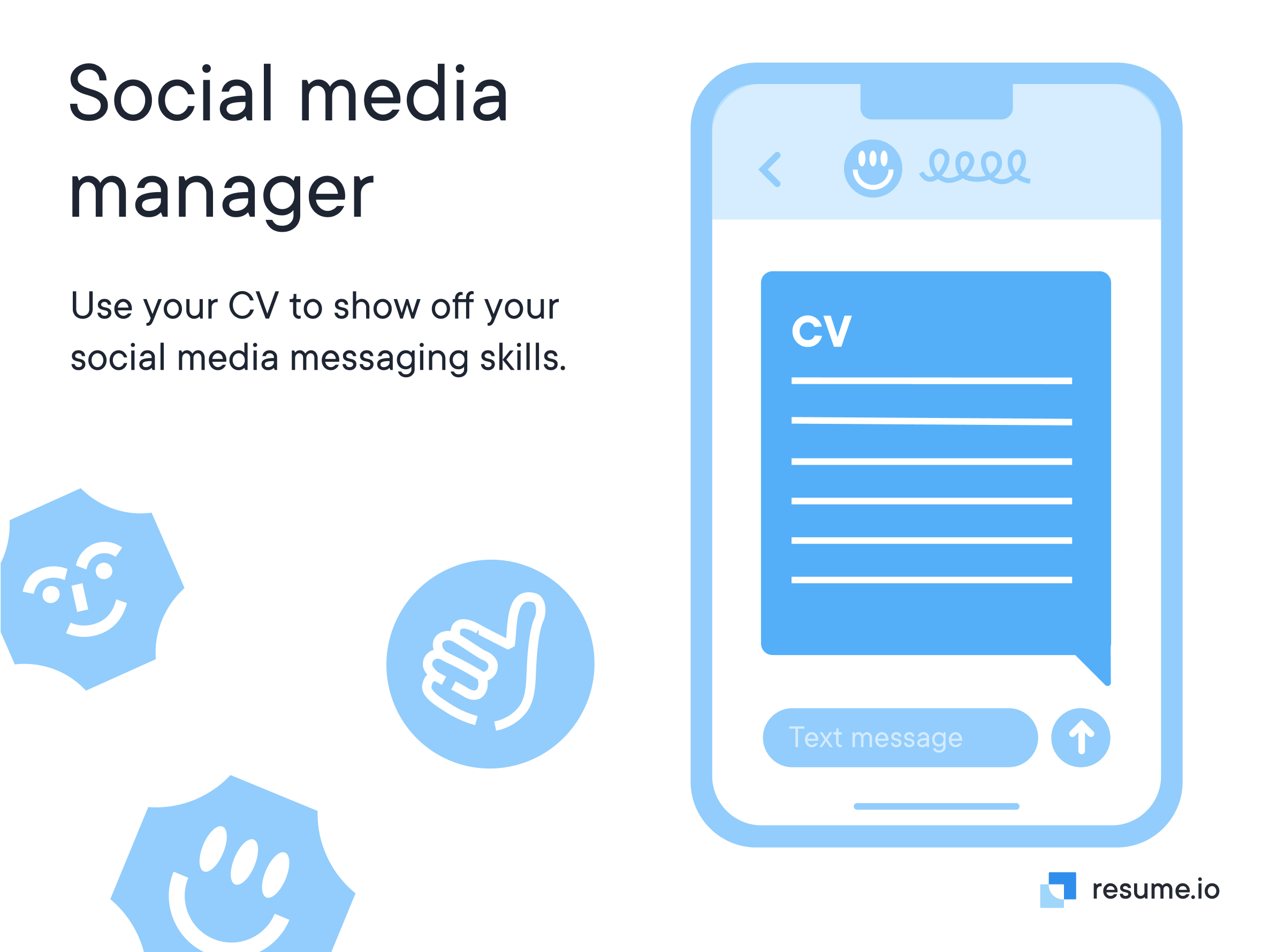 How to write a social media manager CV
The very first step in writing your social media manager CV is understanding what sections to include. Your CV should contain the following elements:
The CV header
The CV summary (aka profile or personal statement)
The employment history section
The CV skills section
The education section
If you're looking for inspiration on how to make your social media manager CV stand out from the crowd, research the company you're applying to. This will help you to get a clearer picture of what the company culture is like and what your role might involve. 
Need some ideas for your social media manager CV? Our marketing manager CV example, marketing CV example, and copywriter CV example could give you an alternate perspective from a similar field. Take a look at some of our CV samples before you get started.
Expert tip
The ATS: Your next algorithm to appease
Just like the right hashtags can help you tap into the right audience, keywords play an important part in your CV writing.
Application Tracking System (ATS) software is used by companies to scan applicant CVs for keywords or phrases relevant to the job posting. Only the social media manager CVs that rank at the top for these terms will make it to the next stage of the hiring process.
Choosing the best CV format for a social media manager
As a savvy marketer, you know that medium and format can be everything. So, choosing the right CV format is crucial. For most job seekers, the best CV format is the reverse chronological one, which draws the reader's focus to the employment history section.
If this is your first professional social media manager gig, you could consider a different format, such as the functional or hybrid CV format. Your main goal is to prove your skills by communicating your professional profile in the most efficient way possible. So take the time to choose the best CV format for your experience level and the specific job you're applying for.
CV summary example
To write a standout summary for your social media manager CV, start by highlighting your most relevant experience and achievements. Consider using metrics or specific examples to demonstrate the impact you've made in previous roles.
For instance, if you've managed successful social media campaigns, highlight the key metrics you used to measure success and how you met or exceeded the campaign objectives. You can also focus on your unique skills and qualities that make you a great candidate for this role in particular. For example, if you have experience with social media analytics or content creation in this specific industry, mention this in your summary.
Your CV summary should be just a couple of sentences long. Make sure you make the best use of that space while maintaining a natural flow for the reader. As an expert communicator, we're sure you'll have no problem! However, our social media manager CV sample content below will help you to put these tips into practice.
Adaptable summary CV sample
Creative, dynamic Social Media Manager known for empowering companies and individuals to achieve exceptional growth and brand reach through captivating online presence. Proven ability to catalyse engagement across multiple platforms, driving trend-conscious social media and email marketing campaigns to build loyalty among followers.
Expert tip
Easy on the #jargon
Sometimes industry-specific terms or keywords are the best way to communicate specialist skills in the limited space you have for your summary. However, refrain from overusing jargon and buzzwords in your social media manager CV.
Employment history sample
It's important to focus on achievements and results in your social media manager CV rather than just listing job duties. That's what the employment history section is for. Of course you should list your role title, the name of the organisation you worked for, and the place and dates of employment, as shown in the CV sample content below. 
However, also highlight specific campaigns or projects that you've worked on, and provide metrics to demonstrate their success. There are a number of ways to really illustrate your relevant achievements. You can mention how many followers you helped the brand to gain, the engagement rate you achieved, or the increase in website traffic due to your social media efforts. If you don't have specific metrics, try to quantify your accomplishments in other ways such as describing how you improved processes or increased efficiency. Remember to always focus this information in a way that emphasises the skills and experiences that are most relevant to the position.
While metrics and a deep understanding of algorithms are great, building a strong online community and managing online reputation are equally as important. Strong communication and interpersonal skills are essential for success in this field.
Adaptable employment history CV example
Social Media Manager, Newcastle Brewery, Newcastle, UK 
September 2021 - April 2023 
Built and grew loyal following among locals through innovative social media campaigns including competitions, trivia, and giveaways.
Created extensive company presence across TikTok, Instagram, Facebook, and Twitter, capitalising on university student audiences to grow reach.
Managed product and facility shoots to capture new customers, presenting brewery brand across all platforms.
Social Media Manager, Inari (Local Celebrity & Media Personality), Newcastle, UK 
July 2014 - August 2021 
Partnered directly with Inari to shape brand, building a personality-based presentation that resonated with local followers.
Created branded website, social media pages, and blog page, cultivating engagement among the Newcastle LGBTQ+ community.
Leveraged local media connections to secure public engagements, expanding brand reach and awareness through news spots, morning show interviews, and event hosting gigs.
Launched social media blitzes in advance of public engagements, ensuring fan/follower presence.
CV skills example
There's more to becoming a top social media manager than understanding social media trends. When writing a skills section for a social media manager CV, it's important to include a balance of both hard and soft skills. Hard skills should include which social media platforms, social media management tools, and analytics tools you have experience with.
Other useful skills to mention could include proficiency in graphic design software, web design, and video editing tools. Soft skills that could be highlighted include excellent communication skills (both written and verbal), creativity, adaptability, problem-solving, and strategic thinking. 
Don't forget to mention any experience you have in managing and leading a team and any certifications or training in social media marketing. Having said that, as always, remember to tailor the section to the specific job description and company you're applying to.
Adaptable skills section CV example
Social Media Platforms (Twitter, TikTok, Instagram, Facebook, Myspace)
Content Development
Email Marketing
Campaign Strategy
Media Engagements
Engagement Strategy
Brand Growth
Product Photography
Social media manager CV education example
Social media managers typically have a degree in marketing or communications, although it's not necessarily required. If you have a higher education degree, there is no need to include your GCSEs and/or A levels or equivalent. Be sure to list the name of the institution, its location, the title of the qualification, and the dates attended for each qualification included in your CV just like in the CV sample content below.
Adaptable education CV example
BA (Hons) in Media & Communications, Newcastle University, Newcastle, UK 
January 2008 - May 2012
CV layout and design
As a social media manager, it can be tempting to design your CV as if it were an extension of your own personal brand. While this isn't bad advice per se, it's always best to keep it smart, simple, and professional. Choose a layout, font, and colour scheme that makes your CV easy to read.
If you want to avoid getting carried away with yourself, you can consider using one of our field-tested CV templates. We take the tedium out of creating a CV that makes an impression for all the right reasons.
Key takeaways for a social media manager
Don't be shy. Show off metrics and specific examples demonstrating the impact of your previous roles as a social media manager.
Social media managers wear many hats, so don't forget to highlight both hard and soft skills.
Give yourself the best chance possible to wow the hiring manager with your tailored communication skills by researching the role and company culture in advance.
Choose a layout, fonts, and colour scheme that is easy to read and professional.