SEO professionals are modern-day masterminds. You're a pro at creating strategies that boost web traffic and get brands noticed for all the right reasons. If you already have the skills down, it's time to start applying for jobs. First up, you need an SEO specialist CV. 
Here at Resume.io, we have everything you need to land your next role. Check out our library of CV examples and accompanying writing guides before you start your next application. In the following guide and SEO CV sample, we will be covering these topics: 
What an SEO professional does and why it matters
How much SEO specialists earn on average in the UK
How to write an exceptional CV (with expert tips and advice)
Support on what to write in each of the sections
How a CV design can make you stand out from the crowd.
What does an SEO professional do?
SEO professionals play a crucial role in a company's online presence. These specialists come up with killer strategies to increase the number of website videos for a business. Contrary to popular belief, it's not all about keyword optimisation. While a part of the job is identifying and using popular search terms in online content, it doesn't start and end there.
Believe it or not, there are many factors in the world of SEO. Specialists are pros when it comes to adding headings, imagery, meta descriptions, links, and so much more. There's never a dull day in the office. The realms of SEO are ever-changing. For that reason, professionals need to stay ahead of the curve and continuously study their craft. 
While the everyday duties of an SEO specialist may vary, it's important to get a clear view of what this role entails. As such, here are the tasks you can expect: 
Analyse popular search terms and create strategies based on them
Use HTML, CSS, and JavaScript to enhance the usability of the website
Create original content and content plans on behalf of the business
Oversee and run pay-per-click (PPC) advertising campaigns
Monitor and analyse the performance of websites using Google Analytics
Liaise with third-party businesses or affiliates to create link-building opportunities
Utilise social media to boost the ranking of websites and company profiles
Work with the user development (UX) team on creating a responsive site
Statistical insight
How much does an SEO specialist make?
Now that you know what an SEO professional does, let's talk about how much they take home at the end of the month. According to PayScale, the average salary for an SEO professional is £24,069. However, as you boost your experience, you can expect more.
If you are thinking of carving out a career in this sector, now may not be a bad time to get started. As the internet grows, there will always be space for savvy SEO experts.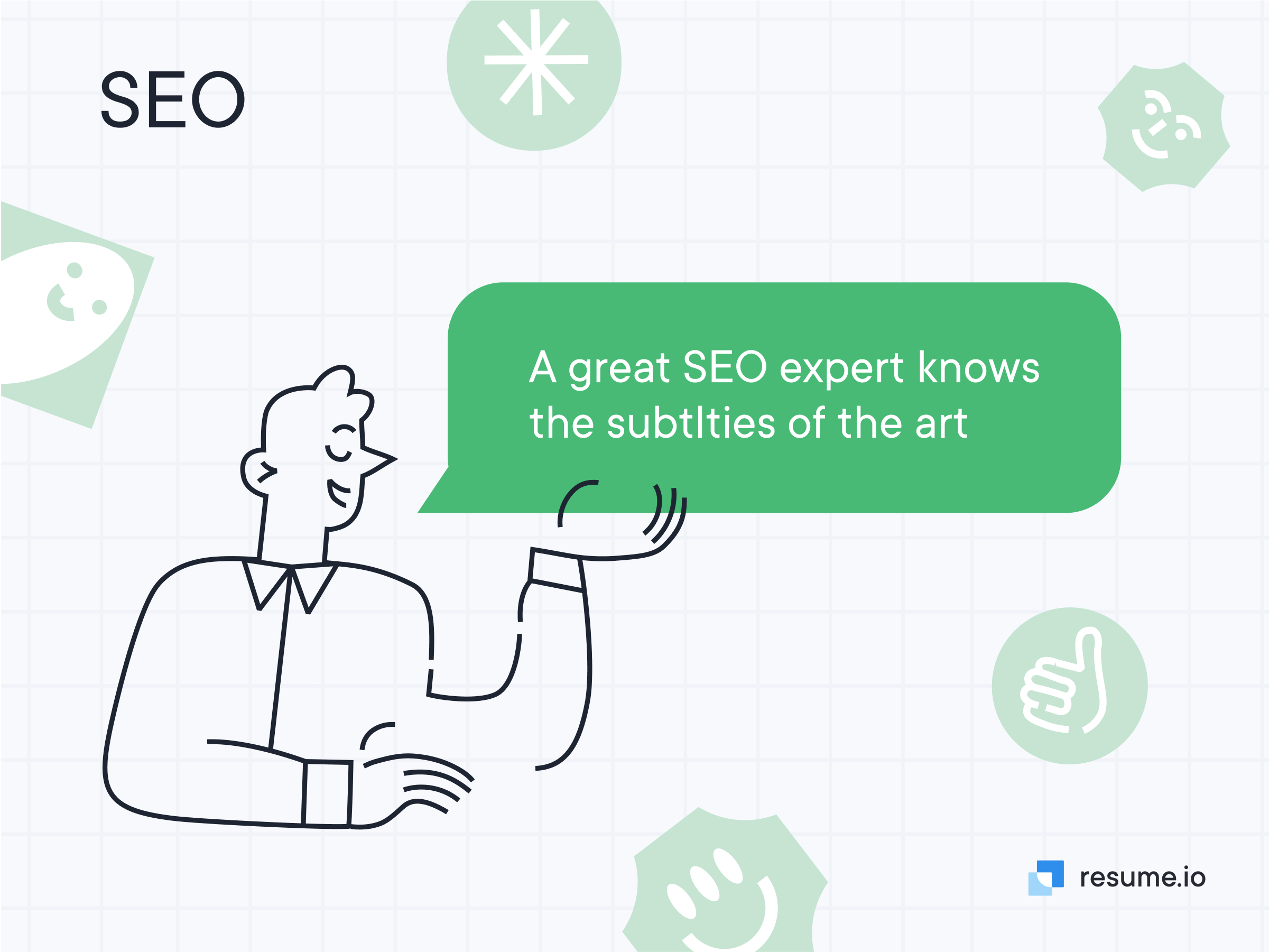 How to write an SEO CV
When writing an SEO CV, keep in mind that it should be no longer than one page. Sure, you might have a ton of experience, but this document is about showcasing your career highlights. You need to keep it short and sweet. Here's what it should include: 
The CV header
The CV summary (aka profile or personal statement)
The employment history section
The CV skills section
The education section
The above structure is what a hiring manager expects to see. You don't want to give them any unwelcome surprises. Eye-tracking research shows that recruiters spend an average of seven seconds reviewing each application. That's not a whole load of time. Make sure that they can get the information that they need from your CV at a customary glance.
If it's been a while since you sat down and wrote an application, we've got you covered. Take a look at our comprehensive CV writing guide for all the tricks of the trade. The number one priority here is ensuring that the information is clearly displayed for the reader.
Expert tip
Be sure to optimise your application!
A large number of recruiters now use an Applicant Tracking System (ATS) to rank incoming CVs. The computer software determines how well each application fits the criteria of the job and filters them accordingly. Put simply, if your CV doesn't tick enough of the boxes, it will end up in the "trash" folder without the recruiter even seeing it. 
Luckily, there's a quick way to make the document ATS-friendly. Take a look at the original job posting and highlight any keywords or phrases. Organically weave these terms throughout the content of your CV. You should be no stranger to this approach! 
Choosing the best CV format for an SEO specialist
Next up, let's talk about how you choose the right format for your CV. For most applications, the best approach is reverse chronological order. That is exactly what it says on the tin. You start with your latest positions and accolades at the top of the page. As you move down — in a list structure — you should work your way back in time. 
There's an exception to every rule. If you are new to the sector, you may want to go for a functional CV format. This structure emphasises your skill set over your experience. Let's say you've been working as a writer and recently trained in SEO practices, you should use this approach. For more information, take a look at our complete formatting guide now. 
Expert tip
Do you need some more inspiration? Take a look at our related CV examples and accompanying expert-backed writing guides here: 
CV header 
Before we take a look at the other sections, let's talk about your CV header. This is located at the top of the page and is a must when it comes to ready-friendliness. Make sure that the section is clear and includes your contact information. You don't need to make it jazzy. Simply choose a style that suits your professional profile and looks the part. 
CV summary example 
The CV summary is likely the first thing that a recruiter will read when reviewing your application. Also known as a personal statement or profile, it goes at the top of the page. It's around 3 to 4 lines that offer an insight into you as a professional. Now, you don't have a massive word count here — you need to make every part of it count. 
Consider what your main selling points are and include them here. Wherever possible, you want to substantiate your claims. That means that you provide evidence. For instance, if you "increased website traffic by 200% in three months," say exactly that. To save space, omit any openers such as "I am," "I have," and "I can". Get to the point! 
Adaptable summary CV sample
Dynamic, goal-driven marketing leader with robust SEO optimisation capabilities. Exceptional technical capabilities in utilising diverse SEO tools to boost site rankings. Strong capabilities in SEO team leadership, training and coaching. 
Employment history sample 
As we have already mentioned, your SEO CV should be no longer than one page. With that in mind, you should list between three and four job roles on the document. Use the reverse chronological order and include the company name, your role, and your dates of employment. Below that, you can use a bullet-point list to detail the duties of the positions. You may also want to go into any special achievements or awards you have landed. 
Adaptable employment history CV example
SEO Lead, Ghyston Ltd, Bristol, UK 
July 2019 - Present 
Contribute to oversight of SEO Program, playing vital role in ensuring optimal SEO visibility.
Mentor SEO specialists in effective SEO content writing strategies.
Conduct extensive, ongoing keyword research, selection, classification and reporting.
Perform weekly site health checks, conducting ongoing improvements to core keyword ranking.
Facilitate on-page SEO and off-page SEO optimization for website metadata, schema, content length, keyword density, page speed and other factors.
Collaborate closely with content writers in providing mentoring on keyword targeting and search intent.
SEO Analyst, Tumelo, Bristol, UK 
May 2016 - July 2019 
Coordinated all facets of SEO management, including technical, content and off-page SEO optimisation.
Through multiple Google updates, ensured ongoing SEO visibility for company website.
Conducted keyword research, selection, classification and reporting.
Performed regular site heath checks to improve core keyword ranking.
Developed strategies for improving client website structure and content.
CV skills example
Your skill set is the beating heart of your professional CV. The golden rule here is to include a balanced mixture of hard and soft skills. Hard skills relate directly to the role at hand. For example, they may include "pay-per-click (PPC) advertising" or "Google Analytics knowledge". On the other hand, soft skills allow you to work well with others. They include "communication," "collaboration," and any other interpersonal skills. If in doubt, take a look at the skills we have bullet-pointed in our SEO CV example. 
Adaptable skills section CV example
SEO Copywriting
Google Search Console
Google Analytics
Email Marketing
Digital Marketing & Automation
SEO & Backlink Audits
Conversion Rate Optimisation
Keyword Research & Optimisation
Search Engine Optimisation
SEO CV education example
Most SEO professionals will have a bachelor's degree under their belt. You may have studied computer science, marketing, or even writing. You should list this information in the education section of your professional CV. Below that, you may want to include any SEO-centric courses, training, or qualifications you have undertaken in recent years.
Adaptable education CV example
MSc in Digital Marketing, University of Bristol, Bristol, UK 
April 2020 - March 2022 
Completed part-time with full honors while employed full-time.
BSc in Marketing , University of Bristol, Bristol, UK 
September 2011 - May 2015
CV design and layout 
The design and layout of your CV matter more than you might expect. When a hiring manager looks at your application, you don't want to give them any reason to reject it. Feeling frazzled? Take a look at our dos and don'ts below to help you get started.
Do
Stick to a professional design rather than a "creative" one.
Pick one or two fonts to use throughout your SEO CV.
Leave white space around the sections to boost user-friendliness.
Don't
Try to cram too much information or detail onto the page.
Include any imagery or a profile picture on your application.
Use a font size that is less than 10 points or it will be hard to read.
If the thought of designing your SEO application from scratch is stressing you out, don't panic. We have a secret hack. Use one of our tested CV templates to do the heavy lifting. 
Key takeaways for an SEO CV
The world of SEO is expanding rapidly. If you're looking for a stable career where you can grow and develop, you may just have found it.
Optimise your application using the right keywords and phrases. That way, you can beat the bots and get past the ATS.
Make sure that your document is no longer than one page. You need to be clear and concise about the information you share.
Choose a design style that is appropriate. Recruiters may go on first impressions!