As a thespian, you're used to wearing many hats, but you'd probably prefer the role of "job seeker" to be one of the more short-lived. A great theatre resume can get you where you need to go by conveying your most impressive experience, skills and education at a glance.
Luckily, you're not alone in this endeavor. With 300+ writing guides and occupation-specific resume examples, Resume.io is an expert resource for job seekers in all fields and at all levels of experience. Here's what we'll cover in this theater resume example and guide,
What does a theatre professional do?
How to write a theater resume (tips and tricks)
The best format for a theatre resume
Advice on each section of your resume (summary, work history, education, skills)
Professional resume layout and design hints.
What does a professional working in theater do?
Professionals who work in the theater are responsible for the creation and production of plays, operas, musicals and other performances. While actors are the first theatre role that may come to mind, there are many job titles that work together in all aspects of a production, from the scriptwriting to the technical considerations and even the ticket sales and promotion.
According to Get Into Theatre, some of the many theater professions include:
Playwright
Director
Technical director
Choreographer
Stage manager
Box office manager
Actor
Musical director
Costume designer
Make-up artist
Front of house manager
Theaters, where plays and performances take place, may be as small as a high school or community college auditorium or as large as the famed stages of Broadway. Theatre positions are known to be highly competitive and these professionals may spend years or even decades working towards recognition and bigger roles.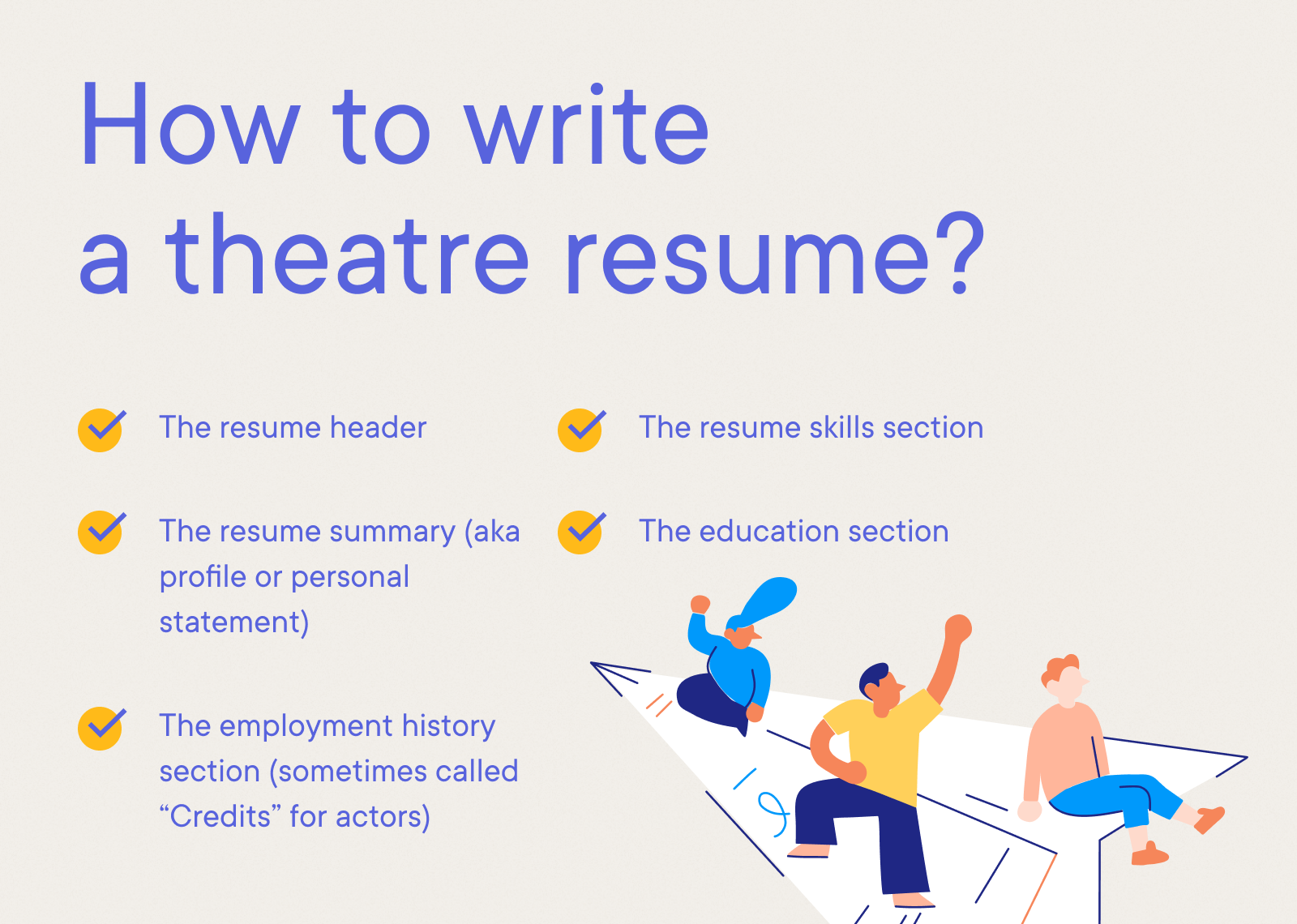 How to write a theatre resume
A theatre resume will need many of the sections found on other types of resumes including:
The resume header
The resume summary (aka profile or personal statement)
The employment history section (sometimes called "Credits" for actors)
The resume skills section
The education section
Expert tip
Beating the ATS
The intense scrutiny of a casting director likely isn't the first challenge your resume will face. When applying online, especially to large organizations, an Applicant Tracking System or ATS will likely be the first to read your application. These resume-scanning algorithms look for keywords from the job description and rank your resume against the other applicants. To avoid being filtered out, make sure to include skills and duties emphasized by your employer throughout your resume (when appropriate and true for your experience.)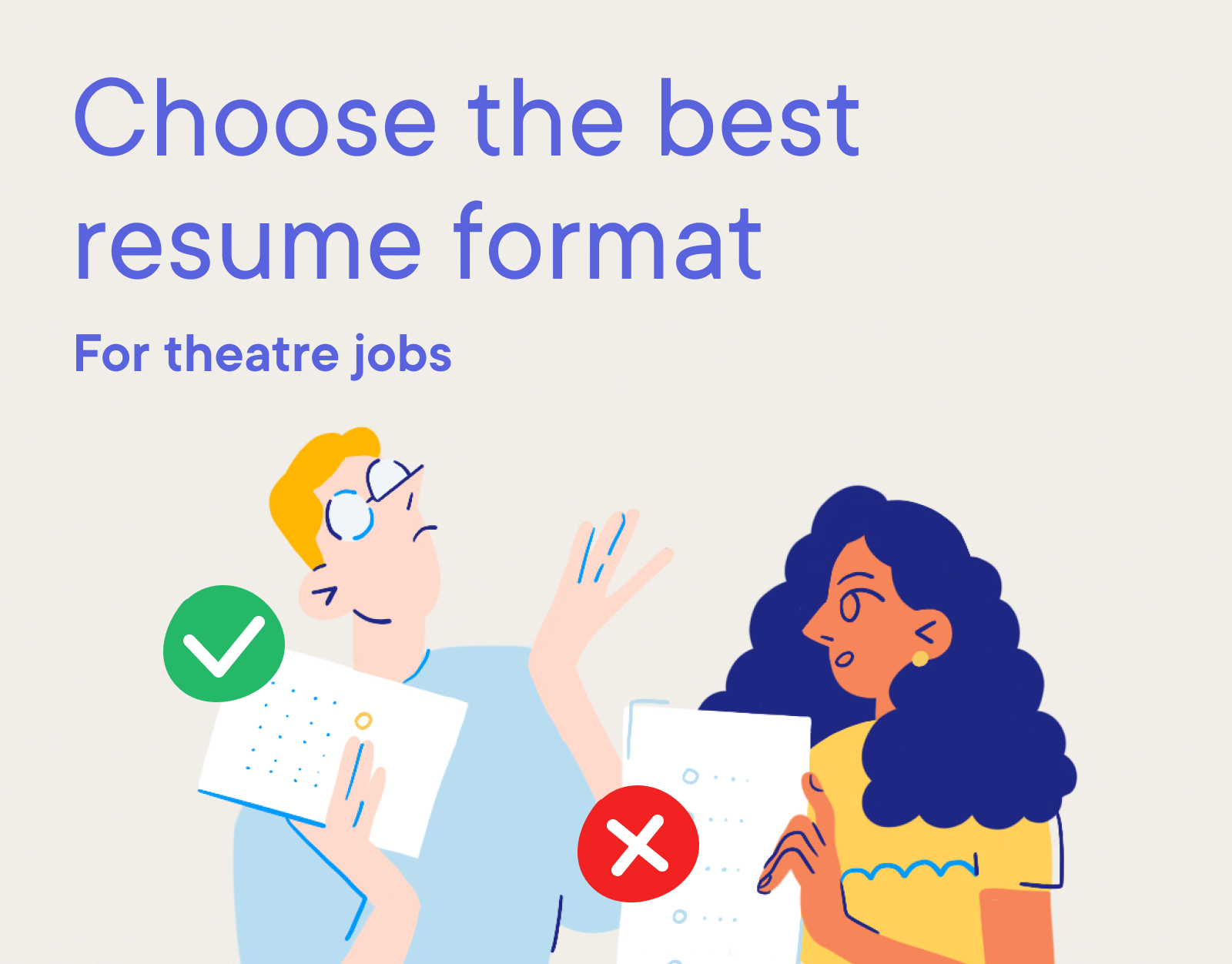 Choosing the best resume format for theater jobs
The best resume format for a theater job largely depends on the type of role you are applying to and your previous experience. In general, there are three types of resume formats: reverse chronological, functional and a combination of the two. 
We recommend the reverse chronological format for job seekers with at least some related work experience. This is the format preferred by hiring managers and the ATS since it features an Employment History section where your previous experience is easy to evaluate. However, it may not be the best format for everyone. Check out our guide to resume formats for more help deciding which one is right for you.
Resume summary example
The summary of your resume is the place to call the hiring manager or director's attention to your previous experience, skills and achievements. It's also the place to add a touch of *drama* to your resume by showing off a bit of personality. Remember, the 3-5 sentences of your summary are your highlight reel. They should capture the reader's interest and encourage them to read more details further down.
Check out the summary from our resume example below.
Adaptable resume summary example
Passionate and experienced theatre professional with a background in classical acting, method acting and Meisner Acting Technique. 
Employment history sample
Your employment history section is the place to list your previous roles and experience. Begin with the most recent job and work backwards through the past 10 years. Underneath each title, add bullet points detailing your most impressive accomplishments in each role.
Expert tip
If you'd like to create a "Credits" section here instead, you can find more instructions on how to do that in our actor resume example.
Below you'll find the employment history section from our theater resume sample.
Adaptable employment history resume example
THEATRE 
Hamlet, Clementine Theatre- Ophelia
Othello, Baynard City Theatre- Emilia
A Wonderful life, Tribeca Film Center- Deidre
Tales of India, Scena Theatre- Parvati
Wild Thing, Hero Theatre- Olga
DANDELION ROOTS, PERSIMMON CITY THEATRE- Eloise

TELEVISION 
Can't Buy Me Love, ABC- Mrs. Rally
CV skills example
The skills section of your CV is the place to offer a targeted list of your areas of expertise. Pay close attention to the job description when writing this section and look for responsibilities highlighted by the employer to place here. Don't forget to use exact language from the job description to increase your chances of getting past the ATS.
Here's the skills section from our theater resume sample:
Adaptable skills section resume example
Meisner Technique
Improvisation
Musical Theatre
Stamina
Theatre resume education example
Although many theatre professionals are not required to have formal education, degrees and training, especially in prestigious organizations, can go a long way in helping you to stand out in this crowded field.
Make sure to include any workshops, guilds, unions or other organizations here too. If you have enough of them, you may consider creating a separate "Memberships" or "Professional Affiliations" section.
Check out the education section from our theater resume sample below.
Adaptable education resume example
Bachelor of Music in Vocal Performance, NYU Steinhardt, New York 
September 2012 - May 2016

Voice, Alexis Patrice Instruction 
March 2013 - November 2013

Modern Dance & Ballet, Havreford Dance Academy, New York 
September 2007 - June 2012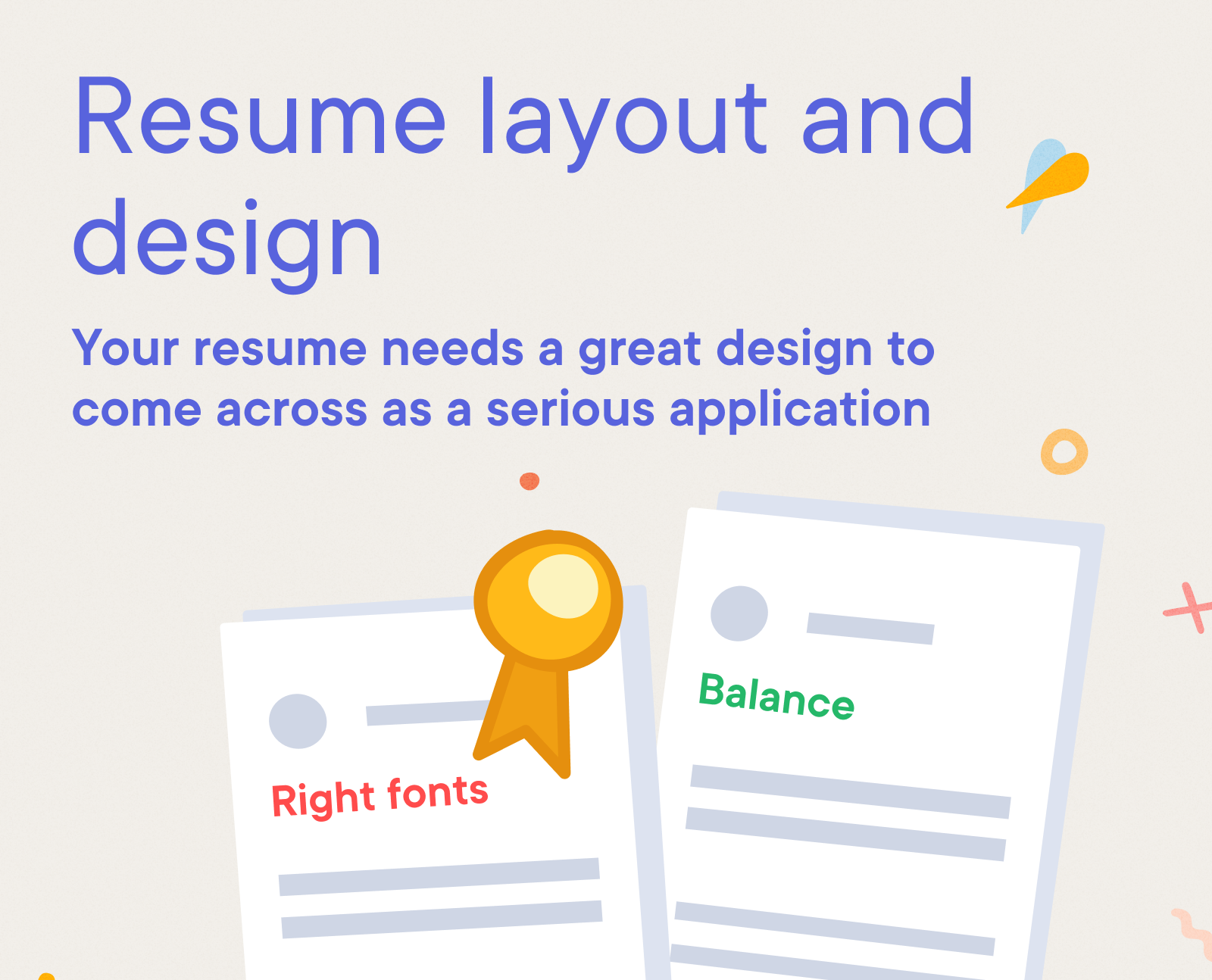 Resume layout and design
Just like it's hard to sell your character as believable when they aren't wearing the right costume, your resume needs a great design to come across as a serious application. It's important to keep a balance of white space to text to avoid visual fatigue for the reader. Make sure to stick with just one or two font styles and only use color or other graphic elements when appropriate for the employer and job.
Expert tip
To ensure perfect formatting, you may consider using a resume template. These professional designs allow you to focus on the writing while still giving you the chance to customize the layout to your liking.
Key takeaways for a theatre resume
Theatre jobs may require different resume formats than other professions. While reverse chronological order is often preferred by employers, there are other options depending on your experience.
Make sure to add a touch of personality to your resume summary while giving the employer the highlights of your skills and accomplishments.
A bold header can catch the reader's attention and make your application stand out. Check out our theater resume example for more ideas on creating a great page layout.