Your job requires high alert since you're safeguarding the private data of individuals, businesses, or government entities. That means you have to find problems and fix them before a data breach. When you decide to take the next step in your career, you need a cybersecurity CV that demonstrates how you protect precious information.
Yours is a methodical and detail-oriented profession. You know that before you dive into a new undertaking, it's best to gather the facts. We provide dozens of CV guides and CV examples for you to investigate. They are backed up by an intuitive CV builder.
This cybersecurity writing guide and CV example will set you on the right path with information on the following topics:
What does a cybersecurity analyst do?
Ideas and tips for writing a cybersecurity CV
The best format for a cybersecurity CV
Advice for making the most of your summary, work history, education, skills
Professional layout and design hints.
What does a cybersecurity specialist do?
First up, let's talk about what this high-profile job entails. Cybersecurity experts spend their days ferreting out vulnerabilities and risks within computer networks, software systems and applications, and data centres. They also try to create the most secure systems possible by being involved in development stages.
The job of a cybersecurity specialist requires constant vigilance to prevent hacking. When security breaches occur, they must seal off the vulnerability quickly and efficiently and subsequently work to identify the cyberattacker and potential work with law enforcement to bring the attacker to justice. 
Cybersecurity job market and outlook
As ransomware and other cybersecurity attacks are on the rise in the UK, you can expect to be in high demand as a cybersecurity specialist. More than one third of UK senior executives expected their organisations would be significantly affected by cloud-based threats, a PwC survey found.
A worldwide report from Fortinet found that 60% of business leaders have trouble recruiting and 52% have trouble retaining cybersecurity personnel. If you have cloud security expertise, you're in even higher demand.
Statistical insight
How much do cybersecurity experts earn?
The mean annual salary for a cybersecurity job is £62,500, with a typical range of £52,500-£77,500, according to CWjobs.
The highest paying specialties, according to SC Magazine, are as follows:
Governance, risk and compliance: up to £230,000
Cloud security: up to £222,500
Incident response: up to £155,000
Identity and access management: up to £140,000.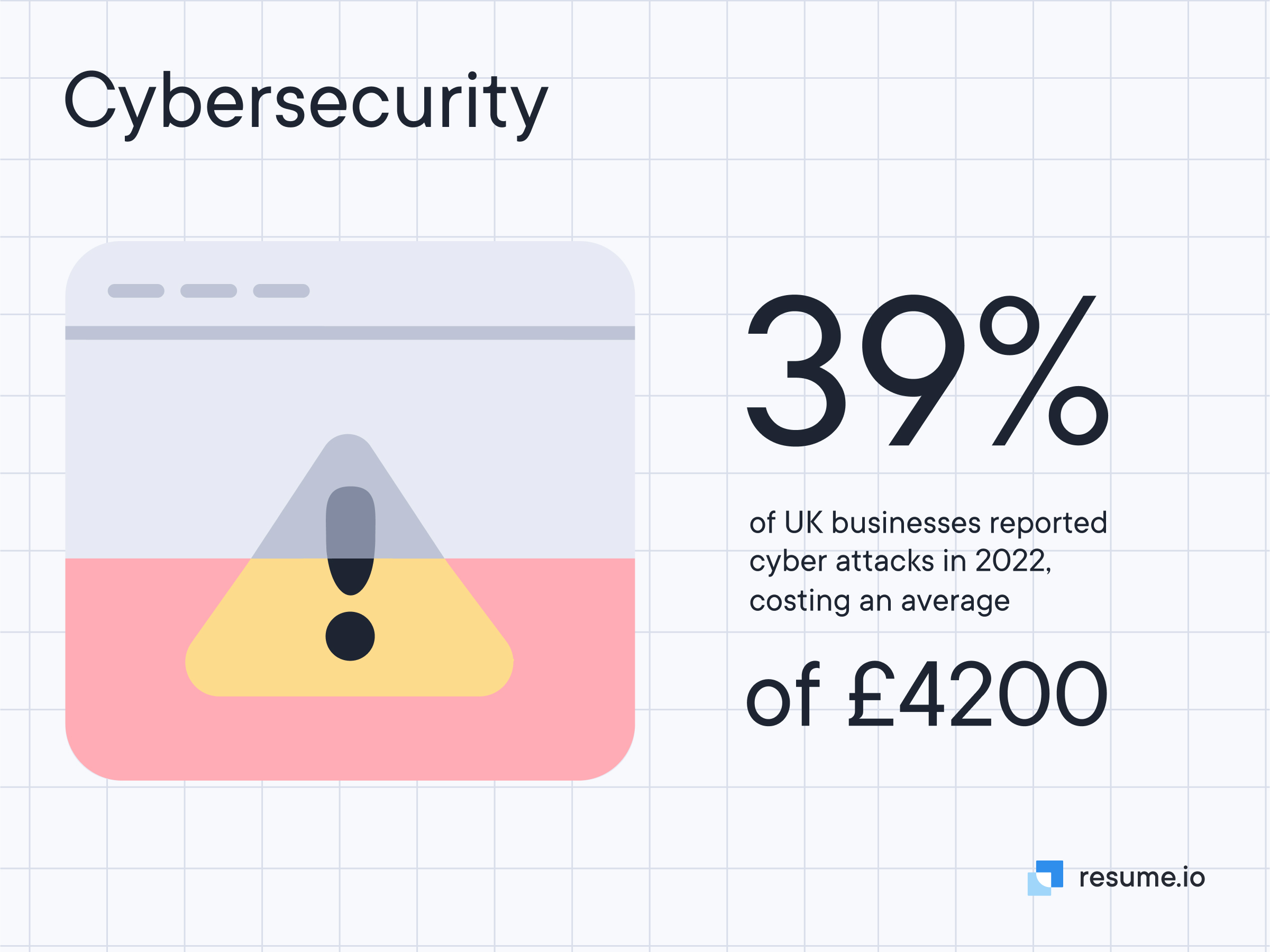 How to write a cybersecurity CV 
Process and consistency smooth the way for innovation and creativity in both your career and your cybersecurity CV. Start with an understanding of what goes into this document. Your CV should contain the following elements:
The CV header
The CV summary (aka profile or personal statement)
The employment history section
The CV skills section
The education section
You know how algorithms work, so be aware that you will most likely be applying through an Applicant Tracking System (ATS). Take advantage of your knowledge by priming the pump with keywords and phrases from the job advertisement. This will help ensure your CV passes through to a human being.
Choosing the best CV format for cybersecurity
Typically, we recommend reverse chronological order because recruiters want to know what you have done most recently. Your case may be different. If you have a laundry list of high-level technical knowledge you want to show off in your cybersecurity CV, consider a functional or hybrid format.
In these alternate formats, your skills section will take up more space than your employment history. This is a judgement call only you can make. Strike a balance between your expertise and your work history. If you feel you can display your array of abilities within the reverse chronological format, stick with that.
CV summary example 
How do you prevent cyber attacks? What methodology do you prefer? What do you see as the biggest threat to the company and how will you thwart it? These are all questions you should answer in the summary of your cybersecurity CV.
You can illustrate your expertise by summarising your history and describing your greatest security success.
If you're having trouble finding inspiration for your summary (since it's the most free-form writing section on your CV), you can find additional writing material in our related examples including computer science CV sample, consulting CV example, software engineering CV sample, programmer CV example, and software developer CV sample.
Adaptable summary CV sample
Dynamic cybersecurity expert with a proven track record of success managing and maintaining optimal protection across complex data and technologies. Highly accomplished technical leader with extensive experience in creating, rolling out, and maintaining complex security infrastructure.
Employment history sample
The employment history section of your cybersecurity CV should offer the story of your increased expertise and achievements in this IT field. Enumerate successes that correspond to the tasks and skills listed as musts in the job advertisement. That means personalising for each different application.
Pack each bulleted item with facts and details that highlight how you will safeguard your prospective employers data. We understand that this field contains a lot of specific terminology, but avoid jargon, especially if it's unclear whether the term is used in the same manner by all.
Adaptable employment history CV example
Information Security Lead, Amazon. London, UK
Jan 2017 - Apr 2023 
Conducted application security assessment and assurance projects, leading high-intensity penetration testing to ensure optimal protection.
Defined security policies and priorities, driving strategic improvements in line with identified business requirements.
Uncovered critical vulnerabilities and risks, shaping remediation recommendations for leadership decision-making.
Cyber Risk Officer, Sana Inc. London, UK
Sep 2014 - Jan 2017 
Shaped risk assessment plans, incorporating penetration testing, system analysis, and external party evaluations.
Monitored systems for vulnerabilities and intrusions, ensuring alignment with security policies.
Investigated incidents, conducting root cause analyses to generate security improvement plans.
IT Support Analyst, InfoTeam, LLC. London, UK
Sep 2012 - Sep 2014 
Managed the full scope of IT software, hardware, and support operations.
Delivered hands-on user support, rapidly resolving help desk tickets.
Led issue troubleshooting and testing to shape remediation plans.
CV skills example
The skills section of your cybersecurity CV may make or break your application. That's because harried recruiters scan quickly to ensure that you're a good fit. Curate this section with care, first by matching skills to the job listing, and then by choosing your most impressive abilities.
While you definitely need IT skills such as risk assessment, digital forensics, Linux server administration, Kerberos, Splunk, and penetration testing, don't neglect the interpersonal and conceptual skills that help you understand complex problems and communicate with others.
Adaptable skills section CV example
Cyber Security Operations
Security Infrastructure & Architecture
Troubleshooting
Root-Cause Analysis
Vulnerability Assessments
Linux OS & Citrix
Penetration Testing
Security Risk Control & Management
Cybersecurity CV education example
While a degree is not a requirement, to compete for the best jobs, a cybersecurity degree helps. The National Cyber Security Centre offers training to certification as well. Any and all degrees and certifications should be listed in the education section of your cybersecurity CV.
Consider adding a separate certification section if you have more than two of these highly sought after certificates:
CEH (Certified Ethical Hacker)
OSCP (Offensive Security Certified Professional)
CISA (Certified Information Security Auditor)
GCIH (GIAC Certified Incident Handler)
Certified Information Systems Security Professional (CISSP)
Information Systems Security Architecture Professional (CISSP-ISSAP)
Information Systems Security Engineering Professional (CISSP-ISSEP)
Information Systems Security Management Professional (CISSP-ISSMP)
Adaptable education CV example
University College London, MSc in Information Systems. London, UK 
January 2008 - May 2012 
University College London, BSc (Hons) in Computer Science. London, UK 
January 2003 - December 2007 
CV layout and design
You know that unwieldy code may achieve the goal in the end, but elegant code is beautiful to behold and gets the job done. Keep that in mind as you design your cybersecurity CV. The best CV designs put clarity before all else. 
Aim for organisation, legibility, and ease of scanning. You want to make a memorable, but professional,  first impression. Choose strong fonts and highlight your name and contact information with a splash of colour or complimentary font.
To make your life easier and get your applications out there faster, try one of our expertly-designed and HR-vetted CV templates.
Key takeaways for a cybersecurity CV
Cybersecurity experts – especially those with cloud-based knowledge – are in high demand. A great CV can help you land your dream job.
If you have highly technical expertise, consider a CV format that expands your skills section to put the focus on your knowledge base.
Your certifications are as important as your degree, so highlight them in a separate section.
Save your precious time for perusing job listings by availing yourself of our CV resources.